A little over a year ago I asked readers if I needed to add physical gold or silver to my portfolio.
I had just read Buy Gold and Silver Safely: The Only Book You Need to Learn How to Buy or Sell Gold and Silver
 and was thinking about buying either gold or silver. The book was quite informative and laid out reasons why anyone might want to invest in precious metals as well as how to go about it.
The general consensus from readers was that there really wasn't a need to have physical gold or silver. I agreed at that time and put the thought on the back burner.
More on Silver and Gold
Then I picked up Precious Metals Investing For Dummies
 a few months later and started thinking again about purchasing physical gold or silver. Around the same time one of my readers who has become a friend would email me now and then with his purchases of American Eagle silver dollars (you know who you are.) He talked about how cool they were and how he was planning on giving them out as gifts here and there.
I agreed with the coolness factor. I have always been intrigued by coins and was even a very entry-level collector when I was younger. I was not skilled at all but enjoyed looking at coins and owning a few.
So I started thinking about buying some physical coins both for the investment diversification as well as the collector value (to me — not to anyone else.) Plus I thought they could make nice gifts like my friend had suggested. And, of course, they would be available in case the world ended like some precious metals collectors and dealers seem to think is imminent (FYI, I do not agree with the doomsday scenario, but who knows?)
Shopping for Silver
So after thinking it over, here's what I did:
I decided I'd go with silver over gold. Silver is much more affordable — I could get almost 100 silver coins for the price of one gold one. And since silver has industrial uses as well as investment value, I think it's a better overall option than gold.
I wanted to stick with American Eagle silver dollars. Buy Gold and Silver Safely talked about the fact that these were the gold standard (no pun intended) for investing in silver. If you're in the market for silver coins, you'll find an almost endless number of options in various designs and from various countries. If you just want to buy the coins for your own personal enjoyment, pick any you like. But if you have any thought at all about maybe selling them one day or even having to purchase with them in case of disaster, you want American Eagle coins as they are recognized around the world as legitimate.
I began to investigate where to buy the coins. After looking at several comparison sites that supposedly had the best prices on silver, I found SD Bullion which had the lowest prices I could find (turns out those other sites had the lowest prices listed from among the sites they pulled data from — and they pull only from a select few.) Not only that, but SD Bullion guarantees its prices so if you do find a better price elsewhere, they will match it. 
So I went to the site and ordered one hundred 2017 American Eagle silver dollars for a bit over $2,000. I sent them a check, waited a few days for it to clear, waited a few more days for it to be shipped, and then my 100 coins arrived. Here's what they looked like out of the box: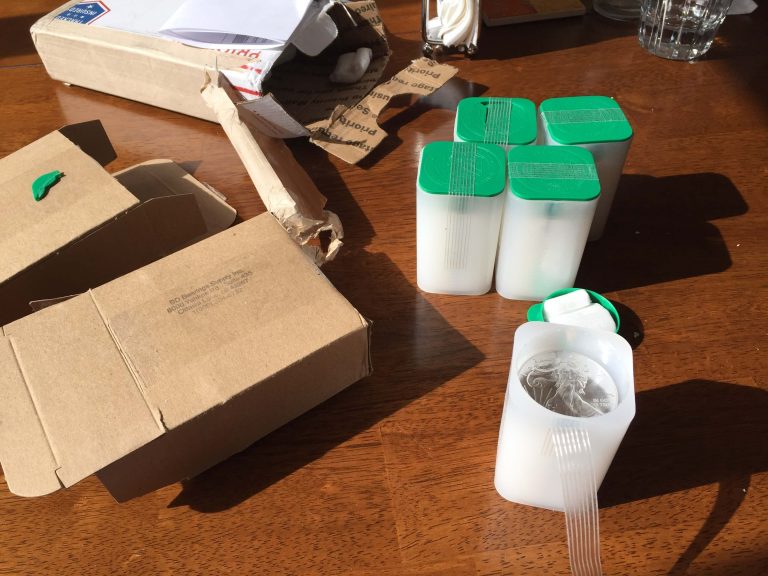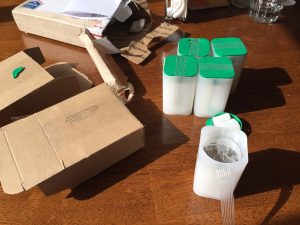 And here are two of them in plastic cases I got on Amazon (cheaper than buying from SD Bullion):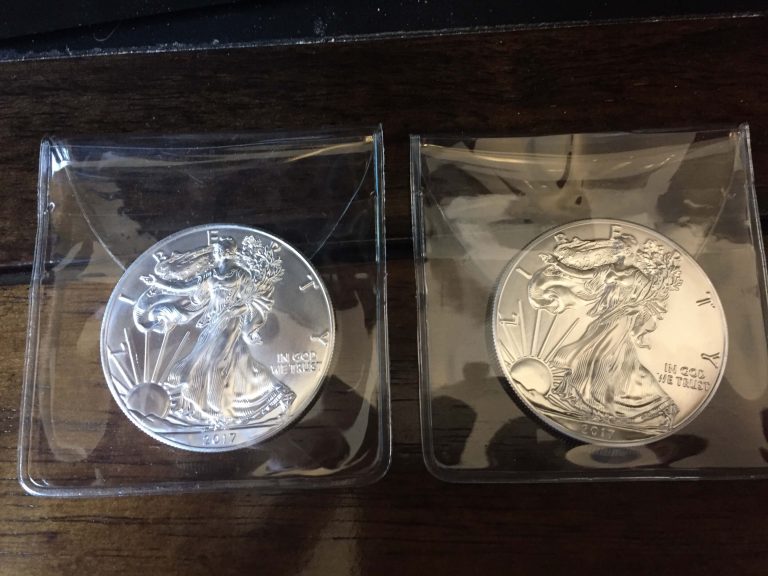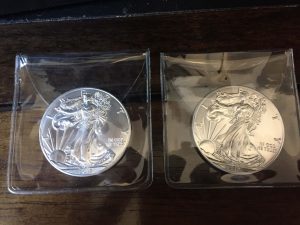 How You Can Win Some Silver
In addition to the above reasons, I also bought these coins with the intention of giving some away. I'll be doing that in a few different ways on this site. For now I'm having a very simple giveaway and here's how it will work:
Anyone who signs up (for free) to receive email updates from me will be entered into a drawing for one, free American Eagle silver dollar.
I will be giving away 10 of the coins in total — so there are 10 chances to win.
The winners will be drawn at random from new email sign-ups between now and June 30, 2017.
The sign up is free and when you do sign up you'll get a free copy of my Three Steps to Financial Independence eBook.
The updates will send you an email every time I post a new tip for growing your net worth.
The updates will also let you know when the next silver giveaway will be and how you can enter.
As with most giveaways, there are rules. Here they are.
I will select the winners at the end of June and email them. I'll also post on this page when this giveaway is over.
And that's it! I've really enjoyed having these coins and am looking forward to sharing some of them with some of you. So enter today by filling out the form below:
GOOD LUCK!!!
UPDATE (7-1-17): The June 2017 giveaway has ended. I will be sending out notices to the winners later today. Thanks to everyone who entered!