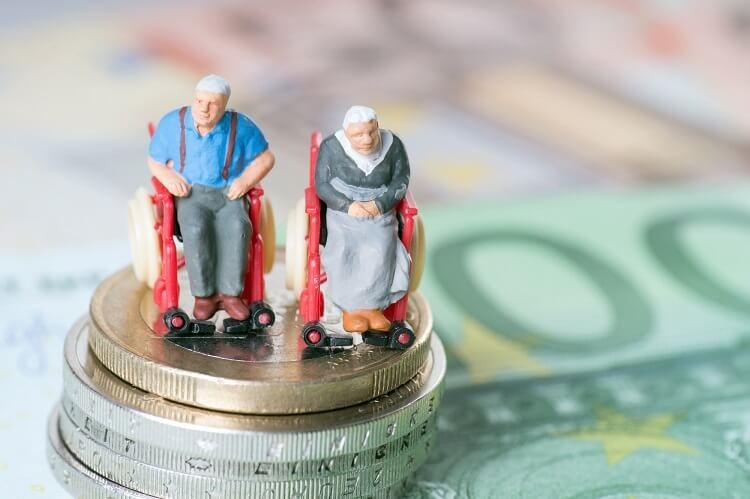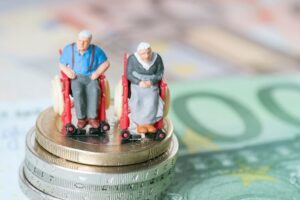 Every now and then someone asks me to write a post about long-term care (LTC) insurance.
In addition, the topic comes up now and then in a post I write.
I have been reluctant to get into it because many readers find insurance to be one of the least-interesting personal finance topics (I can tell in my site's numbers every time I write about it).
That said, it's an important subject as many of us face this issue not only for ourselves but for our parents as well.
So I thought it was time for me to tackle the subject.
Let me say that I am no where near being an expert on this subject. I do not currently have LTC insurance nor does anyone in my family. I am not an insurance agent nor do I play one on the internet.
In other words, take what you read with a grain of salt.
I'm hopeful that those of you who do know more about the subject will leave comments — especially those who have personal experience using LTC insurance for yourself, a family member, or a friend.
To educate myself on the subject I did what anyone does these days, I headed to Google. Ha! I typed in a few search terms and opened the top ten results.
These often led to even more posts. In the end I read almost 20 different articles and used their findings to write this post.
Today's post will focus on the basics: what is LTC insurance, how likely is it that you'll need it, and what are the costs on both sides (cost of care and cost of the insurance)?
Then next time I'll get into who might need LTC insurance, the issues to consider, my thoughts, and what we're doing.
Let's get started…
What is LTC Insurance?
Unless you've been living under a rock, you probably have at least a vague idea of what long-term care insurance is.
But just to be sure we're all on the same page, here are several definitions from a variety of sources:
From Nerd Wallet:
Long-term care refers to a host of services to help with "activities of daily living," such as bathing, eating and remembering to take medication. Regular health insurance and Medicare pay for medical expenses. But they don't pay for custodial care, which is the nonmedical help with routine activities. Medicaid, the federal and state health insurance program for low-income people, pays for nursing home care. But you have to spend most of your money first before you qualify.
From NPR:
This type of policy covers basic daily needs over an extended time. While health care insurance or Medicare helps pay for immediate medical expenses, say, a surgeon's bill, long-term-care insurance helps people cope with the cost of chronic illnesses, such as Alzheimer's disease, or various disabilities. The policies pay for assistance with everything from the basics — bathing and dressing — to skilled care from therapists and nurses for months or even years.
From Aging in Place:
Put simply, the term "long-term care" refers to the assistance offered to an individual with a chronic illness or disability over an extensive period. If you end up being diagnosed with a chronic disease, don't expect your Medicare or Medigap Insurance policy to pick up the bill. Other programs such as Medicaid have stringent financial requirements, which you're likely not to qualify for.
From AARP:
The phrase "long-term care" refers to the help that people with chronic illnesses, disabilities or other conditions need on a daily basis over an extended period of time. The type of help needed can range from assistance with simple activities (such as bathing, dressing and eating) to skilled care that's provided by nurses, therapists or other professionals.
Employer-based health coverage will not pay for daily, extended care services. Medicare will cover a short stay in a nursing home, or a limited amount of at-home care, but only under very strict conditions. To help cover potential long-term care expenses, some people choose to buy long-term care insurance.
I think those cover the subject nicely. Quite simply we're talking about insurance which covers the (generally very high) cost of caring for an (usually elderly) individual who can't care for themself.
I think we're all pretty familiar with long-term care facilities, and LTC insurance is meant to help pay for this sort of service. It could also be used to pay for home-based care.
Why Would Someone Need LTC Insurance?
Simply because a type of insurance exists doesn't mean that any particular individual needs it. Otherwise we'd all be carrying about 1,000 policies for everything from alien abductions to bed bugs.
But in this case the answer to why someone might need LTC insurance is clear: long-term care can be VERY expensive.
Imagine paying a team of professionals to house, feed, oversee medication dispensing, offer social activities, and the like for a person. That's going to cost a chunk of change.
However, before we get to how expensive it could be, let's look at the chances anyone actually would use this insurance.
In other words, how likely is it that your LTC policy will actually pay anything out?
Here are some stats from various sources…
From Nerd Wallet:
Among 65-year-olds, 52 percent will eventually develop a disability and require long-term care services, according to a study by the Urban Institute and the U.S. Department of Health and Human Services. Of those who require long-term care, men will need services for an average of 1.5 years, and women will need them for an average of 2.5 years.
From Dave Ramsey:
52% of people turning 65 today will need long-term care at some point.
From Forbes:
Only about 25% of people need long-term care for more than two years, and the probability of needing it for more than five years is only 2% for men and 7% for women.
Also from Nerd Wallet:
About half of 65-year-olds today will eventually develop a disability and require some long-term care services, according to a study revised in 2016 by the Urban Institute and the U.S. Department of Health & Human Services. Most will need services for less than two years, but about 14% will require care for more than five years.
From AARP — thoughts and a chart:
By the time you reach 65, chances are about 50-50 that you'll require paid long-term care (LTC) someday.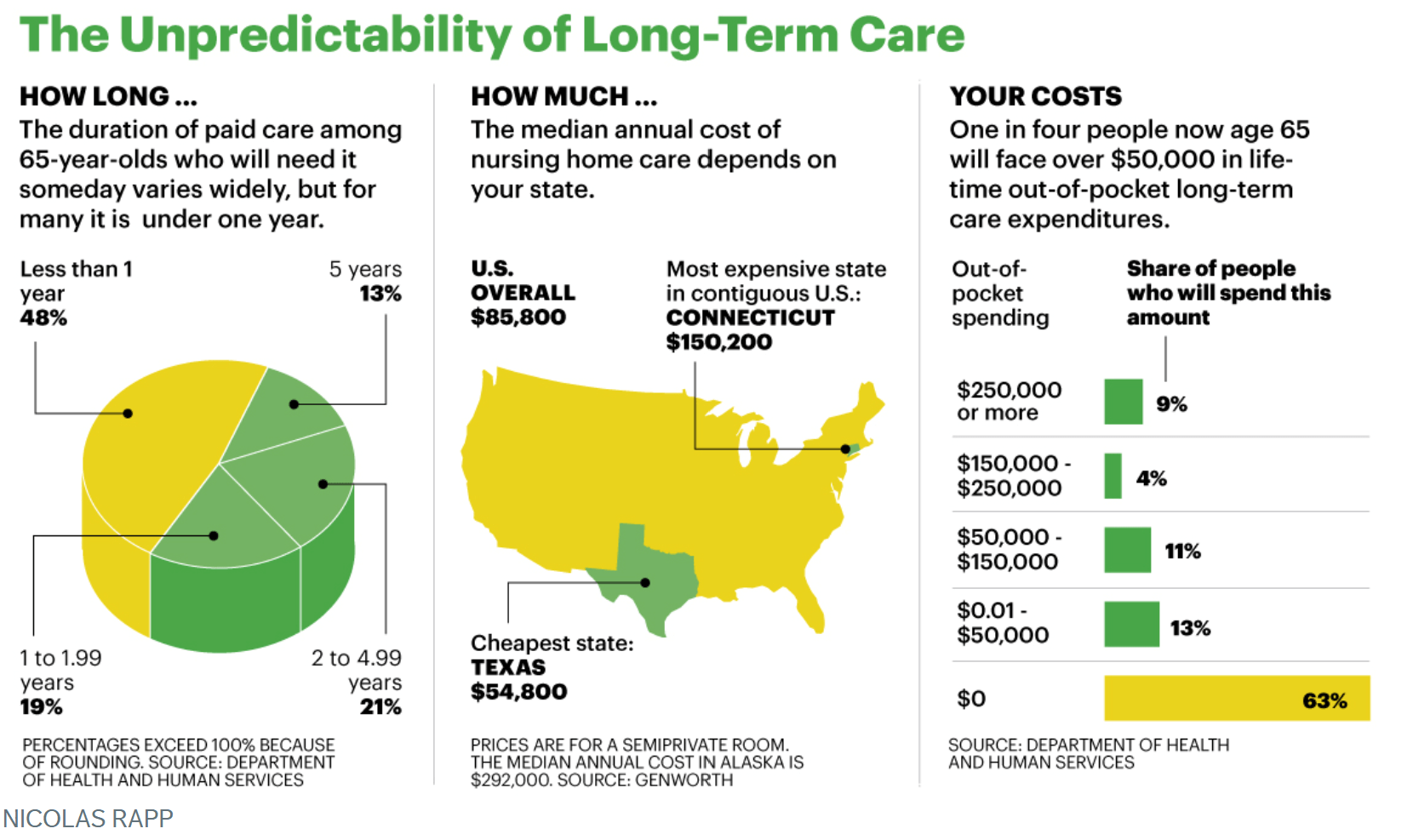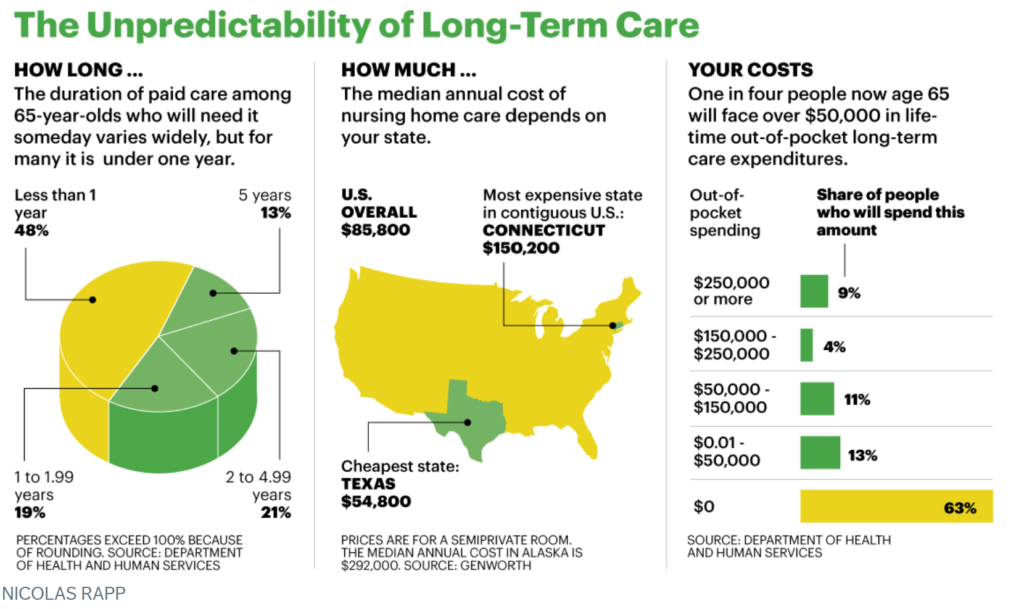 From Kiplinger:
Half of men and nearly 40% of women who use nursing-home care never have a stay exceeding three months, according to a recent study by the Center for Retirement Research at Boston College.
From PBS:
If you do invest in such a long-term care policy, the probability of collecting on it is low. According to Prescott Cole in a recent article in the Wall Street Journal, about two-thirds of seniors stay in a nursing home for less than 90 days, which means that they get no compensation from their policies. Furthermore, fewer than 6 percent of those admitted will still be in the nursing home after two years. In fact, fewer than 4 percent of seniors currently reside in nursing homes.
What I get from the above is this:
The chances are even (50/50) that you'll need some care at some point.
The care you'll need will likely be for a relatively short period of time.
That said, we all probably know people (even if they are relatives of friends) who are 95 years old and have been in a nursing home for 20+ years. This is where the costs can really add up.
If you want more facts about LTC insurance in general, here's a list of 75 Must-Know Statistics About Long-Term Care.
What are the Costs of Long-Term Care?
Ok, so there's a decent chance that many will need some form of long-term care and it's likely that care will last a year or two.
Now, how expensive is long-term care? What exactly is the cost we're trying to protect ourselves from?
Like most other lifestyle decisions, the answer depends on a myriad of choices and situations — it's difficult to offer specific guidance because there are so many variables.
That said, I looked for articles which gave a general feel for costs so we at least know the ballpark we're dealing with.
We'll start with Forbes:
The median annual cost of a private room in a nursing home is now $92,378…The median annual cost of an in-home health aide is $46,332.
Also from Forbes:
How much will you spend for long-term care? That is going to depend a lot on the type of care you need and the area of the country in which you live. According to Morningstar, the average end-of-life cost in a patient's last five years is $217,820 without dementia and $341,651 with dementia. This would indicate that a policy with a daily benefit of $125 to $200 for five years would have a high probability of being adequate.
From AARP:
If you pay out of pocket, you'll spend $140,000 on average.
From Nerd Wallet:
Long-term care costs can deplete a retirement nest egg quickly. The median cost of care in a semi-private nursing home room is $89,297 a year, according to Genworth's 2018 Cost of Care Survey.
And here's a nice chart from Nerd Wallet: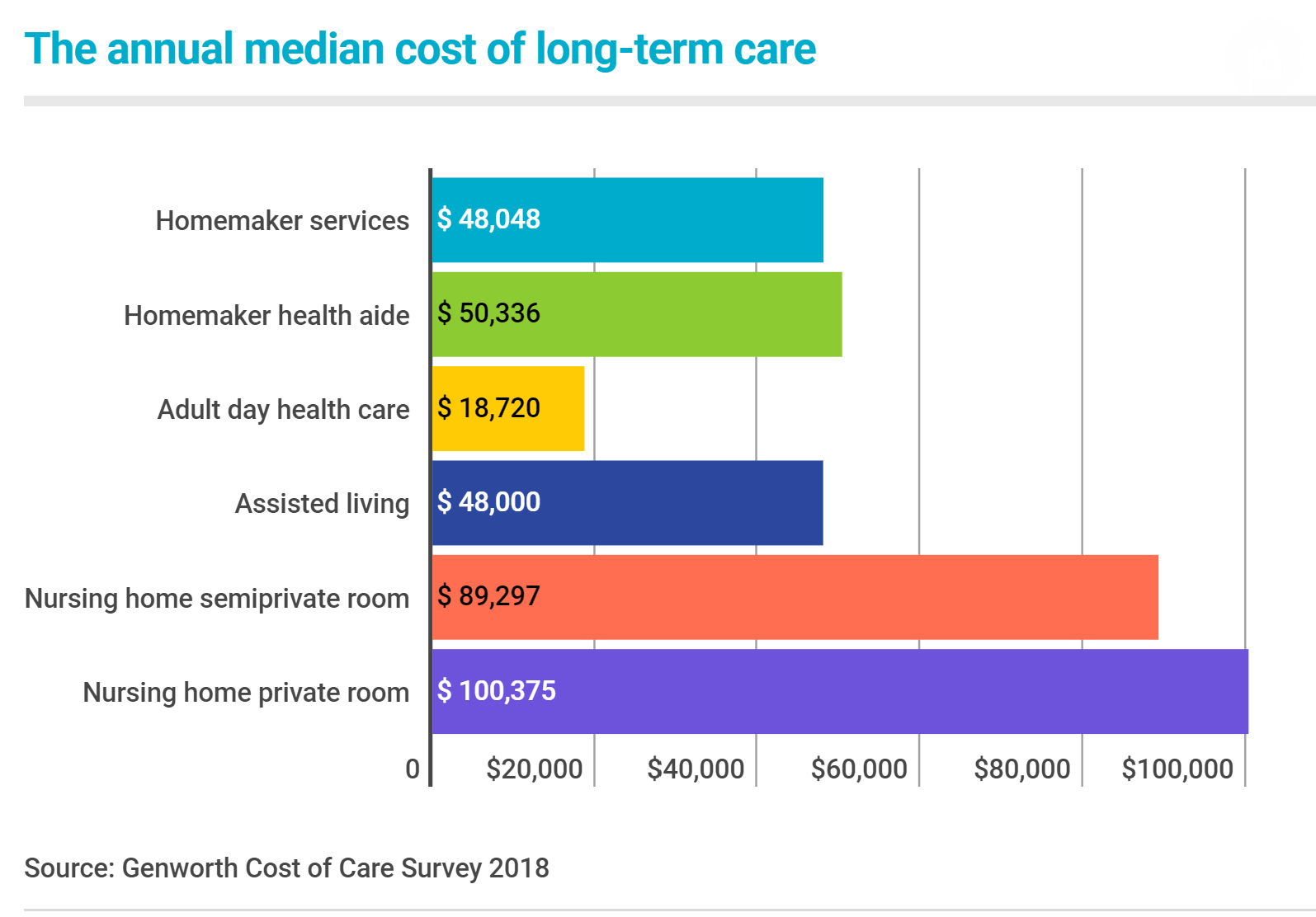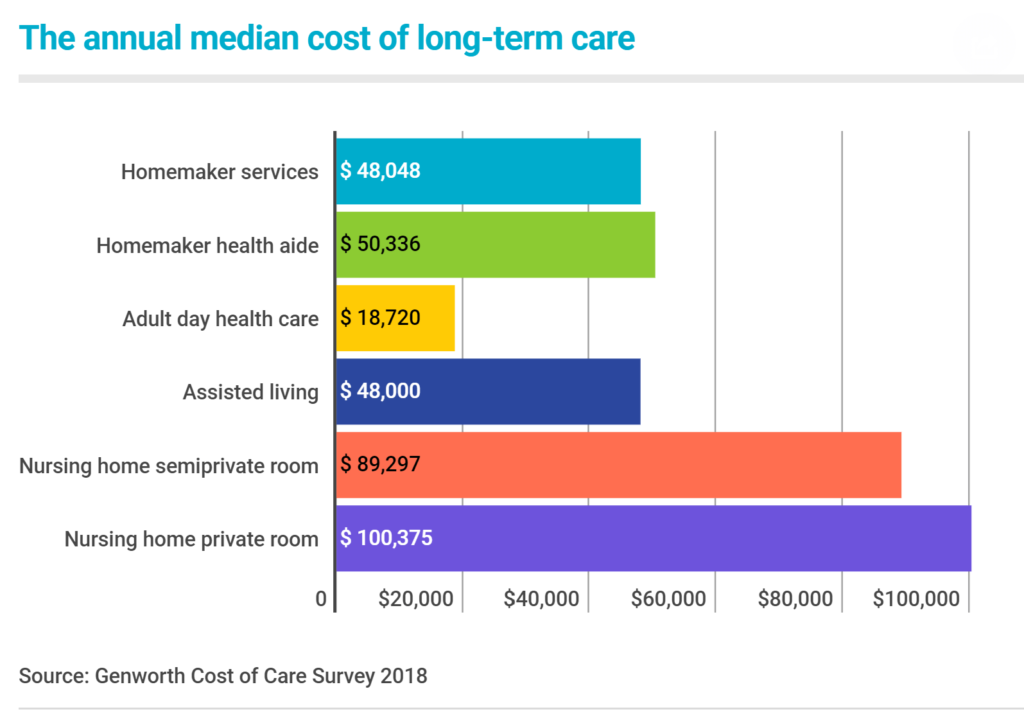 From Dave Ramsey:
According to the Alzheimer's Association, the estimated cost for end-of-life care in 2016 ranged between $217,820 and $341,651.
From NPR:
Such care can be crushingly expensive: Just one hour of home-health-aide care costs roughly $20, while the average private nursing home room costs $87,000 a year.
From PBS:
Over the past two years, the average cost for a private room in a U.S. nursing home has increased annually by 4.8 percent to $94,170 per year (semi-private rooms are about 12 percent cheaper), so the 5 percent inflation adjustment isn't far off actual recent increases.
I know — lots of answers that don't seem connected. Told you that costs depended on a lot of variables (which is why we probably have such a wide range of estimates).
That said, one consistent result is that they are all pretty high, especially for the average American.
And when you have a potentially high-cost event that you can't afford, what do you do? You insure against it.
This is why LTC insurance is even a thing.
What Does LTC Insurance Cost?
Now that we know what LTC insurance is and why we might need it, the next question is usually, "How much does it cost?"
Costs of the insurance will vary just as the expenses above, but let's hear what the top experts say.
Here's a summary and a chart from NPR:
The American Association for Long-Term Care Insurance says people should expect to pay an average of $3,335 per year to cover a couple of healthy 60-year-olds on a plan that pays out a $150 daily benefit for up to three years. But prices can vary dramatically, depending upon factors such as the purchasers' age, the level of inflation-adjustment protection and whether the daily benefit will be $100, or some larger amount, say, $150 or $200.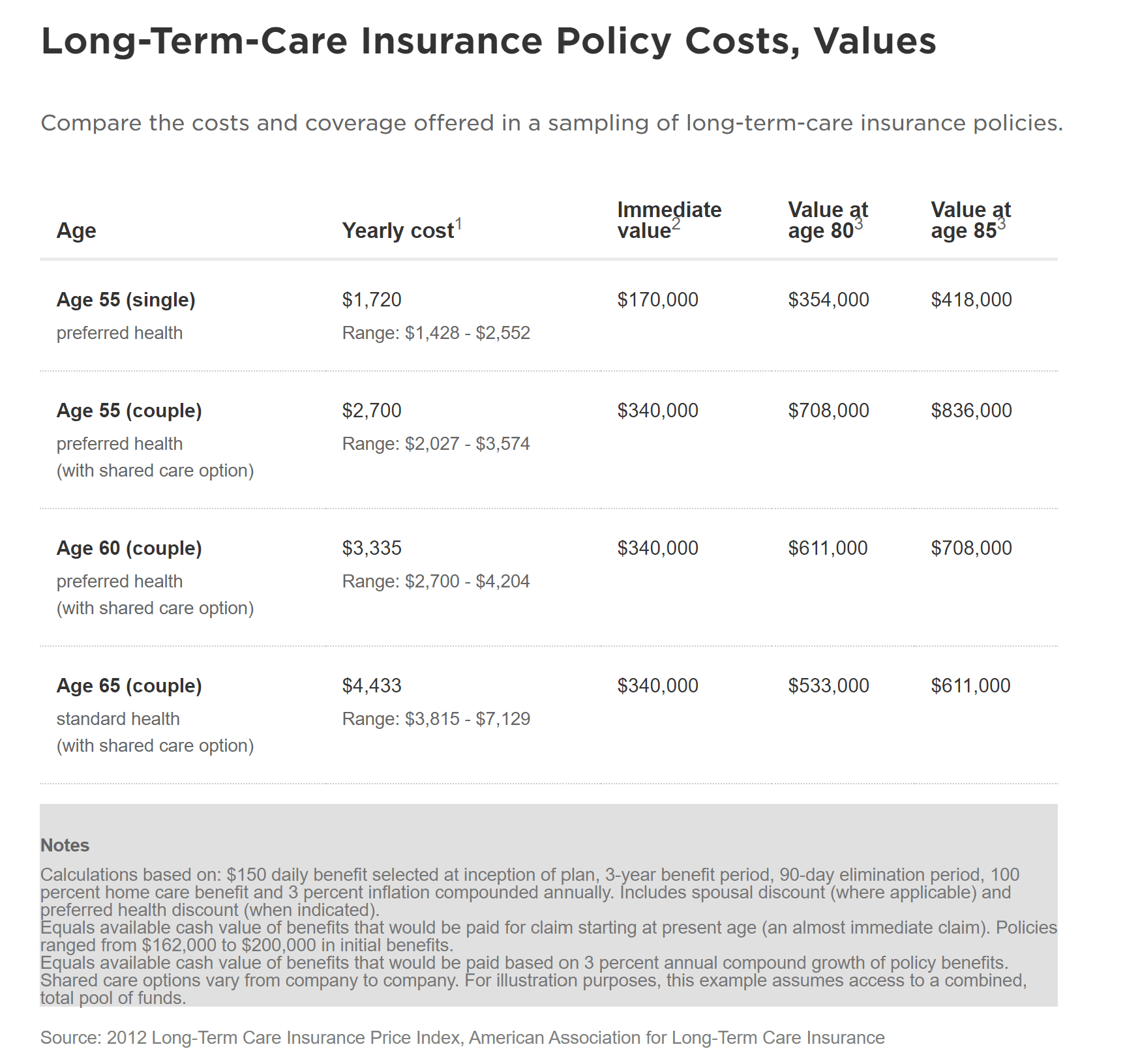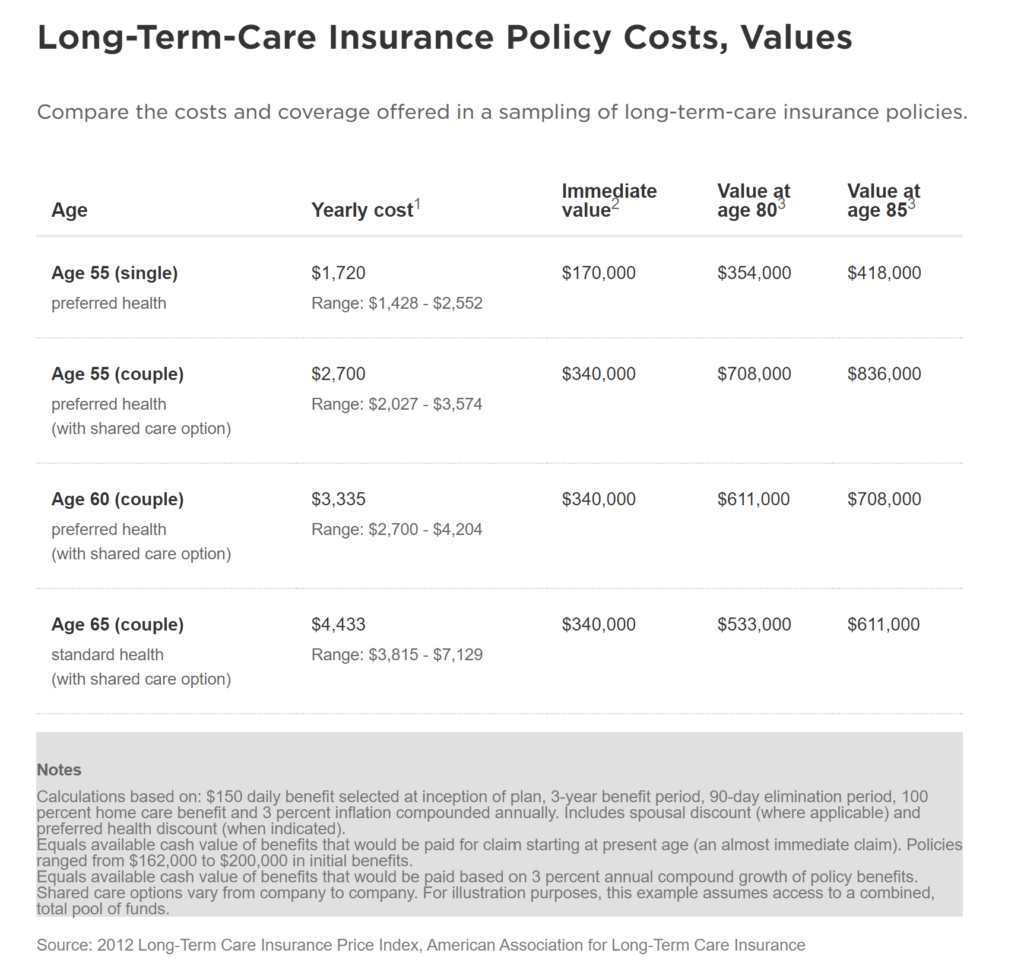 From The Motley Fool:
According to Genworth's (NYSE: GNW) long term care insurance cost estimator, if a typical 60 year-old couple bought coverage that would cover $365,000 apiece worth of lifetime benefits, their premium cost would be around $2,758 each per year ($5,516 per year for the couple). For an individual 55-year-old looking for similar coverage, the price tag would range between $2,760 and $4,057 per year.
From Kiplinger:
The overall cost of new long-term-care coverage has jumped roughly 9% over the past year, according to the American Association for Long-Term Care Insurance, a trade group. A married couple both age 60 can expect to pay $2,170 per year for $328,000 worth of coverage, up from $1,980 last year. Adding inflation protection, which helps the coverage keep up with the rising cost of care, would boost the premium even more.
From AARP:
Premiums for LTC policies average $2,700 a year, according to the industry research firm LifePlans.
Many articles talk about the fact that this insurance is expensive and I guess it is for many.
That said, it doesn't seem wildly expensive to me.
Other Long-Term Care Insurance Issues
Before we move on, I found several issues that didn't fit elsewhere. Let's review these now.
From NPR:
These days, policies typically are capped at three years because open-ended plans have proved too risky for the insurer. The insurance association points to the case of a woman who purchased coverage at age 43. For three years, she paid her annual premium of $881. Then, she needed care, so she stopped paying premiums and initiated her claim. Her care lasted 15 years and cost the insurer $1.7 million, the association said.
It's cheaper when you sign up by age 60. You have to be medically healthy to qualify. But, like auto insurance, a policy generally has no "surrender" value. That is, if you never have an auto accident, then all the money you spent on car insurance is gone forever. Typically, that's how it works with long-term-care insurance; i.e., you may pay and pay — and never get back a penny if you don't medically qualify for care.
Good to know — the coverage may be limited by both time (three years in the piece above) and amount (i.e. $150 a day maximum).
"You have to be medically healthy to qualify." Here's another issue: you don't want to pay a gazillion years and not need the coverage but you also don't want to wait so long that you're no longer able to get it. It's a balancing act for many.
From Forbes:
If you are thinking of obtaining long-term care insurance, it's best to apply when you are in your 50s. The denial rate is just 17% for applicants in the 50-59 age range. For those aged 70-79, it rises to 45%. The average annual premium is $2,772. And only 0.5% of all businesses offer long-term care insurance to their employees.
From Dave Ramsey:
It's common for people to try to cheat the system by moving assets out of their parent's name to get the government to pay for LTC. That is considered fraud—a federal crime—and the government will prosecute you! The government is already having trouble paying for those on Medicaid. Do you really want to count on the government to pay for your long-term care? No way!
I've heard of people doing this but not sure how many.
But look at the net worth of the average American and there's not much there to shelter anyway.
From Nerd Wallet:
The number of insurance companies selling long-term care insurance has plummeted since 2000. More than 100 insurers were selling policies in the late 1990s, according to a 2016 study published by the National Association of Insurance Commissioners. Less than a dozen are selling policies today.
The uncertain cost of paying future claims as well as low interest rates since the 2008 recession led to the mass exodus from the market. Low interest rates hurt because insurers invest the premiums their customers pay and rely on the returns to make money.
The market is continuing to change. Genworth, one of the largest remaining carriers, suspended sales of individual long-term care insurance through agents and brokers in March 2019. The company sells policies to groups and directly to individual consumers through its own sales department.
Long-term care insurance can have some tax advantages if you itemize deductions, especially as you get older. The federal and some state tax codes let you count part or all of long-term care insurance premiums as medical expenses, which are tax deductible if they meet a certain threshold. The limits for the amount of premiums you can deduct increase with your age.
One big concern is that you get a policy and then your insurer decides to leave the business of offering LTC insurance policies. Not sure what the implications are for current policy holders when that happens, but they can't be good.
From Kiplinger:
Although many consumers have traditionally thought of long-term-care policies as coverage for the catastrophic scenario of a years-long nursing-home stay, about half of new claims are for in-home care, says Bonnie Burns, policy specialist at California Health Advocates. And, she says, the common perception that a person in long-term care progresses from her home to an assisted-living facility to a nursing home "is really not proving to be true" in many cases.
From Forbes:
A few health reasons you might be turned down for long-term care insurance, according to the U.S. Administration on Aging: you have a progressive neurological condition such as multiple sclerosis or Parkinson's; you have metastatic cancer; you have any form of dementia or cognitive dysfunction or you have AIDS.
Insurance companies keep dropping out of this market because they can't seem to make a buck selling long-term care insurance. As Ko wrote in her paper, "a decade ago, there were more than one hundred insurance companies writing private long-term care insurance policies. Today, only a dozen remain." Major carriers that have left include MetLife and Prudential.
That makes me wonder whether a company selling a policy I buy today will stand behind it (or even be in business) when, or more accurately if, I need it in, say, 20 or 30 years.
From AARP:
Long-term care policies can pay different amounts for different services (such as $50 a day for home care and $100 a day for nursing home care), or they may pay one rate for any service. Most policies have some type of limit to the amount of benefits you can receive, such as a specific number of years or a total-dollar amount. When purchasing a policy you select the benefit amount and duration to fit your budget and anticipated needs.
Insurers often turn down applicants due to preexisting conditions. If a company does sell a policy to someone with preexisting conditions, it often withholds payment for care related to those conditions for a specified period of time after the policy is sold. Make sure this period of withheld payments is reasonable for you. If you fail to notify a company of a previous condition, the company may not pay for care related to that condition.
Here's another issue: you need the insurance and the company fights you on it and/or limits what you receive. Anyone else thing this is standard operating procedure for insurance companies?
As you might imagine, there are many more issues surrounding this type of insurance, but these give you a good feel for it.
That's it for today. Anyone want to add something? Is there anything I missed or got incorrect?
For more information on this subject, this series continues with Who Needs Long-Term Care Insurance?