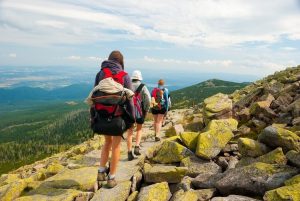 Here's our latest interview with a millionaire as we seek to learn from those who have grown their wealth to high heights.
If you'd like to be considered for an interview, drop me a note and we can chat about specifics.
My questions are in bold italics and his responses follow in black.
Let's get started…
OVERVIEW
How old are you (and spouse if applicable, plus how long you've been married)?
I am 53 and my wife is 50.
We have been married almost 27 years and together for almost 33 years.
Do you have kids/family (if so, how old are they)?
We have 2 daughters, 21 and 18.
What area of the country do you live in (and urban or rural)?
West coast, suburbs
What is your current net worth?
$2.56M.
Our personal property is not included in this total.
What are the main assets that make up your net worth (stocks, real estate, business, home, retirement accounts, etc.) and any debt that offsets part of these?
House: $890K
Investment accounts: $1.515M (695K in retirement and $820K in after-tax investment accounts)
Cash: $110K
Cryptocurrency: $45K
We own our house outright and avoid all debt.
Both our daughters started working as young teens, and we taught them to save aggressively as they grew up. I opened up investment accounts for each of them when they were born. When they received cash presents or earned money, I invested most of it in stocks.
Each of them will have started college with close to 6 figures in investments/savings. And while they are responsible for some of the college costs, they will exit college with high 5 figures in their accounts. We want them to start out as adults better situated than we were, and with some financial ballast as well as some employable skills.
EARN
What is your job?
Three years ago, I left a 15-year stint in sales at a major technology components company. I now lead a small business development team at a software technology company.
My wife works at a very small web marketing company.
However, we are coming to a crossroads soon. This Fall our youngest daughter is going away to college. After dropping her off, we will be taking an extended leave to backpack through Europe for 2 months.
We may not go back to our corporate jobs. We have discussed finding a new purpose, maybe work that is purely creative or helpful to others and not centered around income. We are very excited to set off on this adventure and spend a couple months considering a new life plan.
What is your annual income?
Combined, we earn $215K from our current jobs.
Tell us about your income performance over time. What was the starting salary of your first job and how did it grow from there?
My wife worked for most of these years and grew her earnings from hourly to a modest 5-figure income. Her main focus was caring for our family.
I was really late getting started in my corporate career. I spent my 20s broke, working waiting tables or at commission sales jobs that did not have a salary. A couple times I tried starting my own business on a shoe string budget. While those attempts at entrepreneurship failed, I learned a lot along the way like how to scrape by on very little income, and how to sell and work hard.
It wasn't until I was in my early 30s that I began my first full-time salary job at a corporation. The job paid $23K a year and was based in a major west coast city. I sold booth space at technology industry trade shows and advertising on trade websites. With commissions and exceeding my sales targets, I still only made around $27K that year, but it was my plan to get a foot in the door to the technology industry, and that plan worked.
From there, I was able to network and job hop three times in rapid succession. My salary jumped to $60K, then $70K, and then $92K, which is what I made my first year at the technology components company. That was in 2001, and they relocated me and my family to the suburbs of another coastal city where we have lived ever since.
I was able to grow my income to over $375K per year by 2015. I was laid off at the end of 2015 and received a 6-figure payout. A few months later, I took the job I have today which pays about $180K with bonus, but is also much less demanding.
What tips do you have for others who want to grow their income?
Learn how to hustle and sell. You haven't really been tested until you have to pay rent and feed a family on a 100% commission job.
Also, take some risks with your career. Trying and failing is OK, it is how you learn. The important thing is to try, but not blindly. Make a plan for your venture or for your career path and be able to articulate and defend your strategy. If it doesn't work out, be decisive and cut your losses, reflect, shrug it off, then try again. Adjust and make new plans and keep going forward.
What's your work-life balance look like?
Presently, the balance is towards life. It is really good. I telecommute and work with a team that is spread around the country. I start early in the morning and log off mid afternoon. I rarely check email after hours anymore and occasionally travel for work.
During those years in technology sales, the balance was skewed heavily towards work. I was always available by phone or email and I traveled a lot to visit customers and partners. At one point for a couple years, I was spending 3 out of 4 weeks a month on the road in Asia and Europe. My wife gave up her job during those years to be home with the kids who were at/approaching middle school age. She is now back at work at a 9 to 5, but at a small company that affords her a lot of flexibility.
Do you have any sources of income besides your career? If so, can you list them, give us a feel for how much you earn with each, and offer some insight into how you developed them?
No other sources, working major account technology sales I never found time for a side hustle.
I considered investing in real estate, but housing is expensive where we live and I did not want to tie up so much of my money in rental property. I was also leery of buying property that was out of state or otherwise too far away to check up on regularly.
SAVE
What is your annual spending?
We do not keep a tally of our spending.
I have a visceral dislike for monthly payments, which to me are like an anchor around the neck keeping you from building up your wealth. It probably comes from our early financial struggles, when we had no money and had to find a way to meet obligations like rent, daycare, car payments, etc.
When moved into our home we made a conscious decision to pay cash for things if we could. We avoid financing and do not lease cars, nor ever carry a balance on a credit card. We keep a critical eye on and eliminate elective things that might become a regular spend, especially the small daily things.
Where we can in our regular daily lives, we make do without spending. We brown bag lunch to work or school. We avoid subscriptions and memberships unless they save us more money than they cost us. We only use cash back credit cards with no yearly fees – sorry AMEX. We try not to buy things unless we need them, and we taught our girls that shopping at the mall is not something to do for fun.
When we splurge on an item, then it is usually something of quality that will last. We do spend big on experiences and our kids were exposed to and involved in lots of after school activities. We like to go to plays, concerts, movies and have gone on all types of vacations – lots of backpacking treks in the mountains, trips to big bustling cities here and abroad, and even some packages at beach resorts and spas.
Still, we find ways to save on many of the vacations. We are fortunate to have friends and family who live in very fun places and often a vacation will involve visiting them and using my airline miles to go there.
What are the main categories (expenses) this spending breaks into?
We paid off our mortgage a couple years ago, it took 14 years. So our largest expense outside of college costs for our kids is insurance, then utilities, property taxes, groceries and trips.
We work out at home using P90X, no gym memberships for us.
With the mortgage paid and done, and the college money paid on the older daughter and set aside on the younger daughter, my wife and I have relaxed a bit on the eating out ban, and we now typically go out for fish after our weekly Friday afternoon 10-mile beach walk.
Do you have a budget? If so, how do you implement it?
We do not have a budget. It probably would be a good thing to do, but we seem to keep the expenses down OK without one.
What percentage of your gross income do you save and how has that changed over time?
We save in large part by diverted funds before they hit our bank account.
We max out our 401Ks, and I also put the max into the employee stock purchase plan which meant close to 30% of salary saved.
Bonuses, stock options and restricted shares (RSUs) went into paying off our mortgage or were diversified into other stock and bond investments along the way.
I have not done the calculation on what percentage that is, but we were definitely able to live well on what made it into our bank account.
While my colleagues drove more expensive cars and upgraded to more expensive homes, we drove modest cars and are still in our first home.
We have had a great life of full of joy and abundance. It never felt to us like we were doing without the good things.
What is your favorite thing to spend money on/your secret splurge?
I enjoy the taste of good wine, and I do splurge on expensive bottles now and then. I also like to save it and let it mature in my full size wine refrigerator. Saving, aging, and anticipating is part of the fun, and it keeps me from drinking it too often which is good for both my health and my pocketbook.
My wife prefers cheap sweet wine, so that also helps keep costs down. But neither of us are big or regular drinkers.
INVEST
What is your investment philosophy/plan?
Our retirement accounts are in low-cost stock and bond funds. The after-tax accounts are mostly in blue chip stocks and municipal bonds. However, I do speculate on some risky stocks with a portion of my portfolio.
Our overall mix has been heavily weighted more towards stocks than bonds because interest rates have been low for so long. As rates rise, I expect to move more assets from stocks to bonds.
I would consider my investment philosophy to be growth-oriented. I am also OK with taking investment risks like buying actual stocks and bonds in my after tax investment accounts. I always figured that if I lose, then I will learn how to do it better next time, and just redouble my earning efforts and make it back. And while I have had some losses here and there, the bigger risks I have taken have mostly paid off. For example, against conventional wisdom, I collected and held a large amount of employee stock for many years before selling. The value of the company grew a lot over those years.
What has been your best investment?
Investing the max in my company's stock. My company was a big winner over the last two decades and holding all that stock rather than selling as it vested really paid off big time. While the conservative investor would say that is too many eggs in one basket, I believe that risk would pay off. It did for me.
What has been your worst investment?
I have speculated in "hot" stocks and lost money a few times over the years. But the one I think back on as the worst investment was in the year 1999.
I took one of my hard won commission checks and bought $1,000 of a hot new dot com stock. Over the next several months the stock shot up to be worth over $12,000. By mid-year 2000, the stock had dropped to $700 where I grudgingly sold it.
While the loss was only $300, we were hand to mouth at that time and seeing the rapid drop from $12K to $700 was very painful. That lesson taught me a lot about how to trim high flying growth stocks on the way up, and how to speculate with only the part of your portfolio that you can afford to lose.
What's been your overall return?
My retirement accounts have matched the market – they are in low cost index funds.
From my after tax accounts, it is difficult to say because I kept trimming winners, selling losers, adding in new money and cashing out positions to put into bonds, or to pay off my mortgage in chunks, or to pay for larger expenses. I would estimate my return has been a few percentage points better than the market.
How often do you monitor/review your portfolio?
I am always watching a few stocks and check the market daily, but I review my overall portfolio mix several times a year.
NET WORTH
How did you accumulate your net worth?
All was earned from work and investments.
We have not inherited any money. My dad gave us $10K to help on the down payment of our house in 2001. At the time we only had $20K in savings.
I have a grandmother who gave us a few thousand over a several years as well, most of that went into our daughters' investment accounts.
What road bumps did you face along the way to becoming a millionaire and how did you handle them?
Other than the challenges of finally getting to a point of steady earning income in my 30s, we have not faced any huge financial setbacks.
Once we started earning, saving and investing, our assets grew steadily throughout with a snowball effect once I got into my 40s.
What are you currently doing to maintain/grow your net worth?
Nothing different. If anything, we have loosened up a bit on spending since we paid off the house a few years ago. We still maintain our frugal habits for the most part.
Do you have a target net worth you are trying to attain?
I have thought of $5M as a target for a long while, but I am not sure that I will get there, or that I need to get there. My thought at the time was that if I had $5M, I could put it all into bonds paying 5% and live off the $250K it generated each year.
Really for me now, it is about getting to the point where I feel comfortable not earning steady pay. I think I may be there, or close to there. It is a difficult thing to be sure of. I plan to think on it more while walking across Europe this Fall.
How old were you when you made your first million and have you had any significant behavior shifts since then?
This was a big goal for me that I worked at and thought about for most of my life. I did not count equity in my home in getting to that goal and paying off the mortgage aggressively slowed me down. We reached $1M in liquid assets when I was 48 and paid off the house when I was 51.
What money mistakes have you made along the way that others can learn from?
"If only…" is something I never let myself dwell on because that is not a winning mindset. But, since you asked… I probably would have been more disciplined about getting to steady earning and saving a bit earlier in life. Had I done so, I might be closer to that $5M goal today.
As for my aggressive investing style, I have no regrets.
If you had to give advice to ESI Money readers about how to become wealthy, what would it be?
It may seem at odds with the formulaic approach on earning, saving and investing, but I really think that creating wealth is accomplished by acting with mental and emotional fortitude. It takes a firm belief in yourself and sustained effort to win at life. If I can do it, anyone can!
FUTURE
What are your plans for the future regarding lifestyle?
As mentioned earlier, we plan to take a break from our connected / corporate life and backpack around Europe for a couple months. We see it as a vision quest.
What are your retirement plans?
Our retirement plans are, and will likely remain, a work in progress. A quote I once read said, "may all your dreams in life be achieved, except for one." I like that thought to always have one more dream to pursue. We will continue to refine and add new plans and dreams as we go.
Are there any issues in retirement that concern you? If so, how are you planning to address them?
Like many of your readers, healthcare is at the top of the list. While we are healthy, we are concerned about leaving my employer sponsored health plan. This is the issue that gives me the most pause in leaving corporate life.
MISCELLANEOUS
How did you learn about finances and at what age did it 'click'? Was it from family, books, forced to learn as wealth grew, etc.?
School of hard knocks. I learned as I went, both reading, watching and talking to other people who invested.
Who inspired you to excel in life? Who are your heroes?
For me it was the heroes I read about in fantasy sci fi novels. Especially, the stories with young protagonists from humble beginnings who grew into great heroes.
Do you give to charity? Why or why not? If you do, what percent of time/money do you give?
While we have given to the community and to the kids schools here and there, we are not regular donators of money to charity. I have always been suspicious of how much of the donation goes to actually helping the needy.
We did help a young friend of my daughter with his first year college tuition. He achieved academically and was accepted at a very prestigious college. His family does not have much money and they couldn't afford the tuition.
Do you plan to leave an inheritance for your heirs (how do you plan to distribute your wealth at your death)? What are your reasons behind this plan?
No specific plans here. What is left over will go to our kids.