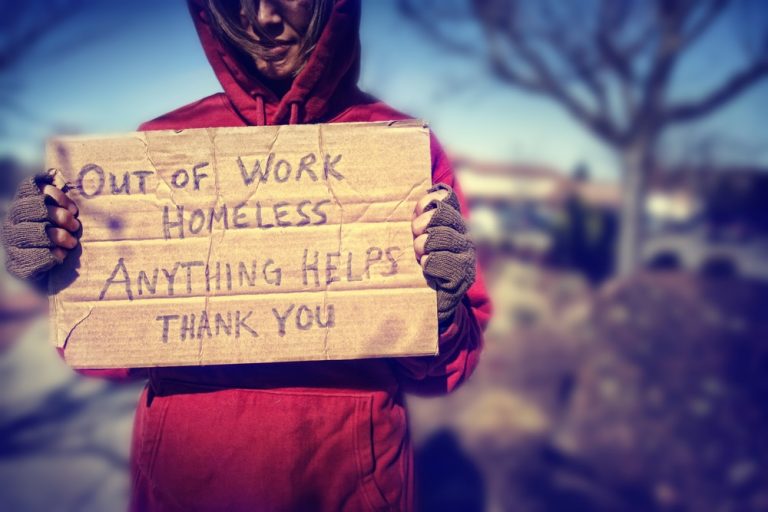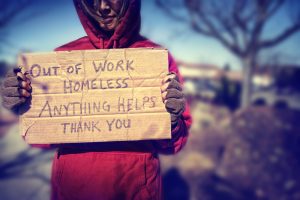 I remember it like it was yesterday.
I was newly married and we were saving money wherever we could.
That's why I was riding the bus to work despite that fact that we made over $100k per year as a couple.
I was at a bus stop on a highly-trafficked street in downtown Pittsburgh, 10 minutes or so early for my bus.
For some reason no one was around, which was strange.
Then he appeared.
He was homeless (or I assumed so based on his dress) and asked me for money.
I declined.
He then got closer and I could see the wild look in his eyes. I'm not sure if he was on drugs, but he seemed like it. He appeared to be crazy.
That's when he told me he HAD to have money…or else.
I wasn't sure what "or else" meant and certainly didn't want to find out.
I glanced to my left and right and there was NO ONE AROUND! Where was everyone????
I told him I only had a $20 bill.
He said that was fine, he could use $20.
So not knowing what else to do and afraid the guy was going to accost me, I gave him the money.
I'm sure that $20 did him more harm than good.
I never saw him again…and I never arrived 10 minutes early for the bus again either.
Looking back on that experience, there are about 1,000 better responses I could have chosen that day. But I was caught by surprise and in a tough spot, so I froze.
What Would You Have Done?
It's a perennial question: what should be done when panhandlers ask for money?
At one end of the spectrum there's the "don't give them a penny because they'll spend it on drugs or booze" response.
On the other, there's the "these people just need a bit to help them get by so why not help?" response.
In between there's a whole host of options like:
"I don't give directly to people since I don't know how they'll use the money."
"I give advice on where the nearest food bank/shelter is."
"I give vouchers for food."
"I buy them food but never give cash."
And on and on.
But is there a "right" answer?
Spoiler alert, I don't think there is one right answer, so if you're hoping for that, this piece isn't going to deliver.
Instead I'll share a few of my experiences and thoughts on the subject. Seems like I've collected many of them through the years. Hopefully these will provide some food for thought you can use when you decide how to respond.
I'll also share what I do these days in case that helps someone.
Panhandlers on Every Corner
Today there seems to be a panhandler on every corner where there's at least decent traffic.
I don't remember this being a thing back in the day. Maybe I was just oblivious to it. But there certainly seems to be more "action" than ever before. Tons of people take regular places these days near stoplights and ask for money.
It's even become a contest of who can be the best marketer. A few marketing decisions each of these panhandlers has to make:
What sort of sign to use — Printed sign versus handwritten sign on poster paper versus handwritten sign on a torn cardboard box. BTW, the printed sign guys are way too professional-looking for me.
What messaging to use — Lots of options here: religious, patriotic/veteran, need-based (food, shelter), just fired, etc.
Who is with them — Asking alone or asking with some sort of support (spouse, child, dog). BTW, if someone can afford to feed a dog, they are immediately off my list of potential options.
What to wear — Ragged clothing versus everyday wear. It's a fine balance — you want to appear needy but not frightening.
What extras can help — Various props such as wheel chairs, walkers, canes, casts, etc.
And, unfortunately, there's much more.
When we lived in Oklahoma City panhandlers were everywhere. I always thought it was because the weather is warm there so there are more working days in the year. Unfortunately it's not much better in Colorado Springs.
Not Giving Because of the Fear of Being Taken
One reason people may not give to panhandlers is because they think they are getting ripped off — that the panhandlers are really just "business people" who make $100k (tax free, BTW) asking for money. Who wants to be the sucker that gives to one of those people?
While we were in OKC there was a big news story which highlights this fear.
A guy gave money each day to a lady who "needed help." Then one day he followed her when she left her post and saw her get into a car much nicer than his.
The resulting video of him chewing her out went viral and can be seen here along with the news story.
It appears that this concern is mostly not justified but's it's still an issue that keeps many from giving.
Giving Hurts Them
Another reason some non-givers cite is that giving actually does the recipient more harm than good.
The OKC video article linked above says that most of the people asking for money are not using it for something productive:
According to the Homeless Alliance only about 20% of panhandlers are actually homeless.
"By far the majority of panhandlers we see are panhandling for cash, typically to support unhealthy behaviors, often alcoholism and other addictions." said Dan Straughan-Executive Director of the Homeless Alliance.
That's why they encourage people to give out vouchers they have had made up instead with information about shelters, a map and bus ticket to get there.
Turns out Tim Ferriss has similar reasons for not giving.
Here are his thoughts when he was interviewed by Stephen Dubner from Freakonomics:
DUBNER: You're visiting New York now, which you do pretty regularly. It's not uncommon to run into someone on the street asking for money. So it seems like everybody, over the course of their life, develops some kind of standard strategy for that scenario. What's yours?
FERRISS: I do not give money, and I'll tell you why. I at one point paid a homeless gentleman in San Francisco to give me a tour of the entire sort of homeless underground in San Francisco.
DUBNER: What did you pay him?
FERRISS: It was through a service that I think is no longer around*. I think it was called Vayable? V-a-y-a-b-l-e. It was maybe 50, a hundred bucks, something like that? And he was very explicit and he said, "You should never give homeless people money." And he showed me exactly where they—
DUBNER: Right, says the homeless guy who's getting paid by the agency.
FERRISS: Who is getting money. So, right, you have to take that into account. But he walked me through the Tenderloin, through all these different areas, and he pointed out where to get clothing, where to get housing, where to get blankets, where to get food, where to get all these resources, and he said, anyone who is asking for money is doing so to buy drugs or alcohol.
This seems to support the conclusion above but comes at it from a different angle.
If the intention is to help the panhandler, then giving to them might be the worst thing for them — or so the line of thinking goes.
Colorado Springs Homeless Ministry
We've seen a bit of this sort of thing up close and personal.
My wife and daughter used to volunteer for a ministry that handed out food to the homeless.
They would then talk to the people in an attempt to try and "help" them.
Their intent was to assist people in getting off the streets, into a job, and so forth.
Turns out the homeless people liked being homeless and didn't want to change anything.
In fact, the ministry was HELPING them remain homeless. With food, supplies, coats, etc. provided, the homeless were quite comfortable without a home, job, and so forth.
So my wife and daughter gave up "helping" since they felt it was counter-productive.
Thoughts from the Street
Recently a friend of mine posted his panhandling experiences on Facebook.
He works at a church and runs a program that tries to find people jobs. He's also a very thoughtful person and truly wants to help others (as you'll be able to see by the lengths he goes to).
I asked him if I could use it and he gave me permission.
Here's what he had to say:
Having an eye for humor and irony (as you know if you know me), yesterday I posted a pic of a panhandler standing in the midst of dozens of businesses, several of which I knew were hiring, and shared that I've observed this a lot.
I've seen people holding signs asking for money while standing next to people getting paid to hold a sign advertising a store sale.
I've seen guys holding signs while standing in construction zones.
A few years ago I posted a pic of one of those instances, and the HR manager of the construction company, who is a friend, saw it and said they would have hired the guy on the spot if he had really wanted a job.
So anyway, I shared this observation and it led to some very good discussions but it also led some folks to feel I wasn't compassionate or that I was judging the person because I didn't know their situation.
I can see how my post may have come across that way, and I apologize for that. Maybe it wasn't worth posting, or maybe it required more context or a suggestion on what could be done to help.
Most of the people I know who have worked in homeless crisis intervention for decades in GR will tell you that the last thing you should do is give panhandlers money. Because it perpetuates the problem and creates more panhandlers. If it didn't "pay" people would stop doing it.
Some of these leaders claim that the majority of panhandlers are "professionals" – that's all they do day after day, year after year. They say this from experience of engaging with them, offering them jobs, etc.
I'm not saying they are all like that, and I'm not saying we shouldn't do something to help them at all. In fact, I have some ideas of how our church could engage more with them and connect them to jobs through our job fair and a staffing agency that will be coming into our church soon. I'm just sharing their observation based on experience.
To know how to really help, we need discernment. Read Olasky's "The Tragedy of American Compassion" or anything by Bob Lupton to learn what I mean. When we encounter situations where people are asking for help, the best way to truly help is to engage with them and learn about their situation, and that takes time.
I've learned to ask questions that try to get into their mind or get ahead of them a bit to cut through the crap, if there is any. For example, I can't tell you the number of times someone's hit me up over the years saying they ran out of gas. I could say, "sure, here's a few bucks" or I could say, "hey, where's your car? Let me give you a ride." To which everyone so far has said, "ah no, man, that's OK. If you can just help me out with a few bucks I can make it."
So I've learned to think ahead and offer to go the extra mile. Because if they really do need money for gas, they need a ride, they need a gas can, and they need gas. Most people probably wouldn't feel comfortable doing that, but I've never had a problem with it.
Last week I was in Detroit for a conference. I was walking with some fellow team members and a lady asked us for money. I asked her "Hey, what are you working on?" And she said she was hungry and wanted something to eat. I asked her what her name was, told her mine, and invited her into the nearby 7-11 to buy her a sandwich. As we walked out, she went over to her friends standing outside, and we noticed they didn't seem too excited about the sandwich I just bought for her. We watched as we walked down the road a few blocks and she never ate the sandwich. Maybe later, who knows?
On Monday my wife and I were about to walk into a restaurant and a guy asked if I could help him out with some gas. I asked him what the situation was and he said his wife had an interview at a store near where we were and they didn't have much gas to get home. I decided not to probe too much since we were supposed to be meeting people at the restaurant, so I left my wife at the restaurant and offered to meet him at the nearby Meijer gas station, where I pumped $7 in gas.
Later I thought, I wonder if his gas gauge was really on E? Who knows?
Tonight I went out for a run and my turn-around spot was at a CVS. It's 10:00 pm, and as I get a block or two away from CVS I hear a guy yelling at me, asking me to stop. His name is William and he has a story about how his car broke down but it is being towed and he gave the tow guy $290 which gives him a tow and a rental and he just needs $20 more and can I help him?
I told him I don't carry cash when I run. I offered to let him use my phone and he said that'd be great since his wife works at Lowes…he could call her and see if he can get her debit card, and then maybe I could drive him over there to get it. But the line's busy. I tell him I can give him a ride but it'd take me 15 minutes to get back home to get the car and then get back to him. And the tow truck guy is waiting a couple of miles away, and he has $290 of his money, but won't help him until he gets just $20 more.
I get home, get the car, drive down to CVS and meet him. Offer to let him use my phone again to call his wife who works at Lowes but the line is still busy. Then a guy walks up to the Red Box and William goes out to ask him for some money (pictured). Then he comes back and asks me to please give him $20 and then he will give me $60, he promises, in the future.
I tell him no, but I'd be glad to give him a ride to get his debit card from his wife. He says, you know, my sister-in-law is working at Meijer, so let's go there and I'll see if I can get some money from her. Then I say, wow, you've got your wife working at Lowes, but now you want to go see your sister-in-law at Meijer, and he says yeah, I'm not sure if my wife is at work or not.
So I take him to Meijer and offer to wait for him but he says, no, that's OK, I'll see if she can give me a ride. I pull around to another part of the parking lot and sit for a few minutes and watch William.
He doesn't enter the store, but talks with several people coming and going, presumably asking them for money.
So there you have some of my experiences with people "in need" this week…asking some questions…trying to figure out what I should do to help. I hope I can get it right more often than not.
Interesting, huh?
Helping the Poor
The situation is certainly frustrating. Despite the objections detailed above, many people (me, my friend, my family, etc.) want to help others who are needy. We have been very blessed in our lives and want to spread around help and opportunity for those who haven't received as much.
And yet it's very difficult to tell the real needs from the fakers.
So what is a sincere person supposed to do? I don't want to give up helping simply because some are dishonest or using gifts for less-than-useful purposes.
First of all, we do not give to panhandlers directly. We say "no" and sometimes give them information on the places that provide support in our community. It just seems like pouring money down the drain to help at this level.
Instead we opt to help by both giving to and serving with organizations that help the poor.
They are better equipped at vetting who to give to and what to give.
IMO this combination is a much better response than what I had in Pittsburgh all those years ago. It also allows us to be part of the solution while avoiding (as best we can) the con-men.
Fin Con Work Line
One other experience that's kind of related and fairly recent pertains to this subject.
I went to Fin Con, the financial media conference, in October.
While I was there, the hotel hosted a job fair.
We came upstairs one day (our conference was on the ground floor) and found HUNDREDS of people standing in a line that wrapped throughout the hotel (and this was a huge hotel) all for the chance to apply for a job.
It was a surreal moment. On one floor you had millionaires, multi-millionaires, people retiring in their 30's, and so on. On the other you had people who often looked close to being homeless standing in a line for hours hoping to find work.
It was heart-breaking to see this many people so desperate for work.
But it was also inspiring. These people had not given up and were going to do whatever it took to find work.
I've been thinking about those people a lot and would love to help them somehow. Perhaps my future giving and volunteer efforts will involve people like them. Time will tell.
So, that's a lot of information on how to deal with panhandlers. Now's your turn.
What do you think of the issue? And how do you handle it when you're personally asked for money?