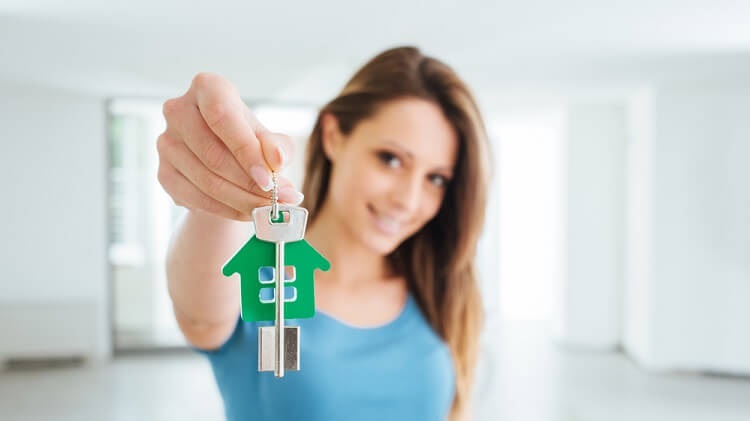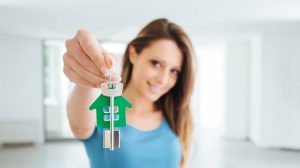 Here's our latest interview with a millionaire as we seek to learn from those who have grown their wealth to high heights.
If you'd like to be considered for an interview, drop me a note and we can chat about specifics.
My questions are in bold italics and her responses follow in black.
Let's get started…
OVERVIEW
How old are you (and spouse if applicable, plus how long you've been married)?
I'm 35, and my husband is 40. We have been married 4.5 years.
Do you have kids/family (if so, how old are they)?
We have four pets, five siblings and nine nieces and nephews between us.
We are currently on the fence about whether to have kids and are aiming to decide within the next 6 months.
What area of the country do you live in (and urban or rural)?
We live in an urban center of a major Texas city.
What is your current net worth?
$2,740,923
What are the main assets that make up your net worth (stocks, real estate, business, home, retirement accounts, etc.) and any debt that offsets part of these?
Cash – $105,642
Brokerage – $205,458
Retirement Accounts – $919,824 ($594k 401ks, $265k Roth IRAs, $39k H.S.A., $22k deferred comp plan)
Restricted Investments – $473,825 ($378K RE multi-family syndications, $60k tech start up accelerator, $36k employer stock/ RSUs)
Real Estate – $1,933,500 ($670k homestead, $1.15M 7 rental units, $112k portion of father's residence)
Automobiles – $34,000 (2 used vehicles)
TOTAL ASSETS – $3,672,249
Credit Cards – $11k (paid in full monthly)
Auto loan – $18,495 (5 year fixed at 0.90%, 3 years left)
Deferred taxes – $3,168 (taxes owed when RSUs vest)
Homestead mortgage – $313,353 (15 year fixed at 2.75%, 12 years left)
Rental Mortgage duplex – $130,243 (30 year fixed at 5.125%, 21 years left)
Rental Mortgage condo – $163,678 (30 year fixed at 4.125%, 25 years left)
Rental Mortgage duplex – $139,783 (30 year fixed at 3.0%, 22 years left, mother is lender)
Rental Mortgage duplex – $151,337 (30 year fixed at 3.0%, 24 years left, mother is lender)
TOTAL LIABILITIES – $931,326
EARN
What is your job?
I'm a Vice President / Private Banker at a small local bank.
I expect to be promoted to SVP in the next year and hope to move into management in 3-5 years when my boss retires.
My husband is a commercial lender (SVP) at a larger regional bank.
What is your annual income?
Our total compensation for 2018 will be around $482K: $356k salary, $105K bonuses, $10k RSU, $11k 401k matches.
My salary is $155,000, and my annual bonus is 20% of salary.
My husband's base salary is $189,000, and his annual bonus has been around $75K the last two years; it's based purely on his production though, so it can vary.
Tell us about your income performance over time. What was the starting salary of your first job, how did it grow from there (and what you did to make it grow), and where are you now?
Our comp has really risen sharply over our banking careers. Here is a breakdown (me on top, DH below):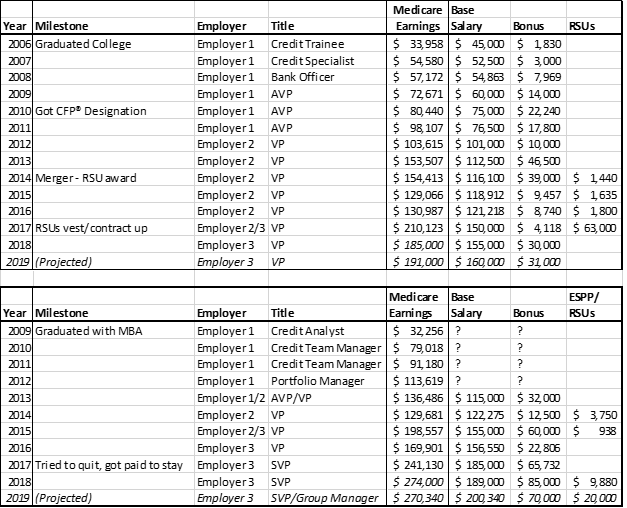 What tips do you have for others who want to grow their career-related income?
1. Don't be afraid to change firms; you'll get bigger raises and learn a lot more.
2. But stay long enough prove yourself at each employer; relationships and reputation are key.
3. Don't ever think your job is 100% safe. Even top performers get fired sometimes because they make too much or for political reasons.
I never would have left my first employer; I was given good raises and promotions, and they invested a lot in me. But I found out I was on a layoff list, despite being well-liked and exceeding my goals consistently.
My position was being eliminated, to the huge disappointment of my boss who was nice enough to spill the beans to me 6 weeks early (only two others shared my exact HR title, and they were in another state but needed to be fired; to make it a Reduction in Force they eliminated the position).
I called the manager at a competitor who'd been recruiting me before I'd even left the parking lot after that meeting. Long story short, I had a job before I was actually fired. I got what I brazenly asked for: a base salary raise of over 30%. I ended up really liking my new office, manager and company too. That was a huge lesson: there are many places I can be happy.
I was scared since the new position would be 100% business development, but things worked out. We grew fast and got bought (the owners' goal), and I signed a contract to stay with the new owner in exchange for some RSUs. By the time I was ready to move on, I once again was able to ask for what I wanted; I got a 24% raise with that move.
Our income spiked more than average with each transition due to the reputations and relationships we built (being recruited in a hot market helps). We've also learned a lot by working at banks of different sizes, credit standards and cultures.
We are better connected too, having worked with a wider variety of colleagues and clients. I feel much more confident today in my ability to adapt and thrive in a variety of environments. However, we've grown roots over 10+ years in one industry and in one city/market, which has deepened our influence and community ties despite the employer changes.
I've seen friends' incomes stagnate because they moved around too much early on, trying different things and effectively starting over each time. Sometimes that's necessary due to a layoff or move, but it often seems to be due to boredom or frustration with just one or two years of income stagnation.
Moving for an extra $5k or $8k may seem worth it financially when you're making $50-$75k, but it may not be if you're moving laterally and giving up the opportunity to command 20%+ if you land a few more clients or get that promotion first.
Whatever your field, becoming an expert and plugging in to the network takes many years; but around year 7 – 10 the snowball picks up momentum and those early efforts start to pay dividends.
The irony is that many people quit just when that momentum builds; that's the point when many folks are financially stable enough to decide to FIRE or stay home with kids or try that dream career that doesn't pay much. You're giving up an incredible amount of future earning potential to make that choice to sacrifice the network and expertise you just spent 10-20 years building.
If you do stay with one employer, know that you could get bigger raises by moving and negotiate accordingly. Your manager would rather push for higher pay for you than endure the hassle and expense of recruiting your replacement, but he or she probably won't do it proactively. You can push the issue casually and even with humor in many cases if you develop a good relationship with your manager.
What's your work-life balance look like?
Banking is a great career path for work/life balance as well as the possibility of high pay.
We make nearly as much as many attorney and physician friends now that we are 10+ years in, but we work roughly half the hours. Even the most dedicated hustlers in banking rarely work more than 50 hours a week (including golf tournaments, charity parties, etc.).
I am at a smaller, less sales-focused firm and work 8:45am to 5pm. I often go to the gym or home for lunch and never work weekends, though I do frequently attend evening charity events or networking happy hours.
My husband has a more sales-centric production role. He works 8:30am to 5:30pm most days and a few hours on the occasional weekend when he's slammed.
Do you have any sources of income besides your career? If so, can you list them, give us a feel for how much you earn with each, and offer some insight into how you developed them?
Cash gifts – $18,000
Credit card cash back – $3,000
Rental property cash flow – $21,000
Multi-family syndication distributions – $17,000
My mother gave me and my siblings the maximum annual gift tax exclusion amount this year, and she plans to continue that. In 2018, any individual can give another individual $15,000 without paying gift taxes or filing a gift tax return. We also each get a few hundred bucks for various holidays from parents and grandparents.
I started buying rentals in my early 20's, and I accumulated 10 units in five years. I'd read a few books on how easy getting rich with real estate was, and I wanted the option to stay home with kids eventually while still contributing to my family financially (I decided this at 22; I was always an over-planner).
I imagined myself jetting around town in a luxury SUV with a toddler or two in tow, handling maintenance and showing vacant units.
The reality was not glamourous. I was too trusting; I paid full retail price for two duplexes in 2008; and I knew nothing about home maintenance. Unsurprisingly, I didn't cash flow at all for the first few years and dealt with tons of tenant drama.
Still naïve/idealistic, I bought two more duplexes in 2010 (my initial plan was one property per year). As lucky market timing would have it, I got those at a great price.
The equity started building ever so slowly, and I learned a lot (mostly the hard way): negotiation and confrontation, eviction law and building codes, the layout of my local Home Depot.
I added a condo in my neighborhood in 2012 and finally hired a property manager. I figured the extra cost would be worth time saved, but my overall cash flow actually improved. Maintenance/repair costs plummeted due to their scale and bargaining power, plus they enforce late fees and eviction policies.
I sold my two worst performing properties in 2016/2017 (though both had appreciated well), so cash flow is now firmly positive.
For 2018 and the next few years, I project the following:
Rent – $118k
Mortgage Interest – $23k
Property Taxes – $28k
Insurance – $4k
Management Fees – $8k
Maintenance/HOA/Other – $18k
NET INCOME – $37k
Mortgage principal payments – $16k
Cash Flow – $21k
I haven't bought another rental since meeting my husband, but we've invested in real estate investments through syndicated deals since we became accredited investors with marriage.
We own 1-2% of several apartment buildings. We don't have any hassle, but we don't have control either. I worry about the unpredictable large capital gains we'll have now that we have 7 of these projects with 3 different investment groups.
SAVE
What is your annual spending?
We've let lifestyle inflation run a little rampant lately.
Our average annual spending over the last three years has been $159k according to Mint (not including payroll expenses).
What are the main categories (expenses) this spending breaks into?
Here are our three-year average spending figures (from Mint, plus I added payroll deductions).
Federal Income tax & FICA – $101k
Home – $64k (48% mortgage, 18% prop taxes, 16% home improvement, 11% utilities, 7% cleaning/HOA/ins)
Food/Dining – $25k (36% restaurants, 34% groceries, 16% bars/alcohol, 14% fast food/coffee shops)
Shopping – $20k (64% clothing/shoes/jewelry, 27% electronics, 8% sporting goods/other)
Travel – $13k
Auto/Transport – $11k
Personal Care/Golf – $11k
Gifts/Donations – $8k
Pets – $3k
Entertainment – $3k
Other – $3k
Health Insurance – $2k
TOTAL – $264k
Do you have a budget? If so, how do you implement it?
I've tracked spending carefully via Mint for about a decade now.
DH used Mint too, and I added all his accounts to my login when we got married so I can see and track it all (he could too but rarely logs in – which actually works out great haha).
We don't have a budget; we both max out retirement and then spend what we want and then save what's left in cash until a market drop or RE opportunity arises.
If net worth is trending up and our savings rate is high, I don't worry about spending. We're careful to keep fixed costs low so that we have a lot of flexibility to save or spend how we choose though. For example, he has discouraged me from upgrading my 2011 basic car, and I talked him out of joining a golf club last year.
As far as implementation, I'm a big believer in combining finances – even considering I brought in nearly 10x his net worth to our marriage and also earned more money when we dated. We both feel that legal marriage is good for two things: building a family and building wealth.
The friends we have who try to keep things separate end up engaging in competitive spending, have more resentment and arguments, and end up in no win situations like debating who gets the tax refund and whether somebody's bikini wax or holiday decorations are a personal or joint expense.
When we got engaged we opened a joint account and contributed 50/50 to it for joint expenses (new house and furniture, vacations, dates). When we married we closed our individual checking accounts and attached all income and expenses to the joint account.
We still have our own credit cards for personal spending, and we can take cash out for things like gifts. But we are both focused on growing joint net worth.
I want to add for folks who may be in a similar situation that we did talk about getting a prenup but we couldn't figure out what we'd want it to say. There are just too many variables – what we will both earn over time, whether and how many kids we'll have, etc.
My rentals are in an LLC, and they remain separate property (in TX, a community property state, capital gains on separate property stay separate – but that's not always the case).
The rental income is legally community, but he's made more than me the last few years anyway, so I'm OK with that. And I honestly don't think he'd ever fight me for those, given I bought them many years before we married.
I've comingled most of my separate property though, legally speaking, in order to invest in these Re syndications and for other reasons. The only way to avoid it is to set up trusts and really watch every dollar of distributions and reinvestment.
People get hung up on what the law is, but the reality is that if you can reach an agreement or go through mediation, a judge will never have to divide your assets. I keep careful records, which I hope I'll never need.
We both believed, based on our savings rate and habits, that within a few years of marriage we'd be much richer together than we'd be staying single. So far that's proven to be true.
I had a net worth of around $1M when I got married, and his was just over $100K; 4.5 years later our joint net worth is $2.7M and growing at $400K+ a year.
Even if we split it in half (meaning I give him some of my separate property), we'd both come out ahead. I don't think this will happen, but it's a meaningful thought exercise for those considering marriage to someone with a very different financial situation. Not to mention that we're both enjoying a nicer home than we'd have purchased as single people, and other lifestyle enhancements.
What percentage of your gross income do you save and how has that changed over time?
We save around 50% of gross income.
I count all "financial progress" in that figure though. Here's the calculation: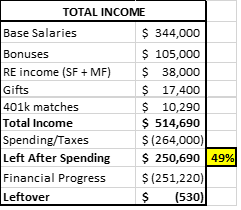 Here's how the financial progress breaks down: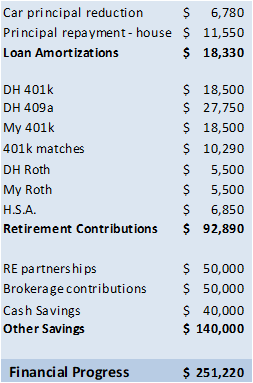 This may seem like a weird way to calculate it, but I don't think you should get savings accolades for financing a home over 30 years versus 15, for example. Arguably all the mortgage and car loan payments should be classified as "spending" though – not extra savings. There are many ways to consider this. I did classify our extra payments on DH's student loans as spending on education in Mint – not on "debt repayment" or "savings" which sounds better but is kind of a farce.
Then again retirement savings are also just deferred spending accounts, as are vacation savings accounts and 529 plans. So it's all a bit wishy washy depending on your point of view. Theoretically at least, it's all meant to be spent sooner or later.
We've maxed out retirement accounts since getting married, but that was all we did at first while we focused on buying and improving our home, paying off DH's student loan, and paying extra on our house (until we finally refinanced to a 15-year fixed).
We bulked up brokerage and moved a lot into RE deals with after tax savings and the rental sales over the last two years. Now any excess is mainly piling up in cash.
What is your favorite thing to spend money on/your secret splurge?
As you can see, we are not exactly frugal.
DH loves golf, and I like going out and shopping on foot in our neighborhood – which means paying more at trendy restaurants and Whole Foods rather than driving to cheaper bars or Costco.
He treated himself to a new entertainment system for his 40th birthday, and we've both splurged on some work attire upgrades as well (custom jackets, designer shoes).
And we do like to travel.
INVEST
What is your investment philosophy/plan?
This question has gotten tough for me. Because we don't have any specific goals currently, we don't really have a plan or an IPS that we stick to.
Our asset allocation outside of our homestead and $50K in cash reserves is currently 2% cash, 4% bonds, 55% real estate, and 35% stock (27% of which is international) plus 3% alternatives.
I don't see the use of bonds in our accumulation phase, especially since RE can act as a fixed income substitute. But as the market has increased I've shifted some stocks to bonds mainly in preparation for a buying opportunity.
It's hard to know what to do with new cash and with proceeds from RE sales. As prices have risen, I hesitate to simply 1031 all the gains into new projects. It's a bit annoying that these guys never want to buy and hold; they'd rather flip these deals and go on to the next project every couple of years (which is of course how they're best paid).
Part of me is debating accumulating cash and just buying our own multifamily property. I could even raise funds from friends and family and do my own syndication.
I've always been a fan of index funds, which is where the bulk of our investible assets are. However, we also own Vanguard's Wellington and a China fund that's offered in my 401k plan that otherwise has a $100k minimum.
We put our clients' money there as well, and the managers are known by our firm personally. I think in certain markets (fixed income, emerging markets), active investing can have a place and can outperform passive strategies over time.
What has been your best investment?
One of our real estate syndications.
We invested $25,000 in 2016, and the principals gutted half the units and made some exterior enhancements and leased it back up. They got a crazy offer and sold it ahead of schedule after only 11 months (plan is usually to stabilize over years 2-3 then refi or sell).
We doubled our money almost exactly in less than a year, though we rolled the proceeds to a new project via a 1031 exchange to avoid paying short term capital gains taxes.
What has been your worst investment?
Probably peer-to-peer lending.
I had a Prosper account for years and am pretty sure I lost money overall – they made calculating your actual return impossible though so who knows.
What's been your overall return?
I wonder about this sometimes, but none of my aggregators (Mint, PC) seem to be able to figure it out, and there's no way I have time or capacity to use Excel to try to track it, even as obsessive as I am.
Most of our equities mimic the overall stock market return.
Our home has gone up about 4.5% a year since we bought it 5 years ago
My first home, a condo, appreciated 3.7% a year during the years I owned it (2006-2016).
The ROE on my current rentals: 7.5%, 8.7%, 4.3% and 1.5% (using 5 year actual figures)
The ROI on rental cash invested is 13.9%, undetermined (put 0% down), 33.7%, and 35.1%.
The capital gains on my rentals have averaged 1.3%, 6.4%, 6.7%, 6.2% over 4-10 years.
I sold my first rental for $245K last year; I paid $130k in 2008 but had to put $30k of plumbing work into it the year I sold it after the pipes all corroded simultaneously. Total return including cap gains and cash flow were 8.2% annualized per year.
The RE syndications have seemed to average 22% with one group over the last 3 years; one we did with a much more conservative group distributes about 4% and is projected to have an overall IRR of 8-9% over 7-10 years.
The tech accelerator may well be a total loss. You never know though; a few companies have meaningful revenue and are growing.
How often do you monitor/review your portfolio?
Almost daily except on weekends and vacations.
NET WORTH
How did you accumulate your net worth?
I had a huge head start.
Gift from dad at age 21 (UTMA acct) — $23,000
Leftover college/trust fund from grandparents at 22 — $230,000
Total Annual Exclusion Gifts from grandparents in 20s — $65,000
Early inheritance gift from mom (LLC) late 20s — $65,781
Annual Exclusion Gift in 2013 (dad's parents) — $13,000
Wedding gift from parents 2014 (wedding/house) — $50,000
I'm very grateful for this financial assistance, but I'm also proud that I have protected and grown those funds.
I have maxed out a Roth IRA at Vanguard since I turned 18 and got my first job; today the balance is $215K (7.6% annualized return over the last 10 years – not sure why Vanguard won't let me go further back).
I always contributed to my 401k, starting at 6% when I got my first full time job at 22 and moving steadily up with each raise until maxing it out at age 29 or 30. My 401k balance today is $265K (it's been rolled from employer to employer).
DH had $40k liquid and about $150k in retirement when we got married, along with a $70k student loan balance from getting his MBA. He did not have any help financially from his family.
What would you say is your greatest strength in the ESI wealth-building model (Earn, Save or Invest) and why would you say it's tops?
I think saving was my greatest strength over the last 10 years, but I think over the next 10 it will be earning.
I've always loved watching the balances on my net worth spreadsheet grow – and I've been tallying that up monthly since I was 20.
I saw my first compound interest chart at 13 and was riveted.
I'll probably be one of those people who will never be comfortable watching my portfolio dwindle in retirement.
I never thought of myself as a higher earner though. I remember a mentor a few years my senior at work scoffing when I told him I made Roth 401k contributions. I was in my mid 20s earning about $55k, and I explained that due to my tax bracket it made sense. He laughed and said my tax bracket would soon rise and change that; I still remember my confusion and not believing him. But he was right.
What road bumps did you face along the way to becoming a millionaire and how did you handle them?
I'm a little too eager to gamble/invest in anything that comes my way.
I dove into rental real estate impulsively after a breakup, buying one of the first properties I looked at (though I'd read books on the subject for years).
I eagerly poured money into peer to peer lending when that first came out.
When I became an accredited investor, I jumped at the first private equity deal that came my way, one of those RE syndications.
And when my husband happened to know the founder of that tech startup accelerator, we drained our savings to meet the minimum investment in that soon after.
Luckily DH put his foot down when I wanted to invest in Bitcoin at around $16000. I get real investing FOMO. Which, I reason, is better than spending money on designer cars and clothes (though I'm having to fight that urge lately too).
Granted, I've always done the more mainstream/boring "right things" as far as contributing to retirement accounts and using index funds and buying a home too.
And the willingness to just dive in can be beneficial as opposed to "analysis paralysis" that can keep investors on the sidelines for years. But I'm realizing there are endless opportunities and that I really need to pause and analyze carefully –it's OK if the timing isn't right for us for a particular deal. There will always be another one.
What are you currently doing to maintain/grow your net worth?
Our net worth is growing at $300k a year not including any market growth: $92k retirement contributions, $42k loan amortization, $165k taxable savings.
We plan to keep this contribution level (or increase it if our income rises further) and continue to invest primarily in real estate and stocks over time.
Do you have a target net worth you are trying to attain?
Not really, though lately I've been thinking that $10,000,000 is a nice even number to shoot for as a married couple; that way even in a divorce we'd both be financially free.
Of course, we don't *need* that much, especially if we don't have kids. But in that case we are even more likely to hit the target. And due to inflation, $10MM when I'm retirement age will feel more like $5MM today so it's not as unreasonable a goal as it may seem.
How old were you when you made your first million and have you had any significant behavior shifts since then?
My net worth hit $1 million when I was 30 and got married.
Technically I was nearly there on my own, depending on the actual value of my rentals. But when we combined assets, our joint net worth jumped to over $1.1 million.
My behavior didn't change then, but it's changed in the last year or so as our family and retirement goals have shifted and as our income has spiked.
With the possibility of FIRE within reach, I've realized that extreme early retirement isn't something I really want. I don't even think I'd want to stay home with kids if we decide to have them (though I've seen enough women go through this to know you truly never know what you'll want).
With no big financial goals and lots of free cash flow each month, I've consciously loosened the purse strings and invited some lifestyle inflation.
I still save coupons and maximize credit card rewards and buy what's on sale at the grocery store.
But I no longer analyze the lifetime retirement savings impact of decisions like taking my dogs to the groomer each month or employing a housekeeper.
I even tried (unsuccessfully) to lobby DH to spring for first class tickets to Europe this year – a PF blogosphere sin for sure! I feel like we COULD live off what we've got now if we had to. So anything more is a bonus that can be treated as such.
What money mistakes have you made along the way that others can learn from?
I bought a brand-new Audi coupe for around $50,000 when I got my first big bonus in my late 20s. It was cheaper than the used version of the model I preferred, so I decided on the spot that it made sense.
I was uncomfortable and self-conscious in it from the start. Valets expected huge tips, I could see people constantly rolling their eyes at me (I was a 20-something blonde after all), and cops and security guards started giving me extra attention.
I was accosted multiple times by strangers (all guys) gushing and telling me it was their dream car. I didn't know or care anything about cars! To this day I can't tell you what kind of engine that car had. And the low ride gave me knee and back pain climbing in and out with heels on.
I ended up totaling it 6 months later (turns out I can't handle that kind of engine), and I happily used the insurance check to buy a very used non-performance SUV – and to put 20% down on a rental property.
I learned that status symbols – especially those you don't personally value – are NOT worth the money. That rental (the 2012 condo) hasn't cash flowed much but has increased in value over 6% a year since I bought it.
What advice do you have for ESI Money readers on how to become wealthy?
Create a job/life you want now so you're not waiting to change it.
I finally stumbled into a life I actually like, and now striving for early retirement isn't a pressing concern. It's a huge mind shift. With that I'm on track to build real wealth that can change my kids' or other family members lives forever, or really impact my community.
Aiming to accumulate just enough to sustain me for the length of my natural life and then retiring in my prime years to begin decumulation strikes me as a key example of thinking small.
Automate your retirement investments.
Read lots of books (and blogs).
Just get started. I made lots of mistakes in the early years – trading individual stocks too frequently, buying real estate (and maintaining it) at retail price, mistaking gambling for investing, violating wash sale rules. But the earlier you try things and learn from those activities, the sooner you figure out what works for you and set about building wealth that works for you.
FUTURE
What are your plans for the future regarding lifestyle?
I am comfortable with my lifestyle now; my focus is on saving enough to support it indefinitely, whether or not I continue to work. If my life changes (kids, divorce, death, disability) then my lifestyle may change as well (new home, different spending needs).
If we remain DINKs though, I imagine that we'll accumulate enough wealth to increase our lifestyle more over time and/or retire early. I'd like to be able to take my nieces on fun fancy trips annually and perhaps help pay for my nephews' educations on DH's side.
What are your retirement plans?
I used to imagine retiring at 40 with about $3 – $4 million, but I didn't have a firm grasp of what I'd want to do next.
But I've recently realized I could work in my current job indefinitely while still doing things like traveling, writing, volunteering. I really like my team and company – plus I've witnessed lots of retirees get part time work (often very low paying) just for the social interaction and mental stimulation.
My parents are retired and financially comfortable, but my dad talks about getting a job at a bookstore or Starbucks, and my mom spends 15+ hours a week teaching online for less than a hundred bucks a week after taxes.
I'll never be able to relax and do nothing for very long; I get antsy and in my head just over a long weekends sometimes. I'd inevitably launch a second career or business – why not stick with the one I've already built?
In short, there is nothing pulling or pushing me toward retirement at the moment. Kids could change that, but several of my sisters and friends have been surprised at how much more they treasure their careers after becoming moms, and I bet I'd be in a similar boat.
So weirdly, I don't plan to retire at all currently. But I'm 35. What do I know? Of course I want the option.
Are there any issues in retirement that concern you? If so, how are you planning to address them?
Not really.
I plan to build enough wealth before retiring that I won't have to worry about anything other than black swan events that I can't do anything about (Great Depression II, World War III, etc.).
MISCELLANEOUS
How did you learn about finances and at what age did it 'click'? Was it from family, books, forced to learn as wealth grew, etc.?
I was 13 years old, trapped on a four-hour road trip in the back of my grandfather's Lincoln Town Car, and I found a Motley Fool investing book. With nothing else to do (this was the mid 90s), I read it cover to cover.
They had one of those compound interest charts where two twins invest differently: one brother at 25 saved $3k a year for 10 years; the other brother at 35 saved $3k a year for 30 years. Both retire at 65 but the first brother has like a million more dollars.
I was enthralled, and I later searched in vain for a similar chart showing what could happen if you started at 15 or 20 instead of at 25. It seemed like magic, and I was easily convinced (see above weakness for gambling/easy money).
My father had always made going to the bank a big deal, and I'd had my own savings account from age 8 or so. When I told him I needed a "discount brokerage account," per the book's instructions, he laughed but encouraged me to open a Scottrade account online.
He made me figure it out and pick my stock holdings, and the next year he made me file a tax return too even though legally I didn't make enough to have to. I remember using the Foolish Four Investment principals – I bought MMM, DIS, GM, and something else I can't recall. I think he also matched my early savings to get me a few thousand to invest.
I was hooked, and I devoured any financial information I encountered from then on. At age 18 I opened a Roth IRA at Vanguard and started maxing it out (luckily I heard about index funds from my grandfather; he was an early adopter), and in my 20s I hopped on the RE bandwagon.
I've never been the best investor, but almost anything works if you buy and hold.
I've far outperformed my counterparts who have "invested" in Chanel handbags and Mercedes sedans and false eyelashes and blonde highlights. Well, maybe I have – some of them may have married way up as a result of those efforts, but I'd like to think I'm happier anyway. More empowered? Something. 🙂
Who inspired you to excel in life? Who are your heroes?
My grandfathers were both always my heroes. I know it sounds like a cliché, but they were both larger than life, well respected in their communities and successful entrepreneurs.
Both started out in poverty but built successful businesses.
My grandmothers helped run those companies and raise many children, and I look up to them as well.
I've always felt a tug toward self-employment as a result – or as a genetic disposition.
My father also did well for himself and vacillated between well-paid corporate jobs and entrepreneurial / FIRE interests, mainly with an eye on improving his community. I'm very like him emotionally and therefore wary of the freedom and lack of structure that financial freedom can bring.
He has kids and grandkids to add meaning and purpose to his money and time, but if I don't procreate I won't even have that.
My mom was a product of her time and married a great guy and had four kids quickly. She got a masters in Math and launched a career in her 40s after being a SAHM for 10+ years and beating stage 4 breast cancer.
She always tells me I don't have to have kids, and part of me suspects she'd like to live a child-free life vicariously through my experience (though she loves her many grandkids that my other siblings are providing).
Do you give to charity? Why or why not? If you do, what percent of time/money do you give?
DH gives 2% of his salary to United Way which is encouraged by his employer.
We give a few more percentages of income to various charities on an ad hoc basis as well.
I don't volunteer much anymore, but I've sat on a couple of boards in the past and was a member of Junior League in my 20s.
I used to target 10% of income for giving, but when we got married DH wasn't comfortable with that much. He still had student loan debt and was just getting used to a higher income, so he didn't feel financially stable enough to focus on giving.
Our situation has changed, but we have some misgivings about how best to allocate funds and whether many charities use resources well or make much of a difference at the end of the day.
One thing we did a couple of years ago is invest $50K in a tech startup accelerator. This isn't charity, but we view it as effectively a donation to support local entrepreneurs who are creating jobs and trying to build something and solve problems.
There's a chance one of the startups gets sold to Google, but there's a chance they will all fail and we will lose the money.
There's another fund that focuses on healthcare startups that we may invest in (donate to) next year.
Do you plan to leave an inheritance for your heirs (how do you plan to distribute your wealth at your death)? What are your reasons behind this plan?
We are in the process of setting up a will, and the current plan is to leave everything to each other. If we both die together, we'd leave everything to our siblings (with $10k or so going to our pet sitter with our pets).
Which assets go to whom is up in the air. We don't want them to have to figure it out, but we also don't really care at the end of the day and separate property is getting very difficult to track.
It may be easier to just say 50% to his and 50% to my siblings (even though more than half our assets are technically my separate property).
I've also suggested that we each may want to leave something to our siblings if only one of us passes; we may change the primary beneficiaries on our 401ks to be our siblings, for example.
Obviously if we have our own kids this will change.