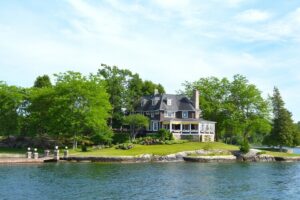 The following is a millionaire interview I first published on a previous site.
I have several of these interviews, conducted over the past five years or so, that I now want to place on ESI Money (so they are all in one place).
I've been posting them every now and then and will continue to do so, mostly in the slower times when many readers are on vacation or busy with other activities (like today). All great stuff!
The interview below took place in 2014. I've lost touch with the interviewee, so no update on this one. 🙁
My questions are in bold italics and his responses follow in black.
Let's get started…
How old are you (and spouse if applicable, plus how long you've been married)?
I am 58 and my wife is 56. We have been married 14 years, a second marriage for both of us.
Do you have kids/family (if so, how old are they)?
I have two grown children from my previous marriage ages 35 and 33.
What area of the country do you live in (and urban or rural)?
My wife and I live in the Northeast in a suburban area of a mid-size city.
What is your current net worth?
$2.25 million
What are the main assets that make up your net worth (stocks, real estate, business, home, retirement accounts, etc.) and any debt that offsets part of these?
Savings & Investments – 52%
Tax Deferred Retirement Accounts – 38%
Personal Property – 10%
We live in a region where housing is very affordable (but not property taxes).
We own a modest 1860 square foot home built in 1928 with a market value of $175,000 (regional average market value is $115,000) with a low interest rate mortgage balance of $26,000.
We also have a 1/3rd partial equity interest in a 2nd generation family cottage valued at $100,000 and clear of debt.
We own 2 vehicles valued at $20,000 each that are also clear of debt. The modest outstanding mortgage is our only debt.
What is your job?
I am a healthcare executive and my wife is a public sector attorney.
What is your annual income?
My income is $172,000/yr and my wife is $86,000/yr
How did you grow your income so high?
With only a BA degree in accounting, I used my leadership and financial skills to rapidly advance up the management ladder in a medium size healthcare organization.
I made a key decision at age 33 to work towards achieving a healthcare administrator license, which I received at age 35.
From there I advanced into administration and eventually president/CEO of the organization at the age of 45.
What is your main source of income (be as specific as possible — job, investments, inheritance, etc.)? What is your annual spending?
Our employment compensation is the only real source of household income other than investment income, which we allow to accumulate within our investment funds and currently don't use as a source of household income.
Against a 2013 household income of $258,000, our annual expenses for 2013 were $150,000 allowing us to add to our investments approximately $100,000, which computes to about a 40% household surplus margin.
Our 2013 expense category spending breakdown was as follows:
49% payroll taxes
7.5% general merchandise
7% charitable donations
6% groceries
4% gas & auto
4% property taxes
4% ATM cash withdrawals
4% utilities & services
3% vacations
3% major household purchases or improvements
2.5% dining out
2% mortgage interest & insurance
1% medical & health insurance
3% misc. & other
What have you learned in the process of becoming wealthy that others can learn from (what can others apply to become wealthy themselves)?
For me it was a process of 4 steps.
1. Work the Income.
Obviously, the more you earn, the more opportunities to save. In the early stages of net worth growth, the primary source of equity will be your income. So work long and hard to maximize your household income.
2. Manage the Margin.
A household with $80,000 of income and $50,000 of expenses is no further behind a household with $250,000 of income and $220,000 of expenses. Live well within your means by managing your expenses in a way that results in a healthy net surplus margin.
3. Save the Surplus.
Don't be tempted to spend more because you have more. Make regular direct deposits to your retirement and other investment accounts in addition to periodic transfers from any additional household surplus.
4. Ride the Market.
As your investments grow from your household surplus, establish an investment portfolio using low cost, index mutual funds consistent with your personal risk & reward comfort level. It takes money to make money, so while your portfolio growth from income will start out slow, in the later years you'll be amazed at how rapidly it will grow.
At the risk of sounding like every other financial pundit, my biggest regret is that I didn't start earlier.
When I re-married at the age of 44, our combined net worth was less than $200,000 with personal property representing about half of that amount. I shared that fact with my daughter recently to give her encouragement as her own household struggles with the financial challenges faced by a young, growing family.
Another mistake I made was thinking that I could self-invest my way to wealth. I started buying individual stocks in the early 2000s after everyone had run the market up making easy money, but learned pretty quickly it wasn't that easy. I lost ground early before I figured out that I should leave the investing to professionals and invest in low cost, diverse index funds with excellent long-term performance results.
What are you currently doing to maintain/grow your net worth?
I'm sticking to my 4-step game plan. I try to keep it very simple and turn-key.
As we approach early retirement, our compensation has leveled off but we continue to manage our margin rather easily.
Don't get me wrong, I don't like to live within a budget or want for anything anymore than I like to diet or exercise. However, I'm a naturally frugal guy who likes to eat healthy and live an active lifestyle. So for me, working the margin, saving the surplus and riding the market come naturally and never feel like dieting or exercise.
I'm well into my wealth accumulation journey so now I am reaping the benefits of making money off my money.
Just last year on the wave of a very bull stock market, our net worth increased $600,000 with $100,000 coming from our margin surplus and $500,000 coming from investment growth.
Do you have a target net worth you are trying to attain?
I'm a fanatic planner and my wife and I are approaching what I call the first stage of retirement (semi-retirement). My target investment goal from several years back was 2 million dollars, but now that I have reached that goal the sky is the limit.
That is the benefit of disciplined financial planning I guess. We have many options open to us and we can decide which we desire without worry or financial constraints.
What are your plans for the future regarding lifestyle?
Semi-retirement at age 60-62.
Do something different from a career perspective. For my wife that might be running for town judge. For myself that might be consulting or part-time work in a line-staff position where I can sit around and complain about management for a change.
We are also looking to purchase a waterfront retirement home in a warmer climate region where we can enjoy visitations with our 5 grandsons and family.
Is there any advice you have for ESI Money readers regarding wealth accumulation?
Follow the 4-step process, keep your investments simple and stay disciplined.
From 2000 to 2005, our net worth grew from $187,000 to $600,000 with 80% of that growth funded by our margin surplus (33% average) and 20% investment earnings.
From 2005 to 2010, our net worth grew from $600,000 to 1.325 million with 67% of that growth funded by our margin surplus (40% average) and 33% investment earnings.
From 2010 to 2013, our net worth has grown to 2.25 million with 33% of that growth funded by margin surplus (41% average) and 67% investment earnings.
I would also say that I am a believer in the equity market over the long run and invest 100% in a diverse array of equity mutual funds.
I ride the market (ups and downs) but over my 15 year plus time horizon that strategy has worked out fine.
I would also suggest that a household's wealth accumulation plan is only as strong as the weakest household member. My spouse and I share similar financial and spending philosophies (to an extent) and that is key.
I once gave my wife a written quiz on our finances. To this day I'm not sure which is more remarkable to me; the fact that she aced it or the fact that she actually agreed to take it.