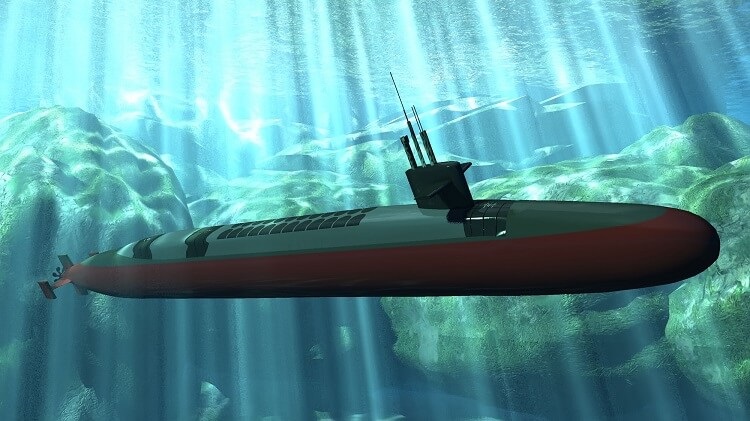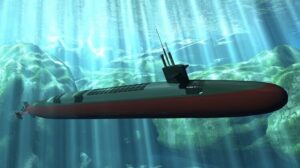 Here's our latest interview with a millionaire as we seek to learn from those who have grown their wealth to high heights.
If you'd like to be considered for an interview, drop me a note and we can chat about specifics.
This interview took place in May.
My questions are in bold italics and their responses follow in black.
Let's get started…
OVERVIEW
How old are you (and spouse if applicable, plus how long you've been married)?
I am 59 and my spouse is 57.
We celebrate our 25th anniversary this year.
Do you have kids/family (if so, how old are they)?
We have two sons, ages 22 and 21.
Our oldest just graduated college and is starting his professional life next month. Our youngest is entering his senior year in college this fall.
My spouse is also in college, working to finish a PhD in the next two years.
What area of the country do you live in (and urban or rural)?
We live on the East Coast, in the mid-Atlantic region.
Our primary home is in the near suburbs of a major city.
We have a second home in a beach town on the Atlantic coast.
What is your current net worth?
Our net worth is $3.5M.
What are the main assets that make up your net worth (stocks, real estate, business, home, retirement accounts, etc.) and any debt that offsets part of these?
Our assets can be lumped into three main groups:
Retirement accounts: $1.5M. Of this $1.4M is held at Vanguard in managed accounts. $100K sits in current employer sponsored plans.
Brokerage accounts (non-retirement): $1.3M. This is held at Vanguard in a self-managed account.
Real Estate: $900K – primary and second homes, plus an investment property. Our primary home is worth about $375K, our second home about $425K and the investment property a little over $125K.
Net debt: $215K total in mortgages on our primary and second homes.
Net worth: $3.5M
I anticipate an inheritance of approximately $500K which is not included in the above, and I do not count various assets like cars in our net worth. Our cars are paid off.
Every year I cash in credit card miles and buy coins (silver). This totals ~$1000 per year, and I now have approximately $18,000 in coins – not sure what I will do with this but I use it as a lesson for our kids (small amounts grow nicely over time).
Our kids each have UTMA accounts which are not part of our net worth. These were funded from the accumulation of gifts from grandparents and family and invested, each account holds about $25,000 of which our kids recently took control. I am curious to see how they manage these accounts, I hope we taught them something about saving and investing.
We had 529 accounts, but these are now drawn down as we close out education expenses.
EARN
What is your job?
I have spent my professional career in the software industry. I started with a System Integrator for my first 9 years.
In 2001 I moved to a small software company and over the next 18 years held virtually every role in the company, from services to sales to product management to operations and finance. Ultimately I managed a group of businesses – it was a privately held company with a lot of business entities, and I served as Managing Partner.
18 months ago I left to join a global ERP company, with title Director of Services. This was a step back but it allowed to me exit an extremely stressful environment and focus more on my life than work.
I have since stepped back even further and am now working 2 days per week. Over the summer I will leave this company and become an independent contractor and pick up projects that suit me and my schedule. A nice soft landing from my career.
What is your annual income?
My current compensation is $155K plus bonus, with a target of $175K.
Over the past 5 years, we have also earned approximately $200K annually in interest / dividends / gains from investments (not reported in the below income and always reinvested). This pattern has made me comfortable stepping back from my work schedule.
Tell us about your income performance over time. What was the starting salary of your first job, how did it grow from there (and what you did to make it grow), and where are you now?
I have worked since I was 9, when I started delivering newspapers. My first paper route paid me $9 per month. Not much, but I liked having a little money and have never since been without income. I have never been unemployed.
My W2 income performance breaks down as follows:


I started late in my professional career. After high school I enlisted in the Navy – I was in the nuclear program and served on a submarine. This was a great learning ground for me, and I learned discipline, how to focus, how to work, and figured out what I wanted to do. Without this I likely would have been somewhat lost.
After six years I left the Navy, and while I could have worked in the nuclear industry and had a good career, I decided to invest in my education. I earned my degree in electrical engineering and then went straight through for my MBA. This set me up for my career.
I grew my salary by being willing to take on new roles / challenges whenever they came to me. I worked for 2 companies through my career, but held a lot of different roles. In taking on new challenges I have constantly been out of my comfort zone and often in very stressful situations, but never bored. While this benefitted me from an earnings and professional growth perspective, it came at a cost – I worked a lot.
Two years ago I decided to get off that track, and when a new opportunity came up I took it, along with a pay reduction, a lower level of responsibility, and greater ability to balance my workload. This year I decided to go part time and am now moving toward retirement: starting next month I will contract and take odd projects as a consultant, until such a time that I want to stop working altogether to pursue other interests.
What tips do you have for others who want to grow their career-related income?
Be willing to pivot and take on new challenges even at the risk of failure.
While some people hop companies to grow their income, I chose to stay in a single place, and grew my income by proving my adaptability to take on new roles. My stability came from knowing the company and people I worked with, and fitting in well with the culture of the company.
My challenges came from taking on new roles whenever I had the chance. I was unqualified to take on many of these roles, but because I knew the company and culture, I jumped in and figured if it didn't work I would find a place to land.
My biggest earnings jump came when I ventured into business development / sales. In the software industry, all paths lead to sales if you really want to grow your earnings.
What's your work-life balance look like?
It was awful for much of the past 20 years, but right now it is excellent.
I work a couple days per week and have time to spend maintaining my homes, with family, and exercising my body and mind.
Do you have any sources of income besides your career? If so, can you list them, give us a feel for how much you earn with each, and offer some insight into how you developed them?
Since I am in transition right now, my target income will be $70,000 per year as an independent contractor.
I don't anticipate any challenges finding projects given doors that have opened in the past couple months and contacts I have. I figure to work an average of 2 days per week – less in summer, more in winter.
My spouse works full time and carries our health insurance. She earns roughly $70,000 as a professor at a small university. She also has a small pension from an earlier employer, $3,600 annually.
Our rental property contributes appr $8,000 per year.
SAVE
What is your annual spending?
We have always lived below our means. Our houses, while nice, are conservative for our income level.
Our budget plans follow:
Past few years: $150,000 including college costs, which are starting to taper off
Age 60 – 70: $130,000 per year
Age 71 – 80: $110,000 per year
Age 80+: $90,000 per year
My belief is that spending will decrease over time as we become less active and as we downsize, and as our kids become independent (I hope a safe assumption).
What are the main categories (expenses) this spending breaks into?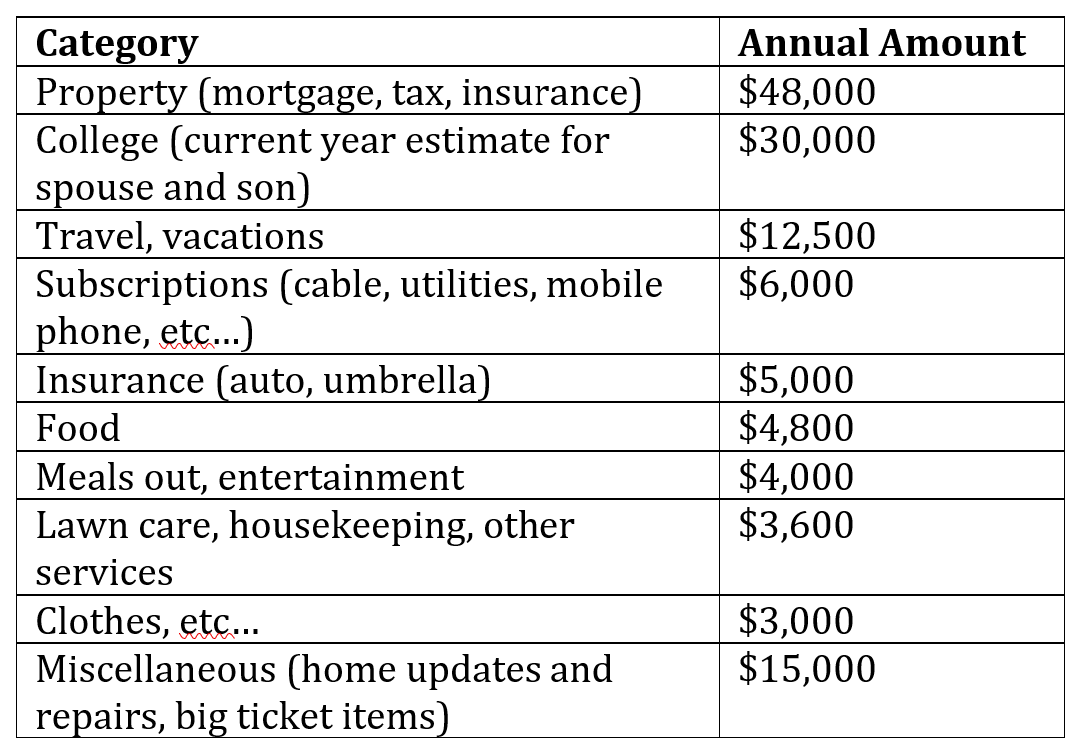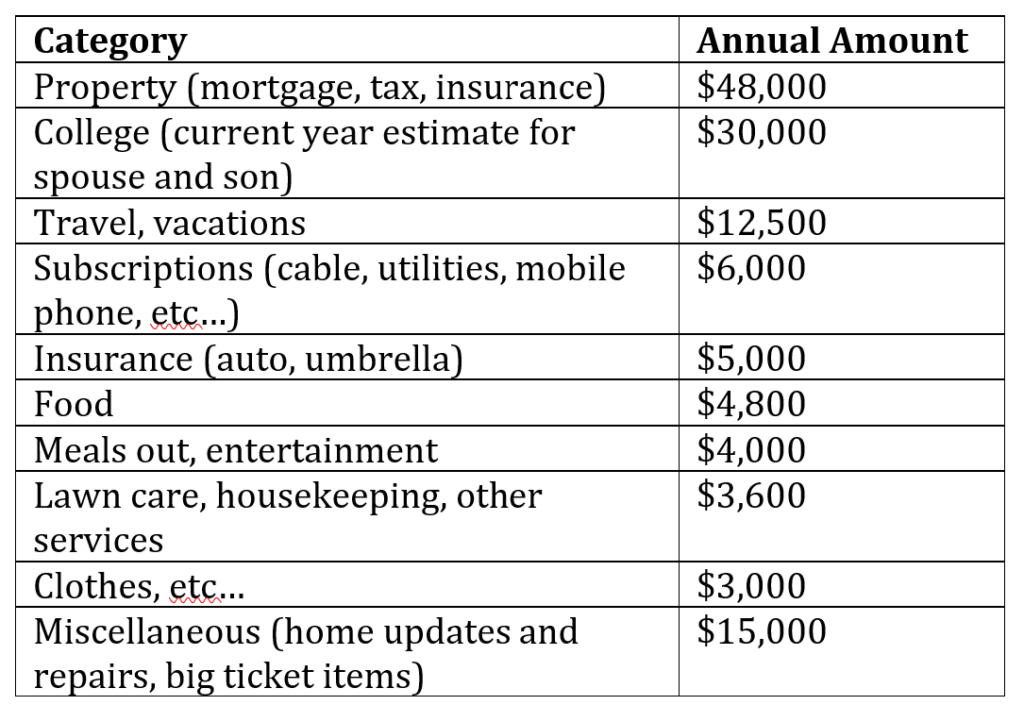 Do you have a budget? If so, how do you implement it?
We budget by setting a monthly allowance, top down, but don't worry about how that is allocated. We save first and have done this through our marriage.
We have always shared fiscal responsibilities based on our respective incomes. This has worked and we are like-minded when it comes to spending money – we are both frugal but not hesitant to spend on quality when we want something.
There is cushion in our budgetary plan and if needed by changing circumstance we could reduce our spend significantly.
We plan to sell our primary home this year or next and move to the coast, which will eliminate all mortgages – this should reduce our outlay by appr $36,000 per year. Also, we will eliminate our spend for college over the next two years, unless either of our kids goes to grad school and asks for help, which we will gladly do. We encourage them to continue their educations while young, single and working.
What percentage of your gross income do you save and how has that changed over time?
This has varied over time. I did not save until I started working at age 30 – this is by virtue of not earning much while in the Navy or in school.
Here's my estimated savings rate:


What's your best tip for saving (accumulating) money?
Three rules:
Max out your retirement contribution. Early on I did not earn enough to max my contribution, and I increased the contributions systematically until I did (roughly when I hit 40 years old)
Save your variable comp (or, live life and plan retirement on base pay). I never used bonus or commission earnings for living expenses. This became the biggest contributor to my non-retirement balance. We did allow a small portion of each bonus to do something fun as a family ("bonus bucks").
Don't touch savings, and when necessary only for strategic uses that are truly one-time and beneficial (house improvements, education, etc…). Never tap savings to cover daily living expenses.
What's your best tip for spending less money?
Simply put: if it's not in your bank account you won't spend it. Only keep your monthly allowance in your regular checking account, and feel free to spend that.
I also prune recurring expenses annually by reviewing each and every subscription. I renegotiate my cable bill once per year. I challenge our insurance bills each renewal. If we are not using a service that bills on a recurring schedule we cancel it. These recurring bills, while small individually, add up quickly.
What is your favorite thing to spend money on/your secret splurge?
I have to admit our last few cars were new cars (not used). But we always pay off our cars quickly and then keep for many years.
I also like to do projects around the house, one per year, to keep it updated. I learned this in the Navy, the importance of upkeep and maintenance. But in my view this is an investment in an asset, not spending.
INVEST
What is your investment philosophy/plan?
This is complex for me. Of late I have become a believer in:
Only take risks where I can afford to take them. This is why my retirement portfolio is managed by Vanguard…over time I found myself investing too aggressively and as I approached retirement we decided to let this portion of our net worth take a decidedly more conservative path (60%/40%)
Diversify As can be seen by our real estate holdings, and as well our core holdings are well diversified
Invest aggressively. My spouse is in health care, and we have invested heavily in health care trends over the past 7-8 years. Heavily means about 5% of our net worth at a given point in time. Interestingly I have shied away from directly investing in tech even though I am in the industry. This is because so much tech weight is included in our core holdings. My anticipated inheritance plays a role…this is all in very conservative holdings as is appropriate for my parent…but this enables me to tilt my self managed brokerage account more aggressively, it is close to 90% equities.
What has been your best investment?
We have made a couple of really great investments.
First, in 1998 we bought property on the West Coast. $20,000 for a lot on the ocean that we intended to build on. In 2006 we sold this for $65,000 and immediately purchased an investment property (small condo). Over the following years, we pushed all the net rental income into 529s for the kids – roughly $100,000 all told. This materially paid for college for both kids. Now we continue to see ~$8,000 per year in income, and the value of the property has doubled.
The true benefit of this investment: 1. the educations it purchased; 2. the lessons we taught our kids about how a relatively small investment can grow over time…this was a very tangible lesson that they both learned from, because the benefit was to them through the funding of their educations.
Second, as mentioned, we are willing to invest aggressively in health care in trends we are familiar with. We focus on the evolution of certain therapies. In 2015 we began investing in early stage biotech companies focused on CAR-T therapies, small amounts initially. If the stock doubled we would take out half. If it dropped back then we would reinvest what we took out.
We successfully invested in a few key companies. Over a 5 year period we netted out about $200K in profits on this trend. Not for the faint of heart and certainly we were accepting risk, but it has paid off for us. We are now taking a similar approach with gene editing technologies.
What has been your worst investment?
In the 90s I worked with a CFP who was a long-time friend. He was young in his career and paid based on churn. He and I were like-minded, a bad combination.
Over the 5-6 years we worked together, instead of building an investment foundation based on long term goals, I traded speculatively…the problem is he did not ask me the right questions or provide guardrails for these actions. I lost some money but more significantly delayed my investment growth. I ended up transferring all my money into Vanguard and taking control and learning how to manage my own investments.
What's been your overall return?
According to Vanguard, my 10-year annual return is 12.2%.
My planning is based on a 7% return assumption, so I feel pretty good about my performance.
How often do you monitor/review your portfolio?
I do look at our portfolio daily but am not active.
Our Vanguard managed accounts are rebalanced quarterly.
For our brokerage accounts, every year I review past year performance and set goals for the next year, including big-ticket items.
I project returns based on what I anticipate from the market (macro-view, I find Barron's round tables to be very helpful for this purpose, these people are much smarter than me), and then balance accordingly. I often trim risky holdings at this time and simplify things, only to allow myself to venture off the following year. It works for me, I am engaged and I enjoy tracking this. I read a lot and extrapolate from various data points.
NET WORTH
How did you accumulate your net worth?
I didn't earn as much as many of my peers, but I did save aggressively and invest.
Everything I have is self-earned. My parents were immigrants and we did not have a lot growing up. They did not earn a lot but did well by saving. They did not invest effectively. What I am doing differently is investing and spending a lot of time learning and executing on my investment goals.
What would you say is your greatest strength in the ESI wealth-building model (Earn, Save or Invest) and why would you say it's tops?
It has to be investing.
It is totally possible to earn and save, but not be wealthy because of poor or overly conservative investment decisions. I have focused on investing based on sound fundamentals including diversification to manage risk, and I take risks I can afford but do so based on research.
What road bumps did you face along the way to becoming a millionaire and how did you handle them?
The usual road bumps…specifically in my early years as mentioned I worked with someone who was more focused on churn (commissions) than on building wealth.
As soon as I fired him and took a more disciplined approach my investments stabilized and started growing.
What are you currently doing to maintain/grow your net worth?
Steady as she goes!
I am not seeking outsized returns and am shifting to a more conservative mix with time.
My focus is not on growing my net worth, rather on preservation as we enter our draw-down years. This is primarily why I shifted my core retirement funds to a managed approach. I am considering doing this with my taxable holdings, but I am sitting on so much capital gain right now it is hard to modify this without a significant tax hit.
Do you have a target net worth you are trying to attain?
Three years ago I set my bogey at $2M. When I hit that I started thinking about retirement and shifting my focus.
Today I am thinking $4M has a nice ring to it, but we won't change anything regardless of whether we hit that mark…we want to enjoy what we have earned but we are not a wasteful people. Maybe we will have a nice dinner out.
How old were you when you made your first million and have you had any significant behavior shifts since then?
49. This was a milestone but did not change our behavior, other than to consider more thoughtfully where we are in life and what we want out of it.
We didn't spend more or less, don't own fancy cars, and did not upscale our house.
What money mistakes have you made along the way that others can learn from?
I would only repeat the above points about the CFP I worked with.
Everyone needs a counter balance in their decision making…I had someone who reinforced my bad tendencies.
What advice do you have for ESI Money readers on how to become wealthy?
The power of saving early and allowing those savings to compound.
Anyone can be a millionaire if they start early enough and earn, save and invest systematically and with discipline.
FUTURE
What are your plans for the future regarding lifestyle?
I am there now! Less work, and more reading, introspection and exercise. I may volunteer.
When my spouse slows in a couple years, we will travel, possibly live in Europe for a year or two (before we have grandkids).
I believe we will ultimately move back to the West Coast when we are ready for a change but this all depends on where our kids end up…we may follow them.
What are your retirement plans?
My retirement plans are simple:
Eliminate stress level that came with senior level roles in the software industry
When I do consult, do so in ways that allow me to make a meaningful contribution
Enjoy time with family and friends
Find ways to volunteer my time and give back
Travel to experience other cultures and see other parts of the world
Continue learning through self study, continued education, and varied experiences
Stay physically and mentally fit
I am not worried about having adequate financial resources to get by. We are not prone to an expensive lifestyle and both my spouse and I can reduce expenses or supplement our income over time as needed.
Are there any issues in retirement that concern you? If so, how are you planning to address them?
Our biggest concern is health care.
For now my spouse is working, but I anticipate we will reach a point we will need to get insurance on the exchange for a period before medicare kicks in. We just need to plan the costs and deal with it.
I do also worry about the impacts of inflation, but this is a transitory concern, not a long term one.
MISCELLANEOUS
How did you learn about finances and at what age did it "click"?
My initial education was through my MBA program, but I became fixated on planning for retirement, thus investing, in my 30s when I realized I was on my own (no pension, at risk social security).
Since then I have read and studied about investing continuously. I experimented and tested different approaches till it really clicked for me in my late 40s. That is when I first started focusing on a balanced and diversified portfolio.
Who inspired you to excel in life? Who are your heroes?
On my discharge interview from the Navy, the Executive Officer of my submarine informed me I was unlikely to succeed in college. That really ignited a fire in me to be able to tell him otherwise.
I ran into him several years later after I graduated from college and then I also sent him a letter later in life. I don't know whether he did this to push me, or whether it was out of disdain for the capability of enlisted service members – I think the latter. Regardless, that conversation motivated me to be successful in my post-military career.
I guess my heroes are people who succeed in spite of the odds, or who try things others say can't be done. Maybe this is why I have been willing to take on different challenges even if not qualified.
Do you have any favorite money books you like/recommend? If so, can you share with us your top three and why you like them?
All of these have informed my thought process to investing in different and valuable ways.
Do you give to charity? Why or why not? If you do, what percent of time/money do you give?
I have not yet started to give to charity in a significant way – this will come and most likely to our educational institutions.
Do you plan to leave an inheritance for your heirs (how do you plan to distribute your wealth at your death)? What are your reasons behind this plan?
We have put some thought into this, and I do expect we will leave some form of inheritance to our heirs, but we have not determined specifics.
My thinking today is it would be nice to do something along the way, but without enabling bad behavior. Our current thought is that once our kids begin their professional careers in the next couple years, we will start making annual contributions to their IRAs.
I believe this will teach them the importance of planning for the future and also help reduce the stress of retirement planning later, but in a way that does not make them dependent on us for living expenses. Maybe they can put more focus on pursuing their passions vs. finding the job that pays them the most.