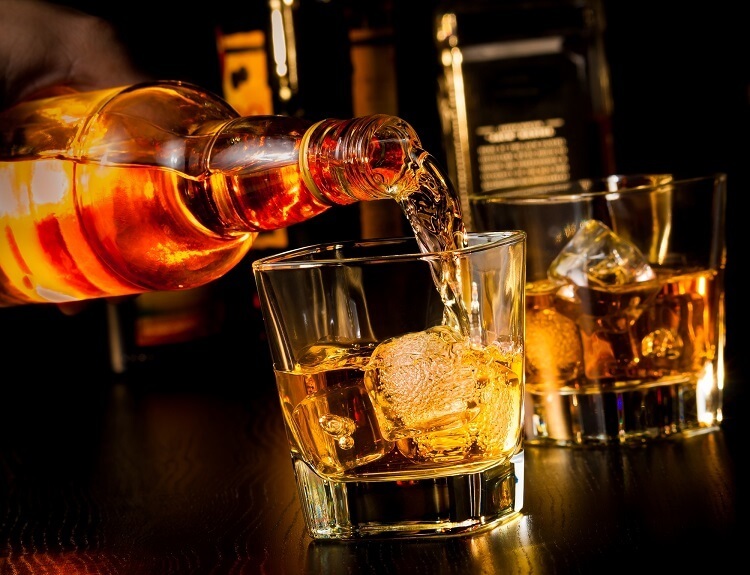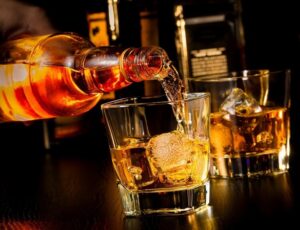 Here's our latest interview with a millionaire as we seek to learn from those who have grown their wealth to high heights.
If you'd like to be considered for an interview, drop me a note and we can chat about specifics.
This interview took place in September.
My questions are in bold italics and their responses follow in black.
Let's get started…
OVERVIEW
How old are you (and spouse if applicable, plus how long you've been married)?
I'm 36, and my wife is 34.
We have been married for 6 years.
Do you have kids/family (if so, how old are they)?
We don't have kids yet, but we just found out we are expecting our first child early next year.
We'll see how this one goes, and then decide if we want one more.
My wife and I are in agreement on no more than two though.
What area of the country do you live in (and urban or rural)?
We live in the Pacific Northwest.
We live on 5 acres just outside of a medium-sized city of 100,000. We live a few hours away from the nearest large metropolitan area. We have a view lot on the side of the hill at the end of a private driveway.
We love it because we're around a 5-minute drive from amenities but we get the seclusion you would normally have to live 20+ minutes outside of town to obtain.
What is your current net worth?
Our current net worth is $6.8M.
I own a digital firm with my business partner 50/50. My financial advisor had always told me to include the business as a part of my net worth, but until recently, I didn't do that. The reason is, I wasn't convinced it was sellable. It has always been a great cash-generating business but we're on the smaller side (7-9 employees).
But recently, my business partner and I started talking to brokers, just so we knew what our options were. I quickly discovered that it was quite sellable. So I started including the average multiple ranges we were given by brokers to value the business.
What are the main assets that make up your net worth (stocks, real estate, business, home, retirement accounts, etc.) and any debt that offsets part of these?
Here's a chart that gives a breakdown of our current assets.
While we have a mortgage on the house, we have no other debt. In my head it isn't really debt though. I guess you could say it is strategic debt. I have a 2.68% rate on a 30 year fixed. Basically, I'm borrowing cheap money to make 3X that rate in the market. I doubt there is a circumstance where I take the loan to term.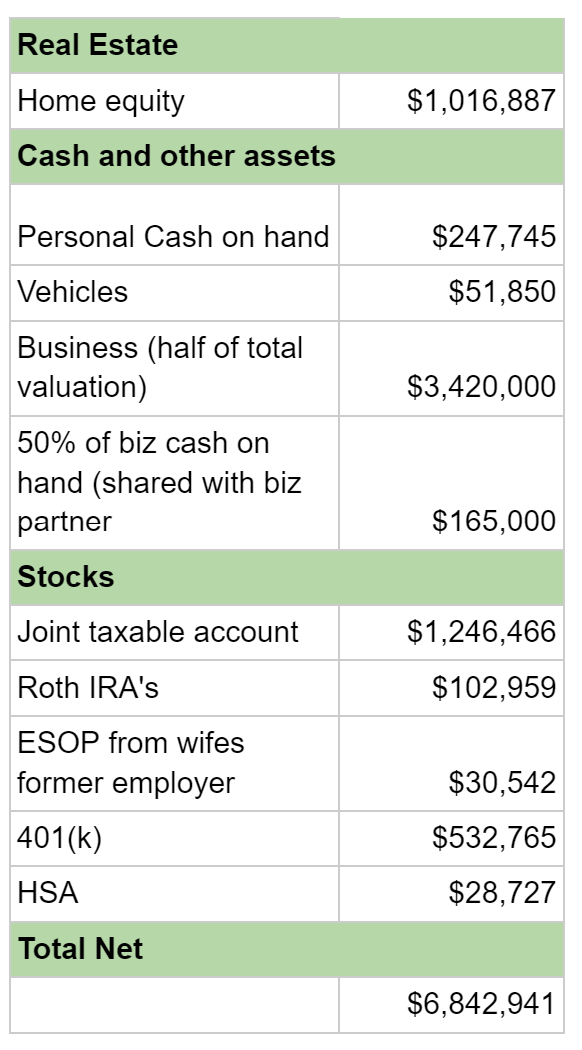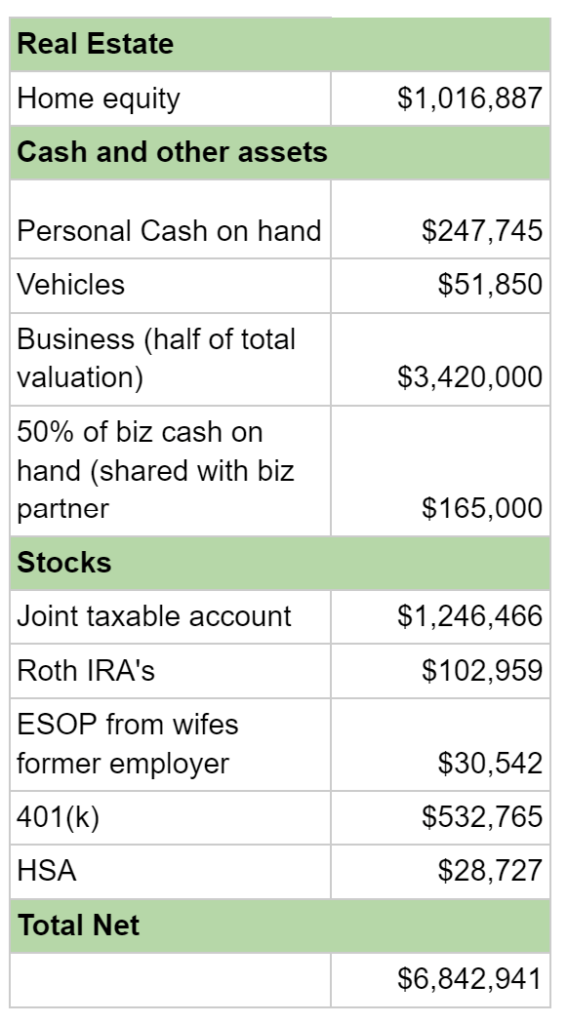 EARN
What is your job?
I was a communications major in college with an emphasis in PR.
With the recession just starting in 2008 when I graduated, it was quite difficult to find an entry-level position. I worked at a country club as a beverage manager for nearly 2 years before taking a job at a digital marketing firm.
The owner of the firm was distracted by some other product companies he was working on, so I was really starting to look for another job. However, another employee at the company approached me and suggested we make a bid to buy the digital firm. The owner accepted and my business partner and I have been 50/50 partners for nearly 10 years. The business has done exceptionally well with a lot of hard work and a little luck.
My wife is a Senior Global Packaging Manager for an animal nutrition company. She has a horse habit (more on that later) so it's a natural fit for her. She essentially is in charge of all the feed bag supply chain.
What is your annual income?
I pay myself a salary of $96,000. My distributions or owner draws have been around $400-$600K per year.
My wife makes $132,000, plus the occasional bonus that equites to $5-10K per year.
Tell us about your income performance over time. What was the starting salary of your first job, how did it grow from there (and what you did to make it grow), and where are you now?
I'll have income listed below.
The first few years out of college all I had was a salary. After that, I'll combine my salary and the owner draws.
After 2015 I have also included my wife's salary in the total income. All income is listed as pre tax.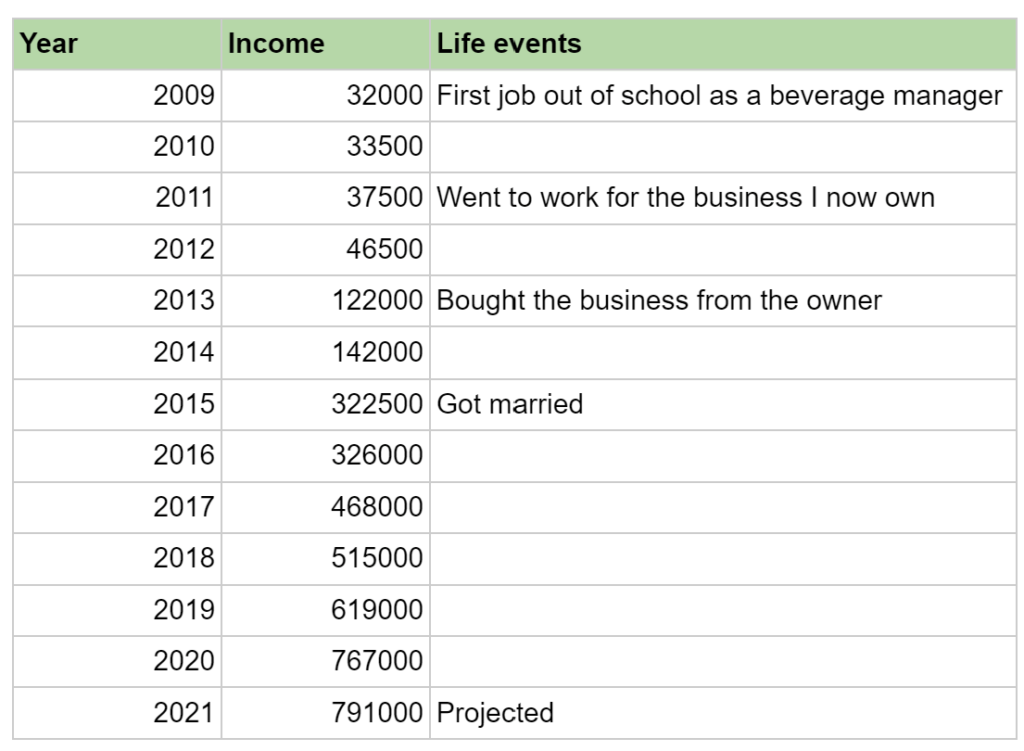 What tips do you have for others who want to grow their career-related income?
I didn't really climb the corporate ladder or do it the traditional way.
Even though I didn't exactly start the company I bought, I do feel in a lot of ways my business partner and I built it from scratch. It took a lot of hard work, time, and building connections to get where we are today. So, I guess my best piece of advice for entrepreneurs or people that own their own business is to provide excellent customer service and really work at building relationships with your clients. That's been pretty much the key to building my income.
We have mostly F500 clients, and I have not landed one from advertising. It has been 100% word of mouth, or an executive leaving to a new company and bringing us on wherever they land.
What's your work-life balance look like?
Today, I would say it's pretty darn good. But it wasn't always that way. Especially when I bought my first house. I did all the renovations myself with zero experience and it was at a time our business was rapidly going. Between the house and the business I was putting in 90 hours a week. It wasn't a fun time, but I learned a lot about building a house, building a business, and ultimately, it was a season of life I'm glad I went through.
Today, I would say I fluctuate between 30-50 hours during the work week. It really just depends on how many leads I'm pursuing and client initiatives.
One thing we've learned over the past several years is hiring people with experience. While I took pride in hiring people right out of college, giving them a chance, and helping them grow in their career, it takes a lot of time.
Today, the least experienced person on my team has been in the workforce for 10 years. It's nice, because now, I have a level of trust. I feel like I can leave at any time and know my clients are in good hands and they can handle most fires that come their way.
Do you have any sources of income besides your career? If so, can you list them, give us a feel for how much you earn with each, and offer some insight into how you developed them?
Nope.
We did have some rentals but we got rid of them because they were too much work and I wasn't certain at the time I wanted to grow our portfolio. I feel like you need 3-4 units to make it worthwhile to hire a management agency.
I'm thankful we got out when we did, as I know a lot of people that own just a few units are really hurting because they haven't seen rent paid in the last 18 months.
SAVE
What is your annual spending?
I'm not a huge budgeter. My wife and I admittedly live well and we have certainly fallen victim to lifestyle inflation. However, we live well within our means.
I do keep a fixed cost and rough budget sheet, which I've shared below.
While the sheet below would suggest we spend around $156K per year, I would guess it's probably closer to $210K as we periodically give larger sums to causes we support, or take a more extravagant vacation every couple years.
What are the main categories (expenses) this spending breaks into?
Do you have a budget? If so, how do you implement it?
I think I skipped ahead and already responded to this.
I don't think it is time well spent for me. I'm not against them, and I think they are very valuable for a lot of people.
This is something I plan to implement as I start preparing for retirement, hopefully in the next 10 years or so.
What percentage of your gross income do you save and how has that changed over time?
This is something that I haven't started tracking until the last few years.
Early on, I would say it was good, but not nearly as good as it is now. We were putting a lot of money towards real estate and projects.
The past few years it has been just below or just above 70%.
I'm really happy with that number, and it's one of the reasons I justify spending the way we do.
What's your best tip for saving (accumulating) money?
When you've been blessed with a significant income, it's much easier, so I'm not sure I'm the best person to ask. But we are good at living within our means, as a percentage. We don't buy extravagant things or throw our money around to show off. So live within your means and it makes saving money easier.
You'll see above that we have a lot of cash on hand right now, and that's just because we're currently moving some money around. But the way I usually make sure money is going into investments every month is by having a floor. That floor for me is $40,000. That's our emergency, cash on hand fund. So if we have a good quarter and I draw $200K from the business I subtract $40K and deposit $160K into investments. This is the way I keep on track and hit our savings percentage goal.
What's your best tip for spending less money?
As you have probably learned by now, I'm not a frugal person per se. However, I'm always looking for ways to spend less money on expenditures like insurance, mortgages, cable etc.
For example, I just cut the cord and switched to YouTube TV and that saved us about $60 a month.
I also just refinanced for the second time this year. This time around, I'm saving $300 a month on the mortgage, and saving $80,000 in interest over a 30 year period.
So I look for ways to spend less on services so I can invest more.
In terms of everyday spending, as long as it isn't extravagant, if we want it or need it, we buy it.
What is your favorite thing to spend money on/your secret splurge?
No doubt that's whiskey. I really enjoy bourbon but I think over the years I've found myself enjoying the display and collection more than I do drinking it.
I buy a couple of bottles a month and probably drink a ⅓ of a bottle per month. So my collection just keeps growing.
I also splurge on a couple of rare bottles every year, somewhere in the $500-$1,000 range.
INVEST
What is your investment philosophy/plan?
While I enjoy investing and follow my investments closely, it's a pretty traditional path. I'm about 60% in US equities, 38% in emerging markets, and 2% in bonds.
The only individual stock that we own is ESOP shares from my wife's previous employers. For now, we're holding onto it as they are the largest privately-owned company in the world, so if they do happen to go public, it could do quite nicely.
I also use a boutique financial planning firm. I just don't have the time to monitor things and reallocate on my own.
Interestingly enough, when we first started searching for help 6 years ago, I could only find one firm in town that was a boutique operation to take us. We didn't meet most minimums. We didn't even meet this firm's minimum, but they took a chance on us. I like to think it worked out for both of us, as we've been very pleased.
What has been your best investment?
No question it was my business.
I bought my half for $35,000. The 9,000% return on investment has been good to us.
What has been your worst investment?
As I mentioned, I don't buy a lot of individual stocks, and as of yet, I'm not a huge risk-taker in terms of funding start-ups or real estate loads etc. though it is something I would like to get into eventually.
So, fortunately, I haven't had a large bad investment yet.
So I'm going to say it was the used Audi A4 I bought in college.
What's been your overall return?
Speaking strictly on my market investments, the return has been about 14% since we started.
How often do you monitor/review your portfolio?
A lot more than my financial investor would like me to.
I wouldn't say I check it daily, but it's close. I would say 3-4 times per week.
NET WORTH
How did you accumulate your net worth?
So far I would say it's my business and the income it has generated.
I'm proud of the amount we have been able to invest, but my market return so far, while good, is only a half-million or so because we have only been in it for 6 years.
Ask me again in a decade, I hope I'll be able to say investments.
I have yet to inherit anything and that isn't a part of my financial plan.
What would you say is your greatest strength in the ESI wealth-building model (Earn, Save or Invest) and why would you say it's tops?
Earning for sure.
I've always been motivated by hard work and how that ties into my income. So I naturally gravitate towards earning as my strongest skill set.
I think we've done well with the other two, but since we aren't frugal people, and I use a firm to help me invest, earning is what I would have to say I do best.
What road bumps did you face along the way to becoming a millionaire and how did you handle them?
I'm very fortunate. I didn't really run into any road bumps.
I bought the business, it did really well in the first year, and before I knew it, I was a millionaire.
Though I consider myself a lucky and blessed person, I certainly don't think it happened by accident. However, it isn't like I set a goal to become a millionaire, then put a plan in place to get there, and had struggles and obstacles along the way.
It happened pretty quickly, so my biggest challenge was learning how to be in the place I was, and how to manage the responsibility of that wealth.
Our business excelled through COVID, and we haven't had a ton of turbulence in the market over the past decade, so we feel really lucky that way.
What are you currently doing to maintain/grow your net worth?
One of the best things I can do now to maintain and grow is to focus on my business. I don't feel this massive pull to continue an aggressive growth path, but maintaining the relationships with our customers is key to ensuring future success and recurring revenue.
I also try to put as much as I can in the market. I'm not one to try to time the market. I'm definitely buying high right now, but I just don't believe that letting my cash sit on the sideline does my net worth any service. I just hope I still have the income to continue to buy when the market takes a dip.
Do you have a target net worth you are trying to attain?
Until recently, this isn't something I had thought about. But it has been on my mind quite a bit lately with a child on the way, thinking about what's next, and when we'll be able to have financial freedom beyond our careers.
It's really hard to pinpoint how much we would need, but our goals are to maintain our standard of living, be able to travel whenever we want, and generally not have to worry about money. We don't need anything beyond that.
All that to say, I have calculated that if we hit 10M in retirement savings, we could retire at any age and maintain our standard of living, while hopefully building on that number, and be able to do some good things with it well beyond our lifetime.
How old were you when you made your first million and have you had any significant behavior shifts since then?
I was around 30 when I become a millionaire.
I would say the answer to the second question is complicated. It would be dishonest to say it hasn't changed me. I like to think, that in a lot of ways, I'm the same person. But unless you continue to maintain the same standard of living you had before you earned your wealth, and manage to live unassumingly, and don't tell anyone, it always changes the relationships you have with your friends. I've worked hard to maintain the relationships I care about but it can be challenging.
Of course, new relationships come with wealth, and there are pros and cons to that as well. It's a balancing act, and one that is new to me, as I didn't grow up in this position.
What money mistakes have you made along the way that others can learn from?
I made a decent amount of money in my first few years out of college. I also lived in Arkansas where the cost of living was incredibly cheap.
I look back on those first few years and know that I could have probably come close to maxing out my 401k every year. I was good at saving my money towards goals. But it was always a car, or a trip, that I was saving for.
If I could go back and speak to my younger self, I would say put more towards your retirement savings. I'd probably have a decent amount added to my net worth by now.
What advice do you have for ESI Money readers on how to become wealthy?
Not everyone has what it takes to run a business or be an entrepreneur, and that certainly isn't the only way to become wealthy, but it's the only one I know.
But I do know a lot of people who do have what it takes and are scared, or just won't take that leap. I recently had the opportunity to encourage a friend of mine to buy a landscaping business where he had worked for 10 years. I knew he had what it took, but he was nervous. After a little pushing and encouragement, he did it last year, and if he isn't a millionaire already, he will shortly, as the business has really taken off under his leadership.
I know there are a lot of people in similar positions, who just need that nudge. So if you got the skill set to do it on your own, do it. If you've made it, look for opportunities to mentor others.
FUTURE
What are your plans for the future regarding lifestyle?
I don't want my lifestyle to change when I retire.
In some ways, I'll spend less. We have a large property to maintain, that I don't really have the time to do now, but I'm handy and will save money then. At some point, we won't have the house payment. And when I move on from the businesses I won't be writing huge quarterly tax payments.
BUT, we'll also have more time to travel and pursue hobbies that cost money, like golf and horse riding.
All that to say, I want to put us in a position where we don't have to budget or give up any of the things we enjoy doing. I'm on the path to retire early by today's standard. But it's hard to say when that will happen. It's possible that could be in the next 5-8 years, but it might be 10-12.
Either way, I definitely like the idea of retiring from my traditional job before 50.
What are your retirement plans?
We'll probably purchase a Class-A and travel around the US and Canada. I'm really looking forward to that.
It will be interesting to see how we like it. We'll either be one of those people that buy a motorhome, take it on a big trip, really enjoy ourselves, and never do it again. Or we might take trips every year, we'll see.
We both really enjoy traveling overseas as well. I'm sure we'll continue that and do it more often when we retire.
I would also like to become involved in non-profits, maybe lend my expertise as a board member or just regular volunteering. In a past life, I also used to umpire competitive fastpitch, making it all the way to the college circuit at a young age. It would be nice to maybe get back into that.
As far as my financial plans, if I have some extra, I think it would be fun to do some more high-risk investing, like seeding small companies that I can also help in some way with my experience.
Other than that, I'd love to see it continue to grow, and who knows, create generational wealth of some kind, though that isn't my ultimate focus.
Are there any issues in retirement that concern you? If so, how are you planning to address them?
I want us to both stay healthy. Who cares if you made a bunch of money if you can't go out and enjoy life? So I want to stay active now, to give us the best possible chance to be able to do the things we want to in retirement.
I'm also concerned about market timing. I can't control it, but I'm hoping we don't hit a 2008 or worse right around the time we plan to retire.
MISCELLANEOUS
How did you learn about finances and at what age did it "click"?
I've never really been into budgeting, but my dad did an exercise with me when I was quite young that taught me the value of money, as something that's tangible.
One week, he bought his entire month's paycheck home in the form of cash. My dad provided a great childhood, but he didn't make a ton, but when I saw those stacks of 20's I thought we were rich.
Then he broke out what went to the mortgage, what went to taxes, what went to pay the electric bill and so on. That taught me a lot.
Who inspired you to excel in life? Who are your heroes?
My parents are my heroes.
We didn't have a ton growing up, but they put in the time and gave me the tools to succeed in life. Without that, I'm 100% certain I wouldn't be where I am today.
Who inspired me to excel in life?
Okay, this might be a bit shallow but my first job out of college was a beverage manager at the country club. It was a pretty affluent country club and I would hear about the trips they took, saw the cars they drove, and all the other nice things. I decided I wanted nice things too. But the majority of them were also jerks, I think that's because it was an old money club, meaning many of them had only maintained the net worth passed down for generations. So that motivated me in a couple of ways. A) to get to where they were at, and B) once I got there, to be kind to other people.
Do you have any favorite money books you like/recommend? If so, can you share with us your top three and why you like them?
The Millionaire Next Door. I know it's cliche, but it's a good book. Other than that, I haven't read a lot of books on finance to be honest.
I Love Capitalism is also one of my favorite books. It's a love letter to free enterprise by Ken Langone who started Home Depot. I share a lot of the same sentiments, as I truly believe that the free market, thought it has flaws, is the best system on earth and it allowed me to get to where I am.
Do you give to charity? Why or why not? If you do, what percent of time/money do you give?
Yes, currently we try to give 5-7% of our income to various charities each year.
I really like going to balls or galas where they have really nice auction items. A lot of times we can give to a great cause and get a vacation out of it too.
I'm pretty picky about what I give to, and like to focus on local charities where we can actually see the funds at work in our local community.
Do you plan to leave an inheritance for your heirs (how do you plan to distribute your wealth at your death)? What are your reasons behind this plan?
I've thought about this some, for sure, but we honestly haven't decided.
I like the idea of building generational wealth with guardrails.
As far as how much we leave to our kids, that will really depend on if our kids turn into successful adults on their own and if I feel that they could handle a larger sum of money responsibly.
I also like the idea of a trust fund, where each of our grandchildren, great grandchildren etc. get a smaller set amount of money when they turn 30, 40, 50 etc.
I hope to be able to put more thought into this when I retire.