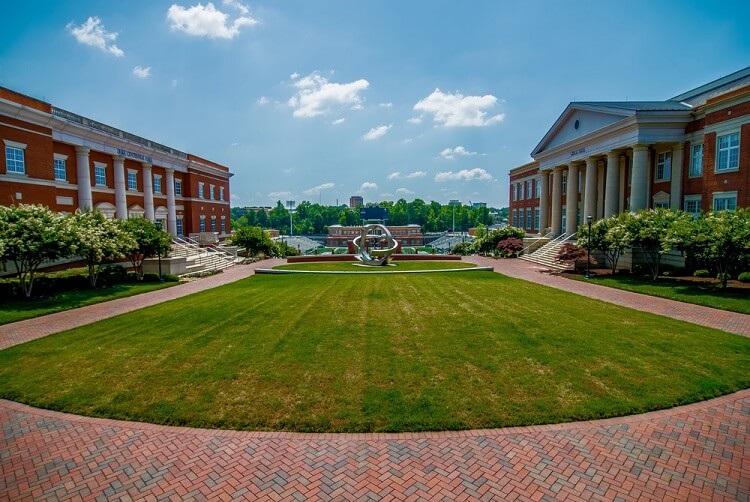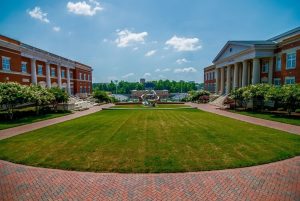 Now that I've shared our plans for funding college and my daughter's plans for maximizing her payout, I wanted to share with you a recent trip we took to check out colleges.
Remember that much of these decisions are being influenced by an 18-year-old.
Translation: they are subject to change. 🙂
But she does have a decent plan, is open to accepting advice, and has stuck with it so far, so I wouldn't be surprised if it plays out how we guess now.
Her Plans
Here's what my daughter thinks she wants to do:
She would like to work in federal law enforcement (FBI is the leading candidate now) upon graduation. She has met with a local FBI agent to get insights and tips. Note: my daughter does not know what she would want to do for the FBI other than "field work", so we're still working out the details.
She would like to attend a college that meshes with our Christian faith. I know this is not the choice many ESI readers would make, but it's one important to our family and my daughter so we are in full support of this path.
That said, she is not willing to compromise on the quality of her education. The goal is to get the job she wants upon graduation, so that needs to be accomplished.
As part of her path to a job, she would like to do an internship in Washington, DC sometime during her college years, preferably with the FBI.
She would like to leave college with her degree, job, and as much of her leftover college money as possible.
College Choices
Given these objectives, we went through a whole host of college possibilities. I initially identified 20 or so based on her criteria and some research. We then narrowed these down to 10. Of the ten we had in our final list, three of them were conveniently very close to each other and close to Washington, DC. We did more in-depth research on these and they all seemed to have potential for one reason or another.
So we decided to make a trip to the area and check them out for ourselves. And we decided to pack a bit of fun in as well.
In early April we flew to Washington, D.C. on a Friday. By the time we got there we had time to get to our hotel, unpack a little, and head to bed.
Some Time in DC
The next day we took the Metro into D.C. and visited the National Museum of American History and the Spy Museum (FYI, we took the kids to D.C. five years or so ago and saw EVERYTHING over five days, just in case you're wondering why we didn't see more/other places). We had been to the American History Museum on our last trip but wanted to see it again. We missed the Spy Museum last time because my wife thought it was too expensive, but she wasn't with us this time. 🙂
By the way, there's a GREAT pizza place near the Spy Museum called Pi Pizza. They had great Chicago pizza — almost as good as what you can find in Chicago.
By the time we got done touring, eating, and back to the hotel, it was 6 pm or so. We were exhausted. We watched a movie and went to bed.
College Trips in Virginia
On Sunday we drove into Virginia, stopping at Mount Vernon on our way. I thought we'd be there maybe an hour, but three hours later we had done it all and had a blast. It was my favorite stop on the trip — lots of Washington history which was very interesting. It was a beautiful day as well which made it even better.
We then drove to Virginia Beach, got our hotel, ate, and caught a movie.
The next morning, we toured Regent University. Overall it was a nice college, but a bit too small and quiet for my daughter. That afternoon we drove to Lynchburg.
On Tuesday we visited Liberty University and were blown away. What a great campus and school. Since my daughter is already taking online classes from them, this was our leading candidate heading into the trip. But we didn't know what it would be like when we got there. They didn't disappoint.
I could list all the great things about the school (including a D.C. internship program) but let's just say that all aspects of the university met or exceeded our expectations. (BTW, Liberty was the only school that said it would transfer all my daughter's community college credits from Oklahoma).
That afternoon we drove to Monticello. It was nice (the view was even better than Mount Vernon) and I'm glad we went, but it wasn't as nice as Mount Vernon. For one thing, they had several rooms shut off and we couldn't see them. Furthermore, the tour guide was not as good as at Mount Vernon, and the other things to see were limited.
We ended the day driving to our hotel and getting ready for the next day.
On Wednesday, we toured Patrick Henry College. It was impressive as well. The students were highly intelligent and articulate and the class we attended was awesome. The professor made the Vietnam War interesting as the class debated the various choices Lyndon Johnson had regarding it as he entered office. They also have a wide variety of impressive internships available.
On the negative side, it was a bit "stuffy", academic, and small for my daughter. Yes, she wants a great education, but she wants some fun along the way too. Plus PHC would have been our most expensive option because the scholarships aren't as plentiful as elsewhere.
We ended the day by driving back to D.C. The next day we were up early and flew back to Colorado.
Summary
A few thoughts about the trip overall:
I was SO GLAD we went. Not only did we get to see the colleges first-hand to help us decide where to go, but my daughter and I also had a once-in-a-lifetime experience that I'll cherish for the rest of my life.
My daughter is a junior in high school, so there's no rush, but we will be applying to Liberty soon. We want to get accepted and begin work on scholarship options (which I'll detail in another post) asap.
Since the trip my daughter finished two Liberty Online classes and has started two over the summer. Her plan is to have 60 hours or so completed by the time she goes there in the fall of 2017.
So, any thoughts or comments? I'd love to hear your opinions on this process.