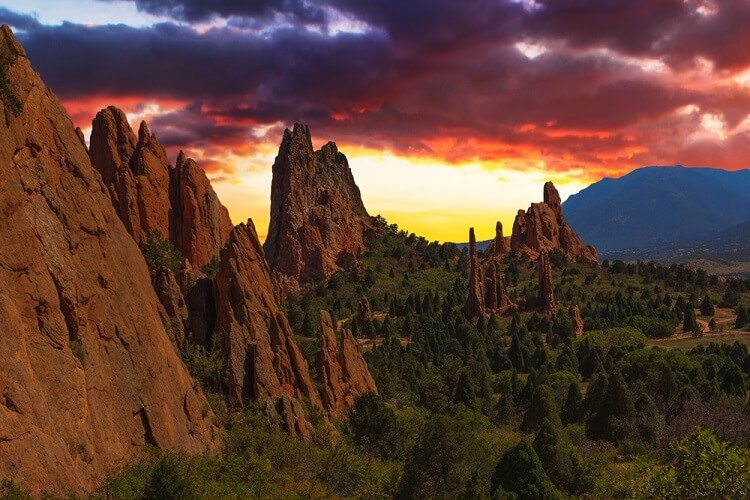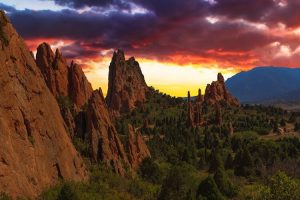 When you live in a gorgeous, tourist town, you get lots of visitors.
We've had more people visit us since we moved to Colorado Springs than we had the entire 14 years we lived in Michigan. I wonder why that is? 🙂
Anyway, when people come here, we always give them a laundry list of what we could see and let them select their options.
Since some reading this might come our way (or may want to after reading this), I thought I'd list the top sights in Colorado Springs and give you our thoughts on them.
If nothing else, this post will give me something to send those who are planning on visiting. They can read the options and decide what they want to see.
About Colorado Springs
Before we get to the attractions themselves, here's a bit about Colorado Springs to give everyone a sense of the city:
Colorado Springs is a home rule municipality that is the largest city by area in Colorado as well as the county seat and the most populous municipality of El Paso County, Colorado, United States. Colorado Springs is located in the east central portion of the state. It is situated on Fountain Creek and is located 60 miles (97 km) south of the Colorado State Capitol in Denver.
At 6,035 feet (1,839 m) the city stands over 1 mile (1.6 km) above sea level. This is higher than Denver, though some areas of the city are significantly higher and lower. Colorado Springs is situated near the base of one of the most famous American mountains, Pikes Peak, rising above 14,000 feet (4,300 m) on the eastern edge of the Southern Rocky Mountains. The city is home to 24 national governing bodies of sport, including the United States Olympic Committee, the United States Olympic Training Center, and USA Hockey.
The city had an estimated population of 465,101 in 2016, and a metro population of approximately 712,000, ranking as the second most populous city in the state of Colorado, behind Denver, and the 40th most populous city in the United States. The Colorado Springs, CO Metropolitan Statistical Area had an estimated population of 712,327 in 2016. The city is included in the Front Range Urban Corridor, an oblong region of urban population along the Front Range of the Rocky Mountains in Colorado and Wyoming, generally following the path of Interstate 25 in both states.
The city covers 194.9 square miles (505 km2), making it the most extensive municipality in Colorado.
Ok, that's the official, made-for-the-classroom version. Here's my overview:
It's awesome here!
Scenically, it's gorgeous! I see the mountains walking, driving, and almost everywhere we go.
There's lots to do — especially outside.
The weather is great. We have four seasons and even in the winter it rarely goes several days in a row without a day (or several) of lots of sun and decent temps.
It's small enough to get around easily, there's still enough to do here (as you'll see), and Denver is only an hour away if you need a "big city".
It's relatively affordable to live here, though housing prices have been up big.
Overall, it's a really great place. The only downside is that it's a bit dry here.
My only regret: I should have moved here sooner (like when I graduated from college).
Places to Visit in Colorado Springs
Now let's get to the sights to see in Colorado Springs. I've broken them into the following groups:
Must-See — If you can only do a few things, do these.
Really Good — The next set of attractions if you have more time here. Still very good.
Ok but Not Great — These are "fine" but the ones above are definitely better.
If You Must — I wouldn't recommend these, but go ahead if you want to.
For each one I'll include (where it exists/is appropriate) a link to the attraction's official website, a link to a Wikipedia summary (which are often pretty good), and my take on the attraction.
We have been to most of these so I can give you our thoughts from first-hand experience. When we have not seen an attraction, I'll let you know.
One thing I will not include is costs. Most of these do have a cost and you can find them on the official site (as well as location, hours of operation, etc.) I don't want to include costs as they will likely change and then I'll be left with a post listing the wrong information.
With that said, here goes…
Must-See Attractions
Garden of the Gods
The Garden of the Gods Park is popular for hiking, technical rock climbing, road and mountain biking and horseback riding. It attracts more than two million visitors a year, making it the city's most visited park. There are more than 15 miles of trails with a 1.5-mile trail running through the heart of the park that is paved and wheelchair accessible. Annual events including two summer running races, recreational bike rides and Pro Cycling Challenge Prologue also take place in this park.
My Take
If you have to see one thing in Colorado Springs, it should be this. It's absolutely stunning as you can see from the video on their homepage. You can drive through the Garden of the Gods or walk the trails, so it can take you 30 minutes or all day. I recommend this place to everyone. (BTW, the first pic in this post is from the Garden of the Gods.)
Trails
You have to get outside if you're here, right? If you want to walk any trails, I suggest you download the All Trails app and look for one that suits you (they list them by location, length, difficulty, etc.). Some that we like:
Seven Bridges Trail — This trail is near Helen Hunt Falls in North Cheyenne Canyon Park and features, as you might imagine, seven bridges in the woods. It's a pretty easy hike and the scenery is great. One word of warning: do NOT rely on Google maps to get you here or you'll end up on top of the wrong mountain. Don't ask me how I know this.
Seven Falls — You park at the Broadmoor Hotel (this attraction is owned by them) in their free lot and a shuttle takes you to the park. It has a fee but is well worth it. The Broadmoor doesn't do anything half way and this attraction is no exception. Imagine what a scenic hike/trail/natural attraction would look like if Disney did it, and you'll get a clear picture for this place.
Palmer Lake Reservoir Trail — Simple trail for the most part (there's a bit of a hill near the beginning) but quite nice and easy for all ages and levels of physical fitness.
Cave of the Winds
Wikipedia Summary: Stinks
My Take
If you like caves (which I do), you'll love this. They have a nice "discovery tour" that's not too difficult and is fun — we've done it twice. They also have a lantern tour (which I'd love to do) and a "Caving 101" tour for those looking for a bit more adventure. They also have a few other activities including a cat-a-pult ride, a three-story obstacle course, and a straight-drop off ride there's no way you'd get me on.
Pioneers Museum
The Colorado Springs Pioneers Museum is located at 215 S. Tejon Street in Colorado Springs, Colorado. The granite building with a domed clock tower was the El Paso County Courthouse building from 1903 to 1973. The museum, which moved to this location in 1979, has fine arts, artifacts and archival collections that document the Pikes Peak region. The building is on the National Register of Historic Places.
My Take
I know, the name of this place makes it sound like the lamest museum ever.
We didn't visit for a couple years for just that reason. Who wants to see a museum dedicated to pioneers? I'm yawning just typing that phrase!
But I tell you this place is a real gem. It doesn't look like much other than an old courthouse downtown. But inside is a really nice little museum all about Colorado Springs. It has some very interesting exhibits and the courthouse itself is beautiful. Plus it's 100% free (though we leave a donation)!
Pikes Peak
Pikes Peak is the highest summit of the southern Front Range of the Rocky Mountains, in North America. The ultra-prominent 14,115-foot (4,302.31 m) fourteener is located in Pike National Forest, 12 miles (19 km) west of downtown Colorado Springs, Colorado. The mountain is named in honor of American explorer Zebulon Pike, who was unable to reach the summit. The summit is higher than any point in the United States east of its longitude.
My Take
You can't come all this way and not visit Pikes Peak!
There used to be three ways to get up: drive, walk (up the Barr Trail), or take the Pikes Peak Cog Railway. Since the railway has closed down and walking up is kind of a big commitment, my guess is that 99.9% of the people reading this will want to drive up.
I have been on the mountain but never to the top. That said, I hear it's amazing and I will certainly be getting there. My wife has been as high as 12,000 feet but was then turned around by snow. It's kind of a dicey drive (I'm told), so maybe walking up it isn't that bad of an idea. 🙂
Really Good Attractions
The Incline
The Manitou Springs Incline, also known as the Manitou Incline or simply the Incline, is a popular hiking trail rising above Manitou Springs, Colorado, near Colorado Springs. The trail is the remains of a former 3 ft (914 mm) narrow gauge funicular railway whose tracks washed out during a rock slide in 1990. The Incline is famous for its sweeping views and steep grade, with an average grade of 45% (24°) and as steep as 68% (34°) in places, making it a fitness challenge for locals in the Colorado Springs area. The incline gains over 2,000 feet (610 m) of elevation in less than one mile.
My Take
I have done the Incline twice and like it. But it's not for the faint of heart, so I put it in this grouping — otherwise it would be in the must-see group.
That said, you see people from sea level in flip flops and carrying a 7-11 Jumbo Slurpee on the steps, so who am I to say to not do it?
BTW, do NOT wear flip flops and don't bring a Slurpee if you're going to do the Incline. And if you're here a few days, try it after you acclimatize a bit. 🙂
It's a physical challenge and needs to be treated as such.
The walk down (the Barr Trail) is very nice and peaceful and you feel great because you just accomplished something only a fraction of people can do.
Here's a great video about the lure of the Incline:
Cheyenne Mountain Zoo
The Cheyenne Mountain Zoo is a zoological park located southwest of downtown Colorado Springs, Colorado, on Cheyenne Mountain in the United States. At an elevation of 6,800 feet (2,100 m) above sea level it is the highest zoo in America. The zoo covers 140 acres (57 ha), 40 (16 ha) of which are in use. The zoo houses more than 750 animals, representing nearly 150 different species, with more than 30 endangered species. It is accredited by the Association of Zoos and Aquariums.
My Take
If you're a zoo lover, then this is likely a must for you (I'm "ok" with zoos, so I put it here.)
Built into the side of a mountain, it's a very unique and fun zoo. You can get up close to some of the animals as well.
Manitou Springs
The city of Manitou Springs is a home rule municipality located in El Paso County, Colorado, United States. The town was founded for its scenic setting and natural mineral springs. The downtown area continues to be of interest to travelers, particularly in the summer, as the downtown area consists of many one-story, adjoining, small shops, restaurants, and pubs, as well as a creekside city park with a children's playground made from unusual materials. Among other services, shops cater to tourist interests such as clothing, candy, souvenirs, and outdoor recreation. The main road through the center of town was one of the direct paths to the base of Pikes Peak. Barr Trail, which winds its way up Pikes Peak, is accessible from town. The subdivision Crystal Hills was added to the municipality in the 1960s.
My Take
You'll notice that many of the other attractions we're talking about in this post are in or near Manitou. That said, this portion is dealing with just the city itself.
I'm sure there's a lot more to do in Manitou Springs than what I know, but if you're talking about going into the town only, it's basically a fun, quaint, little town with shops, a big old-fashioned arcade, and lots of touristy sorts of places. It's fun to walk the streets and visit the shops on a nice day, but everything is a bit pricey here.
Old Colorado City
Old Colorado City, formerly Colorado City, is a national historic district in the city of Colorado Springs. Its approximate boundaries are U.S. Highway 24 to the south, 32nd Street to the west, 13th Street to the east and Uintah Street to the north, with the town square restructured as Bancroft Park.
My Take
Pretty much the same as Manitou Springs — shops and touristy sorts of things. I actually like Old Colorado City better as the shops seem more unique and a bit less tourist-focused. There restaurants seem better, more varied, and a bit more reasonable price-wise.
Iron Springs Chateau
Promo Video
Footage Video – Hey, is that Mountie Jack from When Calls the Heart? 🙂
My Take
I have not been here but really want to go. It's in Manitou Springs, near the start of the Incline.
They have dinner and old-fashioned melodrama shows. Looks like a blast and has 4.7 stars on Google. It's on my list!
Broadmoor Hotel
The Broadmoor is a hotel and resort in the Old Broadmoor neighborhood of Colorado Springs, Colorado. The Broadmoor is a member of Historic Hotels of America of the National Trust for Historic Preservation. Its visitors have included heads of state, celebrities, professional sports stars, and businessmen.
The main resort complex, situated at the base of Cheyenne Mountain, is 6,230 feet (1,900 m) above sea level, and 5 miles (8.0 km) southwest of downtown Colorado Springs. The resort has hotel, conference, sports, and spa buildings that radiate out from Cheyenne Lake. The Broadmoor's Ranch at Emerald Valley is a luxury lodge and set of cabins situated on Cheyenne Mountain.
Historically, national and world skating and hockey championships were held at the Broadmoor World Arena. Golf championships have been held at the Broadmoor Golf Club since 1921. The resort has also been the site of clay shooting championships.
My Take
Five Star, Five Diamond resort — what else is there to say?
I have been to the Broadmoor but it was a long time ago when my company paid for me to stay there. Now I'd have a hard time convincing my wife to shell out $500 per night for a room.
But you can visit, walk around (there are often deer outside), eat, and so forth. It's a pretty amazing place and worth a stop if you like old, luxury buildings.
Ok but Not Great Attractions
Royal Gorge
The Royal Gorge is a canyon of the Arkansas River located west of Cañon City, Colorado. The canyon begins at the mouth of Grape Creek about 2 mi (3.2 km) west of central Cañon City and continues in a west-northwesterly direction for approximately 6 mi (9.7 km) until ending near U.S. Route 50. Being one of the deepest canyons in Colorado, it is also known as the Grand Canyon of the Arkansas (River), with a maximum depth of 1,250 ft (380 m). The canyon is also very narrow, measuring from 50 ft (15 m) wide at its base to 300 ft (91 m) wide at its top, as it carves a path through the granite formations below Fremont Peak and YMCA Mountain, which rise above the north and south rims, respectively.
My Take
The good: the views are stunning. It's amazing. They have some fun activities as well like a gondola ride and another one of those "straight drop-off" swings.
The bad: it's not close to Colorado Springs. It's an hour and 15 minutes away or so. It's on the brink of "not worth it" given that it's 2.5 hours round trip and you could see a couple things in just the travel time.
That said, most people would say it's worth the trip if you have the time.
Olympic Training Center
The Colorado Springs OTC was the first to be built, and has been the home of the U.S. Olympic Committee since 1978. Its location on the former Ent Air Force Base was selected for its relatively high elevation, which is often thought to improve training effectiveness. Its facilities include an Olympic-size swimming pool, an indoor shooting range, the Olympic Training Center Velodrome, two sports centers housing numerous gymnasiums and weight rooms, and a sports science laboratory, in addition to an athlete center and dining hall, several dormitories, a visitors' center, and the offices of both the USOC and U.S. Paralympics.
My Take
I feel so unpatriotic putting this in the "not great" group, but I have to be honest. It was "fine" but nothing special.
This is one of those places you feel you kind of have to visit because it's so well-known, but really, it's not that great.
You get to see a few things, but not much behind-the-scenes or even close-up stuff. That said, if you want to say you've been there and done that, then stop on by.
Manitou Cliff Dwellings
The Manitou Cliff Dwellings are a group of relocated Anasazi ruins cliff dwellings and museums located just west of Colorado Springs, Colorado on U.S. Highway 24 in Manitou Springs. The Anasazi Museum was established and the cliff dwellings built starting in 1904, and were opened to the public in 1907. The museum features displays about the lives of the ancient Anasazi, including exhibits of archaeological artifacts, tools, pottery and weapons. Visitors can also walk through the ancient-style ruins outside.
My Take
Again, it's interesting and "ok" but nothing special. You get to walk around and into some old structures (which I'm not sure are original or recreations), but that's it.
Miramont Castle
Miramont Castle is a museum located in Manitou Springs, Colorado. The Castle was originally built in 1895 as a private home for Father Jean Baptist Francolon, a French-born Catholic priest. Located in the Manitou Springs Historic District, it is a National Register of Historic Places listing.
My Take
The castle itself is very interesting as I like old places.
The contents are like someone threw up a combination of a low-end museum and a garage sale.
It's in Manitou so if you're already there doing other things, you may want to stop by. But if you miss it, it's no great loss.
Western Museum of Mining and Industry
The Western Museum of Mining & Industry is a museum at 225 North Gate Boulevard in Colorado Springs, Colorado, dedicated to the mining history and industrial technology of the western United States. The museum was founded in 1970, and has been accredited by the American Alliance of Museums since 1979. It is open to the public Mondays through Saturdays. The museum building houses antique mining equipment and steam engines. Some of the pneumatic machines are connected to compressed air so that they can be viewed in actual operation. The museum also includes a recreation of an old assay office and scale models of mines and mills. Outdoor exhibits include live burros, a steam shovel, and an operating stamp mill for gold ore.
My Take
The write ups make it sound much more impressive than it is. It's near a Bass Pro though, so there's that positive. 🙂
If You Must Attractions
Cripple Creek
The City of Cripple Creek is the Statutory City that is the county seat of Teller County, Colorado, United States. The city population was 1,189 at the 2010 United States Census. Cripple Creek is a former gold mining camp located 44 miles (71 km) southwest of Colorado Springs near the base of Pikes Peak. The Cripple Creek Historic District, which received National Historic Landmark status in 1961, includes part or all of the city and the surrounding area. The city is now a part of the Colorado Springs, CO Metropolitan Statistical Area.
My Take
If you like gambling, you'll love this place. If you don't, there's really not that much to see/do.
Pro Rodeo Hall of Fame
The ProRodeo Hall of Fame and Museum of the American Cowboy was opened in August 1979 as a museum designed to "preserve the legacy of the cowboy contests, the heritage and culture of those original competitions, and the champions of the past, present and future." It is located in Colorado Springs, Colorado, and run by the Professional Rodeo Cowboys Association's (PRCA) board. It is the "only museum in the world devoted exclusively to the sport of professional rodeo."
My Take
Yes, there's actually a Pro Rodeo Hall of Fame.
Worse than that, I've been there twice. (But both trips were free, so I have that going for me.)
Unless you are a die-hard rodeo fan, there is no need to go.
May Natural History Museum
Wikipedia Summary: none
My Take
Yes, it's an insect collection. You can read about how it came to be here.
No, it's not worth the trip.
Space Foundation Discovery Center
Space Foundation is a Colorado-based nonprofit organization that advocates for all sectors of the global space industry through space awareness activities, educational programs and major industry events. Founded in 1983, the Space Foundation vision is to inspire, educate, connect, and advocate on behalf of the global space community.
My Take
This place is "fine" but certainly not anything compared to other space museums I've been to. Then again, comparing anything to the Smithsonian is not really fair.
Ghost Town Museum
Wikipedia Summary: none
My Take
I saw a 4-minute video walkthrough on YouTube — that's all it would take to see everything.
No need to go.
Bishop Castle
Bishop Castle is an "elaborate and intricate" "one-man project" named after its constructor, Jim Bishop, that has become a roadside attraction in central Colorado. The "castle" is located in south central Colorado on State Highway 165 in the Wet Mountains of Southern Colorado in the San Isabel National Forest, southwest of Pueblo, Colorado.
My Take
I said it all in A Castle, A Burned Gift Shop, and a Diner Stuck in the 50's.
No need to visit unless you're into quirky castles in the middle of nowhere.
Would Like to See
Here are some places I identified while Googling around that I have not been to but would like to see:
That's it for my take. Have you been to Colorado Springs? What do you think of my recommendations? Are there any you'd like to recommend that I missed?