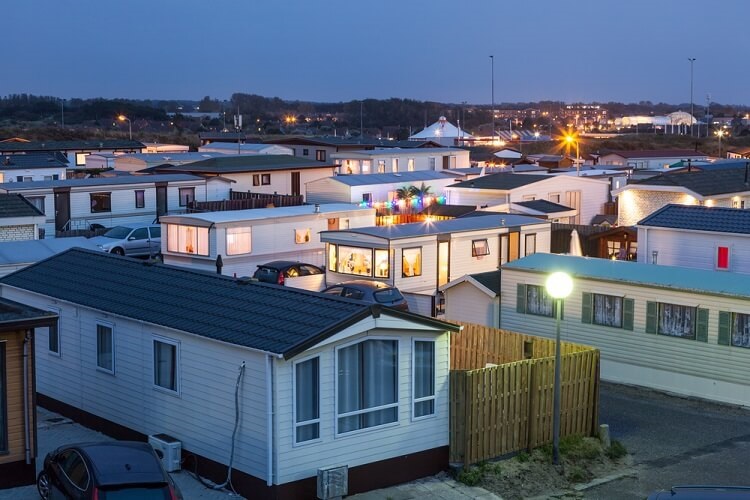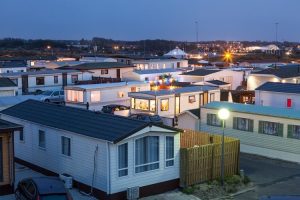 I love featuring authors and bloggers who have a special expertise I think ESI Money readers would be interested hearing about.
As you know, I'm an investor in real estate but my places are more traditional — homes and small apartment buildings.
Today's guest poster is an expert in mobile home investing, something I find fascinating and might have investigated a bit more if I had invested in real estate sooner.
Rachel Hernandez is the author of Adventures in Mobile Homes: How I Got Started in Mobile Home Investing and How You Can Too! and the Real Estate Investing Sucks series of books. Find her at Adventures in Mobile Homes.
Take it away Rachel…
When it comes to investing in mobile homes, there are specific steps you can take to be successful. It's not enough to just "wing it." You need a plan to get there.
Many real estate investors go into a specific niche and think they can just start doing things. What ends up happening is they go about aimlessly without direction. Sure, they take action. But it may be the wrong type of action. Or even worse, one that does not get results.
Be an effective real estate investor. Produce results. Have a plan. Follow it. Adjust if necessary. And eventually you'll succeed.
Here's how:
Step 1: Get your personal finances in order
Before you start investing, get your personal finances in order. Know how much money is coming in and how much is going out every month. Take a look at your expenses. Are there areas you can cut back?
Look at your debts. If you have high interest credit cards or other accounts, plan to pay those off. Put away whatever is left over for investing. As a general rule of thumb, set aside at least 10% of your income towards investing.
If you don't have enough saved up to start buying and holding rental properties, make a plan to put money away. Apart from your own income, can you do a side hustle to earn extra money from another business? Or can you make extra money by finding deals for other investors? This is how I started out. Eventually, I built up enough cash to start buying and acquiring properties.
Once you have your personal finances in order and a sizable amount saved up for investing, then you'll be financially ready to do your first deal.
Step 2: Read about the subject of mobile home investing
Before you go out and start looking for mobile homes, get the knowledge. Read about the subject first. There are countless books, podcasts and websites on the subject of mobile home investing. Take the time to learn the ins and outs of this niche. If you must, get a notebook. And take notes.
Visit other online real estate investing forums. Ask questions. Seek out those who are doing what you want to do. Make connections.
By taking the time to read and ask questions online, you'll see what people are doing across the country and in your market when it comes to investing in mobile homes. Some forums you can visit include: BIggerPockets, CREOnline and REIClub.
Step 3: Find a mentor
If you can find someone who is doing what you want to do, you'll achieve success faster. By having a mentor, you'll learn all their mistakes so you don't make the same ones.
When it comes to finding a mentor, there are many places you can go. Visit your local real estate investment club. Ask around and see if anyone knows other successful mobile home investors in the area. Talk to the leaders of the group. Usually, they know their members and can point you in the right direction.
Another thing you can do to find a mentor is to drive around the mobile home parks in your area. See if you can find any "For Sale By Owner" and/or "For Rent " signs. Call the numbers listed. Are any of them mobile home investors? Introduce yourself as someone just starting out. Ask questions and listen. Don't talk too much.
Once you find a mobile home investor, ask to meet in person (perhaps for coffee or lunch). When it comes to talking to people, it's always best to present yourself as someone willing to help. People always need help in one form or another. Don't be a taker. Be a giver.
When it comes to choosing a mentor, work with someone whose personality works with yours. If you meet someone you don't think you can work with, pass. And move on. There are many other people out there willing to help…if you can do the same.
Don't pick the first mobile home investor you meet. I've met my mentors through attending local real estate investment clubs and real estate conferences. As Woody Allen says, "Eighty percent of success is showing up."
Step 4: Learn your market
Once you've found a mentor to work with (aka someone to ask for advice), make a plan to learn your market. If you're new to mobile home investing, visit all the mobile home parks in your area. If there are none close to you, go further out from where you live.
To find mobile home parks, do a simple internet search. Through experience, I've learned many parks are not far from each other. Map them out in terms of the order you'll visit them. Keep in mind you'll find other parks just by driving around. Make a note of them. Not all mobile home parks are listed online!
Since some mobile home communities can't be found on the web, these hidden gems are a plus as a new investor. Many investors don't take the time to drive around and look at parks. They just call around. You may find some parks that others miss just by driving around and getting to know the neighborhood.
Once you've found a few parks, learn the market. See what homes are selling and renting for. Call on "For Sale By Owner" and "For Rent" signs. Get a notebook. Take notes. Make a spreadsheet of your data for better organization.
Talk to park managers for more information about their communities. Mobile home dealerships are another resource for information about the market. Usually, they're not very far from the mobile home parks themselves.
Ask the same questions. Try to find the good parks, the bad parks and the middle-of-the-road parks. Take note of them. Pick the ones you like. Avoid the ones you don't like. Only do business in neighborhoods you feel comfortable working in.
At this point, you're merely collecting information. When talking to people, don't try to find a deal. Get the information you need to learn the market. This will help you make an informed decision when opportunities come your way.
Step 5: Build relationships with park managers and owners
When you've learned your market and picked a few parks you feel comfortable working in, start build relationships with park managers and owners. A lot of new investors do the opposite: They focus on finding the home first without building relationships with the people who own and manage communities. This is a recipe for disaster. And harmful to your mobile home investing business.
I made this mistake myself when I started out. Found a great deal but didn't take the time to build relationships. Ended up passing on it since the manager would not allow me to do business in the park. An expensive lesson learned.
By getting to know park managers and owners of communities you intend to do business in before looking for homes to buy, eventually you'll get their approval. And gain their trust. Opportunities will come your way. Though it takes time and patience. But you'll be one step ahead of the competition.
Being able to work in mobile home communities is the biggest hurdle new investors face. By learning to overcome this issue, you'll be working on the inside. And learn about deals firsthand.
Step 6: Network with mobile home dealerships
Talking to mobile home dealerships is another good avenue to network. These businesses are excellent resources for leads and information about the mobile home industry in your local market. They work with buyers and sellers every day. The sales staff may know local investors in the area who specialize in mobile homes. They may have information about parks, owners and park managers. The referrals you receive are priceless. Build up your network.
Mobile home dealers may also know sellers who need to sell their used homes to buy new ones. Sometimes these homes are already set up in a park. Or on a piece of land they need to sell quickly. These are excellent opportunities if you're looking to buy. But you'll only hear about them if you build relationships.
Visit a few mobile home dealerships regularly. Plan your day out. Get to know them and their business model. They can also be a good source of referrals for contractors if you decide to move homes in and out of mobile home communities.
Step 7: Get to know mobile home contractors
Networking with contractors who specialize in working on mobile homes helps to build your team when you have homes to fix up. You'll find them by targeting parks you've decided to work in.
Look for bulletin boards, usually near mailboxes or laundry rooms, where they advertise. Call them up. Say you're getting into the business and want to know more about what they do. Most contractors will talk to you if it means future business.
Ask questions and listen. See if they know the park manager and/or owner which will help when you're starting to build relationships with mobile home parks. Take notes. Write down their name and contact phone number. Make a spreadsheet. And follow-up.
Another way to find contractors who specialize in this niche is when you're in the office of mobile home park managers and/or owners. Ask who the park uses for each specific member of your team. If you've done your job of building relationships by getting to know them and their community, they'll be happy to give you referrals.
Call these contractors and do the same. Tell them you were referred by "x'" park manager or owner. You may get better rates just by mentioning a name. Stay in touch and follow-up regularly.
By establishing relationships with contractors (especially those used by mobile home parks), you'll build up your network and know who to call before an issue comes up.
Step 8: Market around areas you like to find motivated sellers
Now that you've got your network in place and established relationships with some mobile home parks, you're ready to start marketing. Start looking for motivated sellers. Find people who need to sell, not want to sell. Big difference.
Visit owners, park managers and mobile home dealerships regularly. Take the time to build relationships. Get to know them and their business. Then ask if they know anyone who needs to sell. By establishing a set routine, eventually you'll start getting leads.
Posting flyers and signs in and around the parks you've decided to work in are other ways to find motivated sellers. Market where people live and shop. If there are small businesses close by, look for a local community bulletin board to place your flyers and/or business cards.
Once you've started marketing, the phone will start ringing. Take the time to answer it!
Step 9: Find a motivated seller and do your first deal
When you first start marketing and pursuing leads, you'll get a lot of calls. Your job is to weed out these leads. Find motivated sellers. And do your first deal. It will take some time. But the experience is priceless.
Personally, it took me almost a year to do my first mobile home deal. Finding that first motivated seller took a lot of work. After a lot of negotiating, we were able to come up with a figure. I paid $3600 for a small 2 bedroom, 1 bath home in great condition. Here's a pic: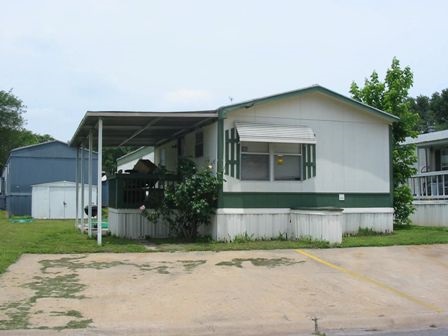 Finding your first deal will take time. Be patient. And wait for the right opportunity. Rushing into a deal is the last thing you want to do.
Step 10: Find a buyer/tenant, fill it and get paid!
Once you've bought your first mobile home, you'll need to fill it with a buyer or tenant. Decide what you want to do before putting it on the market. Do you want to sell? For cash? Or take payments? Would you rather rent it out? Each option has its pros and cons. What you decide depends on your goals.
On my first deal, I filled the home in two weeks with a nice family. They gave me a $1000 move-in fee and paid me $250 per month for the next 4.5 years. I got the money paid for the home back in a year. The rest was extra.
When you've found a prospective buyer or tenant, have them fill out an application with you first. Before going through the park's application, they have to go through my background check first. If they pass (per my set of criteria), then I refer them to the park. If they're good on my end, it usually works out with the park. Unless something was missed. This is why it's so important to build and maintain relationships with park managers and owners.
Conclusion
So there you have it: 10 Steps to Making Money in Mobile Home Investing. As you can see, this business is about building and maintaining relationships than anything else. If you can learn to do this well, you'll eventually find success.
Happy Investing!
P.S. For those who prefer a video version of this post, see the ESI Money YouTube channel.