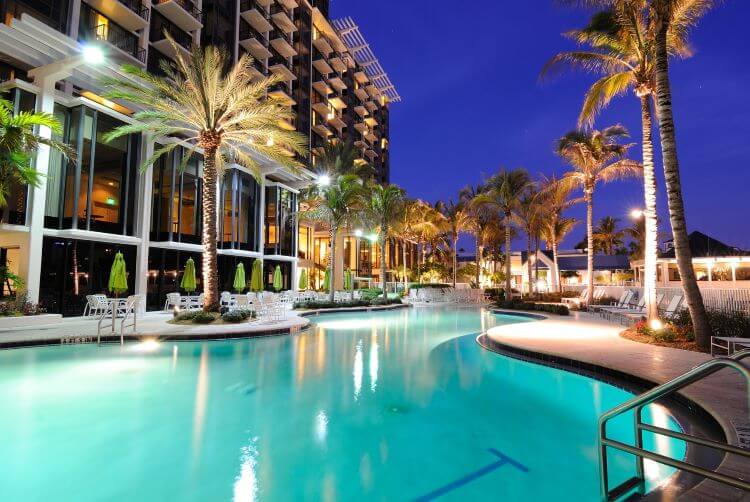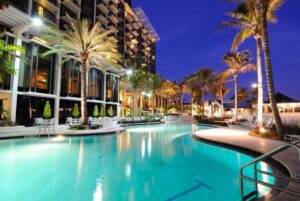 Remember when we attended the Hilton Grand Vacations (HGV) timeshare presentation in D.C.?
Well, it's been almost five years and the pain from that has worn off…so, we did it again. Hahahaha.
In this post I'll detail what happened with HGV as well as share a few tidbits about our trip to Orlando that surrounded the presentation.
Let get to it..
An Invitation from Hilton
We were simply minding our own business when I received an email from Hilton in late September 2022.
They were giving us an offer of a stay at one of their resorts in exchange for attending a timeshare presentation.
The details of the offer were as follows:
Three night stay at the Hilton Parc Soleil resort in Orlando (they had a couple other cities as well but we weren't interested in them)
Cost was just $149
If you agreed to the terms, they would throw in a "free day" (so it turned into a 4-night stay)
You could commit now and had a year to attend the presentation
In addition to the 4 nights at the resort you would receive 25k Hilton Honors points
All you had to do was attend a two-hour sales presentation during your stay.
Those were the highlights in big, bold, splashy test in the email.
In the fine print was this:
You have up to 12 months from purchase date to travel. Please read complete Details of Participation. As part of your vacation package, you'll attend a two-hour sales presentation, where you'll learn how you and your family can enjoy the many benefits and privileges of vacation ownership with Hilton Grand Vacations.
In those "Details of Participation" (which you had to click through to read), to get the free night, you had to book the appointment within 45 days. So yes, you had a year to attend, but you had 45 days to decide what to do, which is not the impression the main promotional email gave. Just FYI for anyone out there considering the same — book within 45 days if you want the extra night.
We received this offer at a time when we were planning to rent in The Villages the next January through April. So we decided to go for the HGV offer as we thought it would be a mini vacation within our vacation.
Our kids were interested too, so we hatched the plan that my wife and I would take two of the four days and give two of the four days to the kids. More on that below.
Therefore, we committed to the event and paid our $149.
At that point, they asked us to book exact dates. We said we wanted to wait a bit until our plans firmed up. After all, we had a year, right?
Then they started emailing/calling us each week to book that appointment. Somewhere along the way they mentioned the 45-day rule — that is if we wanted the extra night, then we needed to book within 45 days.
So we set the dates as Monday, April 3 to Friday, April 7. That's when the mistakes started…
First of all, they booked our presentation on the wrong day. We wanted it on the 4th as that was one of our two days (the nights of the 5th and 6th would go to the kids). They booked it for the 5th.
So my wife called to get it on the 4th. They supposedly changed it (they said they did on the phone) but when we got the confirmation email it was still the 5th.
So she called again and they got it right this time.
Not off to a great start, Hilton.
Over time, as you now know, we decided to buy a place in The Villages and move there, but we kept our commitment to this event.
Monday, April 3
That's how we found ourselves heading to Orlando on April 3. My wife and I left home around 1 pm and took the Florida turnpike down to Orlando's Hilton Parc Soleil — a drive that took just a bit over an hour.
We checked in and walked around to get the lay of the land. It was a very nice hotel/property with two pools, a walking path, a basketball court, a tennis court, game room, etc. Very, very swanky by hotel standards.
We changed and then headed out, driving to Kissimmee, Florida to see Medieval Times. Neither of us had been and since we've done all the other Orlando activities multiple times, we opted for this one. If you don't know what it is, check out this Wikipedia page on it.
It was a fun time, but one of those "Now that I've done it I never need to do it again" activities. The show was fine (a bit fake) and the food was fine (nothing great or terrible, though we did eat with our hands, which was fun!) but nothing was extraordinary. I lost my voice yelling in vain for our knight to win. He did not win (or even come close) but our sister knight (seated on the same side we were on) did win so our second choice was victorious.
We were back at the hotel by 8:20 pm (the show started at 6 pm), relaxed a bit and went to bed.
Tuesday, April 4
The next day we were up at 7 am and walked the trail 3-4 times until we had 5k steps in. By that time it was close to 9 am and we had been invited to coffee and glazed biscuits from the Maple Street Biscuit Company. Apparently the hotel has this every Tuesday for HGV owners and prospective owners.
We had some great coffee, fine biscuits, and got to chat with a couple of the Hilton executives. They were very professional and knowledgeable. It was a fun and informative time.
We left around 9:45 am, headed to our room, showered, and were at the HGV front desk at 10:40 am for our 11 am meeting.
We were directed to take an elevator to floor 5 (some went to floor 4, so they had at least two groups doing these presentations) where we had to check in at a kiosk and then met our sales lady (I missed her name and she didn't give us a card so I'll call her Carol.) She told us to get some snacks (coffee, soda, other drinks, pastries, etc. — a pretty nice spread) which we did. Then we followed her to a large room with several big TVs. The room had chairs for 30-40 people but there were maybe 10 of us total attending.
We chatted with Carol a bit and then the presentation started. It was given by Brian who shared the following with us (things in quotes are his actual quotes — as best as I could jot them down):
He has been working for HGV for 16 years, which based on his age, is either all or most of his working career.
He mentioned that he had become a HGV owner a year before he was employed with them because he wanted to "Go see the world while he could." He advised us to do the same because "regret is a terrible thing."
"This is not your parent's timeshare." He promised us something new and awesome.
He said there are 700k HGV owners (Carol later told us it was 1 million). Not sure which is accurate but it's a large number either way.
If we became owners today, there was a special offer — a free trip on Hilton. But it was only available today (of course.)
HGV has 160 resorts around the world plus there are 4,500 affiliated resorts.
Hilton has been in business for 104 years, so they know what they are doing.
With HGV, you don't have to waste time planning your vacation. You call them, tell them what you want, and they plan it for you (they were selling this as a worry/hassle free vacation).
"We can get you places others can't." Debatable, but he said it.
This was a completely canned presentation. It was like he was reading a script (he wasn't of course but it sounded like it) as he'd present, answer his own questions, and move on with barely taking a breath.
Then we moved on to a video which lasted for 10 minutes or so. It featured a ton of glamourous photos of HGV locations and lasted for 5 minutes or so.
Brian then came back, reiterated that they plan all the vacations for you, then went to video #2…which highlighted HGV Ultimate Access which includes:
HGV Live — Concerts they can book for you (they have 70 currently)
HGV Presents — Sporting events they can book for you (4k+ events now)
HGV Table — Culinary experiences they create for you (280 dinner options)
Then we came back to Brian. He said that some of us may be wondering what the cost is for something like this.
He said he prefers to ask, "What's the cost if you don't join?" LOL. Of course he does.
Then he started the sales process by outlining what every timeshare company begins with — the (very large) number you plan to spend on vacations during the rest of your life.
His example:
14 vacation days per year
$150 a night for hotels
25 years
15% taxes
Total cost: $97,908
That's a big number, right? They do it to anchor you to something large…so what they present is much more affordable (or seemingly so). We'll see.
He mentioned that there is an annual fee (HOA) of roughly $1,700, though it could be higher or lower based on how you travel. He said this makes sense as you're an owner of your property and need to pay to have someone keep it looking nice.
Next he started comparing the cost of hotels on a vacation to the $1,700 and said you'd be lucky to get two nights for $1,700 but "we can get you 2-3 weeks." Which is not true (on both fronts — who spends $1,700 on two nights?). More on this in a moment.
Then he said we were going to spend the money anyway, so why not with them? After all, we know/love Hilton or we wouldn't be Honors members. This is also untrue. I do not love Hilton. I stay at their hotels and belong to their program to get as much out of them as I can for my cost. FWIW, Carol also (later on) said that we LOVED Hilton so we should do business with them. She was making a huge leap from "we're part of the Honors program" to "we LOVE Hilton."
Brian then threw in that they "sold a quarter of a billion dollars of HGVs out of this location last year." Wow. $250 million in timeshares sold from this one hotel in Orlando alone. These guys are making a fortune!!!! My guess is that he shared the number to demonstrate that so many others were doing it (because it's a GREAT idea) — and that we'd be missing out/fools if we didn't.
He reminded us of the free trip if we bought today, then got reflective, saying we all lost a year in 2020. He asked, "What would people give at the end of their lives for one more year?" He went on to say we shouldn't waste any time, we should buy now, save money, and begin enjoying our travels.
Then we had a quick closing video and Carol came back to pick us up. We followed her back to her office (cubicle).
The HGV Presentation
Now I could take you through the entire presentation blow-by-blow but you'd probably nod off quickly, so I'll just share the highlights.
The summary of the presentation was as follows:
You are going to spend a ton on vacations in your life.
We can do those better, easier, and cheaper than what you'd do on your own.
That's what everything boiled down to.
I'm not saying those things are true…it's just what they were saying in many different forms.
The way this great ownership plays out is that you purchase a timeshare that then entitles you to X number of annual points. You can then spend those points however you want.
And no, she hadn't given us the cost of the timeshare (and wouldn't — I asked) yet. She did, however, cover the fees associated with converting the points to Honors points, exchanging them for this or that, and several other thigs. There were fees, fees, and more fees. I thought my wife's head was going to explode with the "$230 here" and "$180 there" costs.
Carol then went through all the benefits of ownership yet again and highlighted some of the places we could stay (they were great at showing amazing photos of awesome places/locations).
One thing she kept emphasizing was: "Become an owner, not a renter." Because, you know, owners make money since a HGV purchase is an investment while renters lose money because they "waste" it on an expense. Hahahaha. Yes, she said that…a few times.
Next we took a tour of some of the units — a two bedroom and three bedroom place. They were very nice (of course) but they were still in a hotel, has a "hotel vibe" style, and were part of a huge hotel building. Is this better than an Airbnb on Seven Mile Beach in Grand Cayman? I'll let you decide, but for me I would prefer the separate home every time.
The Offers — All Four of Them
When we got back (by now we were approaching our two-hour limit), she shared two offers for us. They were:
Offer 1
7,680 points
$37,990 cost of ownership
1 bedroom in platinum season (peak times)
$1,594 annual HOA
Offer 2
11,200 points
$54,490 cost of ownership
2 bedroom in platinum season (peak times)
$1,963 annual HOA
Both of these represent about 7 days of room time. We knew this because we looked on the fine-print chart she showed us. Both Carol and Brian had said we would get 21 days or so. Not even close.
If we wanted to take option 1, here were the terms (if we didn't want to pay all cash):
Deposit: $4,660
Monthly payment: $640 for 120 months
Interest rate: 18.79%
And for option 2:
Deposit: $6,380
Monthly payment: $915 for 120 months
Interest rate: 18.79%
Let's do some quick math…
Assuming we keep the property for 10 years, we pay all cash today (no cost of financing), and it has zero resale value in a decade (which many of these do), here are the numbers for option 1:
Annual costs for purchase are: $37,990 / 10 years = $3,799
Annual costs of HOA (assuming they don't increase) are: $1,594
Total annual costs are: $3,799 + $1,594 = $5,393
For the seven days you'd get a place, this works out to: $5,393 / 7 days = $770 cost per day
And for option 2:
Annual costs for purchase are: $54,490 / 10 years = $5,449
Annual costs of HOA (assuming they don't increase) are: $1,963
Total annual costs are: $5,449 + $1,963 = $7,412
For the seven days you'd get a place, this works out to: $7,412 / 7 days = $1,059 cost per day
Note that these are just room costs for your "dream vacation." You still need to pay for travel, food, etc. Yikes!
I busted out these numbers in about two minutes, announced them to Carol and my wife and said, "That's crazy high!"
Carol didn't dispute it. In fact she just kind of ignored it.
Obviously we weren't interested and we told her so. She said we next needed to meet with the "Inventory Specialist" to even see what was available to purchase.
This was a lie too. He didn't check any sort of inventory. In hindsight, it was clear that Carol went back to him (out of her office while we waited) and told him there was no way we would buy option 1 or 2. So he came in with option 3…
Pablo was very nice and polite (which is different than what we'd experienced in DC) and made us this offer:
We would get points every other year (I can't remember how many and I didn't write it down but I think it was close to option 1 — but only every other year, not every year)
Total cost: $20,800
Deposit: $2,080
Closing costs: $711
Monthly payment: $353 for 120 months
Interest rate: 18.79%
The HOA fees were lower too — $711 every other year plus $291 every year.
We said no, noted we were past two hours, and were ready to leave. He said he could appreciate that, thanked us, and left.
Carol asked if we were interested in anything, we said no and she said we simply needed to meet with a customer service person who would ask us some questions about our experience. This was a lie. It was yet another sales attempt.
The customer service lady appeared, asked us no questions, but did offer us a one-time deal for $1,795 where we paid it and got X points to use one time (I didn't write down specifics because we had both feet out the door by this time).
We said no, she thanked us, and showed us to the reception area. She left and we loaded up on snacks they had out for visitors. Hahahaha. We "checked out" at the bottom of the elevator (which meant a 5 minute wait in line) and we were given our 25k points. Then it was over, about 2.5 hours after it had begun.
It may come as little surprise to you that most of the other people getting these presentations were young families (some had their babies with them).
I can't imagine how bad they are going to feel being locked into a deal like this over time, but it's almost making me sick thinking of it.
Rest of the Day
After we left, we headed to the Orlando Vineland Outlets to shop with everyone else in the state of Florida (plus those from other states). Seriously, who knew that so many people/visitors would be shopping for outlet deals on a weekday afternoon? The entire parking lot was full, so we parked across the street and walked over because I needed some new items — all in white for the Florida heat! 🙂
We stopped by MOD Pizza on the way home as my wife was longing for it (we went regularly in Colorado), then hit the pool around 5 pm. The temperature was supposedly 86 degrees, but the sun was behind clouds and it was actually a bit chilly for us. Perhaps we're becoming acclimatized!
When we got back to the room, the AC was out, so we told the front desk on the way to renting a DVD (they had free DVD rentals). Fifteen minutes into our movie the power went off to the entire building for 10-15 seconds. When it came back on, the AC worked. Turns out the whole building had a problem and they simply shut the system off and turned it on again — like we used to do with computers in the 80's. LOL.
Wednesday, April 5
The next morning we repeated the walk a few times around the path, then the kids arrived and we all headed to Old Town Kissimmee. We had seen how cool it was (a bunch of great shops) as well as World Food Trucks across the street. It was going to be great!
Yeah, that's what we thought. It's actually pretty much of a dive (both places) and in a sketchy area of town. Whoever did the YouTube videos we watched should be hired by Waste Management because they can make crap look like a million dollars.
Needless to say, we didn't stay long, but headed back toward the hotel and ate lunch at the Maple Street Biscuit Company, which was amazing.
Afterwards we went back to the hotel, gave the kids our room keys and car parking pass, then headed up the turnpike to home. They were using the last two days of the room as they were visiting water parks on Thursday and Friday.
Overall Thoughts
There are a couple overall thoughts I came back with after these few days.
First of all, regarding the "investment/ownership" of a timeshare with Hilton Grand Vacations — no way. It's certainly not for us. I'd also say it's certainly not for most people (probably 99%+ of people), but you make your own decisions. For us I think we can do way better (in quality of experience as well as price) than getting a HGV timeshare.
My second thought was something that hit me for the first time since we've moved.
Here we were at a nice resort, arguably among the top tier in what's available in the U.S.
It had two pools, a walking path, sports courts, and a few other amenities. It was well designed and very clean. It was amazing by almost any measure…except when compared to The Villages.
The Villages has thousands more things to do, multiple pools of all types, is cleaner and more visually stunning, has more walking paths, sports activities, and on and on…plus so much more that the hotel didn't have. So when we compared this swanky hotel to our home and the area around it — there was simply no comparison — The Villages far outpaced it. Plus it's much more convenient (living at home versus in a hotel room — the pickleball courts at home are closer than the elevator was at the hotel!)
This is the first time I started to really grasp how awesome The Villages is. It took what most would consider a high-end, luxury vacation/resort and made it look less than common.
Of course, YMMV, but as for us, why would we ever visit a hotel resort (much less buy into one) when we live in something 100 times better. (The exception would be a location we want to see — like Grand Cayman — but even then, the condo we rented was way better than a hotel anyway.)
So that's it for us. We probably won't do another of these presentations, but you never know. 😉