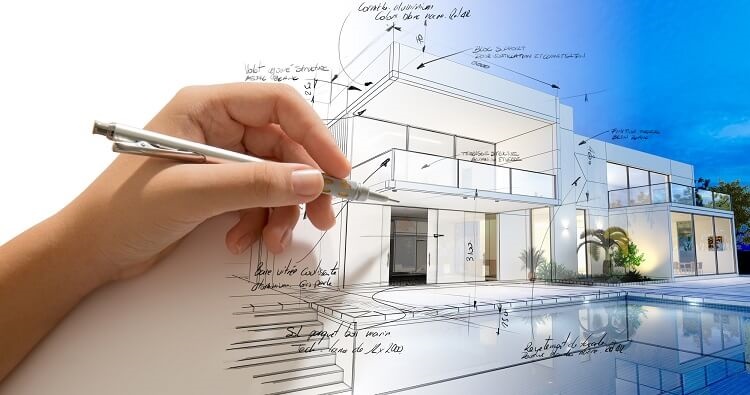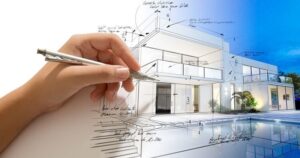 Here's our latest interview with a millionaire as we seek to learn from those who have grown their wealth to high heights.
If you'd like to be considered for an interview, drop me a note and we can chat about specifics.
This interview took place in September.
My questions are in bold italics and their responses follow in black.
Let's get started…
OVERVIEW
How old are you (and spouse if applicable, plus how long you've been married)?
I am 43 and my husband is 45.
We have been married for 15 years.
Do you have kids/family (if so, how old are they)?
We have one son who is 11 years old and one dog son who is 14 years old.
What area of the country do you live in (and urban or rural)?
We are in the suburbs of a large Midwest city.
What is your current net worth?
$6.4 million.
What are the main assets that make up your net worth (stocks, real estate, business, home, retirement accounts, etc.) and any debt that offsets part of these?
Cash: $120,000
Taxable stock account: $3,500,000
Retirement Accounts (401K and IRAs): $350,000
529 Account: $30,000
HSA: $70,000
Angel Investments: $350,000 in 8 companies
Revenue Based Financing Funds (2): $700,000
Collector Car: $180,000
Other vehicles: $110,000
Primary Residence: $970,000
Wine Collection: $8,000
Art & Memorabilia: $10,000
Business: $70,000 (cash assets)
Liabilities: Mortgage ($150,000)
EARN
What is your job?
Me: Director Level position for a consulting firm in the architecture/engineering/construction field.
Husband: Chief Technology Officer for a computational modeling hedge fund start up.
What is your annual income?
Me: $170K plus up to 20% bonus.
Husband: Equity shares (AKA $0, current paper value ~$1M).
Tell us about your income performance over time. What was the starting salary of your first job, how did it grow from there (and what you did to make it grow), and where are you now?
My first job was a locker room attendant — at 15 I made a sweet $12.50/hour.
I then got certified as a lifeguard and worked through college at varying rates between $15/hour and $20/hour.
In grad school I attended a university that paid me to teach lab sections, I was making bank at $12K/year!
I graduated into a downturn market after 15 interviews was fortunate to secure my first job. I worked for that firm for 11 years and learned a ton. My starting salary was 28K and eventually grew to 70K at my departure.
I found my second position through a former client. That position afforded me leadership opportunities that have been the kindling for the future. In the 6 years I was at that company I was able to win over $20M in work with new clients. I started at 80K and grew to 94K at my departure.
I was recruited into my third and current position by a former co-worker. I joined the company at 115K and am currently at 170K + bonus. I have progressed from program management through director, which has been a gratifying three-year journey.
Out of college my Husband started as a computer programmer for a local firm. At that company he met a group of coworkers who all wanted to try their hand at entrepreneurship. They started a company that eventually provided solutions for education management. His salary started at $6K and rose to $100K.
The journey from no revenue to being big enough to be purchased was wild and was part of both our lives. He stayed at the acquiring firm for a few years at salaries between $120K and $150K + bonus until that firm was again acquired. After growing his company from 4 to 200 people then being in the management team for a 500-person company he knew he didn't want to be a part of a 4,000-employee company, so he packed up and took a new position as a Chief Technology Officer at a startup for equity shares and $100K salary.
Eventually, that opportunity came to an inflection point and after fellow investors introduced him to another technical team, he moved over to the current startup he is at with equity shares as his income.
What tips do you have for others who want to grow their career-related income?
Develop a professional network. We pre-date LinkedIn but can't stress enough the power of networking and of LinkedIn to anyone. Create a profile, keep it professional, as early as possible connect to any folks in your degree pool, connect to anyone in your electives, connect to professors and any professionals you may encounter through mentor programs or internships. That awkward kid in your major may one day be the connection you need to get your dream job. We have NEVER gotten a job from a cold application.
Persevere but know when you are worth more. In year 10 of my employment with my first employer, I had my son. Upon my return, the project I had been slated to take over leadership of had been assigned to a male colleague. I met with my supervisor and requested an explanation; generic platitudes were given, and promises were made to live up to the pre-leave plans through a different project. After 6 months it was clear that those promises were empty. I dusted off my resume and started job hunting.
Your professional pool is smaller than you may think. Over 20 years ago I worked with a person who was difficult to work with. The project ended and I was thankful to not have to interact with them. Last week, when working a current opportunity, guess who joined the team as a technical expert?
What's your work-life balance look like?
We thankfully have a home that allows for two offices and professions that allow us to dictate our schedules.
We get to take our kid to school (until he doesn't want us to) and be home when he gets back.
While we may choose to work into the night or on a weekend it is usually our own motivations that drive that.
There aren't too many hobbies that we don't all choose to participate in together which makes non-work time a blast.
Do you have any sources of income besides your career? If so, can you list them, give us a feel for how much you earn with each, and offer some insight into how you developed them?
Here is what we are doing outside of career efforts:
Angel Investments – our first investment was 5 years ago; we have made 14 investments totaling $800K and have made approximately $1.8M from exits with eight investments and $350K in capital still deployed. We made these investments based on personal connections to the startup world and through a local angel group. Our best investments have been the firms found through personal connections.
Revenue Based Financing – We have two investments in revenue-based financing funds. We added this venture after watching start up valuations exceed the believable zone of acceptable returns. Each fund has a 10-year arc with 3 years of buy in and 7 years of pay out. Each fund returns an average of 1.8X the investment for 7 years. We have 700K invested and just advanced our payment to bring our multiplier up to 2X by getting our management fees waived for early pay-in.
Future – We have an LLC to house our ventures and will likely develop that into a larger entity to execute any future bright ideas we choose to pursue. Right now, the "company" holds our private angel investments and "owns" one car and one set of season sports tickets. We use the LLC to donate to multiple causes through the year to offset some gains and to keep a level of stealth in the community.
SAVE
What is your annual spending?
We run around 150K.
Vacation and skiing is an estimate but based on the post-covid costs we are seeing to travel.
What are the main categories (expenses) this spending breaks into?
The table below details expenses is from our net proceeds after already fully funding my 401K, paying health insurance and taxes on my W-2 salary.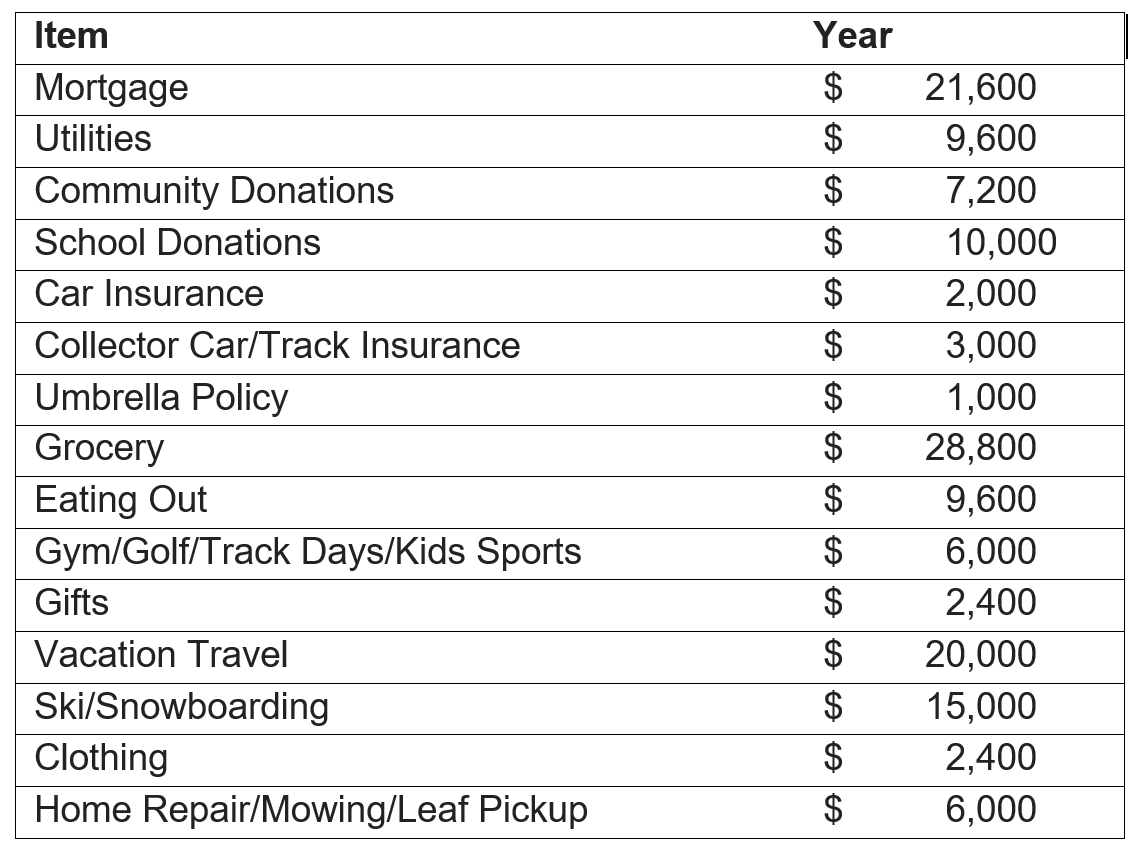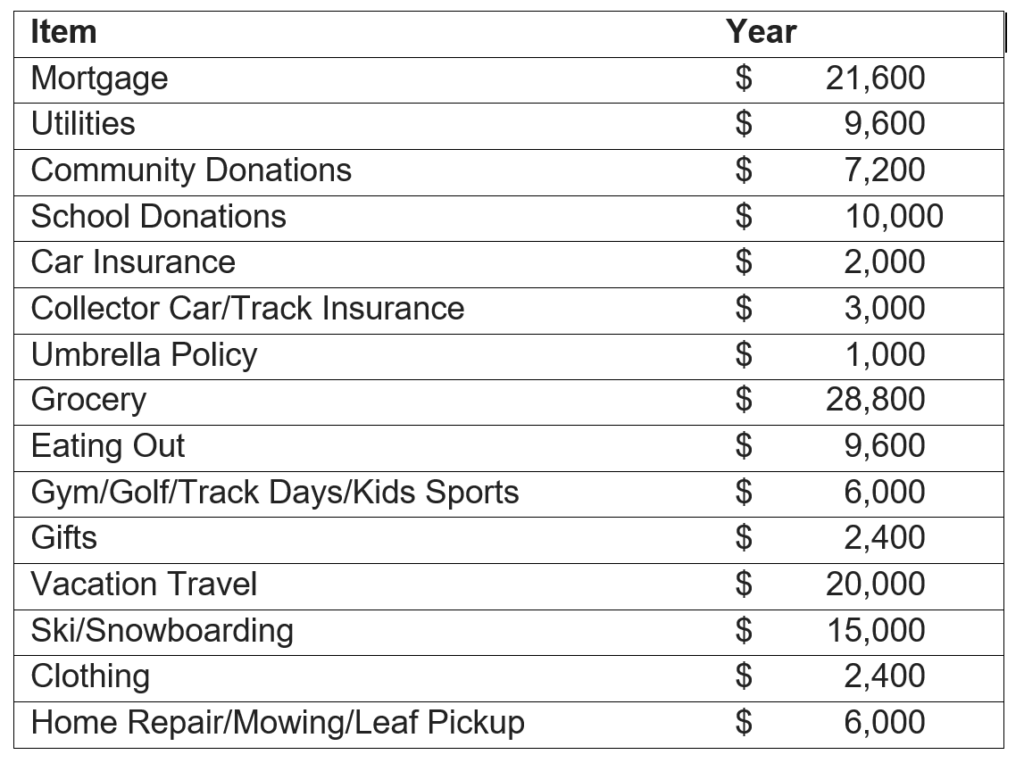 Do you have a budget? If so, how do you implement it?
Our "budget" is to leverage current salary and leave our investment accounts alone to grow. For tax purposes we continue to fully fund 401Ks and contribute nominally to a 529.
We prefer to exercise our budget willpower in sprints, like not ordering from Amazon for a month or cooking from the freezer for a month instead of portioning out income. We have always had a price point, currently $1K, where we check in with each other prior to large purchases, so we don't overspend in a month or forget a big bill that is hitting.
Tied to finance sprints but an ongoing activity, we practice want versus need delay tactics. Sometimes it gets comical. For example – I want a new bench for our entryway, our current one was purchased 15 years ago still works so we don't need a new bench. The hunt continues for "the bench"…7 years later.
We have been working hard to spend up since we achieved financial independence, some days it feels extravagant, but we are very grateful for the opportunity to view income as a very different tool than most.
What percentage of your gross income do you save and how has that changed over time?
If we count investment income and in the pre-covid market we were averaging about $600K/year between salary and investment proceeds.
We spend just my salary.
What's your best tip for saving (accumulating) money?
Live small so you can take risks
Believe in your own abilities
Advocate for yourself/your partner's career growth
Be the outlier, no one makes millions being part of the herd
Aim to have a $1M tax bill (but not every year!)
What's your best tip for spending less money?
Limit expense expansion for as long as you can stand it.
We lived on a 70K budget from the years when we were making 78K all the way through $300K. In that time and on that budget, we bought a new house, had a kid, paid for daycare, purchased a new car, traveled to Europe — not all at once but we are now quite disciplined in our spending without a ton of "rules" or tracking for taking that approach.
What is your favorite thing to spend money on/your secret splurge?
My favorite thing to spend money on are tools or venues where I get to spend time with my family. Second splurge is business or first-class plane tickets.
My husband's splurge is shoes and custom jeans.
INVEST
What is your investment philosophy/plan?
We invest in what we know.
We spend time learning about what we don't know and only when we feel knowledgeable do we expand our investment pool.
We have learned to keep a quiet network of fellow investors who will share quality deal flow.
What has been your best investment?
Entrepreneurship and sweat equity – bar none working for little to no salary to accumulate equity has had its best return for us. Would you take a job that started at $6,000/year and ended at $120K but has a multi-million payout 17 years later? I will say this is a gamble, I never doubted my husband and he never doubted himself but there were many years where we had to gut-check our commitment when business revenue was lumpy.
But the above wouldn't be part of the story if we hadn't chosen each other. It took longer than I had hoped to find the right spouse, but I can't say enough about the person he is and the intelligence, compassion and drive that he has.
I've been given permission to respond to this question from his perspective to say, "same".
What has been your worst investment?
A 3-day per year timeshare package. Every year the annual dues remind me how stupid that purchase was.
But it works me up enough to book a long weekend in Napa to make the whole annoyance worth the effort.
What's been your overall return?
Sweat equity is pretty high risk, but it has paid off over 1000%.
Angel investing to date isn't too bad at about 45%, but within that 45% we have also had total losses that rank up there with worst investments.
How often do you monitor/review your portfolio?
I usually glance at it daily. At that frequency it is mostly unrealized gains so not worth getting too worked up over.
Quarterly we evaluate real growth and move assets, or more frequently when the Fed inspires us.
NET WORTH
How did you accumulate your net worth?
Together we have inherited $8K. But we had a solid start in our journey. Our families helped us go to college with a minimum of student debt that we left with ($30K), we paid that back in 10 years.
My income has been very steady, and I have been the benefits provider to the family.
Our net worth took a big jump because of the risks we engaged in through my husband's career path. We invested in his career as he co-founded a 17-year overnight startup success. Marriages in the startup world are intriguing, I only have direct data, but I will say of the 4 founders two divorced during the painful growth phase, one never married and then there is my husband and I.
The extreme belief that what you are doing has a market need and will create income in the future requires dedication and service from all involved. I am proud of both of us and especially my husband for creating a company who offered a product that never existed before but was valuable enough to be acquired and through a few other mergers is now a NYSE listed company.
What would you say is your greatest strength in the ESI wealth-building model (Earn, Save or Invest) and why would you say it's tops?
For us it has been Invest.
We didn't follow the traditional investment guidelines but our ability to find, vet and hold high risk investments and to calmly work through tough patches has outpaced our earnings and savings.
But earning and savings wise we would still have done pretty good.
Overall, we don't value any of the three elements over the others.
What road bumps did you face along the way to becoming a millionaire and how did you handle them?
The day the founders and by extension all their families decided to go without pay for months to avoid laying staff off was a pivotal moment.
My husband and I took that decision as a challenge and made it a budget game.
For another of the partners, that was the last straw and their spouse filed for divorce.
What are you currently doing to maintain/grow your net worth?
Limiting our use of our invested assets and when looking at those assets we take the recommendation of our grandfather and "Make choices as if your accounts have one less zero".
Do you have a target net worth you are trying to attain?
Yes and no. Nominally the overarching goal is $10M, and we likely will see that with little effort so that is boring.
Therefore, our current and more tangible goal is to generate as much passive income https://esimoney.com/28-ways-to-create-extra-passive-income/ as we could make in W-2 jobs discounting our taxable stock market account.
We are halfway there with the RBF funds and the hedge may get us the rest of the way there…the game continues.
How old were you when you made your first million and have you had any significant behavior shifts since then?
34. We didn't realize it at the time but between our home, savings, and investments we were there.
After the acquisition that made us multimillionaires, we had to rebalance but took the sage advice to not change anything for at least a year. We still live in the same house we bought on ¼ of our salaries before we were millionaires. However, we have renovated the inside and started adding a zero to the donation amounts we used to make.
The one big change has been that we have been able to take more risks and advocate even more for our careers because we are already FI which is a major confidence booster.
What money mistakes have you made along the way that others can learn from?
I've learned the hard way on quite a few things.
A few years ago, I got too much of a big head and invested in a company that really didn't make sense. They were also claiming to offer a state tax credit. All was a lie that didn't play out until the state revenue service, and I got into formal exchanges. Lost a chuck of investment funds and got a fine as a cherry on top of a crummy situation. It was good to learn and from there we formalized our investment strategy and documentation process to avoid future repeats.
We've learned a lot on taxes, especially taxes for non-W-2 income. We have resourced professional advising and mentoring for this, it is an ongoing journey!
Our most recent money mistake was tied to getting lax about our stealth wealth status. Unfortunately, you can't maintain stealth wealth and gift cars to someone in need without them getting a hint of your situation. While I would make that gift again, it has forever changed that relationship.
What advice do you have for ESI Money readers on how to become wealthy?
Know yourself
Evaluate what you can live without and what you choose to keep in your life
Practice delayed gratification
Stop buying quantity, start buying quality in as many places as you can
FUTURE
What are your plans for the future regarding lifestyle?
We could retire today but it would last about 1 week before we were bored.
Five years ago, we had no intention of changing what we did. Today we have conversations about what is next.
Still thinking about it but until the kiddo is set on his path we are content to be an island of stability for him and build out our little corner of the world and enjoy the journey.
What are your retirement plans?
Right now, we are toying with retiring from W-2 income jobs around 50.
It may be sooner; I have a business goal tied to year end 2024 and have deferred any decisions until I get to that date.
From there we would run our LLC full time, so not quite retirement but self-employment.
Are there any issues in retirement that concern you? If so, how are you planning to address them?
Health Care, always health care. The US system is so broken.
We are thankful to be healthy, thankful that our son is healthy. But nothing is guaranteed so we will continue to research non-W-2 alternatives, small business alternatives and watch what evolves from the exchanges while we are not in a rush for change.
MISCELLANEOUS
How did you learn about finances and at what age did it "click"?
Both our families thankfully shared good fundamental habits, live in your means, use credit intentionally, pay your bills on time. My husband had the advantage of watching his grandfather own a business which shaped his view of what is "risky".
I learned the power of investing thanks to an introductory seminar a prospective employer at my grad school hosted so had always contributed to my 401K but what I didn't realize early enough was a simple 10-15% 401K withdrawal will make you a good amount but depending on what salary you start at that isn't necessarily enough.
Who inspired you to excel in life? Who are your heroes?
For every person in my life who had high expectations, I am thankful for their pressure as that is always what I have reflected upon in challenging times — if someone else believes, why don't I? In counterpoint, I owe a huge debt of gratitude to the decision maker at my first job who waited until I was at my most vulnerable, to pull the project I had career aspirations built upon; without them I would likely never have stepped beyond my comfort zone and truly excelled.
I struggle to put anyone on the hero pedestal, I have seen most of my childhood heroes stumble over their own humanity. My expectations are high. My deepest respect and admiration is extended to those who are clearly the smartest person in the room but maintain the grace to recognize the value within even the smallest contributor.
Do you have any favorite money books you like/recommend? If so, can you share with us your top three and why you like them?
The Subtle Art of Not Giving a F*ck – Mark Manson — Even without the profanity, the main recommendation to ruthlessly narrow down what gets your energy has been helpful as we reached FI and realized "anything" is possible.
Angel – Jason Calacanis – 60% of what is in here is valuable if you are thinking of high-risk investing, the other 40% is the author letting you know how amazing he and his opinions are.
Do you give to charity? Why or why not? If you do, what percent of time/money do you give?
Currently our charitable giving is through monetary donations, averaging 10 to 15K per year.
All donations are tied to education either for capital improvements at the school my son attends or to lift area students through reading programs or equity in educational access programs.
All donations are currently within our community, most are issued with the request for anonymity.
Do you plan to leave an inheritance for your heirs (how do you plan to distribute your wealth at your death)? What are your reasons behind this plan?
With one child we will likely leave him our wealth.
Since he is a minor, we currently have two executors, one to see to the care of our child and one to see to the preservation and rational release of his accounts to him as he reaches adulthood.
Here is hoping we have a long time to grow and distribute our funds. Beyond catastrophic plans we really haven't made firm commitments. I don't desire dynastic plans as I can't see the point of attempting to control the people or causes that I love from beyond the grave.