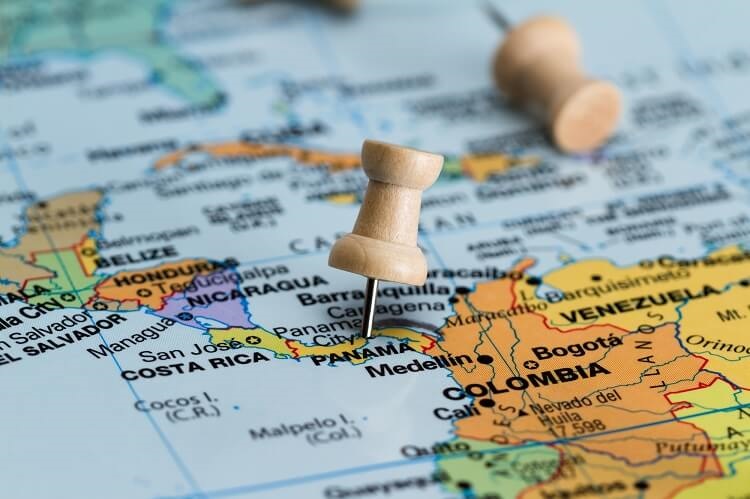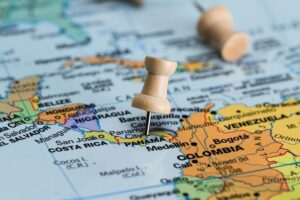 Today I have an update for you from a previous millionaire interview.
I'm letting three years pass from the initial interviews to the updates, so if you've been interviewed, I'll be in touch. 😉
This update was submitted in September.
It's a fun one since it's from a personal friend of mine, Jim from Route to Retire.
He's a pretty good guy, but he is from Cleveland…and since I lived in Pittsburgh (and met my wife there) I can't get over that. But we do have Baker Mayfield in common (I lived in OK a couple years) so maybe we are ok. LOL.
As usual, my questions are in bold italics and their responses follow…
OVERVIEW
How old are you?
I'm 46 and my wife is 43.
We've been together for over 20 years and celebrated our 15th anniversary earlier this year.
Do you have kids?
We have an 11-year-old daughter named Faith. She's awesome. She's smart, funny, witty, creative, kind, mature, and persistent.
Yeah, I know – I'm pretty biased, but I don't care… I love this kid!
What area of the country do you live in (and urban or rural)?
We moved to Panama in 2019 and live in a small town in the mountains called Boquete. It's a beautiful place and the people are wonderful. The 75-degree temps every day don't hurt either!
It's been a wonderful adventure, but we're moving back to Ohio in the spring of 2022. We love Boquete, but it's more of an older community of ex-pats and we want to get Faith around other kids some more (though she does have a wonderful friend here). Lisa and Faith tend to get homesick a lot as well so it's time to end this adventure and move on to a new one.
Plus, the Browns are doing much better and have given us a reason to move back.
I wouldn't trade our time living in Panama for the world. It's been a wonderful opportunity for all of us.
What was your original Millionaire Interview on ESI Money?
I was Millionaire Interview 78.
I don't like that I wasn't #1, but ESI started this series before we hit the double comma club…maybe he can rename ours to "1b" or something to make me feel better.
Is there anything else we should know about you?
I'm ESI's favorite person in the whole world. For some reason, he loves me to death and considers me his BFF. Hopefully, he doesn't try to deny that in all his commentary he likes to throw into guest posts!
We also got to star in a House Hunters International episode with our move to Panama. It made for some long days of filming but it was a blast to do. Truly an awesome experience.
Other than that, I'm just a guy trying the make the most of each day. Spending more time with my daughter before she grew too old was my motivation for early retirement. And I made that happen shortly after my first ESI interview.
NET WORTH
What is your current net worth and how is that different than your original interview?
Our net worth has been floating somewhere between $1.6 and $1.7 million lately. It was around $1.2 million at the time of the original interview.
We've been retired and drawing from our portfolio as well for almost 3 years now so no complaints there!
And yes, I know that the market could tank at any time, but I've been lucky to have a strong market by my side during retirement thus far. The sequence of returns risk is always a concern in my head even though we built in some protections with a bucket strategy.
What happened along the way to make these changes?
I'd like to say that I'm just a financial genius, but yeah, not so much. We all know how the market's been on a tear for more than the past decade and our portfolio growth is mostly due to that.
As I got a lot smarter along the way, I moved us to be about 70% in stocks which is almost entirely in a total stock market index fund (VTI). The low cost of the fund, along with the strong market has really been the catalyst for the growth we've seen.
We also sold our last rental property (a duplex) earlier this year. With the prices of real estate being insanely hot, this was a no-brainer. We sold it for about 50% more than we bought it for just 5 years earlier. That didn't hurt our net worth either.
What are you currently doing to maintain/grow your net worth?
Right now, we're trying to just be diligent in not spending more than our budget each year so we don't hurt our portfolio. Although we're in good times now, that can change without any warning so we want to be careful.
Other than that, I earn some income from my blog, but not much (for now). Once we move back to the U.S., my wife wants to go back to work part-time just to get a little more structure in her day (and probably get away from me!). Although she likely won't bring in a lot of income with the part-time works she wants to do, it'll still help us from needing to draw as much from our portfolio.
EARN
What is your job?
I've been officially and happily retired since the end of the year in 2018. It's given me a great opportunity to spend so much time with my family and be there as my daughter grows up.
So I guess right now, my job is spending time loving life and being with my family! And here in Panama, it's been easy to do that with the freedom of time.
I've been blogging now since 2015 and continue to do that regularly. My income from that is still small (I would project about $5k this year), but it's growing and it's something I love doing regardless. More importantly, every dollar earned is one less dollar that we need to pull from our portfolio so no complaints from me!
What is your annual income?
About $50-55k.
How has this changed since your last interview?
It's dropped dramatically – to less than half of what we were bringing in. But that's because I'm officially retired…woo-hoo!
Our personal savings rate was very high while I was working (about 60%). So our income has dropped but we weren't spending everything we made anyway.
So the good news is that I now have the freedom to spend with my family. The so-called "bad news" is that we don't have a big income rolling in any longer.
We've gone from 6 figures coming into our wallets to living off our portfolio with a little bit of supplementary income. I'm counting the portfolio as income because that's what we now pay ourselves with every year.
Have you added, grown, or lost any additional sources of income besides your career?
Obviously, retirement is a huge change regarding our income sources. Losing that is a big one.
But our portfolio should continue to pay us enough to cover our expenses just like our jobs did for so many years…so far, so good!
In addition to that money, we have a small amount of money coming in from Route to Retire. Although we don't have a lot of money coming in from that source right now, it continues to grow every year. It's not enough to cover all our expenses by itself so we wouldn't need to pull from our portfolio, but maybe that will change down the line.
SAVE
What is your annual spending and how has it changed since your interview?
We're currently spending about $50k per year. That's gone up since our last interview but there have been several unusual circumstances contributing to that.
The first big change was that we moved to Panama. Moving always has some costs involved but moving to another country inherently has some costs as well. Considering we came here with just two suitcases each, we knew we'd be buying some things as we settled in here.
You might be thinking it should be a lower cost of living here and it is. However, we opted to live a little more of an upscale life while here. So our costs are similar to what we had in Ohio but we have a little more of a higher quality of life.
The second big change was COVID. This was something that took almost all of us by surprise. And here in Panama, we had our own anxiety with it. Being in a foreign country away from family and under full lockdown in our condo for months was tough. Eventually, we decided to pull the trigger and take a humanitarian flight back to the U.S. in July 2020.
But once we got back, we realized that we were pretty much on lockdown there as well (though not as strict by any means). So, we decided to do something unusual – we bought a 2021 Honda Pilot and took a road trip across the country. We were gone for 40 days and had a great time exploring the country, camping, and sometimes sleeping in the car, and sometimes in hotels. Between buying the car and taking that big trip, that incurred some nice costs for the year… but it was a blast!
And another reason our expenses are higher over the past three years is, well, because they can be. We were allowing ourselves a budget of $50-55k so why not enjoy it? We're now retired and have an opportunity to have more fun and show the world to our daughter.
We'll be moving back to the U.S. in the spring of 2022 and we have another big road trip planned once we get back. But after that, I anticipate that our expenses should start to go down for 2023 once we get settled in.
INVEST
What are your current investments and how have they changed over the years?
I was going to be pretty broad about this, but I realize that a lot of readers find it helpful to see real numbers. I'm pretty transparent about our numbers so here's where we stand as I write this: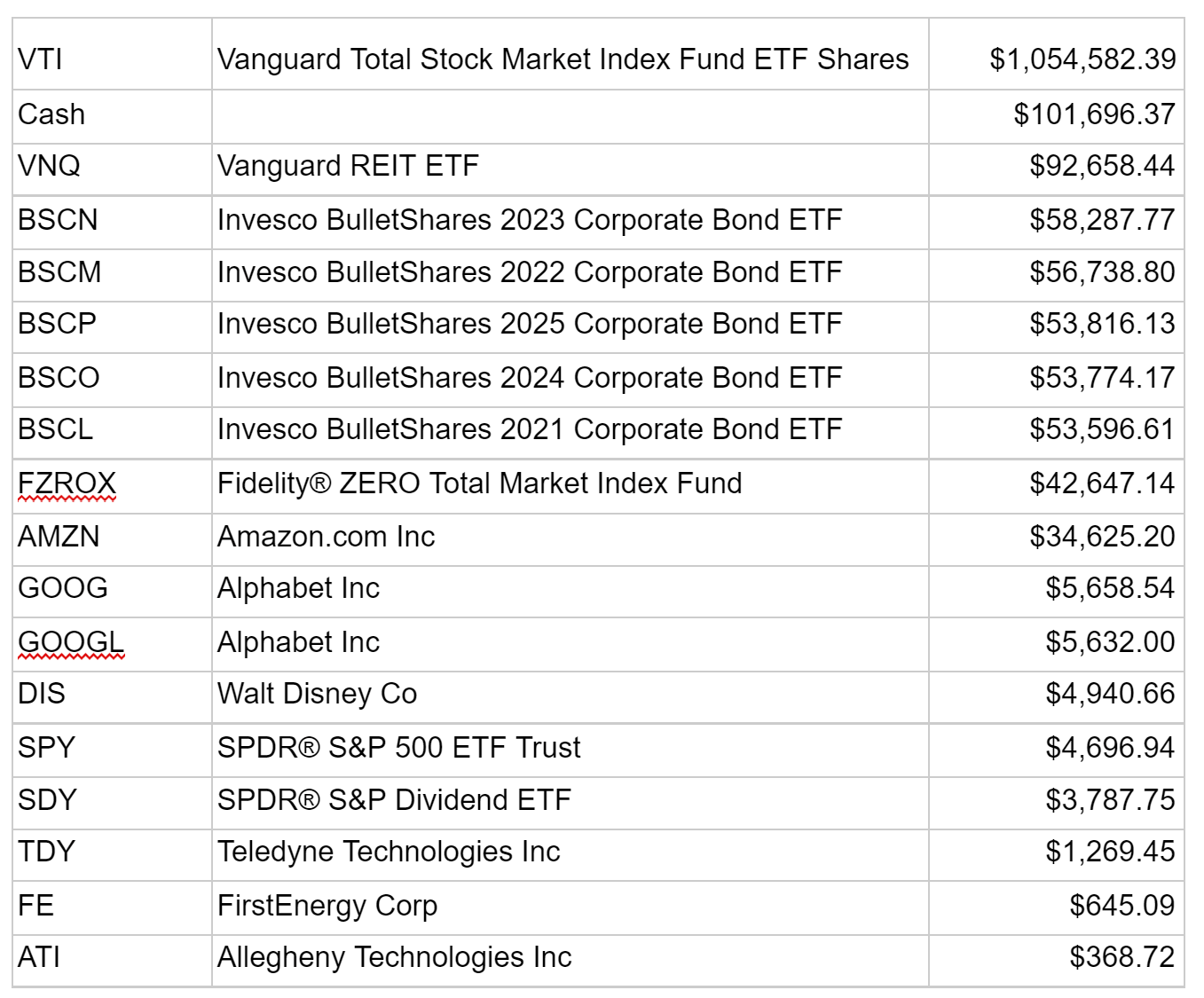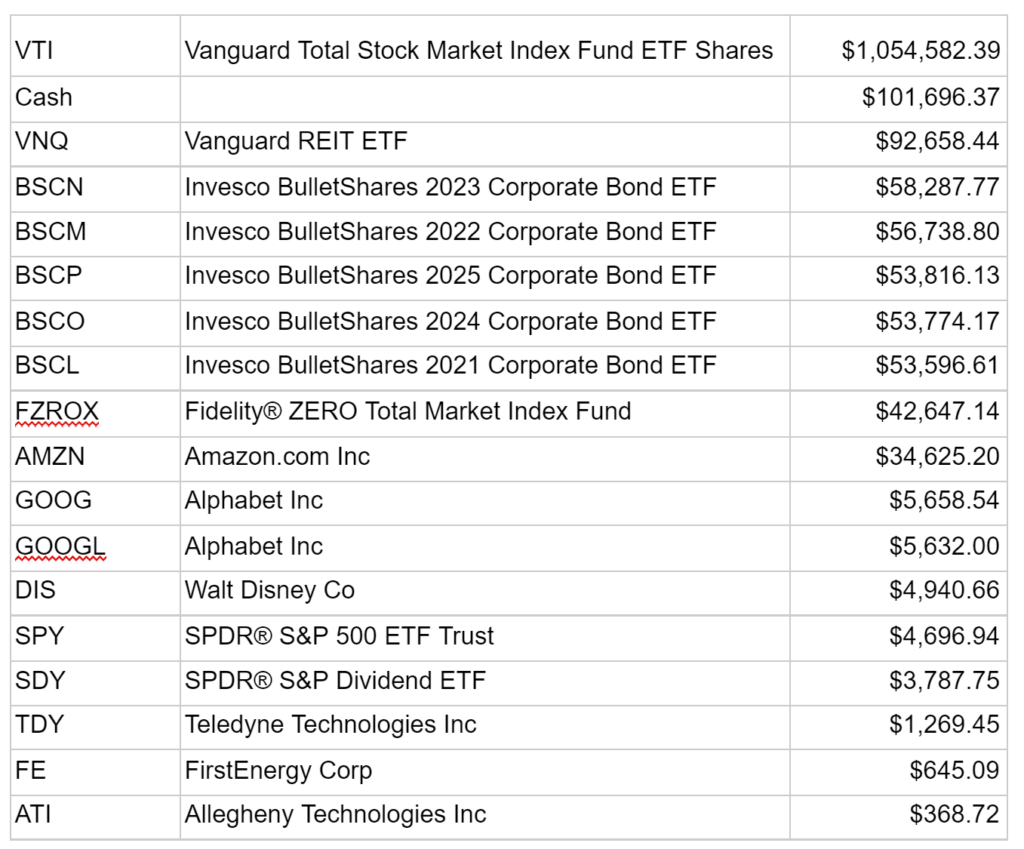 Most of our money is in the Vanguard Total Stock Market Index ETF (VTI). You'll also see that we're sitting on a lot of cash right now. Some of that is to help cover our expenses. And some of it is because the market is what I can consider being overpriced right now. We want the ability to jump should an opportunity present itself. That happened in the spring of 2020 and we were able to buy quite a bit at discounted prices.
We sold our last rental property earlier this year but I still wanted to have a little hedge against the ups and downs of the general market so I now have almost $100k in the VNQ REIT (real estate investment trust).
We keep about 5 years of spending in a BulletShares ETF bond ladder – each year equating to about $50k (adjusting for inflation). Every year, as the year's ETF matures, we take that money and move it into an online savings account. That becomes our spending money for the year.
Then, some of that money automatically moves to our checking account each month to pay our bills.
And then we're still sitting on a few "fun" individual stocks. I bought Amazon, for instance, at $67/share. That was a nice win. I sold a few shares over the years to get my original investment off the table and now I'm just playing with the winnings. I'll sell a little more if the price continues to climb.
So, we're now structured in a way that makes sense for us. Most of our money is invested in a low-cost total market ETF to grow but I'm sitting heavy on cash. You can argue that it's too much, but we sleep better at night having that comfort level right now. As time moves on though and the sequence of returns risk diminishes, I may push more into the market and sit on less cash.
I'm sure this goes without saying, but our investments are specific to our needs. Please don't try to mimic our investments – talk to a professional to find out what makes the most sense for you.
MISCELLANEOUS
What other financial challenges or opportunities have you faced since your last interview?
Not having the easy opportunity of a 9-5 to save a ton of money anymore is very different. You move from being a saver to a spender and that's a weird dynamic.
It's also a little odd to not be earning good money from being an employee anymore. Previously, we had plenty of $$$ coming in and if we wanted more, I earned more. Now, we're essentially on a fixed income. We have enough money to cover our expenses, but I still find myself keeping an eye on our spending more than I'd like to.
Once we move back to the U.S. and get settled again, my wife plans to go back to work part-time for non-monetary reasons. However, a little extra income never hurts!
The real challenge though for me has been more mental than anything. For the first couple of years of retirement, I struggled. We were having a blast doing all sorts of fun things (and still are!) but I was still struggling to sleep at night.
It's taken me up until this past year to figure out why. I'm a task-list-oriented person – I get a big feeling of satisfaction when checking items off my list of things to do. I built up a pretty big "to-do" list over the years of things I wanted to get done once I retired and had more time as well as some new hobbies I wanted to try. I thought I'd be knocking out things in the blink of an eye without work in the way.
But my list wasn't going down. I had so many plans but it just seemed like I wasn't getting anywhere with them. It was extremely frustrating.
What I realized is that I needed more balance in my life. I retired specifically to spend more time with my family, particularly with my daughter before she got too old to want to hang out with dear old dad. And that's what I've been doing – spending a ton of time with my family…and it's been wonderful.
It's also the reason why I wasn't get things done – you still only get 24 hours in a day once retired. That's BS, too – one of the perks should be that you can have as many hours in a day that you want once you leave your job!
Anyway, once I figured that out, I've worked to find a good balance. I still spend plenty of time with the family and then I work on my blog and a little bit of the other things I want to do. I've realized that it'll take time to get to everything on my list that I want to and that's Ok – I've *hopefully* got decades left for that. And once my daughter gets older and starts being with her friends a lot more, I'm sure my time will start to free up even more.
In the meantime, being able to spend so much family time together is priceless and awesome. It's something that not a lot of folks get to do and I appreciate this blessing in life.
My mind still struggles with this periodically but I'm now sleeping much better with this understanding. I wish it didn't take me so long to realize it though.
Overall, what's better and what's worse since your last interview?
Haha, life is by far better since the last interview since I'm no longer working at a 9-5. I love having the freedom to decide how every day will flow.
It's been almost 3 years in retirement and there's never been a moment where I've been bored.
Throw in that we've spent the past 2 years or so living in a beautiful country as ex-pats and it becomes almost hard to believe that this is life for us now…it's awesome.
In the meantime, I've been working out consistently 5 days a week since I stopped working. That was something I always put on the backburner as a priority but now I have more time for it. I feel better and stronger because of it.
Nothing is perfect, but I'd take this freedom and opportunity in life over anything. Life is good, my friends.
What are your plans for the future?
I've touched on a lot of it already. We plan to move back to Ohio next spring, but why hurry back? We're going to spend a couple of weeks in Mexico along the way. First, we're going to stay in another ex-pat community called Ajijic for a little over a week, and then we're going to do an all-inclusive resort in Cancun.
Once back in the U.S., we have a huge road trip planned (gotta make use of that Honda Pilot we bought last year!).
And then we'll get settled. We'll probably rent an apartment for at least a year while we decide where we want to live and then…who knows?
That's the beauty of early retirement – the world is our oyster. It's a dumb saying, in my opinion, but we'll roll with it anyway and continue to live every day on our terms.
Given that you have a bit more wisdom and experience, what advice do you have these days for ESI Money readers?
As I've said, I learned more about balance since I've been retired than ever before. For ESI readers, I think this can be just as important.
Whatever your goals are – whether it be related to money, family, a career, fitness, food, or anything else – balance is almost always going to be the best advice. Pursue your goals with a passion, but don't forget that there's always going to be a need for harmony between the other things in life.
For example, if you just live for today and don't plan for your future, you're just going to be miserable later when you don't have any money. But if you go the other extreme and become over-frugal and guard every penny to get to retirement faster, you're missing out on today.
Dieting? Give yourself a cheat day.
Working out? Do it on a set schedule so it becomes a routine. But don't overdo it either or you'll start to resent it and end up giving up on it.
Find a balance that gives you the best of both worlds. Aim for tomorrow while still enjoying today.