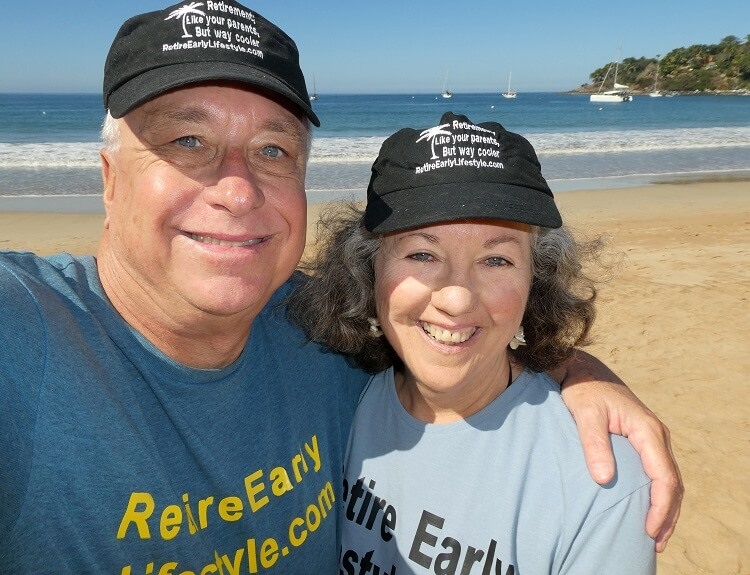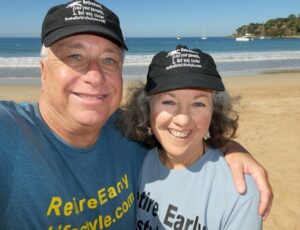 Here's our latest interview with a retiree as we seek to learn from those who have actually taken the retirement plunge.
If you'd like to be considered for an interview, drop me a note and we can chat about specifics.
This interview was conducted in July. It's with Akaisha and Billy from Retire Early Lifestyle.
My questions are in bold italics and their responses follow in black.
Let's get started…
GENERAL OVERVIEW
How old are you (and spouse if applicable, plus how long you've been married)?
We just turned 70 this September, 2022.
We have been married for 44 years.
Do you have kids/family (if so, how old are they)?
We have no children.
During our younger years we were determined, and worked night and day running our restaurant. Then Billy was recruited to work as a stock broker for then Dean Witter, now known as Morgan Stanley Dean Witter.
We worked nights, weekends and holidays, not a great atmosphere in which to raise children.
What area of the country do you live in (and urban or rural)?
Although we both were born in Ohio, we met in coastal California and lived in a small touristy beach town.
We have been traveling the world for over 30 years, living in Asia, Mexico, Central America, the US and South America.
Currently we live in a small lakeside community in Chapala, Mexico.
Is there anything else we should know about you?
When we first met, Billy was a trained French Chef. We traveled Europe and came back to California to open up our own restaurant. We had no money so we purchased it with our own "no money down" approach, before this term was invented. We paid everyone off in 2 years.
Then, after 5 years running the restaurant 365 days a year, breakfast, lunch and dinner, Billy was recruited to be a stock broker, and shortly thereafter was promoted to office manager.
At the age of 38, in 1991, we retired from the conventional working world to travel the globe, before the 4% rule was created and before there was a FIRE movement.
RETIREMENT OVERVIEW
How do you define retirement?
When we "retired" in 1991, there was no word for Financial Independence. We don't really use the word "retired" any longer, but rather describe ourselves as Financially independent – which means we can do what we want, when we want, where we want.
We spend a good deal of our time doing volunteer work, and our website is one of our volunteer projects. We want more people to become free of being wage slaves.
We use our free time to travel, learn languages and new skills.
How long have you been retired?
Since 1991, we are now in our 32st year.
In January of 2023 we begin our 33nd year.
Is your spouse also retired?
We retired together and began traveling the world.
What was your career and income before retirement?
When we became a team, Billy was the French Chef of our Restaurant, and Akaisha was the CEO.
Then Billy became a stock broker/manager and Akaisha ran the restaurant until we left the working world in January of 1991.
Once Billy became a stock broker we were making over 6 figures, paying down our mortgage and heavily investing the rest.
Why did you retire?
While we loved our jobs and both of us are very ambitious, our lives became filled with too many "have to's" and we were like passing ships in the night. We wanted to have a life together, sharing, traveling, writing, photographing our travels, telling stories and helping others choose their best lives.
So, we took 2 years to plan this out, tracked our spending and found out that our investments could pay for our lifestyle. Then we gave 2 weeks' notice and quit our jobs.
PREPARATION FOR RETIREMENT
When did you first start thinking seriously about retirement and when did that turn into a decision to do it?
When we were 36 years old, Billy had the idea that we could travel the world and never have to work again.
We could live off our investments! We took 2 years to track our spending and realized that this was a doable proposition, so we retired in January of 1991.
What were the major steps you took from deciding to retire to developing a plan to do so?
We don't know if there were any "major steps" other than save, save, save and the unshakable commitment that we wanted to be free to live the lives we chose.
Remember, back in 1991 there were no financial forums, no FIRE community, no internet, WiFi, PayPal, Twitter, Google and no mentors.
We decided to do it, and there was no room for failure.
What did your pre-retirement financials look like?
We had about $500,000 split between taxable and non-taxable accounts. Most of it was invested in Dean Whitter equity funds. Billy's boss would get copies of our statement so he could not invest in no-load index funds without him finding out. He was a loyal employee. However we did invest in Vanguard Index 500 in Akaisha's account.
Once we turned 55, after 17 years of living our lifestyle, we utilized Rule 72T and pulled out cash from our IRA's in the same amount as our Social Security payment would be — thus creating a bridge until we started receiving Social Security. This kept us from selling shares in our regular accounts and letting them grow.
Once our SS began we stopped that and let our IRA accounts continue to increase in value.
What was your overall financial plan for retirement?
Like we mentioned earlier we tracked our spending for two years prior. We took out all house related expenses, car expenses, dry cleaning and more — anything that we would be eliminating once we started our journey. We found that we could live on $20,000 per year in 1991 dollars.
So, the question was how much money invested did we need in order to cover that amount. We multiplied 20K by 25 and $500,000 was the amounted we needed to have invested. We were there. Basically, this is the 4% rule in reverse, however the 4% rule didn't exist in 1990.
Did you make any specific moves to prepare your finances for retirement?
We sold our home, cars, the restaurant and our belongings and hit the road.
We lived on the tiny Caribbean island of Nevis for 6 months, then went to Venezuela.
We returned to the States, bought a 5th wheel travel trailer and a 1-ton pickup and traveled the US for a couple of years.
Then we began our international travels where we first visited Chapala, Mexico for 2 months and stayed four years.
Another term that had not been invented at that time was geo-arbitrage — basically, earning dollars in the US and using a favorable exchange rate county in which to live. We figured this out in 1993.
Who helped you develop this plan?
Billy is our financial planner and there was no one else out there to guide us.
Again, in 1991, there was no internet, no financial forums, no FIRE community, no mentors. We cut the cord and went off on our own.
What plans did you make in advance to leave your job?
We gave them 2 weeks' notice and hit the road, period!
We did not want any financial incentives to try and derail us.
What were your pre-retirement concerns (financial or non-financial)?
We had none.
We had faith in our financial planning and each other.
There was no room for failure. We had managed our own business with 15 employees, and Billy was a manager of a stock broker office with 15 brokers. We were used to taking responsibility, so we knew we could figure it out on our own.
How did you handle deciding on and paying for healthcare?
Because we had been self-employed for so long, we were already used to paying for our own health insurance.
For the first several years of our lives without a job we had a US-based, high deductible emergency health care plan. But since we were traveling the globe, we would find ourselves taking care of our medical needs in whatever country we might be – whether it was dental, being sick, having an emergency, getting special tests, eye glasses and so on.
We were participating in Medical Tourism before there was such a word. So eventually we just dropped our US health insurance and went "Naked" as they say in the community.
Now we qualify for Medicare but we get our medical needs taken care of here in Mexico.
How did you tell your family and friends of your plans?
We didn't say anything until we quit our jobs, and then simply told them we were leaving our jobs to travel.
We rocked their world.
No one believed us or that what we were doing was possible, and some thought we'd be back in less than a year trying to find work again.
Our families were aghast. Being raised during the Depression, they had no reference point for our decision and couldn't understand why we'd give up a beautiful home near the ocean in California and great jobs to uh… travel?
It took several years for people to adjust to the idea that we were not coming back and going to work.
THE ACT OF RETIRING
How did you ultimately retire?
We took 2 years and tracked the spending of what we paid just for ourselves. We took out the costs of our mortgage, insurances and car payments, what we spent on work like transportation, lunches out, wardrobe expenses, and all subscriptions to services, magazines, garden and home care and so on.
We found that we could live on $20,000 in 1991 dollars (about $43,000 today), and our investments would cover that easily.
We sold all our belongings, our cars and home and flew to Nevis, British West Indies for a temporary interim adjustment job helping to open the 4 Seasons Hotel on the island.
During our working years we got to know the Captain of one of Windjammer's sailing vessels. Billy managed his money and after our commitment in Nevis was finished, we jumped on board his 256 ft. sailing ship and sailed down through the Caribbean Islands, then flew to Venezuela.
Our adventure had begun!
What went well? What didn't go so well?
Since we took 2 years to track our spending while we were still working, we decided to also ramp up our savings. The discipline to cut back even more spending, would often put us at odds with our previous entertainment style. Remember, we were restaurant owners and often entertained lavishly in California with Napa Valley wines and waiter service.
We also stopped our housekeeping and gardening services, ate at home more often and packed our lunches. Friends were confused, thought we were having financial problems, and some of them turned a cold social shoulder to us.
When we told family of our plans, they were confused, not understanding the concept. Akaisha's mother thought we were going on welfare to live and was embarrassed. After Akaisha explained that we had purchased our freedom ourselves, she was a little bit more relieved but still did not understand the idea and it took a few years for her to adjust to it. She would have preferred that we lived the rest of our lives close to the family, and perhaps raise one of our own.
Looking back, it was the emotional component of retirement that was the hardest to juggle. The financial factor was the easier part.
How did you ultimately find the courage to do it?
As we mentioned, with Billy working days and having weekends off, and Akaisha working nights, weekends and holidays at the restaurant, we were like ships passing in the night. Our relationship suffered greatly, and we could choose to end our marriage or jump forward into living our dream of traveling the world.
By this time, we had managed several large business problems and had matured early in life. So, we knew we could figure out any problems we might face on this new road of adventure. We didn't hesitate.
We retired in January of 1991…and then the Gulf War broke out that same month with US travel warnings everywhere. We pressed on. There is never a perfect time to retire.
RETIREMENT LIFE
How was the adjustment, especially the first few months after retirement?
We spent our first 6 months or so on a Caribbean Paradise Island, then in Venezuela on the wonderful island of Isla Margarita.
We wanted to do something radical from our previous lives of full-on stress and working 60-80-hour workweeks. So, there was a bit of releasing all that pent-up intensity and learning to slow down, getting on island time.
And, of course, there was that emotional adjustment that Akaisha's family was having a hard time with, which wasn't easy for her.
How is retirement life now? What do you like about it and what do you dislike?
It's hard to think of a downside to our lives now, as we have simply gotten better at this approach to living. Traveling as a lifestyle keeps us fresh, young, up-to-date on world views, cuisines, cultures, and geographical beauty. We value our independence greatly, and other than the bump-in-the-road that was Covid, life has been magnificently varied, fulfilling, surprising, and satisfying.
We take care of communication with family and friends over VOIP, email, and WhatsApp. Our medical needs are fulfilled in our adopted town in Mexico now, and Akaisha visits her family in the States yearly.
We like living a simplified life, and since we live in the middle of town, all of our shops, food vendors, physicians, and the lake are in walking distance.
For us, we are living our best lives.
What do you do with your time? What does an average day look like?
When we are not on the road traveling (during Covid we did a lot of traveling inside the country of Mexico), we get up early, get on the exercise bicycle, Billy makes breakfast and goes out to meet friends for morning coffee.
Akaisha does some volunteer work on the website and then walks to the open markets to pick up fresh vegetables, fruits and supplies.
We have lunch together either at a restaurant with friends or have one of Chef Billy's fine meals at home. We like casual, two-hour lunches and great conversation.
Akaisha likes to spend her afternoons at her art table.
There is lots of time to read, learn new skills, volunteer, meet with friends, go to local musical presentations or to the local theater. Friends come to visit us from around the world, and really, there is always something to do.
What are the major activities that fill up your time in retirement? Are there any new ones you're planning to try?
We hope to get back to Europe next spring and go to a Mexican vineyard area in the Baja this September.
We do a lot of reading and financial research, Akaisha likes making her art, and we prepare amazing cuisine for friends at our home.
What is your social life like?
Our social life is wide and varied. We host friends from around the world who come and visit, some from the Philippines, Panama, Thailand, Guatemala and the States.
There are private and public music concerts and theater and lots of activities like tennis, pickleball, going to the natural hot springs, hiking, and walking around town.
Looking back, what would you have done differently?
We might do two things differently.
Had we known better, we would not have sold our Exxon stock to purchase our home in the 1980s. The Exxon stock performed far better than our coastal home in California and was more liquid.
The second thing we would have done differently, is that we would have been more prepared for the emotional factor of leaving "conventional society." We hadn't expected the pushback and thought friends and family would be happy for us and supportive of our choice.
We learned a lot, but that was sometimes difficult, confusing and unexpected to go through.
Was there any emotional impact from leaving the workforce?
Other than de-stressing, there was no emotional impact from leaving the workforce.
We have always been productive people so we didn't identify with our jobs per se. Our careers were just the framework within which we were creative and dynamic. When we left our professions we simply found other pathways to be valuable and to contribute.
What surprises (financial or non-financial, good or bad) have you had since retiring and how have you handled them?
The market downturns and bear markets are always a challenge more mentally than financially. We now have about 5 years of cash for spending during these periods so that our investments can remain untouched. Currently at age 70 we are drawing Social Security and between that and dividends our financial nut is more than covered.
A wonderful discovery was that we found good people everywhere, regardless of culture. They want to live their lives, raise a family, enjoy robust health, have fun and laugh. And…there are crabby and complaining people too, regardless of culture.
What are your future plans?
At our age our long-term plan is to make it to Friday. 😉 Then we reset.
RETIREMENT FINANCES
How has your financial plan performed compared to what you had estimated before retirement?
Our current net worth is higher today than when we started, even after inflation and spending.
That's three decades of living this lifestyle and growing our net worth. So, we are doing well.
Our current holdings include VTI, DIA, VGT, MAIN, DVY and SPY.
Can you give us some insights into your post-retirement spending and income? How much do you spend annually and on what? And where does the income to pay for your spending come from?
You can see our annual spending update here.
We typically spend around $30,000 USD annually for all living expenses including travel, health care, dining, entertainment, food, rent — the usual. We do not budget separately for travel, as it is our lifestyle.
We live off our investments as we always have from the beginning. We now receive Social Security which we didn't qualify for initially, and we have dividends. All of this income is far more than what we spend, so we re-invest in the market, and keep several years of spending in cash in case of market downturns.
We don't budget at all. We track our spending daily, spending a fraction of our net worth, and we travel as a lifestyle, not a vacation. If we want something or need something we purchase it. We know right away in real time what percentage of our net worth we are spending.
How are you handling Social Security, required minimum distributions, tax issues and the like?
We took Social Security at age 62 after crunching the numbers and deciding that Billy can do a better job of managing our money than the government.
We have been preparing ourselves for years for RMD's as they keep raising the year to begin. Meanwhile we pull money out of our IRAs and reinvest in our regular account to prepare for the tax consequence in a couple of years.
Did you return to paid work? Why or why not?
There was only one time we even considered returning to paid work and that was in the down market of 2008-2009. But then we realized that by the time we purchased a car (with the costs of maintenance, insurance, parking, and fuel) and resupplied our work wardrobe (and lunches out, commuting time and expense) and moved to a location where employment was abundant, that we weren't willing to make those adjustments.
We made some changes in our portfolio, tracked our spending, utilized geo-arbitrage to reduce spending and continued living our lifestyle. In fact, we made about 6 or 7 trips to Thailand during that time period and just after.
Did you find it hard going from being a saver to a spender?
As we have aged, it did feel odd to spend more.
We don't have children, so besides the charities and special causes we will leave money to, there is no point in bringing this money with us to the grave.
Looking back, what do you wish you knew in advance?
Only that the emotional component of retirement could be a butt-kicker if we didn't get a handle on it, and that we wished we would have kept our Exxon stock instead of buying our home in California.
Financially, we would have fared better.
What advice do you have for those wanting to retire?
Save, save, save, track your spending, learn the language of finance, find something productive and satisfying to do with your free time, don't let anyone steal your dreams and prepare for the emotional component of retirement.
In summary, we purchased our restaurant with no money down before that concept was popular. We figured out the 4% rule before it was created. We left the conventional working world before the FIRE movement started and figured out the benefits of geo-arbitrage on our own. And we're still here!