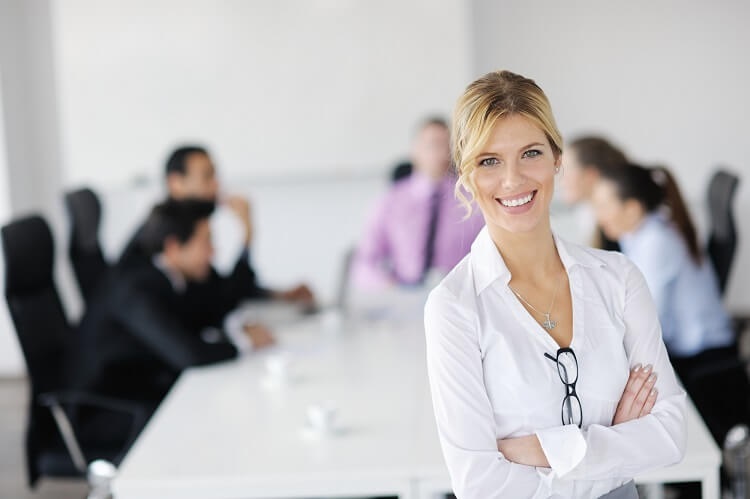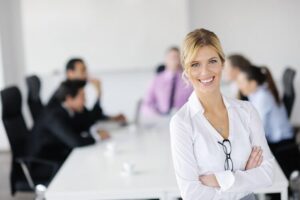 As you may have noticed, I haven't done a New Year's resolution post this year.
I have done annual resolutions for decades now and usually suggest a few money-related ideas for ESI Money readers every year, but over close to 20 years as a blogger I think I'm close to saying all I want to on that subject. Haha.
Fortunately I have recently met some who hasn't.
Alison Challman is the founder of a career-focused website, FinallyPromoted®, and has created the Promotion Principles®, a framework for career advancement. These are similar to the seven principles I discuss in How to Manage Your Career to Make Millions More but hers all start with the same letter so they're much more clever. 🙂
Anyway, Alison is a great writer, she's proven herself to be excellent at growing a career, and I love offering new site owner's the chance to share their thoughts with ESI Money readers.
And, as you know, "E" is the first part of my three-punch money combination and a career is the biggest financial asset most people have, so why not hear from a career-growth expert on how to make more money in 2023?
It's a win-win-win, right?
I'll quit blabbing on and get you to the good stuff…take it away Alison…
———————————-
Yes, corporate work can sometimes be a grind. There will be days you want to throw in the towel and walk away from bad bosses, annoying coworkers, political power plans, and pointless meetings.
But, in my experience, corporate work can also be a great way to grow your career earnings, become financially independent and retire early.
Doubling Down on Corporate Work
I experienced the joy of reaching financial freedom at the age of 48, and I did it almost entirely by growing my career earnings (and not keeping up with the Joneses).
Instead of starting a side hustle to make more money, I chose to double down on my corporate career — and focus on getting promoted. As a result, I grew my starting salary well over 50x over 25 years by gradually advancing from admin assistant to c-suite executive.
I share these factoids not to toot my own horn, but to show that I write from personal experience. I'm a regular, everyday employee who mostly stumbled into a marketing career and often struggled to get promoted.
During my career, I learned a ton about how to make more money year over year. In today's post, I'm going to share 10 ways you can do the same to grow your career earnings.
The ideas I'm sharing in this article are ones I personally used during my corporate career. They helped me reach my financial goals, and I know they can do the same for you.
1. Work for a Growth Company
There is a lot to be said about working for a high-growth company, or a fast-growing division within a large corporation to grow your career earnings.
When your employer is flush with revenue, the odds are in your favor to receive higher than average pay increases and special bonus payouts. And a company that is growing is going to be creating more jobs, and therefore offer more opportunities for advancement. Your ability to get promoted just increased!
Plus, working for a high-growth company makes you more marketable. Your professional worth goes through the roof when you can share how you helped scale a business and contributed to double-digit growth.
When you decide it's time to move on to greener pastures, your experience at a high-growth company will open the door to many more high-paying opportunities.
2. Update Your Elevator Pitch
If you're open to changing jobs to make more money (and I hope you are – see #3 below), then I'm guessing you've done a decent job keeping your resume up to date, or at least your LinkedIn profile. But when's the last time you updated your elevator pitch?
One of the best moves I made to advance my career was planning and preparing for recruiter calls. If you can nail your answer to the most frequently asked screening question, "tell me about yourself," then you will be well on your way to moving forward as a job candidate.
But if you're still talking about making the dean's list 8 years after graduating from college, or touting results from a job you had a decade ago, you've got a problem. It's time to level-up your interview elevator pitch.
For example, highlight how your work responsibilities expanded over time, or even better, talk about how your contributions to the business led to a promotion. Or, if you aspire to advance into a managerial role, briefly touch on your success coaching your peers, leading cross-functional projects, or being selected for emerging leadership programs.
And after your updated elevator pitch advances you in the interview process, don't forget the next essential step to land a higher-paying job: sending interview follow-up emails. Did you know 57% of job seekers don't even send a simple thank you note after an interview?!
Need some inspiration for what to write? You can download 25 examples of follow-up emails I personally used to secure job offers here for free.
3. Change Companies
I'm sure you've heard this before, but it's worth repeating: one of the best moves you can make to grow your career earnings is to change companies.
As someone who worked for several different companies over the course of my career, I'm no stranger to the upsides of moving to greener pastures. But I also know first-hand how difficult a decision this can be, especially if you've worked at the same company for many years.
You're not just walking away from a job, but you're also leaving behind the comfort and security of an environment you know inside and out. Plus, some of your coworkers have likely turned into good friends.
But if growing your income to reach financial freedom is important to you, strategically changing companies can help propel your earnings to new heights.
According to a recent analysis, your newly hired coworker doing the same work as you is likely earning 10-15% more than you. I'd say that's more than enough reason to jump ship!
With some negotiation, you should be able to increase your income immediately by at least 15% when you change companies. Plus, if you're open to relocation, you can bank even more money by moving to a lower-cost city, having your new employer pay for temporary housing, and benefiting from a nice relocation bonus.
And, if you play your cards right, you can also make more money in the months and years to come. Don't be short sighted and only consider the immediate pay increase when you change companies. Instead, join a high-growth company and negotiate your next promotion.
4. Focus on Bonus, Stock
Salary matters, but bonuses and stock grants are the levers that can really grow your career earnings and skyrocket your path to financial freedom.
When negotiating a new job offer, if bonuses and restricted stock units (RSUs) are part of your compensation package, I encourage you to spend time pushing for higher bonus/equity vs base salary. Plus, most companies must stay within pre-defined salary ranges, so you'll likely have more wiggle room to increase bonus or stock grants.
And look for a company that offers RSUs on a quarterly vesting schedule (vs annual vesting over several years)—this way you can get your money faster.
5. Max Out Pre-Tax Contributions
A key part of my financial plan was to be as tax efficient as possible with my career earnings. This meant maxing out every available pre-tax option my employer offered. And when you work for large and mid-size corporations, there can be more available than you may think.
Inflation stinks, but on the bright side, we should see a nice bump in the amount we can contribute to pre-tax plans in 2023. The IRS has already confirmed an increase from $3,650 to $3,850 for individual contributions to health savings accounts.
Several analysts are projecting the maximum 401k contribution rate to jump from $20,500 to $22,500. Plus, the catch-up contribution limit could go up by $1,000 to $7,500 in 2023. And maximum contributions to flexible savings accounts are expected to rise too, going from $2,850 to $3,050 for individuals.
If you max out your contributions with these projected increases, and assume a 22% tax rate, you just pocketed an additional $6,468 in 2023. ($8,118 if you're over 50)
6. Make the Most of Financial Perks
I would be remiss if I didn't call out the many other financial perks that companies typically offer their employees. It really upsets me when I see employees who fail to tap into these resources. They are literally leaving money on the table!
I'm talking about company-matching contributions to retirement and health savings accounts, which can add up to $2K+ in additional earnings each year.
Plus, there's discounted employee stock purchase plans, free financial planning with certified advisors, and corporate discount programs on everyday items, like movie tickets, laptops, and more. If you work for a public company, buying stock at a 5-15% discount can be a great deal!
And one of the biggest payouts? Business travel. Yes, it can be a huge hassle, but it can also bring big-time perks, like redeeming earned points for FREE vacations. I easily saved tens of thousands of dollars over the years from point redemptions with Marriott Bonvoy, Hilton Honors, American AAdvantage, American Express, Hertz, and more.
And the higher you advance, there's even more financial benefits available to you. Like deferred compensation plans…
7. Check into Deferred Compensation Programs
Large companies often offer higher-paid employees access to special perks like deferred compensation plans (DCPs). The definition of "higher paid" varies company to company, but it was first offered to me when I became a manager and crossed into 6-figures.
Deferred compensation plans can be an excellent tool to save for retirement and lower your income tax—putting more money in your pocket.
In case you're not familiar with deferred comp plans, they basically withhold a portion of your pre-tax pay until a specific future date. Your money can be invested and grow tax free, like a 401K, and then payout years later at a time when you will ideally be in a lower tax bracket.
I personally participated and am still receiving payouts from income deferrals I made years ago. For me, it was a great way to create a future income stream and enable early retirement. I'm a huge fan of deferred comp plans.
If your company offers DCPs but you don't qualify yet, find out what the threshold is to participate and chart your path to a promotion.
8. Be a High Performer
The average annual pay increase in corporate America is expected to be 3.4% — not nearly enough to keep up with inflation.
Don't settle for average. This year, get recognized as a high performer at work. High performers make more money, not just in terms of a higher salary raise, but also in higher bonus payouts and equity awards.
Once I crossed into 6-figures, my annual pay raises (base + bonus + equity) spanned 7% at the low-end to 19% at the high-end. And these were the years where I did NOT earn a promotion—it was based solely on being recognized as a top performer at large and mid-size growth companies.
How can you show up as a high performer? Here's a few ideas of what worked for me…
Create value. Take initiative, grow your expertise, proactively seek to solve problems, drive continual improvements, come up with new ways to improve results, reduce waste, and grow revenue.
Be easy to work with. No drama. This means you don't complain, lose your temper, blow things out of proportion, fight with coworkers, gossip—you get the idea.
Be easy to manage. Pay close attention to how your manager prefers to work with you and adapt accordingly.
Go above and beyond. Make sure you are crystal clear on what is expected of you so you can knock it out of the park.
And if you really want to grow your career earnings and increase your odds of getting a higher-than-average pay increase, get recognized as a high-potential employee too.
9. Be a High-Potential Employee
The payday continues for those who are seen as high-potential employees.
Every company has a process, like the 9-box assessment, to identify their high-potential employees and put them on a "HiPo" list. You want to be on that list. Employee who are perceived to have the highest potential are the ones who get promoted and paid more.
In tight labor markets like this past year, it's very common for companies to give out retention bonuses to retain their high-potential employees. You don't even need to have a competing job offer. If your boss even thinks you might be considering a move, you could get an unexpected pay day.
Here's a few tips to position yourself as a high-potential professional:
Strive to be better. It's important you show a desire to learn and grow. Expand your skills and competencies, seek feedback on your performance, and share what you learn from mistakes. This shows management you're building self-awareness—a key attribute of high potentials!
Speak up in meetings. Be engaged in the business, and let others know by talking about it—ask questions, share ideas, and participate in discussions. Meetings are the center stage in business, and how you perform in them matters.
Believe in yourself and your ability to succeed. Get uncomfortable and overcome your fears to embrace new experiences to help you grow and become a better professional, manager, and leader.
And if you believe in yourself, others will soon believe in your potential too—and pay more to keep you around.
10. Ask for a Promotion
Now that you've positioned yourself as a high-performing, high-potential employee—it's time to grow your career earnings even more by asking for a well-deserved promotion and pay raise.
The saying, "if you don't ask, you don't get," certainly applies to getting promoted. You can't expect to quietly kick butt at work and get rewarded. More often, you need to speak up and ask for what you want. But how and when you ask for a promotion matters.
One of the best times to ask for a promotion is during a period of high turn-over. If several of your colleagues have recently jumped ship, your company may be more inclined to promote you to retain you. Layout a justification for your promotion and see what happens—just make sure your request doesn't come across as a demand or sound like an ultimatum.
Best case, you ask and get promoted. Worst case, you don't get promoted, but you gain valuable insight into what it will take to get promoted in the future. Then, you need to decide how you feel about what you learned.
Were the reasons you were passed over for a promotion justified? Perhaps you will agree there are skills and competencies you need to develop, or knowledge and experiences you need to gain. If so, it's time to get a game plan for HOW you grow in these areas.
But if you feel the decision was unfair or are unclear on how to strengthen your standing for a promotion next time, it may be time to move on. Update your elevator pitch and job-hop to a high-growth company!
Make the Most of Corporate Work to Grow Your Career Earnings
I hope this article has inspired you with new ways to double-down and grow your career earnings this year. To summarize:
Update your elevator pitch to change companies and get a higher-paying job working for a growth company—then negotiate higher bonus and stock.
Max out your pre-tax contributions, make the most out of corporate financial perks, and check into deferred compensation plans.
Be seen as a high-performing and high-potential employee, and then ask for a promotion. Rinse and repeat.
Each of these 10 actions played a key role in accelerating my path to financial freedom, and I know they can do the same for you!