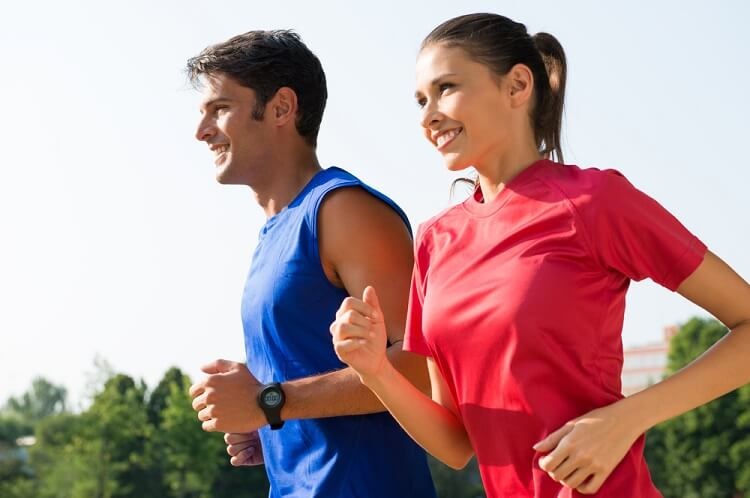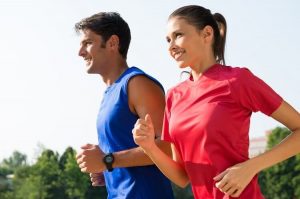 Shortly after I posted Physical Fitness and Financial Fitness I ran into a Money Magazine article titled "Get Healthy, Get Wealthy."
This was the exact point I made in my post — except with stats to back up what they said! 🙂
The Money article was several pages long, so I'll post on it now and again to be sure we cover all the main points.
The general overview is that there are several ways you can both earn more and save yourself some money. Some of the suggestions: watch your weight, exercise regularly, get a good night's sleep, watch your stress, plus a few others.
In this post we'll go through some of the overall findings. In future posts we'll focus on just one topic (i.e. how sleeping better can improve your finances).
Overall Stats
I won't share all of the key stats (or otherwise I'd ruin future posts), but here are some stats the article lists that apply to people near retirement:
Average non-401k assets of healthiest 20% of older Americans: $748,500
Average non-401k assets of least healthy 20% of older Americans: $206,500
I don't see how they define "older Americans" in the data, but the chart next to it has ages 65 to 85 listed so it's likely that's what they mean.
Ok, so healthier people have an extra $500k as they hit retirement age. Maybe it's simply that wealthier people are in better health, but we're only at point one.
Here's the next one (I'm reading a line chart that's in need of extra lines, so I may be off a bit here, but they are directionally correct):
Average annual healthcare costs of very fit people at age 85: $12k
Average annual healthcare costs of moderately fit people at age 85: $15k
Average annual healthcare costs of less fit people at age 85: $18k
The same relationship holds true all the way from 65 to 85. So a very healthy person pays $120k less in healthcare costs from age 65 to 85 as a less fit person. That's real money!!!
And the final stats:
Workers who expect to retire before 65: 24%
Workers who do retire before 65: 69%
Percentage of workers who cite poor health or disability as reason for early retirement: 55%
Losing just one year of work costs the average American family roughly $50k (the average annual household income in the U.S.). Imagine what losing 5 or 10 years costs!
Making the Gym Payoff
In addition to the above, Money shares some great facts on how regularly exercising can help you grow wealthy. Their first point:
"Heading to the gym has been linked to higher pay — 7% more for men, 12% for women, according to Cleveland State associate professor Vasilios Kosteas. Improved energy levels, mental acuity, and mood may be fueling the boost."
Let me make one other assertion here that is impacted by this topic as well as many of the health-related issues we'll touch on during this series: my guess is that exercising ends up making you more attractive. And as I've shown, being attractive is one of the key steps to growing your income.
Now let's go back to the numbers listed above. Do you know how HUGE 7% more pay can be? We've already shown that if you start a career today earning $40k and average 3% raises over 45 years that you'll earn $3.7 million over your career. If you earn 7% more than that, that's an extra $259k!!! Very nice!!!
The article goes on:
"And, of course, exercise also helps protect you from numerous costly ailments, from diabetes to stroke, with lasting, sometimes unexpected benefits. For instance, studies show that midlife fitness leads not only to lower medical costs in retirement but also to bigger nest eggs."
So you make more AND you save more? How cool is this? (I'd argue that your quality of life is probably better as well.)
The best news is that you don't have to be an Olympic athlete to get these benefits. You can go the high road if you like. According to Money:
"A personal trainer can be worth it if he or she helps you establish and reach goals."
This is what I have done by hiring my trainer. Worth every penny.
But you don't have to do this. Money suggests a simple walking or running program can give you most of the benefits you'll need. And there are so many free apps these days that can help you track and measure your progress, it's easy to set goals and see if you're meeting them.
Just Getting Started
The above should get you interested in the health/wealth relationship if you aren't already.
But if you're still skeptical, stay tuned. There is much, much more to come on this topic.