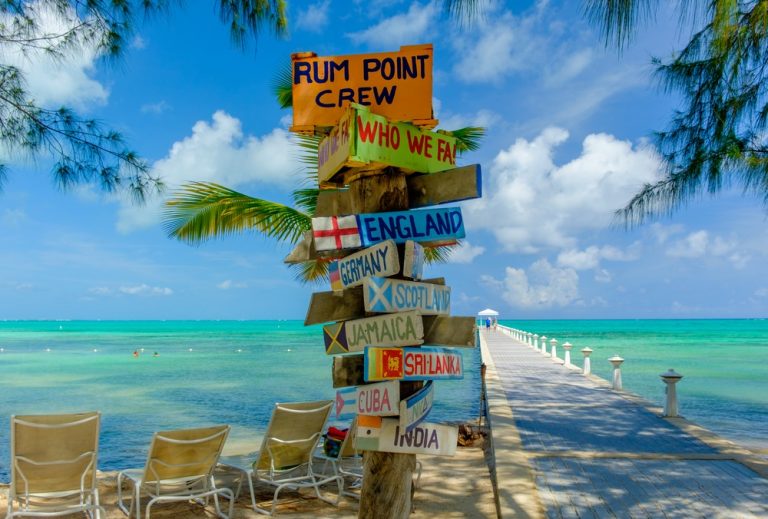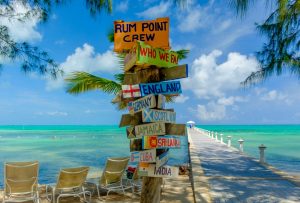 Today I'm going to continue sharing about our recent trip to Grand Cayman.
In case you've missed any part of this series, you can start with Grand Cayman Trip and Tips, Part 1.
Now, let's continue on with our journey…
Thursday, January 11
This was the best day of the trip.
We didn't do much in the morning — just sat around and chatted. We had hamburgers for lunch.
We got our stuff together and at 1:15 pm we were picked up by Alex at the Cayman Snorkel Company (I know, their site looks sketchy, but they are the real deal — awesome guys — said they had never had an online rating below five stars and I believe it!).
Alex drove us 10 minutes or so to the Cayman Islands Yacht Club. After about five minutes, our captain, Jason, picked us up in this boat.
Before I get into more details, let me explain what this day was about.
We had scheduled the boat before we left home. It was $700 for four hours (I also gave them a $50 tip) and it was all ours — no one else on board but the six of us, Jason, and Alex. Jason said they were licensed for 12 but he didn't like more than ten on the boat. Of course we were able to have them go wherever we wanted since we "owned" the boat for those four hours.
So for those wanting the numbers, 10 people for $700 is $70 per person (I know, I'm great at math). That's way below what we would pay for a similar excursion from a cruise line (and we wouldn't have the boat to ourselves or be able to go wherever we wanted). Even with six of us, the cost of $700 was $117 per person, which was not bad at all (in line with or perhaps even lower than excursion prices).
They had water and soft drinks for us. We could have brought our own alcohol if we wanted, but we don't drink, so no need.
We discussed destination options, decided on three, and headed off.
The day was gorgeous as we pulled out of the yacht club area and into the north sound (a big bay) in the direction of Rum Point. We stopped part way there at Stingray City. A summary of the place from Wikipedia:
Stingray City is a series of shallow sandbars found in the North Sound of Grand Cayman, Cayman Islands. It is a tourist attraction, where southern stingrays are found in abundance and visitors can pet and interact with the animals.
It may be that stingrays began gathering in the area decades ago when fisherman returning from an excursion, navigated behind a reef into the sound, and cleaned their fish in the calm water of the shallows and sandbar area. The fish guts and squid were thrown overboard and the stingrays eventually congregated to feast there. Soon the stingrays associated the sound of a boat engine with food. As this practice turned into a tradition, divers realized that the stingrays could be fed by hand.
Jason brought us to an area where several boats were anchored. We jumped off into five foot high clear water on a sunny day. We walked a bit to the sandbar and the water became only three feet deep. Jason went and found a stingray and carried it through the water to us while Alex gave us squid to feed it. You put your hand in front of its mouth and it sucks the squid from your hand. Once food was in the water stingrays started swimming around us.
We then took a whole host of photos of us holding a stingray, kissing a stingray, etc.
We were nervous about seeing them at first since they killed the Crocodile Hunter but supposedly 1) these are a more docile type of stingray and 2) they like people, they just don't like to be surprised (like when they are hidden in sand).
As soon as he caught one Jason grabbed the stingray's tail, put the barb in his mouth, and said they call it a stingray toothpick (or was it a Cayman toothpick?), we all relaxed a ton. Even my mom, who could drown in 3 inches of water, got out and enjoyed the time there.
We then hopped into the boat and traveled a bit to a snorkeling area near Rum Point. It was beautiful. There were tons of fish (they threw squid in the water and the fish came from everywhere — stingrays too), amazing coral (about 15 feet deep to the bottom but some came to within a few feet of the surface, they were that big), and even an eel.
Alex fed the eel and he poked his head out of his hiding spot in the coral.
After being there for 45 minutes or so, we went to another snorkeling spot nearby that was equally nice. We were there for 30-45 minutes, then got on the boat and took a 30 minute ride back to the yacht club.
Being out close to the water is always my favorite sort of excursion when we cruise. Today was no exception. It was awesome in every way. Even the ride back was so cool — warm evening, sun setting, gentle wind blowing, and us sitting on the front of the boat enjoying it all.
We were back at the yacht club by 5:30 pm or so and Alex drove us home. We changed, walked to the store, got pizzas (they were so good the other night!), and ate dinner.
We then watched a movie and went to bed around 10:30 pm.
One other interesting thing happened today that worth mentioning.
Across the alley from us was a HUGE, castle-like house on the beach.
To the left of that (as we looked from our place towards the beach) was a very less impressive home. It looked a bit worse for wear from years of pounding sea spray. It had areas near the top where rust streaks were coming down.
It was hard to tell the size but guessing from looking at the outside it was roughly 2,000 square feet (at most). It could have been 1,500. If this place was in my neighborhood we would probably call the police on the owners.
Ok, it wasn't that bad, but it wasn't great either. That said, it was on the beach.
And it was up for sale by owner.
While we were waiting for Alex to pick us up, we saw the owner getting into her car. My dad walked over and talked to her for five minutes or so, asking about the place. We were curious and had been talking about it all week. He came back to the van when Alex showed up and was, as usual, light on details (like how big it was, how many bedrooms, etc.) But he did get the asking price: $4.9 million! Yikes!
We had heard that someone had just sold a very large house on the beach for $12 million and it looked like these owners were trying to cash in. There was no way I would have guessed that it was that much and no way I would pay that much even if I had it. Sheesh, I could buy half of St. Thomas for $4.9 million!
Friday, January 12
We were up "early" (at least early for the kids) and ate breakfast around 8 am. We also finished off our laundry so we now had enough clean clothes to last the rest of the trip.
Our next door neighbors stopped by around 9 am and gave us the food they hadn't used since they left today. It was some good stuff too — and plenty of it! There was enough for a couple full meals plus some snacks here and there. And they had much better taste than we did so several things (like our coffee) got an upgrade.
Soon after that we all packed up our stuff and grabbed a bus to the Grand Cayman Turtle Farm (aka Grand Cayman Turtle Centre).
Let me say here that if you go to the Farm's website, you'll probably be impressed. But perception versus reality here is the opposite of what you get with the Grand Cayman Snorkel Company (GCSC) experience.
The GCSC's website is crappy but the experience was awesome. The Turtle Farm's website is awesome (I want to go to that place!), but the actual park is simply "ok". It's one of those places where you say, "I'm glad I did it just to see what it was but I never need to go back."
We arrived at the Farm around 10:30 am or so on an overcast day (which is how many of the Grand Cayman days started out for us.)
Here's a map of the Farm. There were two price options. One was $18 each and you got to experience part of the park while the other was $45 each and you got to do the whole park.
Well, after seeing the website at home, we knew we wanted the "full experience" while we were there. So $270 later, we were all in.
We were in the park for a couple hours. Luckily we got there just in time to watch them feed the predators on Predator Reef — two nurse sharks, a barracuda, and some fish. We chatted with one of the employees there (one who fed the sharks) for about 15 minutes and it was quite interesting.
Immediately after that we scurried over to watch them feed the tortoises. They emptied buckets of what looked like dry dog food pellets into the water and the turtles made short work of the food.
Next we walked around the entire park (which was not that big — it took us maybe 20 minutes walking at my mom's slow pace) and saw the Education Centre & Hatchery, Cayman Street, Turtle Lagoon, Caribbean Free Flight Aviary, Breaker's Lagoon, Turtle Touch Tanks, and Smiley's Saltwater Lagoon.
These all sound impressive, but they weren't really. The park was closer to a county fair in quality (a SMALL county fair in a poor county) than a "park" like Disney — or even a second-tier theme park.
For example, the Education Centre & Hatchery was the size of a large room, didn't feature much, and was run down. The homes on Cayman Street were cute enough on the outside but you couldn't go in them. The Turtle Lagoon was nasty. The water was dark and looked like it contained a good amount of turtle dung. This is where you could swim with the turtles but there was NO WAY any of us would get in there. Anyone want a dip in the turtle toilet?
The rest was equally underwhelming. The two bright spots were Breaker's Lagoon (a clean, fresh water pool — very large) with a nice slide and the Turtle Touch Tanks where the kids got to hold smaller turtles.
Overall, I would give it two stars out of five. If you go to Grand Cayman and don't go there, you're not missing much.
We were there for only a couple hours since it was so blah. Most of the time was spent at Breaker's Lagoon swimming and lounging by the pool.
Once we were all done, we walked over to the dolphin place across the street so my parents and kids could see the dolphins (my wife and I saw on them on Tuesday).
Next we hailed a bus and climbed in. As I noted when I talked about Grand Cayman busses, they sometimes take people off the official bus route. That's what our driver did with one rider, a native. He went off the path and actually went by Hell, Grand Cayman (BTW, the pics on that Wikipedia page are about all there is of Hell), so it made the detour interesting. He then drove back to the route and we got home about 10 minutes later.
We made a trip to the store for supplies, then came home and ate some sandwiches. After that we headed to the beach for more snorkeling and paddle boarding. By then the sun was out and it was beautiful.
After a couple hours in the water, we can back to the house for a bit and had some refreshments. Around 5:30 pm we headed back to the beach to watch the sunset.
We ended the day eating spaghetti and watching a movie.
Saturday, January 13
We were up at 8 am today, ate breakfast, and sat around and chatted. It was nice, quiet, and relaxing. We were in a beautiful place in a beautiful house and there was no rush.
Around 11 am we finally found some ambition. My daughter and I hit the beach with our paddle boards. I also snorkeled a bit while she held my board.
After a couple hours we headed back to the house and my wife wanted to go for a walk. We walked an hour so south on the beach and then back.
Next we hit the store for some food, came home, and made dinner around 4:30 pm.
The rest of the day we watched the NFL playoffs and then later a movie before going to bed.
It was a nice, relaxing day with family in a tropical location. Totally awesome…
That's it for this time. For the final post in this series, see Grand Cayman Trip and Tips, Part 4.