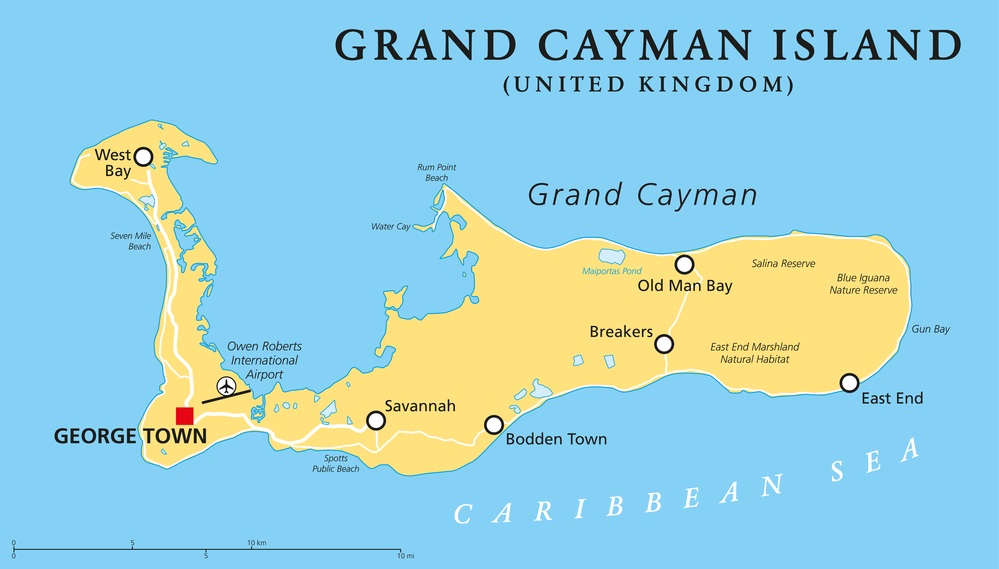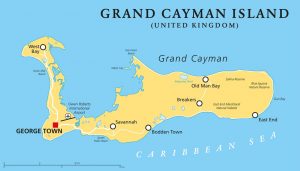 Today I'm going to wrap up the details on our recent trip to Grand Cayman.
In case you've missed any part of this series, you can start with Grand Cayman Trip and Tips, Part 1.
As you'll see, we shifted into cruise control and simply relaxed our last couple of days.
Now, let's continue on with our journey…
Sunday, January 14
I was wakened at 6 am today by the house alarm next door going off. It sounded for 10 minutes or so and then quit. It went off a time or two throughout the day as well but it appeared that nothing bad was happening over there.
I went back to sleep and got up at 8:30 am. We watched some TV then went for our longest beach walk yet — we left at 11 am and got back at 1 pm. It was so pleasant just to do this — walking in that environment was very peaceful and beautiful.
We ate lunch and played some cards, then watched the day's NFL playoff games, sat and chatted, and had pizza for dinner.
We finished the day by playing more cards (FYI, Uno was our game), watching Shark Tank (one of our favorites), and heading to bed.
Monday, January 15
Today we were up at 8 am, ate breakfast, and out the door by 10 am. It was a bit overcast — a perfect day for a trip to George Town.
We walked about a block to the main road, hailed a bus, and piled in. Ten minutes later we were downtown.
Wikipedia says the population of George Town is 28,836, but that must count about 20,000 tourists. Ha! The town didn't seem that big to us.
And the crowds were not bad either. There were no ships in today so it was relatively mild. I'm sure Tuesdays through Thursdays would be packed as that's when the most cruise ships come in.
The town had the normal shops that you see in every other Caribbean city (t-shirts, jewelry, restaurants, etc.) We did a good deal of shopping, buying several t-shirts among our group.
My mom and dad broke off from us soon after we arrived as they had been downtown. They wanted to see the rest of the island so they took a set of busses all around the East End and back (they didn't get back home until 3:30 pm).
The four members of my family did some shopping. My wife grabbed an ice cream cone, then we got back on a bus to home.
BTW, you're not supposed to eat food on the busses but if you ask the drivers, they will usually let you.
We were home by 1 pm, ate lunch, and hit the beach. The wind had kicked up and so had the waves (it was funny to see the fish pulled back and forth in the currents). We only stayed out for 45 minutes or so.
Once my parents got back we visited a bit and then went out to dinner at the Boggy Sand Cafe — the same place we ate on night #1. We joked that our tradition should be to eat there every trip on the first day and the last. I can recommend the Jerk Chicken as a tasty meal.
We came home after that, packed a bit, and watched a movie before hitting bed.
Tuesday, January 16
Well, all good things must come to an end and today was that day for our trip.
We were up before 8 am and spent the morning eating, visiting, packing, and tidying up a bit.
At 12:30 pm (the owner allowed us to have a late check out since no one was coming the next day) a cab arrived and took us to the airport.
We all got checked in and sat together, chatting until my parents' flight left.
BTW, the Grand Cayman airport is about the size of our garage. Ok, it's not that small, but it is tiny. And they have all the planes arriving and leaving at the same time, so the waiting area was PACKED.
About 30 minutes after my parents left, we boarded our flight. We got on at 3 pm and by 4:30 pm we were in Miami. Then the "fun" began.
Miami International Airport's customs process must have been designed by Hannibal Lecter or some other person who wanted to inflict maximum pain.
Step one was to stand in the line from hell.
Step two was to fill out an electronic pass and get a slip of paper. Thankfully they gave us TSA pre-check slips too.
Step three was to stand in the line from hell's brother. At this point in the experience there were signs asking us not to take photos. I know why — they didn't want the word to get out how bad it was.
1.5 hours later, we were through customs (BTW, it took my parents 15 minutes in Atlanta). Thankfully we had carry-ons, no checked luggage, and TSA pre-check. Even with that, we got to our gate around 6:30 pm.
We grabbed a bite to eat. Grand Cayman food prices made airport food prices look like a steal! We then got on an 8:10 pm flight to Denver.
FOUR AND A HALF HOURS LATER (yes, it was brutal) we landed. We called the hotel shuttle and were lucky that when we got to the pick-up area one was already there. But it was pulling out, so I had to chase it down.
We got on, went back to the hotel, then drove home. An hour later and after 14 total hours of travel, we were home.
By the way, it was good we came home on Tuesday and not the day before. On Monday Denver had freezing rain and then snow that shut down two interstate highways.
Then it was sunny on Tuesday and it all melted, so we had no problems.
Final Costs
Because this is a personal finance blog and we have to have numbers somewhere, let me share the final expense numbers.
If you recall, when we were planning here's what we had in our budget:
Windsong Villa: $5,438
Excursions (3 excursions for four people at $75 each): $900
Flights: $2,000
Food: $1,000
Car: $1,000
Less what my parents were paying: ($2,000)
Grand total (not counting miscellaneous costs): $8,338
We told my parents that their Christmas gift was that we'd pay their $2,000. In addition we picked up a few other expenses for them along the way — like souvenirs, the boat excursion, and the turtle farm.
Let's look at our actual costs a couple ways.
Here are the numbers if we had stuck to the original plan of my parents paying $2,000 plus their other costs:
Windsong Villa: $5,438
Hotel before flight: $140
Excursions: $680
Flights: $1,932
Food: $481
Transportation: $185
Misc (souvenirs, tips, snorkel rental, etc): $140
Less what my parents were paying: ($2,000)
Grand total: $6,996
Here are the numbers that we actually paid covering my parent's costs:
Windsong Villa: $5,438
Hotel before flight: $140
Excursions: $1,020
Flights: $1,932
Food: $481
Transportation: $185
Misc (souvenirs, tips, snorkel rental, etc): $180
Grand total: $9,376
When you compare the costs above versus what we were going to pay on our cruise, you get the following assuming my parents kicked in their portion:
Cost per day of Grand Cayman at 9 days: $777
Cost per day of the cruise we almost took at 12 days: $1,092
Cruise was 41% more expensive per day
And here are the costs if they didn't kick in anything:
Cost per day at 9 days: $1,042
Cost per day of the cruise we almost took at 12 days (without $2k from my parents): $1,258
Cruise was 21% more expensive per day
Cruising was even 5% more expensive per day if we paid 100% for Grand Cayman but my parents paid part of the cruise.
I'm not making a judgment on whether cruising is "better" or not to staying on a single island. I'm not sure if I've even decided that 100% in my mind.
But we had always wondered how the costs of a cruise compared to an island visit, and now we knew.
Ratings for Our Trip
I thought it would be fun to rate various parts of our trip for would-be Grand Cayman visitors. I'll use a scale of 1 to 10, with 10 being best.
Here goes:
The island: I've been to several Caribbean islands as well as places in Mexico, Honduras, and Belize in the Western Caribbean. I can't think of an island I like better than Grand Cayman. That said, I don't know any other islands as well as I do Grand Cayman, so that is a factor. Overall, I would give the island a 9, leaving just a bit of room since I might find something better one day. (FYI, the islands I've been to that I would say are comparable to Grand Cayman are Aruba and St. Martin.)
Transportation to the island: Since we live in the western part of the US, the transportation options stink. They are fine on cost, but the trips are looooong. This isn't the fault of anyone, simply a fact of where we live. That said, the trips are terrible (though they'd be worse for an island farther away) so I'll give this a 4.
Transportation on the island: If you read the entire series, you know how awesome the bus system is. It's easy, convenient, and affordable. It can be a bit cramped at times, but given all the other plusses it has to offer, I'll give it an 8.
Our condo: I am the type of person who thinks there is always room for improvement, so I hardly ever give out 10's. However in this case, I'm giving the condo a 10. Perfect location, decent price, and very nice inside. And ours was the "best" of the four in our building — bottom floor and away from the street. We would stay there again in a heartbeat.
Island food: It's expensive to eat on Grand Cayman. It was fine for us since we prefer to dine in anyway (it's quieter at home and the food is more affordable). The food was "ok" but nothing special. And it was really expensive. Did I mention that? So I'm giving it a 5. If you're traveling somewhere for a fine dining experience, go to France or Italy.
Boat excursion: 10. Pure and simple, it was awesome on many fronts. If we go back to Grand Cayman we will be doing this again for sure, maybe multiple times on a single trip.
Turtle Farm: I really wanted to like the Turtle Farm, but it was a bit dirty (like the poop-filled water) and really not that entertaining. I'll be generous and give it a 3.
Our beach: I'm going to give it a 9. I can't recall a better Caribbean beach we've been to, but there are a few that are close (in Barbados and Antigua, for instance). Our beach was close, had great snorkeling, was calm enough to paddle board, and was never that busy. I'm going to say it was the best beach on Grand Cayman. As I was telling my wife about this series, I commented how many days we "simply" went to our beach to snorkel and paddle board. She reminded me that 1) that's what we often did when we cruised and 2) those excursions would cost us $50 to $90 per person to do. So by staying where we did, we were able to take multiple excursions (in effect) for very little cost compared to cruising.
Other stuff to do: While we only went out a few times (why did we need to since the beach was so nice?), if you wanted to do something different and exciting every day, you certainly could. Like every other island in the Caribbean, there are a host of water activities that could keep you busy for a few weeks. In addition, the snorkeling is among the best in the Caribbean and there are multiple places to go. I'll give it a 7, though if I tried a few more things I might rate it a notch higher or lower (depending on the experiences).
Overall: Looking at the trip as a complete package, I'll give it a 9. The only trip that was even comparable to it was our 12-day cruise from NYC to the Caribbean and back several years ago. Each of these trips had some great and unique things about them, but both would be hard to improve upon. Perhaps the food could be cheaper or the weather a bit better (we did have overcast days some days), but there wasn't much we'd change for people like us who simply wanted to do a few things and relax with family the rest of the time.
Well, that's a wrap! It's probably more than you wanted to know about our trip.
In parting I'll leave you with a few fun pictures that didn't make it anywhere else in the series.