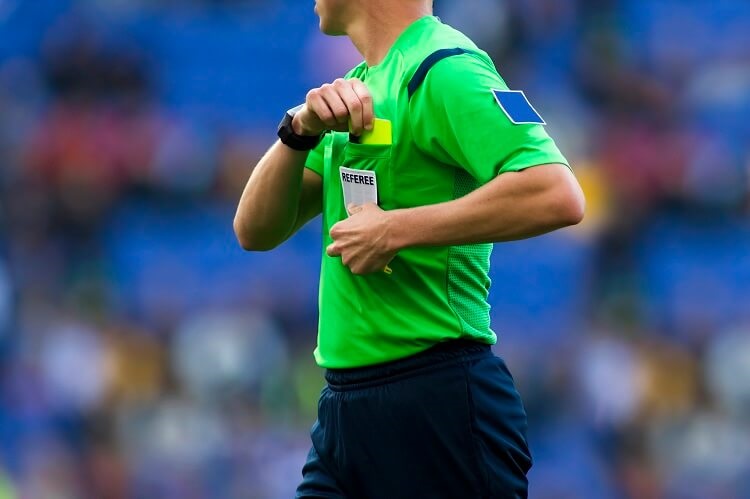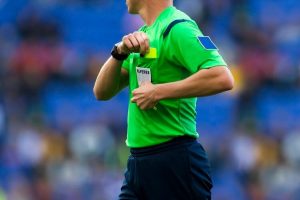 I have talked now and then about how to turn a hobby into an income.
Well, today's post is a story about how I did just that — how I turned my interest in soccer into a nice side hustle (and a great job for my son).
To set the scene a bit, back in the day (10 years or so ago), I became a soccer referee by accident.
My son was playing soccer, they were short on referees, and I was asked to be a sideline assistant.
I liked it (kind of felt like I was "in the game") and afterwards I chatted with the center referee. I found out that you could actually get paid for doing this. From this conversation an idea was born!
But I'm getting a bit ahead of myself…let's back up a bit.
Today I'm going to detail how we became soccer referees, how it turned into a nice side hustle, and how we could have made more if we had put in more effort. Then those of you who are interested in both sports and earning a bit more money might want to consider this path for yourselves.
Before I get started, let me issue one caveat: This is the way it worked for us (in Michigan), and I think it's rather typical. But I can't say for sure since states, cities, and leagues might differ in how they handle these things.
In other words, your mileage may vary.
Our Background
Let's start at the beginning…
My son and I both like soccer. He played off and on, I coached off and on (for his teams), and we watch it on TV (primarily the English Premier League.)
After the incident above where I found out being a referee could be a paying gig, we decided to begin that process.
If you're looking to become a referee in your area, be ready for a lot of investigative work. There's not one site, one organization, one person or one central point for all the information you'll need.
You'll have to network, do online research, and ask a lot of questions. Often, you'll get conflicting answers, and you'll need to separate fact from fiction. This is what happened to me, and I simply kept at it until I got the answers.
I started by having lunch with a friend who was connected in the local soccer scene. I was his daughter's soccer coach a few years ago, but he'd been a soccer coach for many years and knew the soccer world well in West Michigan. Over lunch, he gave me the basics, some sites to look at, and some people to call. I did all of those, sorted through the details, and got enough answers to get started.
Step 1 was to become educated, so my son and I took classes to be referees for our local community soccer league. The classes were free as were the positions. At this point we were simply looking to gain knowledge about experience in the game (by the way, my son was 10 or so at the time).
Once we passed the class we were then assigned games and refereed about 20 games our first season (in Michigan there are two seasons, spring and fall). Over the course of the season we heard more about games where refs got paid but we didn't know where to find them, just that some existed.
That's when I hit the research trail again and got us on our way to turning a hobby into an income.
Community Versus Club Soccer
Before I go on any longer, I need to describe the difference between what I call community soccer and club soccer. (This is what I discovered in my research and it turned out to be true later on when we were actually in it.)
The community soccer in our area is the American Youth Soccer Organization (AYSO).
AYSO's mission is "to develop and deliver quality youth soccer programs which promote a fun, family environment based on AYSO's Six Philosophies: Everyone Plays®, Balanced Teams, Open Registration, Positive Coaching, Good Sportsmanship and Player Development."
In other words, it's an entry-level league where kids learn soccer without the pressure of trying out for a team (everyone plays, so skill level is not a big concern). It's a fun way to play soccer.
The parents and coaches are supposed to be more low key and encouraging (supposed to be — more on that later.) Teams are organized by age groups (U10 features players under 10 years old, U12 has players under 12 years old, etc.) so they are roughly equal in skill.
Club soccer is competitive soccer. There are tryouts and if the kid is good enough, he makes the team (there are various levels of teams — select, premier, etc. and even levels within levels to differentiate the kids by skill/ability.) BTW, while I say "he", there are the same options for girls, of course.
Once selected, the player gets a whole host of benefits: he gets to practice more often, he gets professional, paid coaching, his parents get to pay several hundred dollars to the club per season, he gets to experience the sport at a more competitive (and stressful) level, he earns his playing time, and so on. Let's just say these people (players, coaches, parents, etc.) are serious about their soccer.
One thing many assume is that the competitiveness of club soccer makes it rougher on refs since everyone is more seriousness about the sport. I considered this as well. After all, did my son and I want to be yelled at by professional coaches and parents paying a ton to see their kids play? No amount of money is worth the verbal abuse we've all likely seen at some games.
In reality, we actually found the opposite — there are less issues with the club coaches, players, and parents than with AYSO parents for one simple reason: they understand the rules (for the most part.)
AYSO coaches and parents often didn't know much about soccer rules. They simply assumed the rules were similar to those in basketball (touch a player and they think it's a foul), football (once the ball touches the line, it's out), or some other sport they are familiar with. This often leads to yelling nonsensical things at and towards the refs.
The Types of Soccer Referees
There are basically two types of soccer referees (in a three-man system, which is how we worked. I realize there are two-man systems too, but we never reffed that way):
Center — This is the guy that is actually on the field, calling most of the shots. His word is law. He's the main referee and the one the other referees report to.
Assistant Referees (ARs) — ARs are called "linesmen" by some, which was their official term before "AR" came along. They are the guys on the sidelines ("touch line" more exactly) that wave the flags and call when the ball is out of bounds, what team it goes to, and so on. They are also key to calling offside, but I'm not going to get into that since this piece will really get muddy then. There are two ARs per game — one on each side of the field.
The Pay
Community soccer (at least AYSO) pays zippo to the refs — they do it as volunteers to help the community. There is a $1 per game amount that's credited to each ref (both centers and ARs) that he/she can then use to purchase merchandise out of an approved catalog as a small thank you.
Club soccer pays referees. Center refs get more and the pay is increased for both centers and ARs the older the players are. Here were the various age groups, what the center ref got paid, and what each AR got paid for the club games when we started:
U8-U10 — $25 — $10
U11-U12 — $30 — $15
U13-U14 — $35 — $20
U15-U16 — $40 — $25
U17-U19 — $45 — $30
For those of you looking for a time/cost ratio, you can tell the amount of time in a game by looking at the center ref's pay. That is also the amount, in minutes, in each half of the game.
So for a U11 game, the center ref makes $30, so there are 30 minutes in each half (60 minutes for the total game). And unlike other sports most Americans watch, soccer games have a running clock (it doesn't stop for out-of-bounds, fouls, etc.)
Granted, some time is usually added on, but when you see a 60-minute game here, it is very close to an hour long (unlike an American football game that has 60 minutes officially but can take three hours or more to complete.)
Two other interesting factors are that payments are made IN CASH (not trackable by the IRS for those people who take liberties with their taxes) and before a game (no pay, no game.)
I believe pay has increased $5 or $10 per game since we refereed, but you would have to check specifics in your area to be sure.
Getting Certified
In order to referee for community games, you need to take classes to 1) learn the rules and how to run a game and 2) certify that you know how to interact with children (appropriate contact, conversation, etc.) These are free to the referees. Upon graduation, you're given a jersey, pants, socks, a whistle, yellow and red cards, a coin (to flip) and you're good to go.
In order to referee club level games, you need to take a US Soccer Federation (USSF) class that certifies you are a valid referee. The lowest rank is Level 9 and the highest is Level 1 (which I assume are top professional referees refereeing MLS games and the like.)
My son and I went to an all-day, Level 9 class initially. Afterwards, we took the test, passed, and got badges that certified us as USSF Level 9 refs for one year. The cost of the class was $60 each.
Getting Started
At this point, a new ref would usually buy all his gear — shirts, shorts, socks, etc. — but we already had most of our stuff from AYSO. We did buy new, different colored shirts and a few other things, spending $100 total. But we didn't need nearly as much as someone starting from ground zero.
Once we passed our USSF test, I took the next step that aspiring refs take — contacting referee assignors. These are people who assign referees for a team or several teams.
By contacting my soccer friend mentioned above as well as doing some web research, I was able to identify three ref assignors in our area that we could potentially work for. Of the three, two didn't really want to work with Level 9 referees (since we were limited to being ARs and couldn't ref above the U12 age range.)
Fortunately, the one ref assignor I did hit it off with was both the closest to our home and assigned for three teams. As such, we were able to get more games and all but one was within a few miles of our house.
The First Season
The fall soccer season is September and October in Michigan. We had a commitment the last week of October in our first club season, so we worked seven weeks (primarily Saturdays) during the two months. In addition, we decided to referee both AYSO and club games. The former would allow us to serve our community as well as get experience being center refs (AYSO let both my son and me center games) while the latter would allow us to earn some money while learning the ropes of a new system.
In the end, here were our season game totals for the first season:
16 AYSO games — Me 9 as center and 7 as AR, my son 7 as center and 9 as AR
19 Club games — All as ARs for both of us
The Money
Here's how the financials broke down for this season:
Revenue: For the 19 games I earned $230 and my son earned $235 (we split up one game and his was higher paying)
Costs: Between the class and the uniforms, supplies, etc., we spent about $110 each (though I paid for most of his stuff)
There were also some miscellaneous costs like gas/travel and a burger here and there, but it wasn't much.
Obviously we didn't make a windfall initially (my son did well since I absorbed all the costs), but we had a great time, learned a lot, and set ourselves up for future success. Also remember that the costs are mostly one-time (the shirts) or once a year (the classes) and there are TWO seasons of soccer (spring and fall) in a year. In other words, we have the costs for a full year above but only revenue from half a year.
The Potential
Ok, so what's the potential? Let's look at some scenarios.
Scenario #1 — Let's assume that we had worked the same number of club games as we actually did (19), but that one of us had been the center ref for each of the games (remember, neither of us were qualified yet to be center refs, but more on that later). I'll assume that person would have earned $25 per game (the lowest amount a center can earn) while the other served as AR and earned the amount I earned. This means one of us would have banked $475 while the other earned $230 for a total of $705 for this season. If we'd do this for both seasons in a year, we'd be looking at $1,410 total per year.
Scenario #2 — Let's say we hadn't worked the AYSO games this season and had done club games instead — both of us serving as ARs. That would have given us 35 games total at a rate of $14.375 per game ($230/16) or $503 total each. This nets out to a total for both of us of $1,006 for a season or $2,012 total per year.
Scenario #3 — Let's combine the two above and assume we worked 35 games at the club level — one as center and the other as AR. This means one of us would have earned $875 while the other netted $503. For the season, we would have earned $1,378 total or $2,756 together for a year.
As I said, we were booked (out of town) one weekend. If we had worked it, we could have netted over 10% more games (and thus 10% more pay).
So if we were trying to ramp up our earnings, it wouldn't have been hard to.
The Rest of the Story
Over the next four years, my son and I refereed almost 200 paid games making about $10k total.
We could have made more, but we weren't pushing it.
For those who did this as a legitimate side hustle, here's how they made the most of their efforts:
Accepted more games. We didn't work at all on Sundays (only Saturdays — usually from 8 am until 5 pm or so) since it was our family day. But if we (or someone else) wanted to, we could have added to our number of games BIG TIME and thus our pay as well.
Worked higher-level games. Since this was our first season, we worked mostly the lower level (and lower paying) games. We could move up in both age and pay as time goes on.
Worked tournaments. This is where you can get in a TON of games on one day and the money can really add up. In later years we worked several tournaments where we did eight games in a day (I think we did 11 one day).
Became a referee for multiple sports. Many of the guys we took the soccer test with were also basketball referees (we knew them from my son's games — I was a coach and interacted with them, thankfully nicely). Some said they did it year around going from basketball to soccer to baseball to soccer (or football) and around again.
The Stories
Along the way, we ran into several money-related stories that didn't fit in the above but that I wanted to share with you all. Here goes:
There were many high school and college kids reffing club soccer games (they were the center refs for the games we were ARs) and they were raking in the cash (I'm sure they weren't claiming this on their taxes, BTW). Sure, they worked all day, both days, every weekend, but they were making great money. Reffing in this manner is something my son could go back to if he wanted.
Lots of people ref simply for the money (I assume they like the game too, but the money is their main motivation.) When we took our Level 9 test, they graded the tests in front of us as we came up to the desk. When one 11-year-old girl passed, she held up her test score and yelled, "Aeropostale, here I come!!" 🙂
On a lunch break between games my son and I went into Wendy's to grab a bite to eat. It was 11:30 am and kinda slow, the people behind the counter saw we were in our ref uniforms, and we struck up a conversation. One asked if we got paid and I told him about the club soccer games and what we made. He said, "Hmmm, that's more than I make." He had a gleam in his eye, so I think I might see him on the field someday soon.
Back to Today
Even though we quit refereeing when we moved to Oklahoma (my son was older and I was consumed by a huge job at work), it's something my son could pick up again if he wanted to.
In fact, he actually has picked up a soccer-related job recently — he's a club coach for two teams of 12-year olds. he got the job because he likes, played, and refereed soccer for many years. 😉
Anyway, that's my story. Has anyone else earned extra money by being a referee? If so, please share your stories and tips with the rest of us.
Or maybe you've turned a different hobby into an income. If so, would love to hear from you as well.