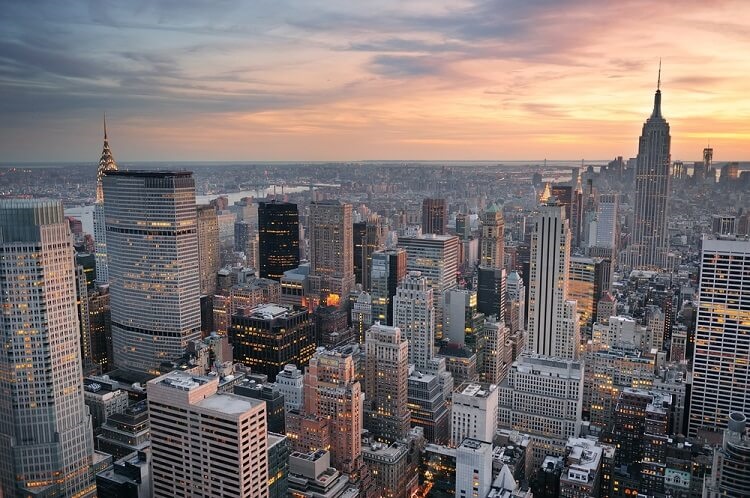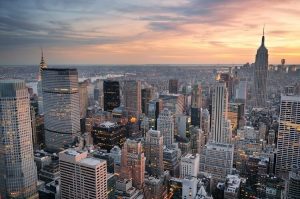 Here's our latest interview with a millionaire as we seek to learn from those who have grown their wealth to high heights.
If you'd like to be considered for an interview, drop me a note and we can chat about specifics.
My questions are in bold italics and her responses follow in black.
Let's get started…
OVERVIEW
How old are you (and spouse if applicable, plus how long you've been married)?
I am 52 and my husband is 55.
We've been married 5 years.
Do you have kids/family (if so, how old are they)?
No kids.
My husband has two grown children from a previous marriage – they are both working now so not dependents.
What area of the country do you live in (and urban or rural)?
New York, just outside the city.
What is your current net worth?
My current net worth is $2.6m and I am projecting this will rise to $3.5m by the time I retire in 3 years.
But out of this, I need to set aside money to purchase a home as I don't own right now.
What are the main assets that make up your net worth (stocks, real estate, business, home, retirement accounts, etc.) and any debt that offsets part of these?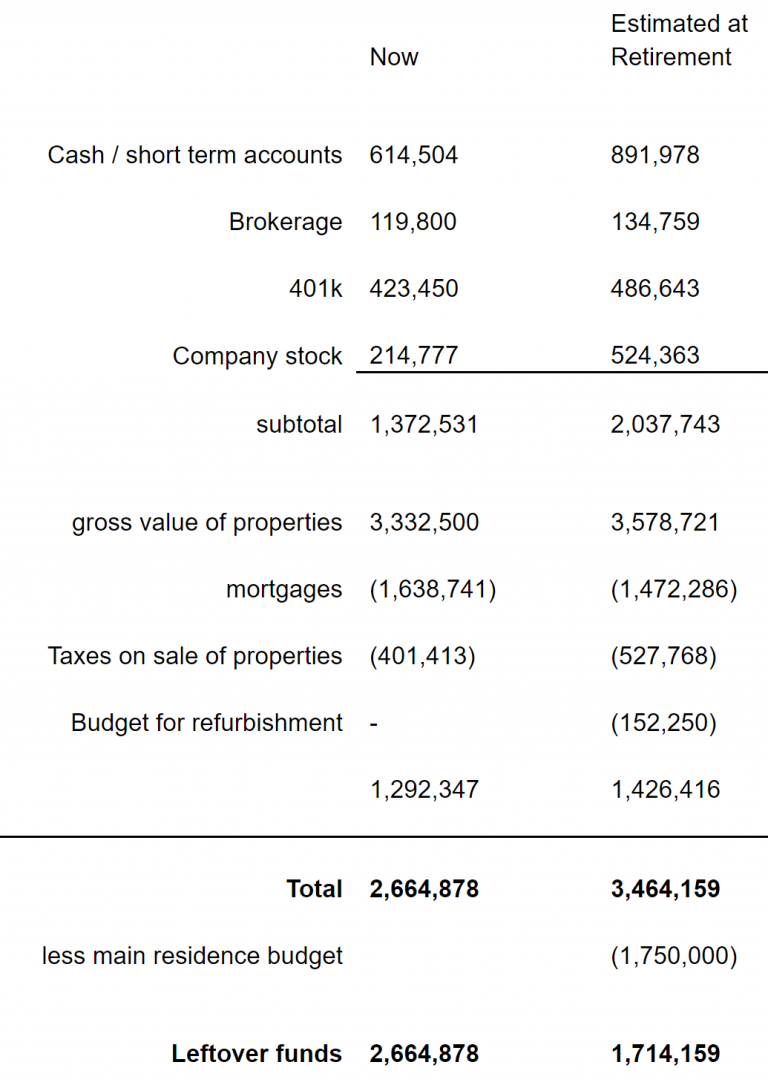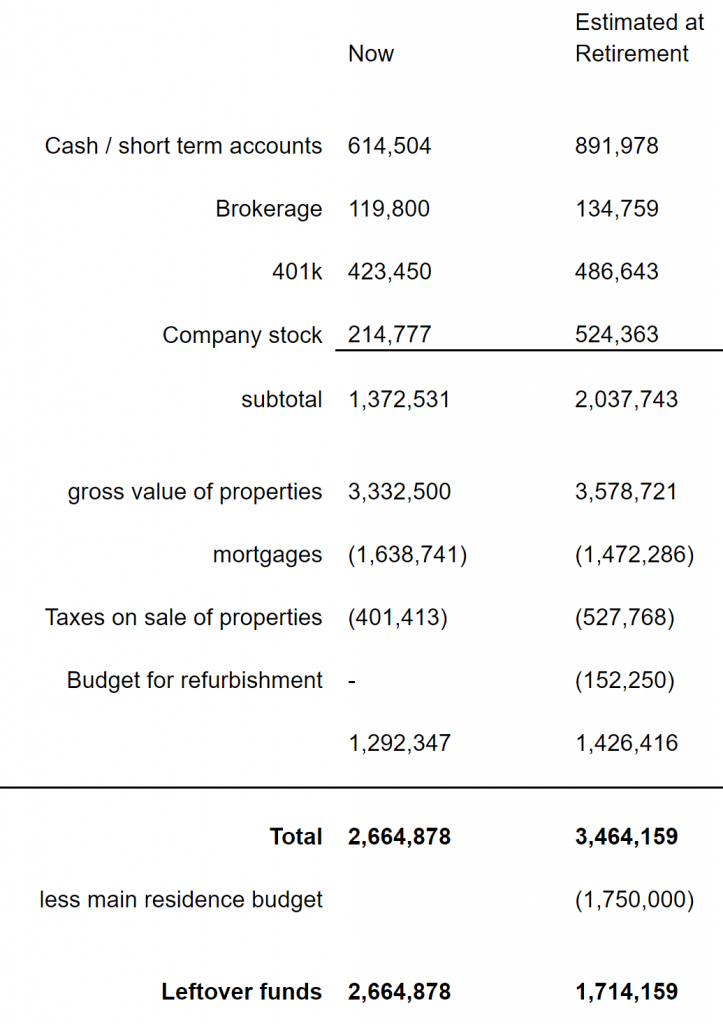 I need to figure out how to make at least $80k per year net of taxes from this money, ideally more ($100k post tax would be ideal).
My biggest problem is I don't know how best to maximize the income I can get from the $1.7m funds.
I'm trying to figure out if I should pay down my mortgages and use the rental incomes as my main source of income, or if I should just pay the tax, sell them and then reinvest to generate income.
The properties have been good as they have appreciated nicely in the time I've had them, and are likely to continue doing that, so I'd like to hang on to them as long as possible.
EARN
What is your job?
I work as a Marketing Director for a large consumer company.
What is your annual income?
Just under $300k including bonuses.
In addition I get stock options.
Tell us about your income performance over time. What was the starting salary of your first job and how did it grow from there?
My first role paid around $30k.
My salary increased significantly in the last 5 years when I took up a new role.
It grew just through slow and steady progression.
In my early years I moved jobs every couple years to build my salary quickly.
What tips do you have for others who want to grow their income?
I wasted a lot of time thinking I didn't want to reach more senior levels, but now when I look back I wish I had been more ambitious early on in my career. I could have been in a much better financial situation by now.
The years go by so quickly – so my tip is, work as hard as you can early in your career to set up your finances for life.
Your career goes by SO quickly! It's never too late to change things but making the most of those early years helps a lot.
Don't wait until you think you are ready for a big role – just make the move and learn in the job! That's what I've seen other successful people do. If I'd done that I'd be much better off now.
You also have to go after what you want and not be afraid to ask for the roles you want.
Take risks – companies like to see people who are willing to do that (as long as you are sensible about it).
And most of all, don't rely only on your company for your income – things can change so quickly, you have to be prepared for the downtimes.
What's your work-life balance look like?
My role is difficult and requires working some evenings and weekends too and I have a long commute in and out of Manhattan every day.
I would like more balance, and this is why I want to retire early. I want to explore my passions while I'm still young and healthy.
I've worked hard over the years and saved to get ready for retirement.
Five years ago I met my husband. I've kept my own budget and savings separate, so everything I'm quoting is my share of assets and expenses. But I'd like us both to be able to retire.
I'm confident that I should be able to generate enough money to cover my expenses of around $80k a year, but I'd like to figure out how I can get a lot closer to our joint expenses of around $130k a year.
Due to a very messy divorce, my husband has no significant assets of his own.
Do you have any sources of income besides your career? If so, can you list them, give us a feel for how much you earn with each, and offer some insight into how you developed them?
No – and this is one of my main problems.
I am only a few years from retiring but don't have any passive income streams. I need to figure out how to convert my assets into income.
Rental income is one option – I could sell my short-term assets and use the money to pay some of my rental mortgages, and use that as my main income, but I don't know if there are better approaches I could use.
I recently spoke to a financial advisor (for the first time ever) to ask how I should begin building a dividend income stream to use in retirement.
His advice was I should just focus on a balanced portfolio (55% stocks, 45% bonds) and withdraw capital out of the growth, as in the long run that works out better than trying to generate income from dividends and sacrificing growth.
I don't know if this is correct and would like to hear what your readers think would be a good approach.
SAVE
What is your annual spending?
I spend $70k pa.
This is just my spending. If I included both of us it would be $130k.
What are the main categories (expenses) this spending breaks into?
Currently my spending is:
Rent $22k (this represents half of the rent we pay for our house)
General spending (food, entertainment, transportation etc.) $25k
Vacations, insurance, clothes, household items $16k
Utilities, cable etc $7k
Total = $70k
Do you have a budget? If so, how do you implement it?
Yes we both monitor what we spend.
I try to keep my spending at or below the $70k pa level. He also spends a similar amount each year.
What percentage of your gross income do you save and how has that changed over time?
My savings rate is 50% of gross salary (and about 70% of net take home salary).
What is your favorite thing to spend money on/your secret splurge?
Vacations and nice jewelry.
INVEST
What is your investment philosophy/plan?
I've never really had a plan, and still don't. My investments have been haphazard.
I've just tried to save consistently. I need a plan for my retirement but aren't sure how to make one.
What has been your best investment?
Property investments have been awesome, even though it's probably been more due to luck than good planning.
It's not been quick appreciation, just steady growth over the years.
What has been your worst investment?
Stocks. I have lost approximately $250k on stock picking over the years, and missed out on huge bull runs.
I would be significantly wealthier if I had been better with stock investing.
My biggest mistake was getting suckered by one of these trading experts who promised to be an online "trader for life".
After investing almost $30k in all sorts of trading courses with this company, I've lost lots of dollars trying to use the investment approach he teaches.
I would have been so much better off just putting my money in an investment fund rather than trying all those short-term trading techniques.
What's been your overall return?
I have never tracked this so I don't know – I plan to track this regularly from now.
But my return on stock investing has been regularly negative, even in the bull market.
How often do you monitor/review your portfolio?
I have only just started tracking it in the last year, and do it manually.
NET WORTH
How did you accumulate your net worth?
All the money I have made has been through earning and investing.
As I've grown my income I've tried to keep expenses under control, but spend easily on things that matter to me.
The property investments tenants have paid down my loans and I've been able to build my net worth.
I currently save about 50% of my gross income and have been a high saver all my life.
I came from a middle class background and my parents worked in the steel industry so we didn't have much growing up.
So I've always valued money and tried to save it as a form of security.
What would you say is your greatest strength in the ESI wealth-building model (Earn, Save or Invest) and why would you say it's tops?
For me it has been Earn and Save jointly.
I've been lucky to have earned a consistently good – but not great – income through all of my career.
I have also saved regularly and have always been a saver.
On investing, I've done less well. In general I've had some luck but mostly my investments have not worked out well.
What road bumps did you face along the way to becoming a millionaire and how did you handle them?
The biggest hurdles have been my stock investing. I've sold at the very bottom, and bought at the peak, multiple times.
I should have stuck to drip feed long-term index investing.
I've tried not to get demotivated by big losses and instead focus on how lucky I am compared to so many people.
In the future I need to decide how I handle stock investing and if I should use a broker or advisor instead.
What are you currently doing to maintain/grow your net worth?
I am saving as much as possible in the remaining years before I retire.
I want to put money into the market but as it's going down at the moment I'm holding off. Maybe I will just do a little bit at a time over the next year.
Do you have a target net worth you are trying to attain?
I would feel better about retiring if I was able to increase my net worth to closer to $5m.
Although I think I can retire based on my projection, we won't both be able to retire.
I would be so happy if we were able to both retire in 3 years.
With the numbers we have, if we want to spend freely in retirement my husband will need to keep working for another 10 years.
He is happy to do that as he loves his job, but it would be so much better if we could spend our time doing things together sooner.
How old were you when you made your first million and have you had any significant behavior shifts since then?
I don't know – I only recently started tracking, but maybe it was in my late forties.
If you had to give advice to ESI Money readers about how to become wealthy, what would it be?
I don't know if my way was the best or only way, but my advice is:
There are no short cuts.
Maximize your income early in your career.
Save consistently and tie up your money in solid long-term investments.
Don't do what I did and try and learn to time the market or play individual stocks.
Don't sell real estate unless you have to – when you outgrow a home, try and keep it as a rental if you can afford to.
Track your expenses – this is critical – probably the single most important thing you can do.
Spend on things that really matter to you – when you review your expenses you will know If something was expensive but well worth it, or whether it was something you could have done without.
Push yourself in your career as much as you can – you are probably capable of more than you think.
Don't even think about getting into debt other than mortgages – absolutely no credit card debt or other loans.
If you lose money, don't focus on it too much. Focus on what you do have, and where you want to get to.
Keep a balance between living a good life now and delaying some gratification – you don't know what the future may hold so you may regret not spending on things that are important to you.
Be humble, grateful and live within your means.
FUTURE
What are your plans for the future regarding lifestyle?
I retire in 3 years and then when my husband has retired we would love to spend time travelling around the country while we are still healthy (my husband will be in his early 60s by the time he retires unless I'm able to generate more income from my investments to cover both of us).
I don't mind doing a little side work to earn some extra money while he is still working, but don't want to have to.
It probably sounds selfish that I want to retire earlier than my husband, but I've lost a lot of people in my family to illness and don't want to put off retirement too long.
This is a big dilemma for me though – if I worked a few more years he could retire sooner, but I just don't think I can do that.
What are your retirement plans?
I want to be able to enjoy my retirement.
My estimate for retirement spending is similar to my current spending, but adding costs for healthcare.
My spend is shown below.
My husband would be about $60k pa in addition to this.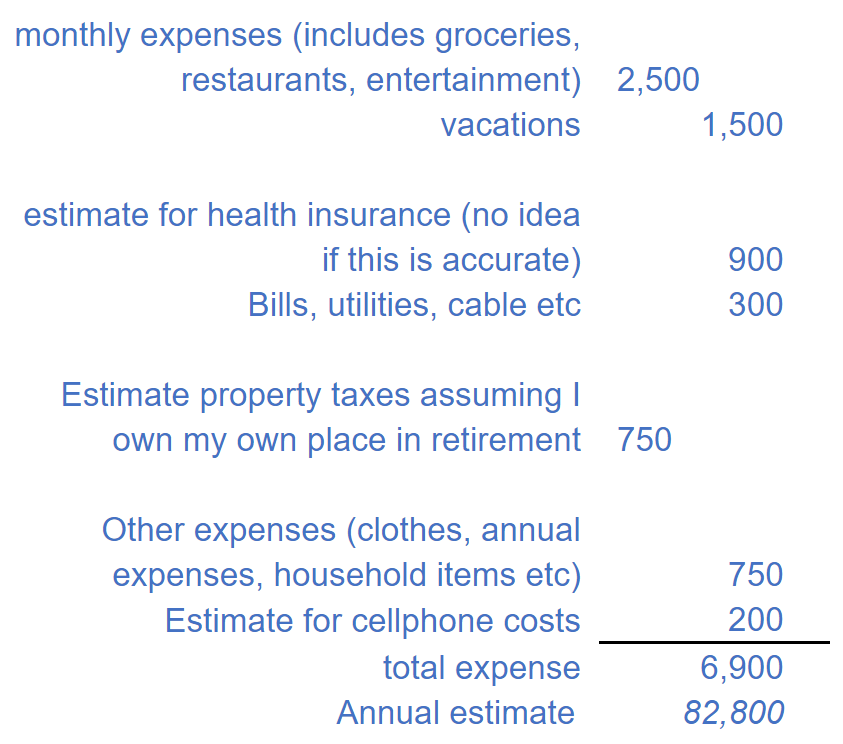 Are there any issues in retirement that concern you? If so, how are you planning to address them?
The same as everyone else – healthcare.
I am budgeting close to $1k a month healthcare costs in retirement but I don't know if this is realistic.
MISCELLANEOUS
How did you learn about finances and at what age did it 'click'? Was it from family, books, forced to learn as wealth grew, etc.?
I don't tend to read finance books and have never read the books I hear about on these blogs.
I think my main lesson was just my upbringing. My folks struggled financially and I saw this at a young age, so have always seen money as something to be valued and a form of security.
But even valuing money, I have been a little reckless with some of my investments and got burned.
Who inspired you to excel in life? Who are your heroes?
I think Warren Buffet is someone I admire, just because he has been so humble and unaffected by his huge wealth.
Do you give to charity? Why or why not? If you do, what percent of time/money do you give?
I pay generously to my pet charities – I love all animals and have been a lifelong vegetarian.
Do you plan to leave an inheritance for your heirs (how do you plan to distribute your wealth at your death)? What are your reasons behind this plan?
I don't plan on leaving an inheritance, so I hope to use up as much of my assets as possible while we are alive.
Anything that is left I would donate to a pet shelter.
Extra thoughts:
I have some questions for you and your readers if anyone has advice:
1. Is my retirement plan reasonable?
2. How can I best start to make some passive income streams or should I follow my financial advisor's advice and grow a portfolio and draw from the growth?
3. Should I use my assets to pay down my rental mortgages and use this as my main income?
Here are the details of my 5 rental properties.
I've estimated the value when I retire and also shown my estimate of the taxes I'll have to pay if I sell.
If I was able to pay all the mortgages ($1.4m) by the time I retire I'd have plenty of income. However I can't afford to do that as I need to buy my main residence and need $1.7m to do that.
The properties are in good locations that appreciate over time even though the actual rental yield alone is not high.