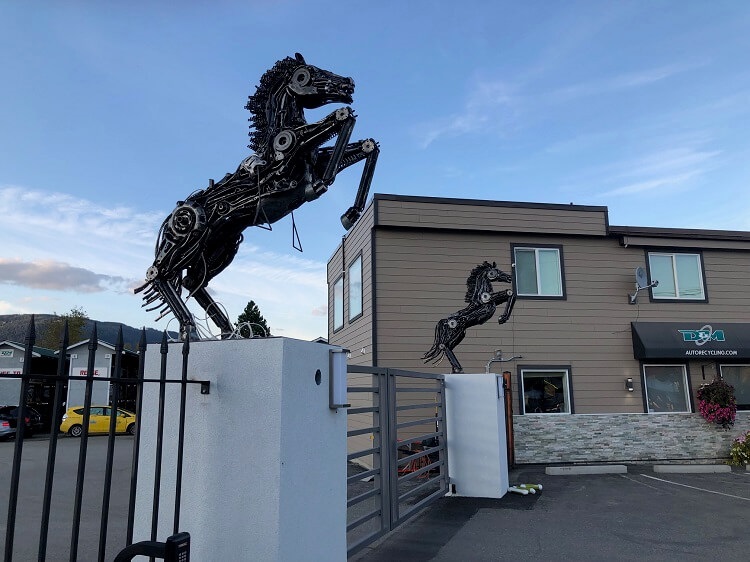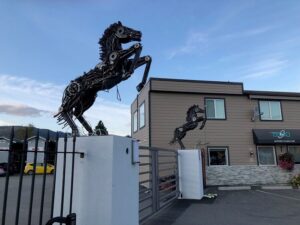 Here's our latest interview with a millionaire as we seek to learn from those who have grown their wealth to high heights.
If you'd like to be considered for an interview, drop me a note and we can chat about specifics.
My questions are in bold italics and his responses follow in black.
Let's get started…
OVERVIEW
How old are you (and spouse if applicable, plus how long you've been married)?
My wife is 46 and I am 56 years old.
We have been happily married for 20 years.
Do you have kids/family (if so how old are they)?
I have a son from a previous relationship.
He is now 27 years old and is the operations manager of our company.
What area of the country do you live in?
We live in a midsized city in central British Columbia Canada but our company is located 1.5 hours away in a rural area. I split my time between the two.
What is your current net worth?
Our current net worth is $11.6 million.
I have converted all the dollar figures to US as I know most ESI Money readers are American.
What are the main assets that make up your net worth (stocks, Real Estate, business, home, retirement accounts etc) and any debt that offset these?
165K RRSPs containing Vanguard and Ishares Canadian and US ETFs
58K TFSA account containing Vanguard VGRO ETF
68K Misc Stocks
45K Canadian Bonds
1,540K Held in Corporate business account consisting of Canadian, US, and emerging markets ETFs and some REITS
720k cash held in high interest savings account
170k GIC
330k Business receivables
1,050k home
2,400k Industrial land
4,800k business
280k cars
No debt.
EARN
What is your job?
I own and manage a small/midsize auto recycling company with my son.
What is your annual income?
My income has grown substantially over the last 10 years as follows:
2019 — $1.125 million
2018 — $890k
2017 — $640k
2016 — $654k
2015 — $570k
2014 — $480k
2013 — $480k
2012 — $410k
2011 — $425k
2010 — $360k
2009 — $250k
From 1989 (the year I started my business) until 2009, I struggled every day to make payroll, to pay my rent, and to keep my head above water. More on that later.
Tell us about your income performance over time. What was your starting salary of your first job, how did it grow from there (and what did you do to make it grow) and where are you now?
I started my working career at 16 years of age because, unfortunately, getting an education past grade 10 was not something that was in my cards.
I started a welding apprenticeship at 17 years of age and became a journeyman at 20. I can't really remember what my income was in those years but it was not a lot.
Due to lack of any positive influences in my life and lack of any common sense, I spent the next five years living a life of drug addiction and partying. I was going to leave this part of my story out as I wanted all the intelligent readers of ESI to think I was just like them but unfortunately I grew up thinking there was no chance I could ever succeed in life.
When I was 25 I started really having trouble hearing people. My hearing had always been bad but I managed to get by till then. I went to see a hearing specialist who informed me that I had profound hearing loss.
After seeing a few more specialists I was informed that there was a good chance I would be deaf by the time I was 40 years of age. This was a life-changing moment for me. I pictured myself stocking shelves in a grocery store or working some other minimum wage job for the rest of my life.
I started wearing hearing aids and got it in my head that if I was going to be deaf by 40 I had till then to make it in life.
This was a defining moment for me. I knew that with my lack of education I could never get a high paying job and my only chance of being successful was to start my own business. I went back to welding and saved every penny I could for two years.
At the age of 27 bought 40 percent of a two-man auto recycling company for $40k.
This was a very small company on a leased piece of land whose owner's mantra was "keep it small and take it all". His idea of running a business was to pocket as much as possible to avoid paying any income tax. The biggest problem with running a company like this is you can never get any bank to take you seriously so getting any type of financing to grow the company was impossible.
Within a year the company was doing terribly and I bought out my partner for $20k.
I paid myself $2k per month for the next five years. My days were spent selling parts and my evenings were spent doing inventory.
Every day I prayed that I could sell enough parts to pay my two employees, my rent, and all the other bills that are part of running a small company.
I could not afford a bookkeeper so I bought Simply Accounting software and used the internet to teach me how to use it. I did all the company's books for the first 15 years.
After another five years I managed to make the business profitable (slightly) enough to raise my income to $4k a month. It was probably another five years more of working day and night before I felt comfortable enough to pay myself a decent wage.
When I first bought into this company I was amazed at how this industry was perceived. We were expected to be dirty, mean biker-types with mean dogs, no class, have a no return policy, and offer terrible customer service. I thought maybe I could try to change this by creating a clean, friendly facility that made customer service its first priority with a no question return policy.
We started by building a beautiful modern office with smiling faces and top-notch customer service. All our parts were cleaned, tested, and guaranteed. Things just took off from there.
Next we thought if we purchased newer, high-end accident vehicles we could get insurance companies to purchase parts from us. We knew they were always looking for ways to save money. This was by far our best move as they are now our biggest customer.
I am very passionate about what I do and could talk about it for hours, but no matter what your business is if you can think outside the box and do whatever you do better than the next guy, you can be as successful as your hard work will take you. This isn't called the land of opportunity for nothing!
Success didn't happen overnight. It was a 20-year grind before we could say we reached any level of success but it was worth every minute of it.
Now our small, dirty, unprofitable junkyard is a first class profitable company with a beautiful facility. And we have won the Chamber of Commerce Business of the Year award twice.
What tips do you have for others who want to grow their career-related income?
Anything is possible if you work hard enough and long enough but the path is much easier with an education.
Since I didn't have an education my mindset was to sell a product or a service because selling my time would never make me a millionaire.
Don't let a handicap hold you back. There is a way around everything.
A bad upbringing is not an excuse to not succeed in life.
What's your work-life balance look like?
I still spend four days a week living in an apartment above my office working till 9 or 10 every night. The other three days I am at home but still working at least five hours a day on the computer.
I know most of you would say why would you want to live at your work most days but to me it is my kingdom that I created from nothing. I still look out the window after everyone else has gone home and stare at the 30-acre facility I created with my own hands. I am still amazed that a uneducated, deaf, drug addict could do this with just hard work and determination.
I have a wonderful wife who supports me and understands my past and what drives me.
I also have a wonderful son who helps me run this company so I can take time off whenever I feel like.
Do you have any sources of income besides your career? If so, can you list them, give us a feel for how much you earn with each, and offer some insight into how you developed them?
It wasn't until about 2013 that I felt I had anything to invest. Until then all my focus was on eliminating my debt.
First I concentrated on eliminating all my loans including my lines of credit and all my business loans and credit cards.
Then I concentrated on paying off all my mortgages on the lands my business is situated on and my home and acreage.
After this was all paid off I actually started having a large bank balance that I had to figure out what to do with. I knew nothing about investing so I approached it the same way I started my business — by reading everything I could on how to invest.
First thing I figured out was that the reason the $40k I had in RRSP's invested with Investors Group was not growing was because they were charging me 2.5% interest. Dumb me was looking at the statement they sent every few months not knowing that they were not required to show how much they were taking off the top every month.
I figured the best thing for my uneducated ass to do was to follow the couch potato philosophy that I found in Moneysense magazine and not invest in stocks or mutual funds but in simple index funds and ETF's with low M.E.R's that covered a broad range of countries including growth, value, large and mid cap stocks.
Unfortunately I put too much emphasis on Canadian ETF's instead of U.S.
The TSX has basically been a dog for years now and in hindsight wish I would have stuck to the US stock market.
SAVE
What is your annual spending?
Out of the whole ESI thing this is the one I have the most trouble talking about. I certainly spend a hell of a lot less than I make only because I'm too busy working to spend much.
I would guess I spend probably $150k to $180k per year.
What are the main categories (expenses) this spending breaks into?
This is probably the first time in years I have even thought about this. I know that sounds bad but after about 35 years of doing nothing but worrying and crunching numbers I am enjoying not having to think about expenses.
Do you have a budget? If so, how do you implement it?
Not at all. My net worth and income are past the point of caring about a budget. I know you probably all think that makes me spoiled and entitled but I suffered a lot to get to this point and I feel I deserve to not worry about a budget anymore.
My wife gets to stay home and take care of the house and our dogs and have a carefree lifestyle. I feel she deserves it after all the years of taking care of me.
What percentage of your gross income do you save and how has that changed over time?
It is now probably about 80%. This has definitely got higher over the years for sure.
It was zero until I was over 40 years of age but has since climbed to a level I never thought possible with my low level of education and social handicap (deafness) that I have had to struggle with since the beginning of my business career.
What is your favorite thing to spend money on/ your secret splurge?
You probably wondered why I listed $280k of cars under assets. This is my splurge.
Ever since I was a little kid I watched Formula One racing and dreamed of owning a McLaren. I also loved Aston Martins also. Now I own both!
My other passion is my dogs! I have four of them and have at least one with me at all times. I think I love dogs because I don't have to hear them as with people. I struggle to hear all the time and it is tiring.
INVEST
What is your investment philosophy/plan?
Since I am the only bread winner in my family and my wife leaves this stuff up to me, I want it to be simple in case I pass and she is left to fend for herself.
This is why I picked the couch potato strategy of simple buy and forget it low cost ETF's.
This is what Warren Buffett figured was the best plan for people without a lot of investing knowledge to do so that's good enough for me.
All my personal money and all the money I hold in my corporation will go into ETF's. I really like Vanguard's VGRO and VBAL which I think are the only ETF you need as they hold many underlying ETF's containing Canadian, US, and international equities and a mix of Canadian and foreign bonds that are rebalanced yearly.
What has been your best investment?
I would have to say the $60k I paid for my company because if I had not taken that risk 30 years ago I would probably still be a welder working the night shift at some shop somewhere.
What has been your worst investment?
Over the last five years I have tried my hand at buying some individual stocks but have since given up as I don't seem to be very good at picking them.
What has been your overall return?
I just spent quite a bit of time trying to figure this question out and I still can't come up with a good answer.
In regards to business it was a lifetime investment that has paid off in spades.
In regards to other investments like the stock market and the ETF market it is a mixed bag.
U.S. investment I would say 10% yearly. Canadian and international probably more like 3 or 4% — I hate to admit.
I still think Canada is the best country in the world and I will continue to bet on it (got to pay off sooner or later).
How often do you monitor/review your portfolio?
I am a little strange with this one. Every morning I check the markets and if they are going up I look at my balance, but if they are going down I ignore it till they go back up.
I have never sold one single stock or ETF that I have bought in the last 10 years.
NET WORTH
How did you accumulate your net worth?
Pretty well all my net worth was created from the profits of the business I created over the last 30 years.
This was never easy and is still a lot of work. For example right now it is 10:30 on a Tuesday night and I am still sitting in my office alternating between writing this and pricing inventory.
You would think with a 12 million net worth I would not be spending my evenings pricing inventory but these are the sacrifices you make to be successful.
I feel I now have more than I could ever spend so I now concentrate on conserving my wealth instead of trying to grow it.
What would you say is your greatest strength in the ESI wealth-building model and why would you say its tops?
This one is easy — definitely earning.
My saving and investing skills are minimal but my earning skill has become my strength. It is the one I have concentrated on for most of my life.
What road bumps did you face along the way to becoming a millionaire and how did you handle them?
I have had many road bumps — sometimes they felt like pot holes. I have always had to depend on myself to get over them.
I spent my teenage years in a foster home where we were required to work for our keep. This included two hours of chores before and after school and all weekend. Summer holidays were spent picking potatoes.
The part that I found the hardest was not feeling loved or mentored in any way. They had two of their own children who reminded me every day that I didn't belong.
I don't want this to be a woe-is-me tale but want everybody to understand where my drive to succeed came from.
My lack of education was by far my biggest obstacle. If it wasn't for spell check in my computer this article would have a hell of a lot more spelling mistakes than it does. [Editor's note: Hopefully it doesn't have any, since I spent time editing it. :)]
I also am a type one diabetic which has its own challenges.
My other huge obstacle is my profound hearing loss which is a struggle every minute of every day. It has made me fairly unsociable as I find trying to hear people very tiring.
What are you currently doing to maintain/grow your net worth?
My net worth seems to be taking care of itself. I just keep working like I always have and it seems to keep growing.
All profits my company makes I just keep plowing into ETF's.
Do you have a net target net worth you are trying to obtain?
My target and my dream for my first 20 years running my business was to have no debt and $2 million in the bank.
As you can see I have far surpassed that but it does not seem to make me any happier or feel any more secure for some weird reason.
How old were you when you made your first million and have you had any significant behavior shifts since then?
The first time I felt my net worth surpassed a million was around when I turned 40, maybe 38. I remember wishing my mother was still alive so she could be proud of me.
Other than that I just remember wanting to work harder to reach $2 million.
What money mistakes have you made along the way that others can learn from?
Wish I would have spent a lot more time a lot earlier in my life to learn about investing as it probably would have saved me paying 2.5% of my RRSP's for so long.
I made a lot of small and large mistakes in growing my business over the years mainly due to my lack of education.
I know it seems that I am successful but I can only imagine how far I could have gone if somehow I could have attended college or even just finished high school. This is my biggest regret in life. I have thought of going back to school many times over the years but my shitty hearing holds me back from trying.
What advice do you have for ESI Money readers to become wealthy?
I have read all the millionaire interviews that ESI has done trying to find someone who had a similar story to tell but couldn't find one. I get jealous reading about all the highly educated readers that flock to this website. I wish I was at the same level as them.
No matter how high of a net worth I get I will still always feel inferior to the rest of the readers of this website so trying to advise them on anything seems silly to me other than my work ethic which is very strong.
FUTURE
What are your plans for the future regarding lifestyle?
The main reason I agreed to do this interview is because this is the crossroad in life I am at right now and I felt answering all these questions might help me decide what my new path should or could be.
I have recently put my business up for sale and have some serious buyers looking at it right now. This is making me think what is next and it scares the hell out of me.
I am 56 with some big health issues so I guess I am just supposed to retire and fade into obscurity? After a lifetime of working hard I am not sure I can do this.
This company is what defines me and unfortunately I have very few family and even less friends to keep me occupied in retirement.
What are your retirement plans?
This is my goal right now to figure out how to reinvent myself after I sell my business.
I still have no clue what to do but if I end up just playing on my acreage with my wife, dogs, and my super cars, life could be worse!
I think I also might try some angel investing. There is an angel investing club here that I have been following that looks like fun. They invest in small startups as a group and have had some success.
Are there any issues in retirement that concern you? If so, how are you planning to address them?
I think I have the same concerns as everybody else here which is mainly health and wellness, both physically and mentally.
Have read too many stories about people who die soon after retirement due to inactivity and lack of meaningful and useful things to do. I do not plan on being one of them.
MISCELLANEOUS
How did you learn about finances and at what age did it click?
The first time I really tried to understand finances was when I first started doing the books for my company and had to learn Simply Accounting which took me quite a while to become proficient at.
The second time was when I had to figure out what to do with the cash sitting in my corporate account and didn't have a clue what to do with it. I spent many evenings reading on the internet everything I could find but ended up more confused than when I started. In the end I just bought ETF's that covered the whole market and forgot about them.
Who inspired you to excel in life? Who are your heroes?
Unfortunately I had no one to inspire me at all. My only inspiration came from being scared to death of becoming completely deaf and living a life of poverty and loneliness. But thanks to modern digital hearing aid technology I am managing just fine.
I would have to say my only heroes are my wonderful son and my beautiful wife who both support me day in and day out and are always there for me.
Do you have any favorite money books you like/recommend? If so, can you share with us the top three and why you liked them?
It has been quite a few years since I have read any money books. I seem to be more obsessed lately with reading websites like ESI and the Financial Post, Globe and Mail, and a multitude of financial blogs. But as I said earlier I just seem to get more confused so I just stick to the couch potato strategy of buy and hold and forget about.
A few books that have stuck in my head are The Wealthy Barber
by David Chilton and The Wealthy Barber Returns
. I loved his style of using fictional characters seeking financial advice from the barber. It was very entertaining and helpful.
Another was of course The Millionaire Next Door
with his big hat no cattle ideology. I also found it very helpful and entertaining.
Rich Dad Poor Dad
was another fav of mine. The story of growing up with two dads with completely different mindsets on money and investing and how their lives played out really showed me the difference between financial literacy and the lack of and the difference it can make in your life.
Do you give to charity? Why or why not? If you do. What percent of time/money do you give?
I do not give near as much as I should but my plan is to start giving lots away when I sell.
My company is situated in a small town and we are one of the major contributors in the community. We support the schools, hockey teams, food bank and every other organization that knocks on our door.
We give maybe $50k a year to various charities but plan on raising that considerably in the near future.
I would love to give more of my time but my hearing issue stops me from doing that.
Do you plan to leave an inheritance for your heirs (how do you plan to distribute your wealth at your death)? What are your reasons behind this plan?
This is another area I have been putting a lot of thought into lately. I will definitely make sure my wife will never worry about money but my son is another matter.
He has been working with me for the last six years or so, but unfortunately he missed all the years of struggling and building the business. He is a wonderful son but he has never had to worry about anything or fight for anything. The ESI concept is something he has no interest in because he thinks we have a money tree that never stops growing. I think after I sell the business I will give him enough to do something but not enough to do nothing.
As far as how much I will leave him in my will I'm not sure yet. I would really like to see him make his own way and build something himself he can be proud of.
I plan on leaving at least half my net worth to charities and a big chunk to the SPCA and animal rescue.
Final note:
So after answering all of ESI's questions I read back through my replies and I am really worried I sound kind of pathetic.
I am not one to go around telling my sad ass story to everyone but I felt since none of you know who I am so I could be completely honest. I just thought that if I could help even one reader who had a shitty start in life or a disability of any kind rise up and take the ESI mantra to heart and become successful it was worth the three or four hours I spent writing this damn thing.
This is one of my favorite financial websites and hope to some day write a successful "retirement interview." Kudos to the editor of this website for hours of enjoyable reading. My fellow millionaires in this interviews are definitely my heroes.