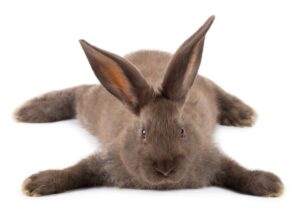 Here's our latest interview with a millionaire as we seek to learn from those who have grown their wealth to high heights.
If you'd like to be considered for an interview, drop me a note and we can chat about specifics.
This interview took place in December.
This is another long interview (which I love!) so I'll be breaking it down into two parts.
My questions are in bold italics and their responses follow in black.
Let's get started…
OVERVIEW
How old are you (and spouse if applicable, plus how long you've been married)?
I'm 37 years old.
I've been married to a wonderful woman for 3 years after dating her for another 4 or so.
She's 31 and she's been the best part of my life since I was lucky enough to meet her all those years ago.
Do you have kids/family (if so, how old are they)?
We're not planning to have any kids.
We're animal people and have a bunny which we adopted from a bunny rescue we volunteer at. We also recently lost our dog to old age and will probably get another sometime soon.
I'd say we are likely to have a bevy of pets in the future as we get older and have more time to spend at home with them.
What area of the country do you live in (and urban or rural)?
We live in the Northeast in the U.S. in a suburban area. I'd say our area is MCOL although trending to HCOL these days as prices go up.
We recently bought a house in this area after renting for a long time together so probably planning to stay in this area for quite some time.
We like it here, it's quiet, safe and close enough to take day trips to major cities if we want to. We're certainly not city people and prefer to stay away from the hustle and bustle if we can but it's nice to get out there from time to time.
What is your current net worth?
Our net worth is about $1.5M.
Naturally that fluctuates depending on market moves since most of our investments are in risk-on assets at the moment.
What are the main assets that make up your net worth (stocks, real estate, business, home, retirement accounts, etc.) and any debt that offsets part of these?
I'm mostly invested in stocks/REITs and bonds with some cryptocurrency exposure. I generally keep most of my money in index funds but have 20% in actively managed accounts that I trade with (mostly with a long-term view).
My wife is also a bit more risk averse, so she keeps a bit more money in cash. While I generally manage our accounts together, we do keep separate accounts and I just give her advice on what she should do with her money (which she generally follows). I generally want to make sure she's comfortable and for her that means keeping a bit more cash in her accounts.
It works for us since she's a bit more cash heavy and I'm a bit more involved on the risky side of the asset curve.
We're probably a bit too heavy in cash right now but I don't mind that as it allows me to take advantage of any dips that happen with my active trading account.
We're also going to put some money into I Bonds to reduce the cash holding this year and next since the current interest rates are very appealing there.
I do also have some cryptocurrency but haven't been adding much money to those. I've probably put in about $10,000 total into crypto which has grown to what you see below. Most of my Bitcoin and Ethereum purchases are at prices that are 10x below what they are today.
I see that as an interesting asset class but also wouldn't be shocked if it tanked like a beanie baby in a few years.
Finally comes our house which as gone up in price quite a bit since we bought it just a year ago (houses near here are already selling 10-15% higher than what we bought ours for) but that's still mostly owned by the bank at the moment.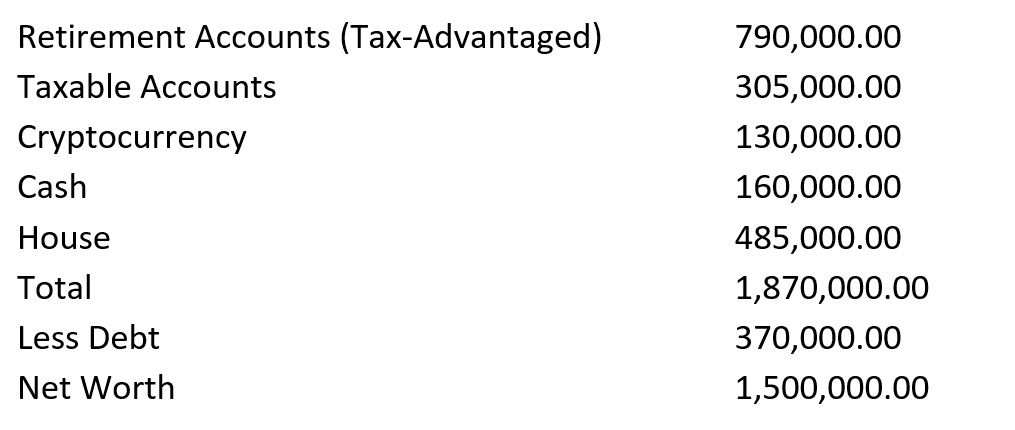 EARN
What is your job?
I'm a low-level manager in the finance department of an insurance company. I'm basically in charge of the financial performance of a certain state for an insurer. It's not a glamorous job but it's not super stressful and I love the people I work with.
My wife works as a design engineer for a small company. She makes medical devices and stuff and enjoys her gig.
What is your annual income?
I just crested $100,000 in the past few years which is probably near where I'll max out unless I want to move into upper management.
Right now, I don't really have the urge to go any higher and between the wife and I we make more than enough to cover our expenses and save a decent amount.
Tell us about your income performance over time. What was the starting salary of your first job, how did it grow from there (and what you did to make it grow), and where are you now?
I'm at the same job I've been at since I started there in 2008. My salary to start was $45,000 and was held at that level for at least a year because right after I started the 2008 crash happened. I was lucky enough to keep my job and despite the lack of raises to start my income moved up quite a bit as I was a hard worker and very productive.
After the rate hold in 2008 and 2009, my raises were 8%, 20%, 15%, 5%, 14% and 12% respectively. This brought me into the 90k range and included 4 promotions in those 6 or so years. At that point I was near the top of the individual contributor level and raises started to drop off into the 2-4% range for a few years until I took on the manager job which brought me north of $100,000.
Overall, my average income across my entire career is just shy of $80,000. That's naturally much lower early on in my career and higher now.
I think I was fairly rewarded for the job I did, and I stayed with the company since they essentially took care of me due to the quality of my work. I had various discussions with my managers at the time and set expectations ahead of time for what I expected at review time, and they almost always delivered. Sometimes of these raises came mid-year and the biggest ones came via promotion to the next level.
What tips do you have for others who want to grow their career-related income?
First, be a high performer right off the bat. You must show your employer that you can do the job well and essentially work at a level above your current title.
You should know that at most companies, compensation planning happens near the end of the year, with your raises/bonuses given to you at the start of the next year. However, that may vary. It's at that time that your manager has an opportunity to reward you and go to bat for you.
Based on that knowledge, have a discussion with your manager about what they expect of you early on in that process. That discussion should happen early in the year and then be revisited with your own expectations of rewards somewhere in the middle of the year, so your manager knows where you're coming from when they discuss their raises for next year.
Part of this discussion should include research you do based on fair pay in your area for the job you do. Websites like Glassdoor are good for that.
It doesn't have to be anything in depth. Something as simple as, "Hey boss, I think I've done a great job and have been performing above my current level, based on my research, my salary is about 10% below market averages and I'd like to at least ask for a 10% raise going into next year based on my high performance."
Again, that discussion must be tailored to you and be realistic. If you suck as an employee, your ability to get a big raise is limited but if you're great then you have the upper hand. Your manager is key here as a good manager will go to bat for you but a bad one will make excuses and try to push you off.
After that it's up to them to make it happen for you. After all, if you're a high-end employee then you have the capacity to go elsewhere and that's your trump card. I typically give an employer 2 years to reward me and then move on because if doesn't happen by then it won't happen. In essence if you've had those conversations and not gotten good raises despite being a high performer, it means your manager isn't going to bat for you.
Big raises can happen if your manager pushes for it. I've seen it in my own experience and now as a manager, I've been able to get 10%+ raises for many people with promotions because I push as much as I can and discuss how we're at risk of losing people if we don't do this and that.
That's the type of manager you want, and you'll never see that if you're not having those discussions up front and seeing how your manager reacts to them and more importantly how they reward you.
What's your work-life balance look like?
It's damn good and one of the reasons I stick with my gig. I rarely work more than 40 hours a week although we do have a busy season near the end of the year where that can happen. Even then, it's rarely too much above 40 hours. What offsets that is that it's slow the rest of the year which means I don't struggle to take any time off.
On top of that, my team and my boss are all great and do a good job of keeping on top of their work which makes my job a lot easier.
Another beautiful thing is that my job can be done at home easily and we've been at home for most of the past two years which I absolutely love. Being able to make breakfast and lunch at home, play with your pets, take a walk at home and just be in the comfort of my own home office is such a boost.
In fact, returning to the office is something of a big negative for me now that I've experienced the work at home lifestyle. It might be a reason for me to look for a career change if and when we're ever forced back to the office full time.
Do you have any sources of income besides your career? If so, can you list them, give us a feel for how much you earn with each, and offer some insight into how you developed them?
Back in 2013, I wrote a variety of short novellas that I self-published on Amazon, Smashwords, Barnes & Noble and various other websites. I always enjoyed writing and self-publishing was just becoming a big thing, so I thought it'd be fun to write a few things. All in all, I probably published maybe 15-20 novellas which did take some time to write.
Initially they earned me a few hundred bucks per month which dropped off quickly, but they've continued to sell and even know I get $30-$100 per month from them which is quite the return for the time I've spent on them. Unfortunately, I burned out a little bit and haven't written much since then, but it was a fun little endeavor that still is paying off today.
I also have my blog which brings in a few bucks here and there, but I donate all the money I get from there to charity. It's not a lot but I do enjoy writing on the blog and figure the income there can help others.
Beyond that, I only have my investments that generate income.
SAVE
What is your annual spending?
While I track my own spending, my wife doesn't, and we have separate accounts. I would assume our spending is in the $60k range but I don't have the full numbers since my wife doesn't track her info. I'm estimating based on my $40k expenses and hers being about half that.
This number is higher now than it was when I first started working.
For example, for the first few years of my life when I was making less than 50k, I lived with roommates and split rent and costs across multiple people which helped me save money early on despite not making a ton. This was really helpful in the early days of saving since I was able to save some decent money during 2008 and 2009 and those dollars invested had huge returns since then.
What are the main categories (expenses) this spending breaks into?
It really depends on the year but on average, it's the below.
We have some health issues which drives those health costs up and generally are home bodies so don't need a ton of extravagant stuff to live.
Rent/Mortgage/HOA – 27%
Health/Insurance – 17%
Groceries – 12%
Home Bills/Household Items/Fixes – 11%
Travel – 5%
Internet/Phone/Streaming – 4%
Car Expenses – 4%
Restaurants – 4%
Random/Charity – 4%
Pets – 4%
Entertainment – 2%
Electronics – 2%
Gifts – 2%
Clothing/Grooming – 2%
Do you have a budget? If so, how do you implement it?
We don't budget and like I said while I track my expenses, my wife doesn't. The great thing about my wife is that she's just as open to saving as I am and had no qualms throwing 1/4th of her paycheck into her 401k when I suggested that.
I do the same and max out my HSA. On top of that any extra money we have after our random expenses go into either savings accounts or brokerage accounts.
Since we're not very spendy, that works out well for us and doesn't limit us in anyway. We rarely have a month where we're not throwing extra money into savings beyond the automated savings and that makes me feel good about not having a budget to stick to.
Sure, some months are worse than others but it works out in the end and we get to live the life we want while we save for the future. That's the key part of this whole journey.
What percentage of your gross income do you save and how has that changed over time?
We try to aim for about 1/3rd of our gross income and that has been achieved most years. Utilizing 401ks and HSAs and automating savings before it even gets into our bank accounts certainly helps get us most of the way there, so we don't have to try to hard to get there.
Some years are better than others. For example, this year we bought a house and had a ton of expenses setting that up and fixing some stuff up and we both had a bunch of health problems so it wasn't an amazing savings year but hopefully next year will make up for that.
We generally aren't too concerned about hitting a specific number and while I track my own numbers closely, I haven't pulled the wife's numbers into the fold just yet. I figure anything on that end is just extra and I focus on tracking my own numbers while letting my wife do her own thing.
What's your best tip for saving (accumulating) money?
This one is hard for me to answer because it somewhat comes naturally to me and my wife. We're both people who are happy with simple things and don't go out of our way to spend a lot. We don't need fancy things and are as happy as can be staying at home and enjoying a night in while playing some board games or something simple like that.
The reality is that most of the best things in life are free such as spending time with people you love and the quality-of-life improvements you get from spending money just aren't great. Our idea is to find the things that make us happy and spend a lot there and then don't bother with the things that don't bring us a ton of value.
For example, we bought a nice comfortable house in a nice neighborhood because we value a nice place to live but we don't spend a ton of money on the latest and greatest in fashion or electronics or cars or alcohol.
I was lucky enough to realize that early on in life and to find a partner that shares that same mindset. I think that's the key part of being able to save a lot.
Yes, we could certainly live a leaner lifestyle of rice and beans and retire earlier but part of the journey is also enjoying life right now and we're in a good spot with that.
In the end my best tip for saving money is to find a good balance between enjoying life now and saving for later because life is meant to be lived and punishing yourself today for a future that isn't guaranteed isn't a good idea in my mind.
What's your best tip for spending less money?
I think realizing that a lot of entertainment can be free is a big one. For example, we're voracious readers and can go through multiple books or audio books (in the case of my wife) in a week and yet we've spent $0 on books or audio books in the last few years.
That's because libraries exist and services like Libby allow you to rent e-books and audio books from your local library for free if you have an e-reader.
The same concept can apply to streaming services since you can cancel those on a whim. You subscribe for one month, watch all you want then switch to another. If you don't want to do that then most services also allow multiple users to access the account so you can subscribe to Netflix, share that info with your family and get their Prime Video or HBO Max account in return.
The internet has made so many things so much easier to get and entertainment is as cheap as it ever was these days.
What is your favorite thing to spend money on/your secret splurge?
While we don't spend a lot of money on stuff, we do sometimes splurge a bit on clothing.
There's a line from Discworld, a great series of fantasy books, that speaks to my philosophy on clothing.
"The reason that the rich were so rich, Vimes reasoned, was because they managed to spend less money.
Take boots, for example. He earned thirty-eight dollars a month plus allowances. A really good pair of leather boots cost fifty dollars. But an affordable pair of boots, which were sort of OK for a season or two and then leaked like hell when the cardboard gave out, cost about ten dollars. Those were the kind of boots Vimes always bought, and wore until the soles were so thin that he could tell where he was in Ankh-Morpork on a foggy night by the feel of the cobbles.
But the thing was that good boots lasted for years and years. A man who could afford fifty dollars had a pair of boots that'd still be keeping his feet dry in ten years' time, while the poor man who could only afford cheap boots would have spent a hundred dollars on boots in the same time and would still have wet feet.
This was the Captain Samuel Vimes 'Boots' theory of socioeconomic unfairness."
I have no qualms in spending $300 on a winter jacket because I know it will last me a decade and keep me warm over a jacket that costs $30 and tears in a week. I also have no qualms in spending $20 for a pair of lifetime warrantee wool socks for the same reason.
While we don't spend a lot on clothing in general (I haven't actually bought a piece of clothing in nearly two years since I've been working at home), when we do, we try to get the highest quality item for the price and make sure it lasts a long, long time.
————————-
That's it for today. To continue the story, check out Millionaire Interview 305, Part 2.