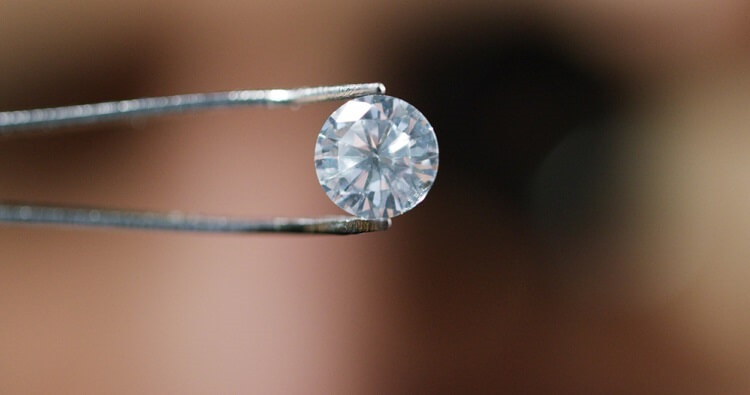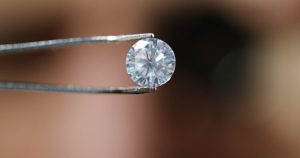 Here's our latest interview with a millionaire as we seek to learn from those who have grown their wealth to high heights.
If you'd like to be considered for an interview, drop me a note and we can chat about specifics.
My questions are in bold italics and his responses follow in black.
Let's get started…
OVERVIEW
How old are you (and spouse if applicable, plus how long you've been married)?
I am 52 years old as is my dear wife (she is actually a few months older than me which I remind her about all the time).
We have been married for 26 years after meeting in college and dating for 5 years. My wife would probably tell you that I was a slow learner in this regard.
Do you have kids/family (if so, how old are they)?
We have three boys ages 23, 22 and 15.
The 1st two are on the cusp of independence which naturally is a transition period full of uncertainty.
Our youngest is a sophomore in high school so we are actually 8/12th done paying for college bachelor degrees! Woo Hoo!!
What area of the country do you live in (and urban or rural)?
We live in Northern New Jersey about 25 miles from New York City.
Despite that proximity our home town is a world apart from NYC. It is a sleepy little mountain town and we have happily lived here in the same home for all 26 years of our marriage.
What is your current net worth?
Our current net worth is a bit north of $1.7M. This fluctuates quite a bit since we have a large part of our assets in the stock market.
Net worth seems to be defined differently by many people. We are likely untraditional in our definition of net worth.
We do not consider any money that we have set aside for our son's educational expenses in our net worth calculation. In theory this money will just pass through our hands to the University's hands so we do not consider this a lasting asset.
We also do not count any hard assets (cars, etc) other than our homes in our net worth.
What are the main assets that make up your net worth (stocks, real estate, business, home, retirement accounts, etc.) and any debt that offsets part of these?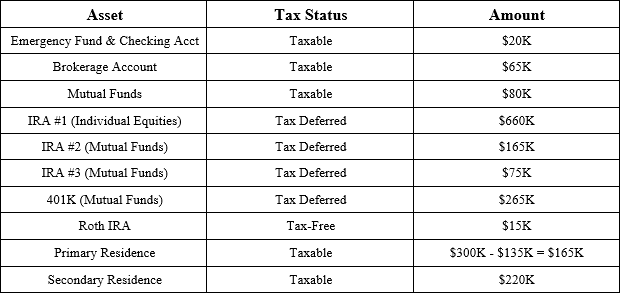 Overall our current portfolio breakdown by asset class is:
Stocks: 60%
Bonds: 0%
Cash: 18% (most of this will be in stocks eventually)
Real Estate: 22%
Our only family debt remains the $135K balance on our primary residence.
We have no mortgage on our secondary residence, no car loans, no student loans and no credit card debt. We are largely a debt adverse family. Debt is EVIL!
EARN
What is your job?
I am a degreed engineer and currently I serve as an Executive Director at a luxury goods (jewelry) company.
My spouse has a Bachelor of Science in Economics. We have been very fortunate that after a successful career working for leading insurance companies, my dear wife was willing stay home and raise our three boys.
Additionally my wife still works part time at a chocolate store that she has worked at since High School (38 years). It is not a ton of money but the extra cash spends and the chocolate is delicious!
What is your annual income?
Current base salary is nearly $200K plus 30% annual bonus.
The bonus is of course variable but fairly regular at that level provided the company meets its yearly financial goals.
Tell us about your income performance over time. What was the starting salary of your first job and how did it grow from there?
After graduating college 30 years ago, I began my career making $19K a year working as a laboratory assistant at the university I had attended.
I bounced around several times early on and had 4 jobs in my first 4 years of "real work". Each move grew my salary a significant percentage.
I then settled down working 4 years at an aerospace-related company before making the leap into the world of luxury goods (predominantly jewelry). I stayed at that jewelry company for 16.5 years working my way up from engineer to supervisor to manager to director. All of those moves grew my salary and related benefits. I have been at my current company for 6.5 years.
My wife quickly rose up the ranks at her insurance organization and was in a key manager role when she decided to stay home and raise our boys. At that time she made way more money than I did so it was a very lively discussion about who should stay home. I am still not sure if I won or lost.
What tips do you have for others who want to grow their income?
Say "Yes". Say it often, loudly and with your heart.
Accept new challenges with enthusiasm and zeal. As Thomas Edison once said "Opportunity is missed by most people because it is dressed in overalls and looks like work". Most often money follows hard work, not the other way around.
You do not need to move between companies constantly but some movement will certainly accelerate your income growth. In many organizations, you can grow your career and income by being willing to move across the organization itself to get to the next challenge.
Lastly, be honest with yourself about who you are and what your strengths/weaknesses are. Most people are blind to what their strengths/weaknesses are and unwilling to work towards improvement.
What's your work-life balance look like?
Currently my work-life balance is semi-reasonable. I work 45 to 50 hours a week, M-F and my commute is a reasonable 1.5 hours daily roundtrip.
I also have the good fortune to work with a great leader who is also a fantastic person. This is hugely important to one's happiness.
My first 4 years at my current workplace involved a grinding daily commute into NYC in a super stressful portion of the organization working for a poorer leader. This was madness and resulted in stressful 12+ hour days inclusive of a 3.5 hour roundtrip commute. This along with some extensive travel was the formula for some real unhappiness.
Do you have any sources of income besides your career? If so, can you list them, give us a feel for how much you earn with each, and offer some insight into how you developed them?
Predominately our income is nearly 100% derived from our career.
We do generate some monthly income from our secondary home which we rent out using yearly leases. This allows us to cover our expenses while making some cash (few thousands a year) while we wait to make our big semi-retirement move in 6 years or so.
SAVE
What is your annual spending?
Currently we spend approximately $90K annually on our living expenses for a family of five.
Some of those expenses should reduce a bit over the next few years as our older son's become more independent post-college.
What are the main categories (expenses) this spending breaks into?
Housing
Utilities
Cars / Gas
Food
Vacations
Dining Out
Honestly we are not completely sure what we spend on each. We live relatively modestly so none of these areas are a particular burden.
Do you have a budget? If so, how do you implement it?
We actually do not use a formal budget. We know, we know – we can hear the boos and hisses from the audience. To be honest we find budgets to be a bit clunky and restricting. They kind of give us a rash.
Even though we do not formally budget we do the following:
We pay ourselves 1st! We do so over and over again.
We max out our 401K annually and make sure to get the max company match.
Save for college expenses each month.
Put extra money monthly towards our mortgage principal
Save monthly for our next cars so that we do not have to finance anything.
Add to our emergency fund monthly, etc.
What percentage of your gross income do you save and how has that changed over time?
The past four years we have steadily increased our Gross Income Savings Rate from 16% to 25%. 25% is not earth shattering compared to some of the FIRE folk but it is a pretty decent rate and it allows us to strike a balanced life.
What is your favorite thing to spend money on/your secret splurge?
Hardly a secret to anyone who knows us but we have taken and continue to take REALLY nice vacations. Far nicer vacations than we ever thought we would.
We have completely drank the kool-aid regarding Walt Disney World, Disney Cruise Line and all things Mickey Mouse so we go there as often as we can!
INVEST
What is your investment philosophy/plan?
Think and act for the long-term.
Keep your eye on the prize.
Stay focused.
Be patient in terms of investments but relentless on things that you can control like your savings rate.
What has been your best investment?
We are really pretty boring in terms of our investments. Almost all of our earned income has come via stock mutual funds. We simply save and invest in the market in good times and bad.
What has been your worst investment?
In our early 20's I messed around with some penny stocks and even purchased a few options contracts. It did not involve too much money since I did not have much money but I lost it all. Truthfully, I had no idea what I was doing. It was a good life lesson.
What's been your overall return?
We have really only been measuring this the past 5 years (since 1/1/13). During that time we have averaged 14% a year. A bit unfair to compare this time period which has been so strong for the US Stock Market.
If we had to venture a guess we suspect that our rate of return overall for the past 30 years has been slightly less than the broad US market. If the broad US market has returned approximately 9% nominal in the time period then we suspect we may be closer to 8%.
It is very challenging to beat Mr. Market consistently and of course a portion of our money is always in cash vehicles which provide safety but lower returns.
How often do you monitor/review your portfolio?
I review it all the time! Daily!
That might not work for many people but it does for me since I do not get too emotional or irrational about the gyrations.
My dear wife never looks at it and since she is a better worrier than I am, I only update her generally when things are going really well. It lets her sleep at night.
NET WORTH
How did you accumulate your net worth?
We earned and saved all of our net worth. No inheritance (yet) but we are very fortunate to have loving supportive families that gave us every opportunity.
We have been very lucky to have been able to grow my salary significantly over time by accepting new challenges (new roles, new companies).
We have been willing to stretch outside our comfort zones more than most people would and that, coupled with our strong work ethics (Thanks Mom and Dad!) has paid off over time.
We have always lived below our means and spent less than we earned. We have always saved and have accelerated our savings rate as we became financially wiser.
We have always invested in the stock market aggressively (mostly mutual funds) regardless of any gyrations, drama or other nonsense. We are pretty good at ignoring the noise.
What road bumps did you face along the way to becoming a millionaire and how did you handle them?
Not sure that "road bumps" is the right term but obviously our decision to have 3 children is not financial wizardry. We love our children and would not have taken a different path even if we could go back in time and do so. However, having three children is no doubt a financial liability.
For example one of our goals has been to have our children graduate from college debt-free. This goal likely will cost us $400K in total. Not a small amount and certainly our net worth would be greater is we had not taken this path. Regardless, we are SOOOO pleased to be far along in achieving this goal.
What are you currently doing to maintain/grow your net worth?
We continue to save aggressively but in a balanced fashion. We save into many buckets as detailed above.
However, we do try to balance our desire to be aggressive savers with our need to enjoy life with our family and friends.
We work very diligently to keep our eye on the prize (early phased retirement). This Venn diagram sums it up nicely. Not sure whom we borrowed this from so apologies to the genius who drew this little baby: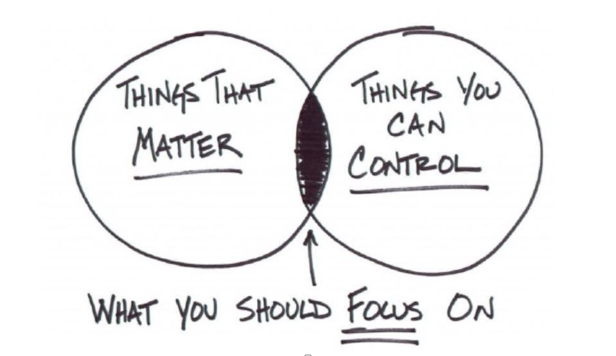 Do you have a target net worth you are trying to attain?
Overall we would say that our journey does not have a magic number that we are attempting to attain. After all, it is just a number regardless of the number. Having said that we would project that our net worth will be approximately $2.2M to $2.3M in 6 years when we hope to start our encore careers (semi-retirement).
How old were you when you made your first million and have you had any significant behavior shifts since then?
We probably passed the $1.0M mark in net worth in 2014 (age 49).
To be honest, we did not even notice that we had crossed over that threshold.
The most serious lifestyle changes that we have made over the past two years or so really stem from our realization that we may be able to retire earlier than age 67. That has made us increasingly hungrier and hungrier to see how quickly we can leave the corporate world and start our encore careers.
What money mistakes have you made along the way that others can learn from?
We have made our share and still do although we try to minimize these:
We should have started saving for retirement way earlier and more aggressively.
We should forget trying to time the market (we largely have but it is so tempting to try). Mr. Market is a fickle guy.
Certainly we were not as thoughtful in our spending in our younger years as we are now. We wish we could have realized that sooner.
If you had to give advice to ESI Money readers about how to become wealthy, what would it be?
Earn, Save, Invest is great fundamental advice just as this blog states again and again. These are the three legs of a stable long-term financial strategy.
Beyond these fundamentals we would add the following:
KISS: Keep It Simple, Stupid – Your investments do not need to be complex and actually there are great advantages to having a simple, straight forward investment strategy. Do not invest in things that you do not understand well. It is the recipe for disaster.
Think Long-term: Focus on long-term objectives. Learn how to separate the data signals from the background noise. Ignore the short-term drama unless it offers a purchasing opportunity.
Embrace Frugalness: Frugality is your ally. Embrace frugality as often as you can. Spend when truly needed but spend mindfully.
Appreciate Opportunity Cost: Understand the financial benefits of saving a dollar today and what that can mean 20, 30 or 40 years from now.
Perfection is Overrated: You do not need to be perfect with your efforts. Get the major items directionally correct and move forward. Do not get hung up on perfection.
FUTURE
What are your plans for the future regarding lifestyle?
Are current Plan of Attack calls for the following:
Continue to work aggressively in the rat race to place ourselves in the position to semi-retire from the mainstream corporate world in the next 4 to 6 years (ages 56.5 to 58.5).
Currently we are targeting April 1st, 2024 (6 years) as the goal but we evaluate this often and will adjust forward if possible.
We believe the best approach for us involves a phased retirement:
Leave the hardcore corporate world at age 58.5 (or sooner)
Transition to a semi-retired state from age 58.5 to age 65 which may or may not include formal jobs
Move to a more full retirement stage around age 65
We plan to leverage geoarbitrage to enhance our phased retirement. That is, we plan to move from our primary residence in the higher expense, higher tax state of New Jersey to our secondary residence in Florida (lower expenses, lower taxes). Our primary residence will likely be almost completely paid off when we do so which will additionally allow us to pocket $275K or so in cash. We will be mortgage-free in Florida.
What are your retirement plans?
Will we work during the phased retirement stage (age 58.5 to 65)? Yes, we will. We are not sure doing what but we do realize that doing worthwhile work and having a sense of accomplishment is very important to us both. HOWEVER, we are not sure that this work needs to include a job to be satisfying.
Our work may involve volunteering our time, it may involve launching into something creative on our own without worry of generating a big check by doing so or it may very well involve a job that we enjoy. After 35+ years of getting up in the morning and doing what someone else thinks is important that day, we look forward to getting up in the morning and doing what we think is important that day!
Financially at age 58.5:
We anticipate needing $85K a year max to maintain our lifestyle in retirement. We likely need less so there certainly is some cushion in that spending target.
We should have nearly $500K in taxable assets with $325K of that in a liquid state (cash, money market, very short-term bonds). We should also have $1.7M in tax-deferred assets. We will use these assets to bridge ages 58.5 to 65.
We have a pension (yes, we have one of those wonderful, archaic things!) which should be nearly $2K a month that we plan to start collecting on at age 65 (max amount).
We do not anticipate taking Social Security before age 67. That could change of course but that is the plan right now. Combined at age 67 Social Security should amount to approximately $4K a month.
We plan to use age 58.5 to age 65 to transition some of our tax deferred money to tax free money through Roth conversions filling the lower tax brackets. This should allow us to reduce our RMD impact at age 70.5.
Retirement Activities
We know that we enjoy an active lifestyle. We would not mind more free time but we do not anticipate being satisfied sitting around watching TV extensively. We know that we need to develop a plan around this just as we do financially. We have 4 to 6 years to get this plan set! We need to develop our Get-A-Life Tree as described in "How to Retire Happy, Wild and Free".
Are there any issues in retirement that concern you? If so, how are you planning to address them?
There are three retirement challenges that worry us more than most. We are sure there are others but these three are front and center on our radar. The funny thing is that money in general is not one of them. We have done the hard work tied to our finances and our figures are fairly conservatively constructed so running out of money in retirement, while on our mind somewhat, is less of a concern.
Healthcare: Will Obamacare and its subsidies be there for us in 6 years? Will healthcare costs continue to spiral upward or accelerate even more? Paying for reasonable healthcare has to be on every retiree's radar. If Obamacare is available with subsidies, we will be right there using it up to the Obamacare Cliff in income. Otherwise, we will pay for healthcare for three of us (our older son's will age out of our coverage) the best we can and try to stay healthy!
Children Settled: Will our children be settled and semi-stable when we are ready to pull the trigger on early retirement? Or will they be millennial screw ups? At age 58.5 our sons will be ages 29, 28 and 21. Hopefully our two older boys will be settled a bit professionally and personally. Our youngest son will be finishing up his senior year of college. He will not be settled but if he is on track to graduate on time then that is pretty good. This is the one area that would make us possibly delay early retirement.
Bored in Retirement: We are generally active people and have been on a frantic life pace for so long that it is hard to imagine a slower, more methodical pace. We will certainly want to remain active. Will we be bored in retirement? We do not think so but as we get closer to that date we will absolutely building a Retirement Activities Plan.
MISCELLANEOUS
How did you learn about finances and at what age did it 'click'? Was it from family, books, forced to learn as wealth grew, etc.?
The importance of saving certainly was something that we learned from our parents. We were very fortunate to be able to learn the importance of this from them early on. Investing was not their strongest forte.
Most of our investing and more advanced financial knowledge has been self-taught. There are many great financial books out there such as Rich Dad, Poor Dad, The Millionaire Next Door and How to Retire Wild, Happy and Free.
Additionally, we read numerous financial blogs throughout the week, every week. The internet has a tremendous amount of information and it is just there for the taking (including E.S.I.). This knowledge transfer really kicked into gear in the past 5 years. Even though we are not retiring wicked early as some are, the FIRE revolution is fascinating.
Who inspired you to excel in life? Who are your heroes?
Our parents and family absolutely gave us the foundation that we have today.
In the financial world it is impossible to not admire Warren Buffett and Charlie Monger and everything they have accomplished. If you have not watched the documentary "Becoming Warren Buffett" and read "The Snowball" you are cheating yourself.
Lastly, we want to give a shout out to Walter Elias Disney who was a driven, amazing visionary. You can learn a great deal from him.
Do you give to charity? Why or why not? If you do, what percent of time/money do you give?
We give small financial amounts to charity on mostly a local level. We are not fans of sending money to the fundraising behemoths of the world. To us they are just a big businesses cloaked in a tax deduction capes to hide the fact that they are in fact big businesses.
We actually do volunteer a large amount of our time locally supporting our local schools, coaching youth sports, fundraising for local needs in our community. We greatly prefer to be charitable in this way.
Do you plan to leave an inheritance for your heirs (how do you plan to distribute your wealth at your death)? What are your reasons behind this plan?
Leaving an inheritance for our sons is not one of the things that we focus on very much. Likely there will be money there for them after we are gone based on the calculations that we have made to date. However, assuring that there is money left for them is not our focal point.
One idea that we have acted upon as a teaching moment as much as a transfer of wealth involves opening Roth IRAs for our sons as soon as they started earning income. That has allowed us to fund these accounts annually based upon their earned income from part time jobs each year. Both of our older boys have $10 to $12K in their Roth IRAs. $10,000 compounded at 6% annually over 40 years yields $110,000 even without any additional funds added. Not bad. Starting this effort early has allowed our sons to have a better appreciation of the benefits of saving for retirement early and often.