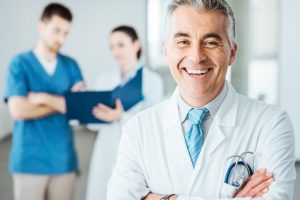 Summary: This post tells which health insurance option we selected for early retirement and why.
In part one of this series I listed the various health insurance options we considered to cover us during early retirement.
In this part I'll tell you which one we selected and why.
And there's a suspenseful ending, so be sure to read all the way through. 😉
Early Retirement Health Insurance Options
As a refresher for those who don't remember as well as a quick summary for those who don't want to go back and read, here are the highlights from part one:
I retired early at 52 in August 2016.
We needed health insurance.
COBRA and traditional options from Healthcare.gov were very expensive with little coverage unless there was a MAJOR problem.
We started investigating health sharing ministries as options since they were much more affordable.
There were three health share ministries in particular that we considered — Samaritan Ministries, Medi-Share, and Liberty HealthShare.
Ok, now we're all up-to-speed and ready for the decision.
Selecting the Right Health Insurance
It's not going to surprise many of you to learn that we went with a health sharing ministry. And Samaritan Ministries was our choice.
It really came down to Samaritan Ministries and Medi-Share. Liberty was easier to eliminate for a couple reasons:
Number of members. Samaritan and Medi-Share both have nearly a quarter of a million members compared to Liberty's 130,000. When it comes to sharing costs, the numbers do make a difference. These two just seemed more "stable" than Liberty.
Keeping our own doctors. Liberty has a network of doctors and ours were not in it. Perhaps they would join but my guess is they wouldn't bother for such a small organization. We love our doctors and wanted to keep them.
So then the decision came down to Samaritan and Medi-Share.
Both are great options IMO, but here are the reasons we went with Samaritan:
Cost. Samaritan Ministries was the least expensive of the three health share options. There are no office co-pays, extra annual fees, or high deductibles.
Reviews. After reading through many reviews from members of all the health shares, we couldn't find one negative comment regarding any experience with Samaritan Ministries.
Personal recommendation. This was probably the biggest factor for us. We have a couple sets of friends who have used Samaritan Ministries for years. We tracked them down using Facebook (we had lost contact) and talked to them about their experiences. They raved about the organization and had no negative comments. Reading a good recommendation is one thing, but hearing it from the mouth of someone you know and trust is quite another. In particular we were wondering (as many probably are) "Would they pay when we needed them?" Our friends assured us that Samaritan had always paid for them through many years.
Personal responsibility. Medi-Share and Liberty follow the insurance model of providing a card and processing payments for the member. As such, most people aren't even aware of the office visit or procedure fees. Samaritan's model is simple and you are 100% aware of the costs of services. You tell the provider you are a cash pay patient and ask for a discount. Most offices will reduce the cost of their services for cash patients since they will save the labor, expense, and time of billing another party. And if you negotiate a discount, Samaritan will apply the amount saved to help cover the $300 per incident portion. We read reviews of members who had no out of pocket expenses because of this.
Familiarity. (FYI, this is my wife's point-of-view — I don't remember it at all. Then again, she has the ability to remember minute details from 25 years ago and I struggle to remember what I had for breakfast.) We first heard about Samaritan Ministries when we were doing financial counseling at our church in the mid-1990's. This was a new ministry at the time, but the model seemed to make sense: pool together resources and provide for other's medical needs. We had insurance with my job then, but we recommended Samaritan to those who were self-employed or uninsured. Now that we were one of those uninsured, Samaritan Ministries was a logical option.
Customer Service. Samaritan had the most impressive customer service when we talked to all three. If they were busy, there's the option to leave a call back number. When we did this, the representative would call back within a half-hour. And even though Medi-Share's and Liberty's representatives were helpful, the difference in talking to them versus Samaritan was like the difference between talking to a business rather than a friend.
Timing. We liked the fact that Samaritan had open enrollment instead of having to begin the first of the month. We conveniently ended insurance at the end of July and began with Samaritan on August 1st, but that's not everyone's situation. The phone representative at Samaritan was also more concerned that we were covered rather than having our paperwork completed by a certain date.
Personal connection. After the first two months of sending our monthly share to the main office, we knew we'd send our assigned share to another member. Some people may find this a negative, but sending cards and checks directly makes us feel more connected to the other members.
So we took the plunge and joined Samaritan Ministries. We paid our first two months' shares to the organization and from then on, we've received a monthly newsletter with a name and address and we send our share (premium) directly to them.
One cool thing: we recently received a note to pay our share to a couple who just had a baby. What an awesome way to spend your insurance "premium" — sending it to someone who just had such a great event in their lives. We included a congratulations card with our check. 🙂
Samaritan Ministries' Performance
Things ran like clockwork for a few months and all seemed well. But there's still a question in your mind of whether or not this organization will "be there" when you need it. It's just such a different model than traditional health insurance that it was a big unknown for us. We hoped we had made the right decision.
Unfortunately we were soon to find out when I was diagnosed with basal cell carcinoma (skin cancer).
We were now going to see how well our untraditional health insurance would cover us.
To find out what happened, see Picking the Right Early Retirement Health Insurance: Samaritan Ministries Delivers.
If you'd like more information on Samaritan Ministries, here's a short, handy request form I asked them to create for ESI Money readers. It takes about one minute to complete and you'll receive their entire information packet.