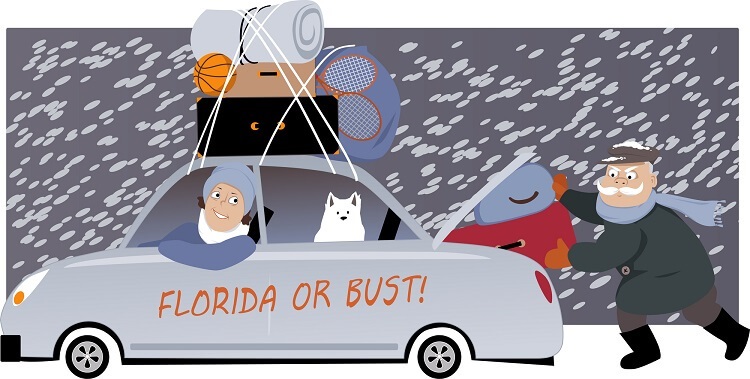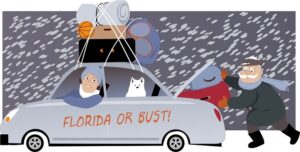 Well, we are now back in Colorado after our 2.5 months in The Villages this winter.
As I write this we have been back for 10 days or so and are mostly settled. More on that in a bit.
In case you missed my other updates about life in Florida and The Villages, see The Villages, Florida, and Snowbirding, Part 1 and The Villages, Florida, and Snowbirding, Part 2.
This post will serve as my final update and include new thoughts since last time. I'll have one more post in this "series" evaluating The Villages by itself, so look for that coming soon if you want more.
As a reminder, I shared photos of our trip on Instagram so look there if you want updates and/or to see many of the things I'm talking about.
Let's get started…
The House
Here are some thoughts about the house we stayed in:
Overall, it couldn't have been much better. The house is less than a year old, 3 bedrooms and 2 bathrooms, nicely designed — among the top options in The Villages (a designer home).
That said, the fact that all the bedrooms are off the main TV/common area makes it tough if you have guests (like our kids) and they want to stay up and be louder than average while you want to go to bed. But this is the way it is in every model we've seen in The Villages and certainly not unique to us.
I would have preferred 2.5 bathrooms. Two baths was tight at times when we had multiple visitors.
As I mentioned in the last post, we had restrictions on where our cat could go. I won't take a future rental with those again. It was just too much of a hassle.
The house's location was GREAT IMO. It's in the south (newer) section of The Villages. It's quieter, has new, great amenities, and (at least several people have commented) seems to have younger people compared to the older/northern parts of The Villages.
We did not need a cart. If you are a decent walker, you probably won't either. We walked to places where many took carts and we drove our cars to places farther away. One caveat — if you're a golfer, you'll need a cart. We are not golfers.
One thing we didn't have was a grill, so I missed that (and we grilled twice within the first week back home). But we also didn't have a Costco nearby (where we get really good meat), so it probably didn't matter that we didn't have a grill.
The Villages
Here are some thoughts about The Villages (TV):
I was surprised in the last post that a few people felt like they had to defend The Villages. And they did so to the point of "everything here is great and nothing is bad" sorts of comments. IMO, every place has pros and cons. You have to weigh those out and see if the one outweighs the other for you and your preferences. For some, The Villages is a win. For some, it's a loss. It's surprising to me that some people take offense at a fair review of the pros and cons because it isn't 100% glowing. Let me tell you, nothing is 100% glowing!
Overall, we would both say that The Villages is very nice. We don't know all of Florida but we saw a ton of it (we drove over 32 hours AROUND the state — yes, I added it up — once we got here) and we didn't see anything that beats The Villages for us.
The landscaping is immaculate. As I drove home from Lake Sumter one day I marveled at how beautiful the place is overall. It's very nicely designed and clean.
Some people talk about disliking The Villages because it's too homogenous. I find that those who say that have almost never been there even for a short visit. I'll admit that there isn't a lot of racial diversity, but there is certainly diversity by location and background. People come from all sorts of backgrounds and just about every state. If you think they all think/act/behave the same way, I have a bridge to sell you.
If you like pickleball, it's hard to beat. With 220+ courts, there's always a game somewhere. Plus you can play at any rec center which is not something you can do in some developments (see below for an example). That said, I would say we played more pickleball there than at home but on average the quality was lower. Because you line up and play with random foursomes, it's almost guaranteed that better players will have someone (or everyone) in their group that's not up to their level.
The Villages has 3,000 clubs and a bazillion activities which makes it unparalleled compared to other options. You can't replicate that anywhere else. You can always drive to the beach and even stay there 2-3 days, but it's impossible to replace the activities in TV.
My dad thrived in TV. He went to Zumba 1-2 times a day (women to men ration was 99 to 1), took some dance classes, went to several parties, and listened to live music on the square regularly (5 times a week at least). There's NO COMPARISON between his lifestyle in TV and his lifestyle in Iowa (where he sits and watches television 8 hours per day). I believe living in The Villages would increase his life span, make his life more enjoyable, or both. Which is a good thing…since HE BOUGHT A HOUSE IN THE VILLAGES! More on that in a bit.
I didn't get to use the sports pools (where they have water fitness activities) while there, but they looked nice. I meant to swim sometimes as my cardio exercise, but never got around to it. We did spend a lot of time at the regular pools though and they were quite nice.
We LOVED the Fenney rec center. It has beautiful trees and a nature trail that is very, very nice. It's also home to The Fenney Grill which we discovered later in our time there, but made full use of once we did!
There are a few downsides, of course. First, there are some signs of aging in older areas (we had hard seats in need of repair at the theater). Second, the food is nothing to rave about (pricey, fair in quality, and generally smaller portions). Exceptions to that are Fiesta Grande (Mexican), Willie Jewell's (BBQ), and The Fenney Grill (we went there for breakfast — great pancakes!). Third, there are few sidewalks (none in our area). Yes, there are cart paths and walking trails, but you have to share these with carts (in the former case), bikes, etc. so simply taking a walk and not having to watch for traffic is not a thing. Finally, the gym (which is a standalone MVP Athletic Club off Brownwood Square) is "ok" but not as good as home (and The Villages gyms at some rec centers are an extra expense and weak). This is a big missed opportunity in my opinion.
Florida
Here are some thoughts about the state of Florida:
Overall, my thoughts about Florida are positive. I just wish it was closer to Colorado as the drive there and back was a killer! (For those interested, our cat did amazingly well in the car. Once we put him in his carrier, he pretty much slept all the time.)
There really are two sides of Florida — Florida in the winter and Florida in the summer. I love the former and hate the latter (I lived in Orlando for two years in junior high and remember how hot it got for how long — so don't tell me "it's not that bad.") Furthermore, I tend to prefer cooler weather over warmer weather while my wife is the opposite (my ideal temperature is 50-75 while hers is 60-85).
It's not always great weather in Florida and not always terrible weather in Colorado, so it's not like we traded 75 bad days for 75 good days. Florida has cold days (especially in January and February) when no one goes out. And what's "cold" in Florida is even in the 60's — which keeps a lot of people inside and kills pickleball participation. In addition, it rains and storms in Florida (we had three tornado warnings while there) which also puts a damper on pickleball and any outside activities. And it can be too hot — especially in March. I don't care how thin your blood is, 90 and high humidity is HOT. On the opposite side, Colorado Springs had many days that were 50 degrees or more while we were gone. Plus it's very sunny here, so winter is nowhere near as bad as the winters we had in Michigan.
There are bugs in Florida, even in the winter. On the first post in this series, one "defend the Villages at all costs" commenter said he had seen "1 bug in the last 15 months." I sent him a link to an article naming Florida the buggiest state. LOL.
Those are my high level thoughts on the main parts of our trip, but there are a few more items I want to share on our stay…
Trip to Sarasota
My wife and I took a two-day trip to Sarasota in March.
The first day we spent several hours at Lakewood Ranch (LR) which is a competitor to The Villages. Here's what we did and some thoughts:
We spent 30 minutes with a LR rep a couple weeks before the trip. She took us through an online presentation, then set us up with passes to see model homes for this trip.
We visited five of LR's villages, looking at model homes in each of them. We went into and looked over about 30 homes. Yes, it was an exhausting day — kind of like a complete Parade of Homes packed into one six-hour period.
I would describe LR as The Villages 15-20 years ago. It's much smaller, still creating a larger community, and a bit quiet for now. Traffic was almost non-existent which is saying something for Florida!
Each village at LR is developed by a different company, so the look and feel of the homes varies widely (which is not something you get in The Villages). So there are many more choices in LR when it comes to home design.
We looked in two 55+ communities and three multi-generational communities FWIW.
Each village is self-contained with its own pool, courts, activities, etc. which is something I don't like. In The Villages, you can go to whatever rec center you want, which was a key part of our time there (collectively we probably went to 20 different rec centers). If we were limited to one, our friends and activities would be greatly reduced.
I would say the homes were nicer than those in The Villages (in design) but also much more expensive ($100k-$200k more). But you're also in Sarasota versus the middle of nowhere, so take that into account.
As for activities and things going on, The Villages blows LR away. LR was touting that they had live music coming up one night. Hahahaha. They must know The Villages has it every night in every square.
In addition to seeing the homes, we went to The Waterfront area of LR where they have townhomes and then shopping/restaurants within a block that overlook a large lake. It's very nice and if my wife and I were 30-35, it would be perfect for us. The shopping/restaurant area only had a few places open currently, so it will be some time before they are up to full speed.
We also went to their one square on Main Street and they were having a St. Patrick's Day event – music, games, pop up shops, etc. I would say it was less crowded than a big square event at The Villages, though the crowd was good. Also saw many more younger people (like you'd see in a regular community) and my wife felt like there was more drinking going on/a bit rowdier than The Villages (maybe because the crowd was younger).
Overall it was a good trip, but it's too soon in the cycle for us to consider LR as a place to live. They need to develop a bit more for us to see what they will really be like when they grow up.
And here's what happened on day two:
We were up and off by 8 am and on Siesta Key Beach by 8:45 am or so. Good thing as we got one of the last parking spots in the main lot.
We walked the beach and it was very nice (68 degrees) and cool in the morning. The water was cool/cold.
We also walked into town and saw the shops which was pretty much the same as shops in any beach town you'd visit.
I'd say the beach was "fine" and probably among the best I've seen in the continental U.S. Our problem is that we compare every beach to Seven Mile Beach, some in Hawaii, and others in the Caribbean, so it's hard to be better than those. 🙂
After the beach we drove and parked near the marina. We walked around to see the shopping places (didn't go in as we're not big shoppers), then walked over to Marina Jack's and the Sarasota Bayfront. Both were very nice places, but probably not ones we'd need to visit again.
After that we headed home as we were exhausted from all the house hunting we did the previous day!!!
I would say we liked Sarasota and if we stay there in the future, we'd probably rent a place short-term (10-14 days) on or near the beach so we could easily walk over and wouldn't have to fight traffic every day to get on the peninsula.
Trip to Destin
On the way back to Colorado we stopped in Destin overnight. Here's what we did:
We arrived around 2 pm and after unloading the car and getting the cat settled in the hotel room, we walked across the street to the beach. Here's where we stayed if you're interested in what part of the beach we were on.
We walked up and down the beach for a bit, enjoying the weather. It was nice and sunny outside and about 75-80 degrees, but the water was chilly (we took our shoes off and waded through it). It would not have been comfortable to swim in.
We went back to the hotel and rested a bit. We had had a stressful morning cleaning the house and packing before we left and then had driven 5-6 hours to Destin. Plus we knew we had two BRUTAL days of driving ahead of us.
Once we were refreshed, we walked to The Back Porch and had dinner. We sat overlooking the beach and had great food — it was awesome.
Afterwards we walked the beach again and it was much less crowded as it was now 6 pm or so.
We were back at the hotel by 6:30 pm and went to bed relatively early as we were getting up very early the next day to drive to Ft. Worth.
At one point we had thought about wintering in Destin but it's just too cold there in the January-March time frame, so we have eliminated it for that time. We could visit in October for a family trip though.
My Dad and The Villages
After we got back from Sarasota, my dad came home and he said he was thinking of buying a place in The Villages. That was new news to us, but since he was so much more active down there and he really has nothing to go back to in Iowa (yes, his family lives there but he only sees then infrequently and spends most of his time there watching cable news television), it seemed like a great idea to us.
That said, there were issues to work through and we had less than two weeks to do so.
I emailed our realtor and asked for another house tour (which was the third of our trip). A few days later she took us through several homes and my dad and wife saw many more on their own (just driving around).
We also worked through his budget which roughly translates to the following:
Net worth: $600k. It's almost all in cash as he sold his RV and some land recently plus moved all his investments to cash in early 2009 and never moved them back to stocks. Ooops.
Cost to buy a place here: We estimated about $300k for a two BR, 1,000 square foot place. This amount included buying furniture and a golf cart.
Monthly expenses living in The Villages: $2,000.
Monthly income: $900 Social Security.
So this scenario left him with a monthly income shortfall of $1,100 and $300k to withdraw from to pay for it. That's a 4.4% withdrawal rate.
Since he will be 80 in May, a realistic withdrawal rate would be much higher than 4.4% but…
…the above doesn't factor in big costs like buying a new car (if he wanted one), traveling (though when he goes with us we usually pay for most of the expenses), and so on.
Also there were other issues like him living alone so far from everyone and how we should manage that.
I asked the Millionaire Money Mentors for thoughts and they helped me work through all these issues. They were quite helpful!!!!
With a week left, we had sorted out his finances (it could work!), many of the other issues, and he had a list of about five homes he was willing to buy in the (new) village of St. Johns.
BTW, we offered to buy a bigger/nicer home (3 BR/3 BA) and let him live in it while we visited in the winter months. That way he'd have all his money to live as large as he wanted to. But he wanted a place to his own, so we went in that direction.
Next, we entered the strange world of buying a house in The Villages. Here's how it works:
You tell your realtor the type of house you want (or if it's being built, you can even tell the exact houses you want).
The day before the house is released to the public for sale, the agents are notified it will be released at 8 am the next day and given the price for it.
At that point, the agents contact buyers who might be interested. If the buyer is not interested, that's it and they move on to the next one.
If the buyer is interested, the agent will be at his/her desk just before 8 am refreshing the screen again and again. As soon as they see the place become available, they will put a hold on it. Depending on the house, location, time of year, etc., there can be 1-10 holds on a place within the first few minutes.
The first person with a hold then gets three hours to confirm the purchase or release it. If confirmed, the paperwork is signed and the deposit (10%) taken. If released, the next person with a hold gets their three hours to decide or pass and the original buyer moves on to another property.
I know. Don't ask me why, but that's the way they do it.
So on the Friday before we left (one week exactly before we headed home), he tried for his first two houses. We missed them, getting third on one and fourth on the other.
Over the next several days we missed on a couple more — finishing third each time. Then nothing came up as available for a couple days.
Just as it was looking pretty bleak, on the last day before we left (a Thursday), he got his house (which had been his top choice all along!)
We found out at 8 am in the morning and signed the papers at 10:30 am! FYI, his purchase price is $260k for a 2 BR/2 BA 1,000 square foot house.
Since we returned home, he's been working on moving and my wife has been helping him with details, specifics, etc. He closes on May 2.
Snowbirding and Our Future Plans
So…where does this all leave us? What did we think of our trip? Will we do it again?
There are lots of thoughts we are still working through and they change as we process them, but here is some of our current thinking:
It was certainly good to get out of the cold even though we didn't escape it completely (as I write this, it's 36 degrees outside at 3 pm). But we missed a lot of cold so our winter this year will be very, very short.
The activities were GREAT! We played way more pickleball, went to the pool a lot, sat on the lanai and enjoyed the warmth, drove to various cities all over Florida, etc. It was pretty nice for what is usually a "hunker down and beat the cold" time of year for us.
Being out of your own home for that long is a bit strange. It's hard to get into a routine and relax completely. It's just more comfortable at home no matter where you are staying. This was probably the biggest con of the trip. It was kind of like being on vacation for 2.5 months, which sounds great at first, but can anyone maintain "vacation level excitement" for that long?
We ate like pigs (since we were on "vacation" — and discovering the Russell Stover store was no help at all!) and gained a lot of weight. I was up 10 pounds when we got back though I have lost seven of those pounds since coming home.
We had no problem with home security while gone. Our kids watched our house when they weren't in Florida with us, our neighbors kept an eye on the place, and I had cameras set up so I could see what was going on. So it was fine, but still…having a $600k asset sit alone and empty for a few months is just weird.
One advantage of being gone is that our son-in-law was able to put new floors in my office, our bedroom, a bathroom, and a closet. They look really great and we didn't have to be here for the installation!
Being gone and then coming home after so long allows you the chance to reset and reorganize. You can reexamine everything from where you store things to your daily schedule. That's been nice and I think we're better organized now than when we left.
One factor in leaving home is that life is good here — even when it's cold. Colorado is an amazing place, we have family and friends here, we have our home, our church, etc. So while escaping the cold was great, we do have a lot of positives we give up by going anywhere.
My wife and I were on the fence and even looked at places we might rent in The Villages for next year, but we didn't find anything we liked, so we saw that as a sign that we should try something different. We settled on taking two 10-14 day trips (one in November and one in March) to break up the winter. Maybe one trip to a Florida beach and one to Hawaii — something like that.
Then a couple things happened:
My dad bought his place. He has an extra bedroom and bathroom. It's kinda cramped, but I could see us staying there for 2-3 weeks if it was just us and him. So that's an option.
Our friends who rented us their home this year told us they have purchased another place down there to simply rent out. They are great to deal with and the house is in a good location (near where we stayed and near my dad), so if the terms are ok, that could be an option for us. Time will tell.
Finally, we get asked if we would ever buy a place there.
To hear the answer to that, you'll have to read my upcoming post on The Villages. 😉
Those are my thoughts for now. Any questions or comments?