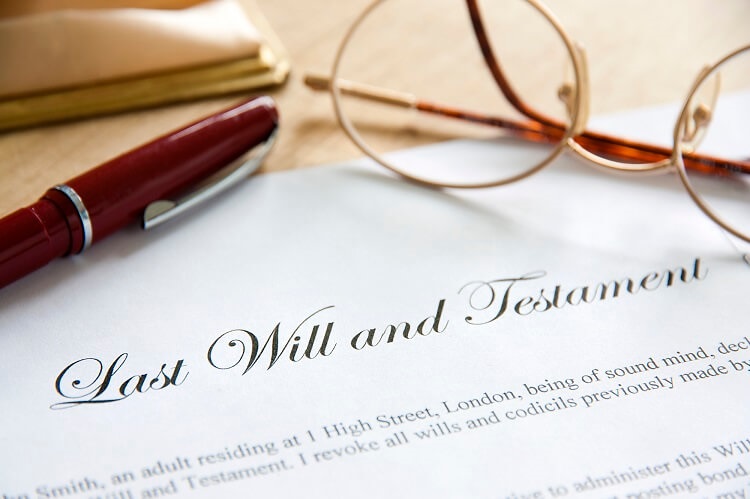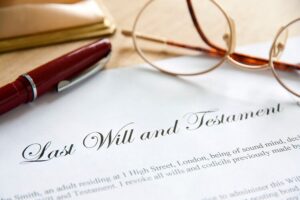 The last time we got our will updated was 20 years ago.
Our kids were young, we were much less wealthy (net worth: $300k), and the world was entirely different.
At that point, if anything happened to us, we had our kids going to a family we were close with then — but have lost touch with now.
And, of course, the kids are much older than they were at that point.
Since then we've moved twice to new states.
Needless to say, we were due for a new plan.
That said, even though we knew we needed a new estate plan, it took us quite a while to get it done.
This is probably because it's a task that's important, but not urgent. "We have time" is the catch phrase of the almost 60% of Americans who don't have a will.
According to a new Caring.com survey, only 42 percent of U.S. adults currently have estate planning documents such as a will or living trust. For those with children under the age of 18, the figure is even lower, with just 36 percent having an end-of-life plan in place.
You would think the wealthy would be better prepared, but we are not. My interviews show that most millionaires don't have wills.
So we weren't alone in this procrastination. Most people know they will die but just don't think it's going to happen anytime soon. Until it does.
I needed to get off the stick, but kept forwarding this task to the next month or even next year on my to-do list. I had "getting a new will" as a New Year's resolution for several years without success. Eventually I just knew it was time to take action, and that's what we did.
Key Estate Planning Documents
We needed much more than a will. The will is the central part of an estate plan and the piece most people are familiar with, but there are accompanying documents that are just as important and necessary.
According to The Balance, here are the essential estate planning documents:
Last Will and Testament
Advance Medical Directive
Living Will
Financial Power of Attorney
This list coincides with what we wanted as well.
I'll get into what each of these are in a moment. For now I just want to emphasize that having a complete estate plan means much more than simply a will.
Finding a Good Attorney
Our first step was to find a trusted attorney who wouldn't charge us an arm and a leg. This was much more difficult than you might imagine.
We started with some friends, asking them who they used to do their estate plans. But they were in the same boat we were and either replied "I have no idea" or "Tell me when you find one since I need an estate plan too." Ha!
I kept at this (off and on) for a couple years until I found a friend who had another friend who could recommend a lawyer.
Turns out the lawyer was licensed in Colorado but lived in Arizona.
I emailed him, then we chatted through the options on the phone.
Everything else was done via email.
It was a very simple process once we found him — much easier than I thought (at least his part of it was easy, there was still hard work ahead for us.)
The Details
The lawyer explained that since we had less than $11 million each, our estate wouldn't be taxed. So we didn't really have to make plans around tax issues.
Our first decision was whether we wanted a trust or not. He described it as the choice between:
Do you want to be inconvenienced during your lifetime (which is what a trust forces upon you)?
Do you want your heirs to be inconvenienced after you die?
We chose the latter. They can work for the money. 🙂
Seriously, we did choose the latter. We may change it in later versions (see below) but for now we simply wanted to get a decent plan executed and adding a trust seemed like it would slow things down dramatically.
The second decision was how to divide up our estate. This took us the longest amount of time and forced the most discussion to reach an agreement.
The key issue: We want to give our kids a leg up, but we don't want to leave them a crushing amount of money that ruins their lives.
My wife and I went back and forth with her advocating for a lower amount and me advocating for a bit higher.
One thing that's kind of funny…when I told my daughter I wrote a post about how much economic outpatient care is too much, then explained what economic outpatient care is, she said, "I think the cut-off is about $1 million." Ha!
Eventually we decided upon $500k to each child. Here's how they get it (this is, of course, if both my wife and I pass — if only one of us does, the other gets everything):
1/3 distributed when my son reaches 30 (this would put my daughter at 28). They are 23 and 21 respectively now.
Half of the remainder when my son reaches 35.
The rest when my son reaches 40.
This way they receive their inheritance in stages so if they blow it upfront, there's more coming later when they may have learned from their experience.
The money is managed by a close family friend. He has the ability to give them advances if he deems it's needed. Otherwise he simply oversees the money in investments and distributes it when the milestones are reached. He's called our "trustee". My daughter is the executor.
We then left $100k each to my wife's two sisters, my parents, and my dad, just in case we pass before they do. Obviously my parents will probably pass before we do, but the sisters may or may not.
What's left (a bit shy of $3 million) is then sent to our donor-advised fund where our trustee will dole it out to various charitable organizations as he sees fit.
In addition to the wills, we completed a Financial Power of Attorney to make financial decisions for us if we were incapacitated, a Living Will stating we want no extraordinary measures taken to save us if we are in comas, etc., and a Health Care Power of Attorney to make medical decisions for us if we were incapacitated. Our son and daughter are our co-attorneys.
After we got all the details settled, our lawyer emailed us the changes. We printed out everything then went to a notary to do a huge signing party. 🙂
I then sent copies to our executor and trustee and also met with each to explain everything. I contacted Vanguard Charitable and set up our trustee as the "Successor Advisor" on our DAF.
Our trustee suggested that we make a video explaining our rationale, just to be 100% clear (he had heard this was useful). We will likely do this later on, but have not yet done so.
The Rationale
Here are our general thoughts on where we ended:
$500k seems to be a balanced amount. It's good enough to give a leg up (like help them buy a nice house plus a few other things) but not crushing in the way "I never have to work again" money could be.
Dividing it seemed like a key element. Giving them each one huge lump sum could be a disaster, so we believe spreading it out is the way to go.
Giving the trustee flexibility was also vital. It's hard to predict the future, so there needs to be flexibility — both with the amount the kids get as well as the charitable contributions. We trust our trustee and want to give him the leeway to make the best possible decisions.
We have talked about giving our kids some of their money while we are alive. It would work somewhat like a bank account. If they need something and we agree to help, they could draw from their inheritance. For instance, let's say my daughter and her husband wanted to buy a house and needed $100k as part of the purchase. If my wife and I thought it was something worth helping with, we could give them the $100k now, then reduce her portion of the estate by $100k (to $400k) in our will.
The $100k we're leaving to the others who might survive us is simply "just in case". It's likely (based on ages) that most or all of these people will precede us in death, but you never know. So we wanted to leave some to those closest to us if the unexpected happens.
The whole process took five months, most of which was my wife and I deciding how to divide things up.
The final cost was a very reasonable $600. Last time we got a plan it was $2k or so. Maybe the availability of web-based options has lowered the costs of estate plans — I'm not sure.
Sharing Information
I still have one more thing to do: sit my wife and daughter down and tell them where everything is.
I thought about writing it all out for them as described in What If You Died Tomorrow?, but I'm not sure it would be clear enough. That would be written in MY words and may lose something in translation.
My plan is to sit down with them and SHOW them where all the records, passwords, keys, etc. are. Then they can record what they feel is important in THEIR words, hopefully making it easier/better for them in case they ever need to use the notes.
Version 2.0
Of course, an estate plan can be changed. We will likely adjust ours in the future now that we know the process isn't as daunting as we thought it would be.
This round we simply wanted to get a "good" plan on paper. Now we can improve from here if we see fit to.
A few things we are considering (yes, we've already discussed them):
Should we establish a trust to make probate easier? Not sure when we will do this, but my guess is that we will eventually create a trust.
Should we make the kids' inheritance income-based? For instance, what about setting up a fund for each kid that delivers $20k per year for 25 years at which point the principal is donated to charity? Would this be better, worse, or the same as the plan we have now? Still sorting this out.
Should the amount be different (higher or lower)? This will likely depend on our kids' actions. If they grow up and start spending like drunken sailors, we'll likely lower the amount from $500k. If they are trustworthy and responsible, perhaps we'll raise it. Time will tell.
The point is, just because our plan is "done" now doesn't mean it's done forever. We'll likely make adjustments over time.
Anyway, I'm anxious to hear your thoughts on what we've set up, what we might consider for the future, what you've done in this area, etc.
Benefits of a Will
Several years ago I wrote an article about wills for a national magazine. Since it's appropriate for this post, I thought I'd include it here as an add-on…
Much of our lives are spent working to provide for ourselves and our family. But what about after we're gone? If you don't have a will, others will decide how your estate is divided when you die. Follow these three simple steps to make a will that expresses your provision for your loved ones:
Step 1 – Find a good lawyer to do your will. Hand-written or fill-in-the-blank kits are often out-of-date and may not conform to state laws. Though a professionally prepared will may cost a few hundred dollars, it could save thousands of dollars for your estate. Ask friends and relatives for references as a starting place.
Step 2 – Complete the will. Be sure it includes the following:
Who inherits your property. Make a list of all your assets and their approximate value. Then decide who gets your property, when they get it, and in what form. If you die without a will, the state decides what happens to your assets.
Who will care for your minor children. Name a guardian (caretaker) for your children and a trustee (who distributes assets for children until they are mature and capable of making their own financial choices). Without your written instructions, the court will select a guardian who may not be the best choice.
What happens if you're incapacitated. A power of attorney gives someone legal authority to make health care and financial decisions for you if you cannot make these decisions yourself. A living will gives your doctor your desires regarding life sustaining procedures, artificial nourishment and organ donation. You'll need both.
How you minimize estate taxes. Many people have estates much larger than they realize when life insurance, retirement benefits, home, farm or other real estate, savings and securities are taken into account. Structure your will to avoid the unusually high estate taxes.
Who administers your will. Choose an executor or a trustee. This person carries out the terms of your will.
What gets donated to charity. Federal and state tax laws allow your estate to receive a charitable deduction for the full fair market value of a gift. Your will can remember the work of your favorite charity by donating a specific dollar amount or a percentage of your estate.
Step 3 – Update your will as needed. Review your will every three years to be sure it fits your present situation and conforms to current state laws.
Make it a priority to have your will drafted soon. It will not only allow you to express your desires regarding your health and resources, but will also give the maximum provision to those you love and wish to benefit.