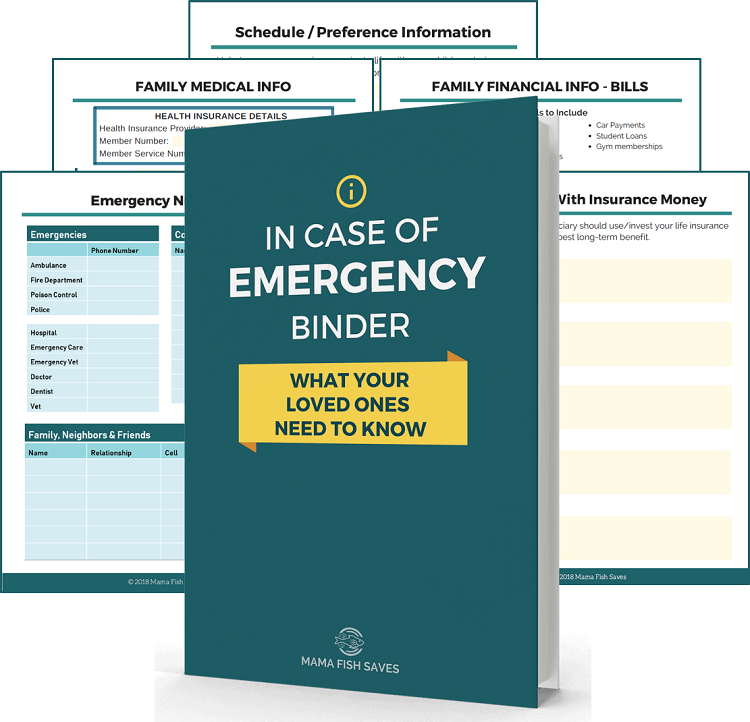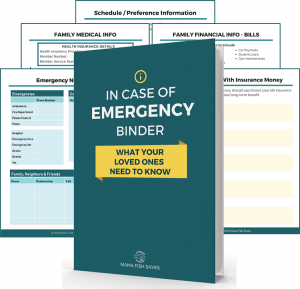 The following is a guest post from Chelsea Brennan, the founder of Mama Fish Saves, a personal finance blog that focuses on family finance, investing, and reducing money stress. Chelsea is an ex-hedge fund investor whose work has appeared in a wide array of publications, including Forbes, Business Insider, Haven Life, and more.
What follows is a topic that is probably the least appealing personal finance topic around: dealing with your own death.
It's also one of the most needed.
When I interview millionaires, one of my standard questions is about inheritance, plans at their deaths, etc. My back-of-the-envelope stats tell me that well over 50% of them don't have a plan for their deaths. Ugh.
But who am I to talk? Yes, I have a will. But that's about it. It's so old that it's practically worthless. Yes, I have it on my "to do" list to get a new one, but that's been on the list for five years now.
Then there's the sidekick, my disaster file. Progress made here: zero. I'm daunted by the task of what to include, what I may miss, keeping it updated, and on and on.
That's why I wanted to share this article from Chelsea — it's an important topic that we all need to address. And if we don't, there could be grave consequences for those we leave behind.
With that said, let me turn it over to Chelsea…
——————————————-
Let's start with a disclaimer. This isn't a self-help, "live your best life now" post. I'm not going to talk about why you need to make the most of every day. That's important, but this is too.
What if you actually died tomorrow? Heart attack, brain aneurysm, birth complications, car accident. All circumstances I've sadly seen or heard about with family and friends.
What situation would you leave behind for your loved ones? Are you really prepared, or only kind of prepared?
Basic estate planning such as life insurance, a will and healthcare proxy can cover some major categories. But life has endless moving pieces that are automatic to us. We do them seemingly without thinking and never consider mentioning them to anyone else.
But when we remove ourselves as the motor that turns the cogs, the whole engine stops. When your husband, wife, partner, child, or sibling don't recognize that these cogs even exist, you risk leaving behind a mess.
So, let's play a little Ghost of Christmas Future.
Here's what untimely deaths and disasters can look like for those left behind. And what you can do about it.
The Realities of Picking Up the Pieces
If you've ever acted as an executor for an estate or lost a family member, you know how the aftermath looks. Endless phone calls, searching for documents, trying to navigate a system that made perfect sense to the person who passed. Even though it seems like complete nonsense to you. Or even worse when your loved one wasn't prepared at all.
But if you haven't been there, it's hard to imagine. In fact, you've probably never even tried. So, I've got three stories for you from people who've been there.
"I'll do it this week."
Meet my friend Donna. Her husband handled most of the finances and investing. On one Friday, she asked him to write down some of the account passwords in her password notebook. She also wanted to walk through the regular bills and budget. He promised he would on Monday. But on Saturday he died of a massive heart attack.
Donna couldn't access her husband's email. Google will not provide passwords or login details, even of deceased individuals. With everything on paperless billing, it took months to figure out where they even had accounts.
She resorted to pulling cards out of his wallet and calling those financial institutions. Then using statements from those accounts to put together the puzzle. It's been over a year, and she still unearths small things she's missed.
"My husband designated the kids as his life insurance beneficiary."
Angela's first marriage was a bit rocky. During one of their difficult times, unbeknownst to her, her husband took her name off his life insurance policy. He named their three minor kids as beneficiaries instead. Angela and her husband spent most of their savings on building a home. And then, her husband passed away.
Overnight, Angela and her family went from well off to poverty. The life insurance policy was placed in conservatorship by the state. Angela could only use the money for an expense directly related to an individual child – like braces. But she couldn't withdraw money for regular expenses like keeping a roof over their heads.
Her husband's employer canceled their health insurance three days after her husband died. They were eligible for two years of COBRA but couldn't afford it.
It took two months, but Angela got on state benefits. By budgeting carefully and being resourceful, she helped her family scrape by. She went back to school to get a degree where she could make more money and get better health insurance.
Today, they are doing much better. But did her husband know the real implications of naming a minor child as a beneficiary? Could he have foreseen the struggle that would follow?
"Everything is in the safe."
My friend Michael has a more humorous, but no less frustrating story. His father was prepared. He had a will, papers organized in one place, and had told his kids where that place was. The large safe built into the house.
Only one problem. He didn't tell anyone the code.
When he would remind his kids about the safe, he always mentioned that the code was written down in his office. But they never thought to ask where in his office. After he died, they ripped apart the room searching for the passcode. Then the drawers, then the whole house. They still haven't found it.
Michael says they are talking to locksmiths now about what to do next. If they try to drill it out, they may not be able to repair it. And since the monstrosity is built into the house, it could be a problem.
Plus, Michael's wondering whether he's on some list for his many Google searches of "How to break into XYZ safe."
So, what can you do to avoid one of your family members having to tell horror stories about settling your affairs?
Basic Estate Planning
Most people in the personal finance community are aware of our finances and essential estate planning. We know to tackle the four main things to protect our families financially.
Life insurance policy: Insurance coverage, probably term to keep costs low, to cover any debts and provide for our spouse or children if not yet financially independent.
Last will and testament and/or Living trust: Legal document telling our survivors our exact wishes regarding most (but not all) property and assets. The living trust can help avoid probate for specific assets.
Beneficiaries: Life insurance policies, retirement plan proceeds, pensions, and certain investment and bank accounts can't be assigned in a will. They are paid immediately upon death to a designated beneficiary. You should have named primary and secondary beneficiaries for these accounts.
Living will: Advanced medical directive to outline the end-of-life medical care you wish to receive in an emergency. This removes the need for your family to make critical decisions when they are in an emotionally charged situation.
If you haven't done these things, you should. But looking at the list, what do you see? There are already multiple different documents your survivors need access to. And things like debts, credit card accounts, and insurance policies for medical, home, auto, and long-term disability are notably absent.
The basics are just that. Basics. Essential to have, but not enough.
Emergency Preparedness
When it comes to emergency planning, untimely death is far less likely than a disability, temporary separation from kids or spouse, or natural disasters like fire or flood. A well-developed disaster file needs to include next steps for all of these situations.
The most common emergency situations I've seen where people aren't prepared is around medical care. If you're ever traveling away from your kids, make sure a trusted caregiver has a notarized medical power of attorney.
A doctor could treat your child without one in a life-threatening situation or when there is a risk of permanent damage being done by waiting. But without a medical POA, a non-parent caregiver can't get your child treated for strep throat or X-ray and cast a broken arm.
But medical POAs aren't just for kids. Every adult (over 18) needs to sign a durable power of attorney and a healthcare proxy. And it should be easily accessible in your disaster file. In most states, parents, siblings, or friends can't make healthcare decisions, pay bills or manage money without one.
"I don't even get a say."
On July 3rd, an old hockey teammate called to say his younger brother had come down with Guillain-Barre syndrome. Jackson was in the hospital and on a respirator.
His mother was there but couldn't direct care because Jackson didn't have a durable power of attorney or healthcare proxy. The doctors kept her informed, but she didn't get a say. A terrifying thing for any mother, but particularly one who had already seen her eldest child hit by a car at 17 and left permanently brain damaged.
My friend had contacted his brother's employer and found out that he had opted for long-term disability insurance. But without a POA, they wouldn't be able to file for coverage until he was well enough to do so himself. Or until his family got court approval to act on his behalf.
A quarter-million Americans between 18 and 25 are hospitalized each year with non-lethal injuries. 1 in 5 adults will be disabled at some point in their lifetime. Make sure someone you trust has a say in your care. And knows where to find the proof that they have it.
An Emotional Legacy
When my grandfather died of cancer at 65, I was the only one who knew how he met my grandmother. I was the only one who knew he was terrified of werewolves and put almost 100 miles on his car before he turned 16 driving up and down the driveway. I held all these tiny stories that made him who he was. Stories none of his six children ever thought to ask him about.
After my grandfather was diagnosed, I sent him a question once a week about his life and advice. The letters with his answers are more important to me than I can explain.
If you died tomorrow, what would you wish you told your kids and grandkids? What stories about your childhood? About career, marriage, parenting, and success?
As part of my emergency binder, I wrote notes to my boys and my husband. I answered some of the questions I had asked my grandfather when he was sick. And I wrote a letter to the person who we've designated to care for the boys if both my husband and I were gone.
Writing these letters was emotionally draining. But those pieces of me that seem so little would matter to the people who needed to read them. So, I recommend you write them too.
Complete Emergency File
A complete and well-maintained emergency file goes beyond the basics, even beyond ESI's disaster file. It puts all the information you or your loved ones might need in a clear, organized format.
I recommend keeping your emergency file in hard copy and updating it once a year, or whenever a significant change occurs like a birth, move, or job change. A paper copy, versus a digital one, keeps your information more secure and allows you to put your original documents alongside your directions in one place.
Our binder sits in a safe in our home. My mom, in-laws, sister-in-law, and best friend know where the key lives. In case our home ever burned down, a copy also lives at my mom's house.
Here are some ideas of what to include:
Family Insurance Details: Home & auto, life, other insurance.
Medical information: Doctors, allergies, and medications for all family members. Insurance and medical POAs.
Information for Caregivers: If someone had to step in to care for your child or pet, what would they need to know? Preferences, activities, family traditions to maintain some consistency in a difficult time.
Bills & How They Are Paid: What regular bills come in, when, and are they on auto-pay? If auto-pay is set up, make sure to note what accounts or credit card is connected.
Investment Strategy: How to utilize life insurance or long-term disability proceeds to meet necessary needs over time. If you're a DIY investor and your spouse isn't involved, list people you trust from whom your spouse could get help.
Employer information: Manager or HR contact information. Payroll details, any insurance policies through work, and PTO days.
As you compile a complete emergency file, be sure to keep things organized. If it feels like you are directing people back and forth to multiple locations, find a way to consolidate. If it seems even a little confusing now, it will be utterly overwhelming in a chaotic or emotionally charged situation.
Tomorrow, Next Year, or In Decades – We Need To Be Prepared
As a 28-year-old female that regularly exercises and doesn't smoke or drink, my life expectancy is long. Crazy long, when it comes to retirement planning. A quick John Hancock estimate says I'll live to 97. But I've seen too often that life has no guarantees.
Several years ago, my neighbor's daughter Katie went to the hospital for leg pain. She was 31-years-old, had a beautiful two-year-old daughter and had done two tours in Afghanistan. The leg pain was coming from an old combat injury. No one is quite sure what happened, but a reaction to the meds prescribed meant she died in that hospital.
Her daughter's father was barely in the picture, and Katie didn't have a will. The conversations and family court appearances to decide who would raise her daughter were heart-wrenching, even from afar.
Then, a close and beloved family friend visited my in-laws for Hanukkah. He was in his early 60s, active, healthy and had just returned from a trip with his girlfriend of over twenty years.
Two days later, he died in his sleep from a heart complication. He had a will, but his estate was difficult. He wasn't married to his girlfriend and assets weren't in both of their names. It took over a year to sort out.
I hope and pray that someday I get to meet my great grandchildren. I know statistically, I'll be there for both my boy's high school and college graduations, marriages, and children. But I also understand that statistics are useless when you're in the middle of it.
If something happened to my husband or me, the other would be buried in grief. We would be focused on wrapping our arms tight around our children and trying to give them the love and support they needed. We would be sick of making phone calls and fielding questions.
But at least we would have the answers at our fingertips and know how to keep the cogs of life in motion.