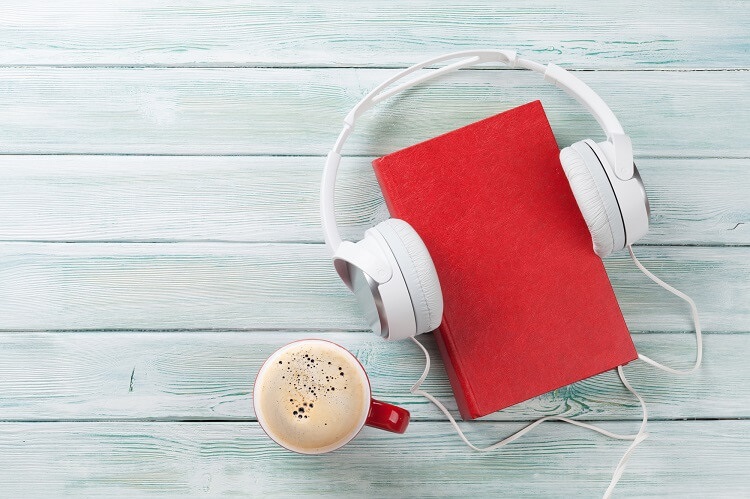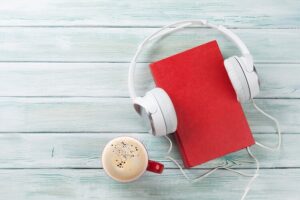 I think I've mentioned a few times that I'm an Audible
listener.
My library is full of business, history, biography, chess, and (a few) fiction audiobooks.
I also buy some money books now and then, especially on retirement. FYI, if it's a good book, I'll buy both the audio and a printed copy, taking notes in the book as I listen (I listen at the gym, walking, or in the car and record my notes when I get back home).
That said, there aren't a lot of great money books I haven't already read — at least that I know about. But there is a new one I plan to check out.
J.D. Roth from Get Rich Slowly has created an Introduction to FIRE audiobook for Audible that I'm going to have to listen to. Here's why:
It's a topic I'm interested in. Duh.
J.D. is a friend and it's super cool when you read/listen to something from a friend.
J.D. reads the book himself making it very personal (I assume).
J.D. almost always has a unique and deep-thinking perspective on money matters which makes his content very compelling.
And so his book is now in my wish list waiting to be selected when my next credit comes along.
I had lunch with J.D. last summer (he was in Colorado Springs), we talked about the audiobook, and he said he'd be willing to share a chapter of it with ESI Money readers.
The one I selected was the last chapter because it's a topic I don't think we've covered here before — building a rich life.
I won't spoil it by giving you a preview. Let's just get to it.
FYI to note: This is a script that's meant to be read, which is different than an article written for text. So if it helps, just imagine J.D. reading this to you as you review it. 🙂
—————————————
You don't want to be rich. You want to be happy. You're not after wealth for the sake of wealth. You're after what that money represents: freedom, fulfillment, and a Rich Life. Money itself is a means to an end.
Many people believe that if only they were wealthy, if only they had a million dollars, all of their problems would be solved. Unfortunately, that's not how things work. Money doesn't buy happiness – at least not directly. Money is a tool. Like all tools, it can be used to build or destroy. It's up to you to put this particular tool to constructive use.
Now, it's important to recognize that there is a strong correlation between money and happiness. Studies show that rich nations tend to be happier than poor nations. And rich people tend to be happier than poor people. But the relationship between money and happiness isn't linear, and money is only one component of a Rich Life.
In this final lesson, we'll explore what it takes to build a Rich Life – both before and after financial independence.
The Fog of Work
In the first lesson of this course, we spent some time exploring the history of retirement and how the definition of that word has evolved (and continues to evolve) over time.
Many people associate retirement with a lack of productivity. To them, formal work is an active, productive phase of life. Retirement is passive. They view retirement as tropical cruises, daily golf, and cocktails at two. Perhaps these are the folks who sink into depression after they leave their careers (which is a very real problem). Their identities were so wrapped up in their jobs for so long that they struggle to find meaning once that season of life has passed.
From my experience, however, a fulfilling retirement is anything but passive. The happiest early retirees I know do more with their time, not less.
You see, when you obtain financial freedom, your frame of reference changes. You move from a world in which work is the center, the driving force in your decisions, to a world in which your life and your goals become your core concern. You're no longer giving the fruits of your labor to your employer; you're enjoying those fruits yourself. Your primary focus now becomes building and maintaining a Rich Life.
What do I mean by a Rich Life? This is a concept I've borrowed from Ramit Sethi's book, I Will Teach You to Be Rich.
A Rich Life is built with your values and purpose in mind. A Rich Life makes room for responsible pleasure but it's not solely about self-indulgence. Instead, it balances self-gratification with personal growth, extraordinary experiences, strong relationships — and perhaps even some form of lasting legacy.
Now, I should mention that you can – and, by all means, should! – prioritize some elements of a Rich Life while you're still on the road to early retirement. But it's only once we reach true financial independence that most of us have total freedom to build the Rich Life we've always dreamed of.
While you're working, your time and attention are focused on your career. Most of your day revolves around your job: commuting, taking the kids to daycare, and (of course) the job itself. Then, when you get home at night, all you want to do is decompress, so you kill an hour or two re-watching episodes of "The Office" before crawling into bed. You're so wrapped up in your work that you never find time to prioritize more important things.
Doug Nordman, author of The Military Guide to Financial Independence and Retirement, calls this condition "the fog of work". When your mind is so clouded by the daily busy-ness that comes with a job, it's difficult to look toward the future. It's tough to make and execute long-term plans.
Nordman says that on those rare occasions you get extended time away from your job, the fog of work is lifted. You leave "work mode" behind and are better able to identify what interests and excites you. "After a week of naps, leisurely walks, and family chats," Nordman writes, your head clears.
When you enter retirement – early retirement or traditional retirement – the fog of work is lifted forever.
Financial freedom gives you the ability to live your life as you want to live it. You're able to make decisions with eyes unclouded by the fog of work. One of the rewards of financial independence is that you now have all the time needed to build a Rich Life. Your time no longer belongs to anyone else. It belongs solely to you.
What's the Best Use of Your Time?
And that's the thing: A Rich Life is abundant in both time and money. It's easy to get lost in the financial implications of early retirement. I mean, the whole focus of this course, after all, is financial independence and financial freedom. It's all about the money! But what sometimes gets missed is that early retirement is just as much about time independence and time freedom.
In fact, some would argue – and I'm one of them – that this time freedom is a much more valuable component of a Rich Life than financial freedom. Time is more valuable than money.
Grant Sabatier, author of the book Financial Freedom, likes to use the following thought exercise. Imagine you meet a ninety-year-old billionaire. This billionaire confides that he's developed a machine that will allow any two people to swap bodies. And, this billionaire wonders, would you be interested in swapping your body with his in exchange for $100 million. Would you do it?
My guess is that you would not. In fact, unless you're over eighty yourself, your answer would probably be "hell no". There's no way you'd take the $100 million if it meant your body was now ninety years old. Why not? Because time is more valuable than money. You can always make more money, but you cannot make more time.
Because your time is so valuable, it's crucial that you use it wisely.
When we're working, we feel like our time is at the mercy of others. And we often feel like they're wasting it for us. But all too often, when people reach F.I., they continue to waste time. But now instead of others being responsible for that waste, we are responsible. If we reach early retirement and fail to build a Rich Life, we can no longer blame others. We can only blame ourselves.
Look, it's a genuine privilege to retire early. For this to happen, so many things have to go right.
You have to be lucky. You have to be born at the right time and in the right place. You have to be born healthy into a supportive family, a family with access to opportunity. But luck alone isn't enough. You also have to work hard. Millions trapped in the Matrix were just as lucky as you – luckier, maybe – but they'll have jobs until the day they die. Why? Because they don't do the required work and don't make the required choices.
To become F.I., you have to be fortunate, but you also have to seize opportunities and make the most of your good fortune. You have to exercise force of will, deferring the pleasures of today in favor of a richer tomorrow.
I'm not one of those who believes that you should feel guilty for being rich. Far from it! But I do believe that you should be grateful. And the best way to express this gratitude is by respecting what you've accomplished, by making the most of it and not wasting it.
Now, there's absolutely nothing wrong with some degree of indulgence. After all, you earned it. You worked hard and made sacrifices so that you could enjoy this abundance of money and time. But unbridled hedonism is no path to contentment. In fact, this sort of behavior frequently leads to clinical depression in retirees. When you fritter away all of your time, you're not building a Rich Life. You're not building any sort of life at all.
Because your time is finite, it's important to use it wisely. So, how can you be sure to not squander it?
Typically, when you're presented with an opportunity, you have one of two responses available: yes or no. In his book, Anything You Want, entrepreneur Derek Sivers suggests looking at things a little bit differently.
"When you're deciding whether to do something," he writes, "if you feel anything less than 'Wow! That would be amazing! HELL YEAH! – then say 'no'. When you say no to most things, you leave room in your life to really throw yourself completely at that rare thing that makes you say, 'HELL YEAH!'"
Now, I love this idea, but it's impractical for most people. When you're in the Matrix, you're often unable to make choices using this technique. Because you're tied to your work and your mortgage, you don't have the luxury of declining the things that don't excite you. Sometimes, you have to compromise. How many people do you think would say "HELL YEAH!" about their current jobs?
One of the benefits of financial independence is that you can make "HELL YEAH" a guiding principle when deciding how to allocate your time.
Here are three examples from my own life.
When my cousin asked if I wanted to join him on a month-long tour of Christmas markets in Europe, my response was "HELL YEAH", so we booked our flights and had an amazing time.
When a friend suggested I might like learn to speak Spanish, my response was "HELL YEAH". I hired a tutor and threw myself into it three days a week.
When I was asked if I wanted to create this course for Audible, my response was "HELL YEAH", so I dedicated several months of my life to this project.
This "HELL YEAH" method is a terrific way to gauge which activities are actually important in your life. Which things do you really want to do, and which are you doing out of duty and obligation?
In lesson eight, I mentioned Paul Terhorst and his book Cashing in on the American Dream. Terhorst was one of the first to show that early retirement is possible. In his book, he shares some of the rules he developed after leaving work at age 35. His prime directive for those who reach financial independence is this: "Do what you want – but you must do something."
"The idea is to live," Terhorst writes, "not to dissipate time."
To that end, he urges readers – before they reach financial freedom – to brainstorm a wish list of all the things they'd like to do in early retirement. "Use your imagination," he writes. "Suppose your boss walks in tomorrow and gives you a three-year sabbatical…You're going to spend the three years enjoying yourself, doing anything you want. What would you do?"
You know what? It's been a while since we paused for an exercise. Let's do one now. Let's take a moment to create a retirement wish list as Terhorst recommends.
Imagine that you are approaching early retirement. Even if you're just beginning your F.I. journey, I want you to take a few minutes to imagine what your Rich Life in retirement might contain. What would you do in a typical day? What would you do each morning? Each afternoon? What big projects would you tackle? What hobbies would you take up? Where would you travel?
I want you to make a list of the activities, interests, and places to visit that evoke a visceral "HELL YEAH" response from you. Put me on pause now and make your wish list. I'll be here when you've finished.
Building a Rich Life
When people retire, the first thing they want to do is "a whole lotta nothing". After decades of work, they simply want to stop. To pause. To rest for a while without any schedule and without any plans.
Paul Terhorst says that now is the time to prioritize what he calls "responsible pleasure".
"If something makes me happy and it's not irresponsible, it's important in my life," he writes. "I try not to hurt anyone. I treat my body and spirit with respect. I don't do drugs or booze to excess. I don't let myself get fat or lazy. I work hard at whatever I do. I try to treat myself seriously – but not take myself too seriously."
This is a fine philosophy. I like it.
Allocating some of your time during early retirement for responsible pleasure allows you to indulge yourself without guilt. But the idea is to make sure your indulgences are part of a genuinely Rich Life, not merely a means to kill time. If all you're doing in early retirement is killing time, what's the point? Did you really waste years of work and sacrifice for this?
For me, responsible pleasure includes leisurely strolls with my dog. It includes paying for a monthly massage. And it includes soaking in the hot tub at noon while reading a sci-fi novel and blasting the latest Taylor Swift album.
For you, responsible pleasure will be something wholly different. It will include activities and interests from the wish list you just created, activities and interests congruent with whatever a Rich Life means to you.
Now, obviously, there's more to a fulfilling retirement than personal pleasure.
In his book You Can Retire Sooner Than You Think, financial planner Wes Moss shares what he's learned about securing a happy retirement. After surveying 1350 retirees from across the country, Moss found that the number-one predictor of contentment is a sense of purpose. He says that happy retirees have a well-defined understanding of what they want out of life.
If you've worked through the exercises in lesson two of this course, you should already have a general idea of what gives your life meaning. (If you haven't done those exercises, now would be a good time to revisit them.)
Beyond a sense of purpose, Moss says that happy retirees engage in what he calls "core pursuits". In fact, he says that "core pursuits are the key driver of the entire happy retiree journey". So, what is a core pursuit? What does Moss mean by this term?
"Think of a core pursuit as a hobby on steroids," Moss writes. "It isn't just something you dabble in; it's something that drives and fulfills you…A core pursuit should help define you, bringing into focus the things that matter most."
Core pursuits aren't pastimes. They're more than responsible pleasure. Responsible pleasure is about recreation. Core pursuits, on the other hand, often tend to involve the act of creation, tend to be about making and doing and being productive.
Happy retirees, Moss says, have (on average) three or four core pursuits that monopolize their time and energy. These core pursuits generally involve experiences, relationships, or travel.
For many early retirees, personal growth makes an ideal core pursuit. Maybe you've used work as an excuse for not getting fit. Once you reach financial independence, that excuse is no longer valid. Now you do have the time and the resources to focus on your mental and physical fitness. But personal growth goes beyond health. Other core pursuits you might enjoy include dance. Or painting. Or taking Spanish lessons or learning to play the guitar. You might even decide to pursue a new college degree.
Another popular set of core pursuits revolves around relationships. My Rich Life includes trying to meet at least one friend for lunch every week. Maybe yours does too. Or maybe one of your core pursuits will become joining the bridge club at your local community center. Or forming a group that hikes together every Saturday morning.
For some, the best core pursuit after a lifetime of work is, well, more work. A surprising number of folks who reach F.I. continue to work either because they like the idea of padding their savings or because they feel called to a career out of passion. Or both.
And what do you suppose is the top core pursuit for folks in retirement? What's the one activity that brings them the most fulfillment?
Here's what Moss found in his survey. "The number-one core pursuit for happy retirees is volunteering. That's no coincidence," he writes. "These men and women feel like they're truly accomplishing something, and it gives them an immense sense of satisfaction – even euphoria."
According to Moss, the happiest retirees are three times more likely to volunteer than unhappy retirees. Other studies have yielded similar results.
In one article from the academic journal Psychological Science, researchers suggest that "giving time gives you time". The authors found that spending time on others (instead of yourself) boosts how much time you think you have — in both the present and the future.
Many of us feel pressured by the modern world, right? We feel rushed, as if there's never enough time to do what we want. We feel a lack – a scarcity – of minutes and hours and days. To cope with this, we tend to turn inward. We watch TV. We play videogames. We get a massage. But studies show that "wasting time" like this truly is a waste. When we spend time on ourselves, we often feel like that time is lost.
On the other hand, when we give our time to others — helping friends or volunteering in the community, for instance — we experience feelings of "time affluence". When you give time to others, it increases your sense of subjective time, making it feel as if you have more than you actually do. Meanwhile, you're increasing the amount of objective time the recipient really does have. As a bonus, giving time makes our lives feel fuller and richer.
Here's what I love about all of this. Volunteering and giving time are two examples of creating social capital.
"Social capital" is the term used to describe the value of our social networks – flesh and blood social networks, not Facebook – and our interpersonal relationships. This value can't be measured by money but it's real, and perhaps more important than financial capital.
Remember the classic Christmas film It's a Wonderful Life? Jimmy Stewart plays George Bailey, a man who repeatedly goes out of his way to help his friends and neighbors, sometimes at the expense of his own best interest. George feels like he's poor, like he's just getting by. But when disaster strikes, every person he's ever helped rushes to his aid.
Sure, it's a sappy feel-good moment, but it's a fine example of social capital in action. When his brother declares that George is the "richest man in town", he's not far off the mark. George Bailey might not have much money, but he's flush with social capital.
You create social capital when you volunteer at a food pantry, help your neighbor start his car, invite your Sunday School class over for a summer picnic, or join a softball league. Whenever you give your time and energy to your community, you're generating social capital – for yourself and everyone else involved.
In his book Bowling Alone, political scientist Robert Putnam argues that in recent decades, the United States has experienced an unfortunate collapse in social capital as people have become increasingly focused on themselves and less focused on their communities. He believes this decline in social capital is largely responsible for the deep divisions in our society, for our lack of civil discourse. He's probably right.
Boosting social capital is a win-win. It benefits you and it benefits the world around you. And as an early retiree, you are in a prime position to create social capital. The great thing about financial independence is that it gives you a chance to incorporate giving back into your Rich Life.
Each of us is capable, in our own way, of improving the lives of our friends and neighbors. Let me give you just three examples of people I've met during the past decade, people who have found purpose by looking beyond themselves.
First, let me mention Douglas Tsoi, a former educator. For two decades, Tsoi lived on $20,000 per year while investing the rest. At age 42, he "retired" to create the Portland Underground Graduate School, a place for lifelong learners to expand their minds. He now runs the School of Financial Freedom.
Next, there's Harlan Landes. After he became F.I., Landes established The Plutus Foundation, a non-profit organization that aims to improve financial literacy and foster financial empowerment.
And finally, there's Shawn Jenkins, whose healthcare business grew beyond his wildest dreams. Since achieving financial freedom, Jenkins and his wife Jocelyn have used their wealth to improve healthcare for women and children in their community, including a $25 million contribution toward the construction of a new hospital in Charleston, South Carolina.
These are examples of people who achieved financial independence, then volunteered their time, money, and energy to make the world a better place. They've created social capital. How can you create social capital? How can you make the world a better place? The answer, of course, will depend on your personal skills, interests, and values.
It may be that you already know how you'd like to give back in retirement. My girlfriend, for instance, feels called to work with animals. She's also drawn to hospice care. But don't fret if you haven't any idea how you could give back. There's no rush to decide. Keep your eyes (and your mind) open and opportunities are bound to appear.
If you'd like inspiration, sites like volunteermatch.org and idealist.org exist to connect organizations that need help with people who want to volunteer. And no matter where you live, your local United Way chapter can make use of your time and talents.
Life doesn't end after financial independence. This isn't a game that you "win", then stop playing. When you reach early retirement, make the most of it. Financial freedom gives you the ability to live your life as you want to live it. So, use the money and time at your disposal to build that Rich Life. After all, that's what money is for.
Conclusion
We've come a long way since the start of this course. We've covered much about money – and much about mindset besides.
You might not agree with everything I've said. In fact, you might disagree with most of it. That's fine. My primary goal has been to open your eyes, to get you to think for yourself, to help you see the Matrix of modern life for what it is, and to help you understand that there are alternatives you can use to build a better life for yourself.
The important thing is that you take your money more seriously, that you develop a personal financial philosophy and action plan instead of simply doing what everybody else does. If you keep doing the same things you've always done, you'll continue to get the same results.
Please don't take what I've taught in this course as the only way to achieve financial freedom. These are not the only answers. I absolutely believe that the strategies I've shared can help you master your money, but I also have no doubt that other effective options exist. You can find links to supplementary info, including other books and blogs about the FIRE movement, at moneytoolbox.com.
I hope I've demonstrated that financial freedom is possible, that you can take charge and live your life as you want to live it. That might have seemed a distant dream when you started this course; I hope it seems much more attainable now. Thank you.
Update: Here's the book on Amazon if you're interested in it: How to Achieve Financial Independence and Retire Early