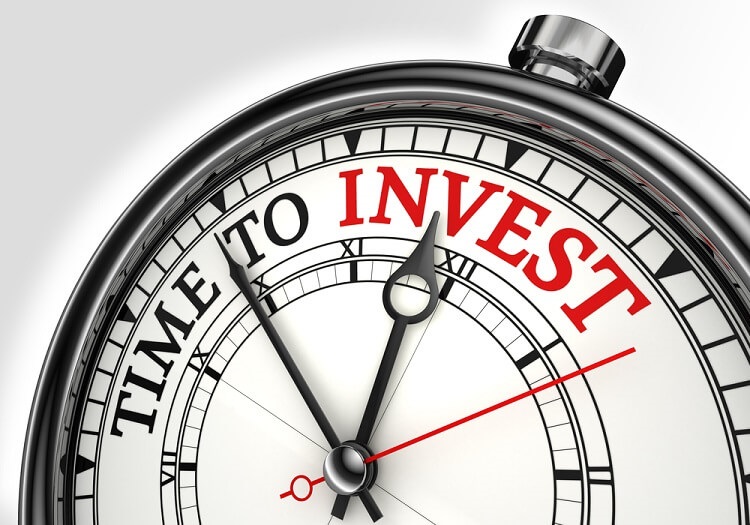 Today we have a guest post from Your Money Blueprint.
There's been a bit of discussion recently on whether paying off your mortgage or investing was better — both here at ESI Money (see Which is Better: Paying Off a Mortgage or Investing More?) as well as on Rockstar Finance (see Money Match-Up: Pay Off Debt Versus Invest and here Money Match-Up: Pay Off Mortgage Versus Invest Excess Funds Elsewhere).
This post offers some new thoughts (along with a personal example and various scenarios) worth adding to this debate. As someone who paid off his mortgage in 10 years and hasn't had one for two decades, this post gave me lots of food for thought.
Enjoy…
———————————————————–
The age-old question. Common advice will tell you to pay down your mortgage. This is not always the best thing for your money though. As with all my advice, it comes down to your personal situation. What works for you does not work for everyone else.
One of my biggest financial regrets is actually paying down my mortgage too quickly.
Why I Regret Paying Down My Mortgage
I got my $380,000 30-year mortgage in 2009 and I hated seeing that amount of money owing in my bank account. I wanted to reduce it as much as possible as it felt like a massive weight on my shoulders. Every extra dollar I earned or saved went towards paying down the mortgage. Yes, I was invested in the stock market, but only $50 per month. I was paying $1000 extra on my monthly mortgage thanks to payments from my roommate.
At the time it felt like the right thing to do. It felt good reducing the mortgage amount.
Looking back though, I regret not investing more. I wasn't nearly as interested in finance as I am now, and I didn't even consider any alternatives. Everyone I knew said the best thing to do is to pay off your mortgage. Now I know better, I don't think this advice is entirely accurate.
I was paying down the mortgage with extra repayments between 2009 and 2013. For 5 years I was paying $12,000 per year more than the minimum repayments.
Each year I had a $12,600 cash surplus. $12,000 went towards the mortgage and $600 towards stock investments. I had a lot of my equity in my house and wasn't very well diversified in other asset classes. My risk levels were not well spread.
The Numbers
Mortgage rates in that 5 year period were approximately 5%, and the compounded average returns from the stock market were 11.7%. In other words, if I invested my extra cash in the stock market, instead of towards the mortgage, I would be much better off financially.
Below is a table to show how much better off I would have been investing $12,000 extra in a stock market index fund, instead of paying down the mortgage. Note – I have taken 0.5% off the stock returns for fees.

In just a 5-year period I was over $16,000 worse off by paying down the mortgage instead of investing.
Luckily, I figured this out in late 2013 and realized this wasn't working for me, so I reversed the order of extra payments. I started paying $12,000 a year into the stock market and just $600 a year extra on the mortgage.
But what if I didn't come to this realization and the trend continued for 15 years of the mortgage? Paying off $12,000 a year extra on the mortgage and $600 a year on stocks I would have earned $23,380 in the stock market and had a $380,000 house for a year 15 net worth of $403,380
We must always look at the opportunity cost of our decisions though. What would I have saved if I reversed the priorities – instead investing the $12,000 in stocks and the $600 in the mortgage for 15 years? I would have earned $467,600 in returns and have $135,000 in equity in the house for a total net worth of $602,600.
$199,220 better off investing than paying down the mortgage in the 15-year scenario.
For simplicity we will assume the house is still $380,000 as any increases in house price will affect both the pay off mortgage and invest strategies equally.
30-Year Results
What about extending out to 30 years? Does the pay off the mortgage early start to pay off over a longer timeframe?
At year 16 we now have $24,480 a year not being used to pay off the mortgage since that is now paid off. That can start going towards our stock market investments currently valued at $23,380, as well as continuing with our $12,600 per annum stock market contributions. Surely, we can catch up to the 30-year mortgage strategy since our 15-year mortgage pay off strategy no longer has that mortgage payment.
After 30 years, the pay off mortgage early strategy we now have $1.95 million invested and a paid off house.
After 30 years the invest early strategy has $3.31 million and a paid off house.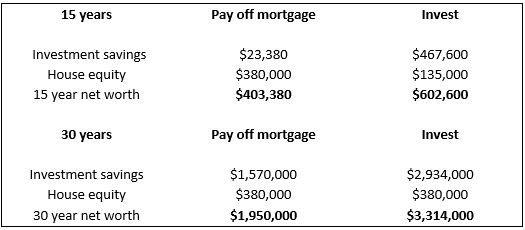 $1.36 million better off investing than paying down the mortgage in this 30-year scenario.
We are almost ten times worse off after 30 years than we were after 15 years. The gap is getting bigger, not smaller.
The Common Misconception
A lot of people believe that once they pay off the mortgage they will invest. At year 15 in our example, after the mortgage was paid off, we had an extra $24,480 per annum to invest. This is over double the $12,000 per annum that the invest early strategy had available.
Although it sounds better, it really isn't. The problem is we are 15 years behind. Time investing is critical due to the tremendous impact of compound interest. The longer we are invested, the more our money works for us earning interest, until we reach a point where our interest received is higher than the amount of money we are contributing.
By starting our investing later, it takes that much longer to have our money working for us in the same way.
It really is powerful stuff when your money starts earning more money. It is like having your own team of employees working for you while you sleep. Only wealth creation can achieve this, not debt reduction.
It's Not that Simple
Of course, your own analysis will never be this simple. We can't predict the future. We don't know what the stock market returns will be, just like we won't know what mortgage interest rates will be.
In the example I provided, stock returns have been high at 11.7% and mortgage interest has been historically low at 5%. This skews the analysis massively in favor of investing and is not a fair contest.
I can hear the nay sayers who are in the pay off the mortgage camp through the computer monitor already. "It's not a fair comparison" I can hear you cry.
Let's have a look at a more realistic scenario of 7% stock market returns after fees. $12,000 per year to either invest or pay down the $380,000 30 year mortgage at 5%.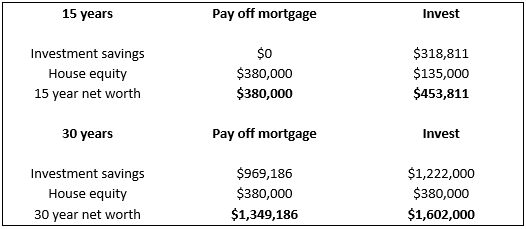 $74,000 better off investing than paying down the mortgage in the 15-year scenario.
$253,000 better off investing than paying down the mortgage in the 30-year scenario.
Again, the gap gets bigger as time and compound interest grow.
What about like for like? 5% mortgage interest and 5% net stock returns: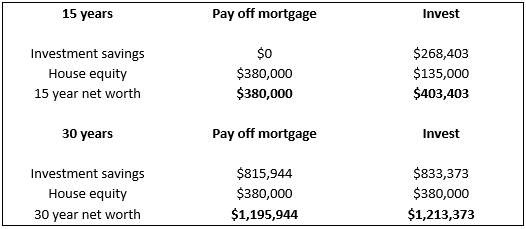 $23,403 better off investing than paying down the mortgage in the 15-year scenario.
$17,429 better off investing than paying down the mortgage in the 30-year scenario.
Hang on. If the returns of both investing and paying down the mortgage are the same (5%), then why are the returns for investing better? Compound interest is the key difference. In this scenario, your investments grow more than the interest saved on the mortgage thanks to compound interest and time.
If you invest, you earn compound interest. If you pay off mortgage debt, you are only paying simple interest. The compounding effect of paying off your mortgage comes from varying principal payments, not from compounding interest. Each month you pay the interest amount in full, so that means there is no unpaid interest left to compound.
Let's try another example.
What if we are unlucky enough to experience 4% investment returns and 5% mortgage interest? Surely it is better to pay off the mortgage now?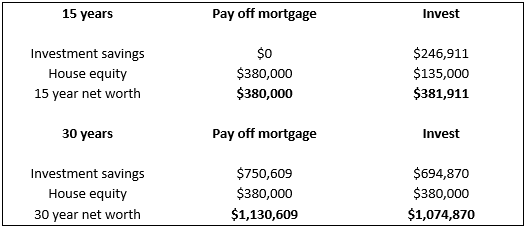 $1,911 better off investing than paying down the mortgage in the 15-year scenario
$55,739 worse off investing than paying down the mortgage in the 30-year scenario.
In this situation, we have finally found the point where paying the mortgage off before investing is a better financial decision. It has taken just over 15 years for this to be the correct decision in this unlikely scenario of 4% investment returns and 5% mortgage interest rates.
Just be careful when comparing rates that you are comparing like for like. For example, most investments incur fees and taxes. Some also incur tax breaks. You would need to consider those and look at the returns in your pocket (after fees and taxes).
Further Analysis to Consider
Here are several other factors you need to consider as you look at this sort of analysis for your specific financial situation:
1. Inflation. Those who advocate for the pay off mortgage early, rarely consider the effect of inflation. Why pay off the mortgage quickly using today's dollars when you can pay off the mortgage using your dollars 20 years from now? If inflation were to rise at a rate of 2.5% for the next 30 years, your $1 today, will only be worth 50 cents in less than 30 years. By delaying extra payments, our future money will go much further than our current money on our current mortgage debt. Our income will generally rise, with our mortgage repayments staying the same. Over time, our mortgage payment will take up a smaller percentage of our income, becoming easier and easier to make repayments.
2. Maybe you don't like any risk. You would probably be best advised to pay down the mortgage, which is a guaranteed return on investment. Or you only like some risk. In this case, you may prefer to both invest in the stock market and pay down your mortgage. By doing both, you are enjoying the extra risk, whilst also minimizing your exposure to too much risk. The certainty of mortgage payoff vs the uncertainty of investing.
Many people will argue that paying down your mortgage is risk free. I disagree with this. Yes, it is less risky than investing, but definitely not risk free. By putting all your spare cash into paying down the mortgage, you are limiting your exposure to other assets, thus increasing your exposure to risk.
3. You must also consider your personality. Like me, maybe you hate having debt. Student loan debt, mortgage debt, you want it gone. You like the feeling of being free from debt, even if it means missing out on better financial returns. It would be silly to recommend investing to someone like this. On the flip side, how bad would you feel missing out on high investment returns should the market explode?
4. What is the mortgage interest rate? If the rate is 10% or higher then it may be better to pay down the mortgage with ALL of your spare cash. What about an 8% mortgage rate? Then maybe 80% of your spare cash on the mortgage and 20% on other investments. A 5% interest rate may see you put 50% of your cash on the mortgage and 50% in investments. You can come up with your own rule of thumb, depending on the current mortgage interest rate. The higher it is, the better off you will be paying down the mortgage.
Investment returns are unknown, but mortgage rates (when fixed), can be guaranteed. This makes it much easier to use this as the benchmark return, instead of using a hypothetical investment return rate.
5. Do you need the cash? It may not be a good idea to use all your spare cash on paying down the mortgage if you don't carry any spare cash in the form of emergency savings.
When you run into financial trouble and all your money is on your house, you will struggle to get it back. If you keep it to the side, or in liquid investments, you have that cushion needed in case times get tough.
6. Are you a good saver? Mortgages are great for poor savers because they act as a forced savings plan. You don't want to miss any of these payments or your house will be taken off you. As a poor saver, if you don't pay down extra on the mortgage you may not end up investing the difference. Which strategy will you be able to implement with the greatest ease?
7. What are your goals? If you are moving houses every 10-15 years, then paying down the mortgage quickly may not be best. As you saw in the examples, a mortgage of $380,000 that was paid down quickly, took at least 15 years to catch up to the investor, if at all. Even with investment returns 1% lower than the mortgage rate. In my country people move on average every 7 years which is not long enough for this strategy of paying down the mortgage quickly to make financial sense.
Also, you may be paying down equity, but if you are like most, your next house will be more expensive than your current house. It will be a step UP the ladder. In this case, you are only paying down equity, to then get out an even bigger mortgage so you have to start all over again from year zero. Staying put for longer, moving sideways or down the property ladder? Then paying off the mortgage makes more financial sense due to the higher likelihood of being able to stat investment savings earlier than you would otherwise.
Do you want to retire in a nice house with not a lot of cash invested? Or an average house with more cash invested? There is no right or wrong answer, as you may be able to do both. But if you had to make a choice, which one most closely aligns with your retirement goals.
Many people close to retirement have a goal to pay off their mortgage in full before they retire. If you don't like the idea of debt hanging over your head after your income dries up, then you would definitely be in the pay off the mortgage camp. Taking on less risk before retirement is never a bad idea.
Final Thoughts
I am young (ish), with plenty of time ahead of me. I don't mind some risk and I wish I wasn't so quick to listen to popular advice and pay off my mortgage so fast. In saying that, paying off such a large chunk in extra repayments was not the worst thing I have done. Although I may not be better off financially, I still feel pretty good about it mentally.
It does not have to be one or the other. You can do both. Invest and pay down the mortgage.
This is a great way of spreading your risk by not investing too heavily in just one asset class. Instead, spreading your money between two or more asset classes. Then, should the returns from one asset class be mediocre, you still have the returns from other asset classes if you are well diversified. If you are invested too heavily in property, you will be playing catch up later in life to save for retirement. Compound interest will not be your friend as much as someone who starts investing earlier.
Sage advice may be to hedge your bets and bet on both.
This all comes down to your goals, current interest rates, the state of the economy, your money personality, and tolerance for risk. The decision to pay down the mortgage or invest is more than just financial. It also involves emotions around our feelings of debt and risk. That is why this is such an often-heated debate. If it were just financial, investing would win 9 times out of 10. Remember, a 5% return from paying down mortgage is less than a 5% return from investments. Mortgage interest is not compounding, whereas investment interest is. Comparing like for like with incorrect calculations can prove costly.
We are all very different, so we all should have different ideas about what is best for us. The least we can do is consider the options though, as it can be a complex decision. Play out all the scenarios and make a deliberate and reasoned decision.
The key is to do what is best for you, your family, and your own peace of mind, with consideration of both the financial AND mental aspects of the decision.