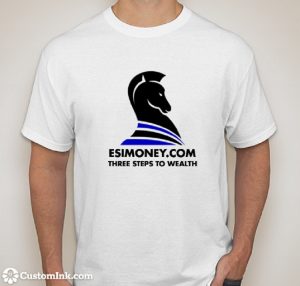 After our successful silver giveaway I wanted to keep the goodies coming!
So today we have an opportunity for an EXCLUSIVE item I know you all want — yes, an ESI Money t-shirt (that's it in the picture)! 😉
I ordered some a couple months ago for myself and some blogging friends and have a few left over. So what better way to use them than to give them away to my great readers?
Here are the details of the giveaway:
I'll be giving away five t-shirts to five winners (one per winner) just like I did with the last giveaway. BTW, I can NOT guarantee sizes. When I send out notices to the winners, choices will be on a first come, first served basis.
To enter, all you need to do is leave a comment on my Earn Overview post with your best piece of finance advice on how to earn more money (no length or topic required other than that).
Be sure to leave your email address when you leave the comment so I will know how to reach you if you win (the email address will not be visible to anyone other than me).
The winners will be drawn at random from the commenters.
The drawing of winners will be held on Friday, August 4, 2017.
As with most giveaways, there are rules. Here they are.
Good luck!!!!
Update: If you comment on this post, you are NOT entered in the giveaway. Re-read the instructions above to enter.