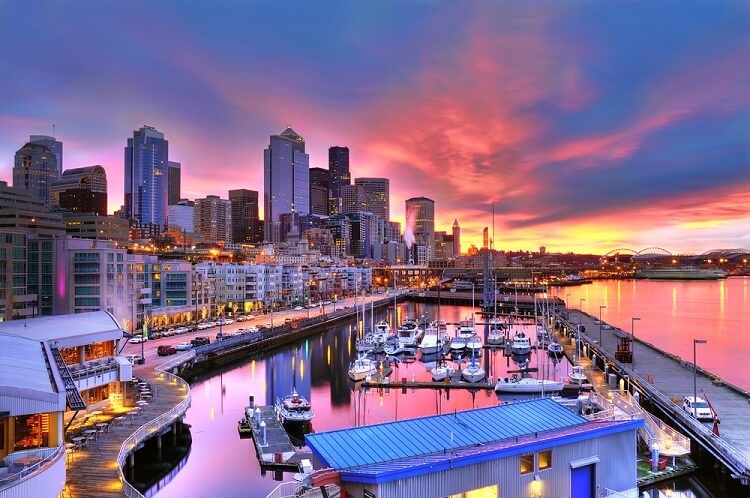 Today we continue the ESI Scale Interview series where people answer questions about their success at working the ESI Scale.
In short, the series focuses on what the interviewee is doing in the areas of earning, saving, and investing. They also get an opportunity to ask ESI Money readers for suggestions if they choose to do so.
If you'd like to be considered for an interview, drop me a note and we can chat about specifics.
Today's interview is with Lily who writes at The Frugal Gene and her husband.
With that said, let's get started.
My questions are in bold italics and their responses follow in black.
OVERVIEW
Please tell us a bit about yourself.
Lily: Hi! My name is Lily. I'm 26, my husband is 30. No kids and we live in up north in the Pacific Northwest, in the heart of tech giant, Amazonia. I don't remember how long we've been married.
Hubby: For the last time..2 years honey…
Lily: Hey, did you guys know that we had our wedding in a Jack in the Box? Haha!
What is your current net worth?
Lily: $1.1 million including real estate and mortgages but the breakdown will change very soon. We are currently selling our rental cottage and repositioning the money into a small retirement home for my parents. It's like they will be our 'tenants.' They don't have much money saved for retirement and they want to be with my dad's family in South Carolina. We immigrated to China from the US when I was 9ish. They've been struggling and making ends meet since 2009! I think it's a good move; it would be hard for them to live with us…plus we're thinking the cap rate is probably better in SC than anything near the coast so why not.
Hubby: Not repositioning soon, that's 2+ years away. We are waiting for your mom to retire but since it's in the known plans – it's better to sell in a hot market than worry about it later.
Lily: Oh yeah, very true! But for now, it's like (roughly) 35% real estate, 40% brokerage, 20% retirement and 5% cash emergency.
How did you accumulate your net worth?
Lily: My husband worked for Amazon and unknowingly collected a bunch of shares. Majority of the money was hustled by my husband who got lucky. Full story here. It's not just us though! A lot of people hitched onto the Bezo's wealth train and skyrocketed to even more money.
EARN
Tell us a bit about your career.
Hubby: I am a software developer. I make a pretty typical 6-figure engineer salary. My company gives bonuses and stock grants based on work performance which makes my salary fluctuate wildly.
Lily: Hate it when people skirt around this…it's $200k+ IF he's a good boy.
Hubby: I started as an Intern at Amazon back in 2010. In 2013, I was only making around $95k a year.
I was battling depression at the time so I let all these things slide:
being severely underpaid
being underappreciated
not contributing to retirement
holding 50% of my money in a .01% savings account and 50% in one specific volatile stock didn't mean much to me.
I was just hoping not to have a "down" day. No one saw that AMZN stock would take off like it did. I remember all my coworkers selling immediately when it hit the coveted 300 mark. Money was the last thing on my mind. I wanted family, love, and a companion more than anything.
Lily: When I met you, you were still depressed. It's weird because depressed people always find me for some reason and end up liking me. If you're not slightly depressed, you probably wouldn't understand my terrible humor is my guess.
Do you have a side hustle?
Lily: He works full time so he can't. All I have are side hustles. I do Airbnb, freelance stuff (doggy daycare, eBay flip selling, writing etc.). I made $80k ($40k net) last year. I'm thinking I'll probably only make around $30k this year without our cottage. This blogging thing doesn't pay but it sure is fun! [Editor's note: Blogging can pay if you follow the right path.] 🙂
Whenever someone asks us what we make…I'm…like…that dependsssss. It's like getting frozen yogurt. They charge 50 cents per ounce for the yogurt but it's extra for different toppings! Half of his salary is based on performance and I'm the extra wild card!
If you were rating these results on a scale of 1 to 10 (with 10 being best), what rating would you give yourself and why?
Lily: Last year, 9/10. This coming year…8/10.
Hubby: 10/10. It's enough honey.
Lily: Yeah OK, it's good.
What are your future plans regarding growing your income?
Hubby: I'm good where I am. I like my work. They offer 3 good meals, unlimited chocolates/treats and frills like open gyms and kayak rides. I don't work as hard as my wife sells it.
Lily: He's good where he is. As long as he doesn't get fired, he's good. He's gone for up to 12 hours but I'm pretty sure half of that is him eating in the kitchen and playing foosball/video games with his coworkers. As for me…"I want the world, I want the whole world, I want to lock it all up in my pocket, it's my bar of chocolate…" (The original Willy Wonka movie is much better than the remake.) I just want to try all different kinds of things. I want to get into everything and see what sticks. Being uber frugal gives us lots of freedom for that.
SAVE
What percent of your gross income do you save?
Hubby: Uh, 68% of our gross income went into savings and investments. The rest went to taxes and the mortgage. We lived on 4% of our gross income…
Lily: We didn't have these figures before. We had to figure that out for ESI.
How did you get to this level?
Hubby: 4%…
Lily: My dad came to live with us after he retired. He helped me cut down the grocery bill and now we're eating at $2.50/meal.
I went through a phrase of thrift store addiction. I spent a whopping $375 dollars on clothes. Sold most of it and kept the ones I liked…so I made decent money shopping for myself.
We have never taken a vacation. Last year, he switched to his new employer and had to reaccumulate his vacation days which meant no honeymoon for us or anything.
We keep our expenses down by doing killing the big numbers first:
Living car-free.
Airbnbing.
Limiting any shopping.
If you were rating these results on a scale of 1 to 10 (with 10 being best), what rating would you give yourself and why?
Lily: 9/10.
Hubby: 9??? There's not much else we can save…there's not much more to save. I mean, the only way we can lower living expenses is raising income. Taxes will always be there. There's not much to cut on the budget now — 10/10.
What are your future plans regarding saving your money?
Lily: We will loosen up after we have kids, I'm sure. This is the mad dash accumulation phrase. I'm happy with the way things are right now, I'm just waiting for driverless cars. He makes fun of me because I'm cheap but he's just like me. He doesn't change anything because he secretly likes it.
Hubby: There…umm….mmmmm.
Lily: You drive me nuts. What do you want?
Hubby: *STARES*
Lily: Do you need anything, we can get it.
Hubby: *Laughs* I dunno honey…ummm….
(LEAVES TO GO TO THE BATHROOM MID CONVO.)
*Comes back*
Hubby: A new laptop because ours is 8 years old and an air conditioner…
Lily: Approved! You do the shopping and set the budget.
Hubby: I don't know how to…D: D: D:
Lily: See.
INVEST
What are your main investments?
Lily: About 20% of our portfolio is in big tech. If you learned to live on less than 4% of your gross income and is relatively content with life like we are…there's not much that threatens you. Everything else is in index funds. I have an annual budget of $20,000 as my play money. That is what I use to buy individual stocks that I like.
If you were rating these results on a scale of 1 to 10 (with 10 being best), what rating would you give yourself and why?
Lily: 6/10. I just feel like there's something we're not doing right. We're pretty weighed in big tech.
Hubby: There are different schools of thought on investing. I don't know how to answer this one. The bulk of our index funds are in Vanguard total market, total international and emerging markets. I leave it alone and forget about it after the money makes it in. We have some savings bonds.
Lily: Some mid caps too…and we bought the US consumer staples…because I think the staples fare through downturns better and we're ripe for a dip.
Hubby: Consumer staples have been doing terribly…
Lily: Oh really?
Hubby: It's OK. We're novice investors. I try to not follow blindly and I don't follow "hot" stock tips. Most of our Vanguard funds are now at admiral status.
Lily: But compare to your dad…like…
Hubby: Well, my dad's retired. He has time to manage his own portfolio and do every little thing. He's also very conservative because he retired. When the market is open is when I'm at work. It's better if we keep it simple.
What are your future plans regarding investing?
Hubby: ……Do it? *thumbs up*
Lily: LOL. Yaaaay. We never had our money in anything else besides a bull market. I think we're utterly investing infants and there's going to be a lot of growing pains along the way. That's OK. We're not the rockstar types of people and we're not greedy. Like I said before…if you can figure out how to live on very little, there's not much that threatens you.
WRAP-UP
What money mistakes have you made that others can learn from?
Lily: I think our rental was something I would have done differently because I was young and I was like "Oh, let me get this, it's gorgeous! I want to do it. It won't be exhausting for me! Everyone has a rental. It's like the cool thing to do." And then I realize it's totally boring mixed with moments of terror like "What do you mean the water valve can't shut it off?!" We wouldn't break even unless we managed it ourselves (which we learned either of us wanted to do, especially with the current laws in place.)
Hubby: Yeah…I was not 100% for it. Everything was so "up in the air" at the time. We weren't even sure if we wanted to stay in Seattle.
Lily: I learned we're incredibly lazy, shy, introverted people.
Hubby: Yeah…
Lily: We didn't invest sooner…until you were 28. I'm 26 already!!!! 😀 I know in comparison to 50 year olds, we're young but I feel old. I feel slightly more mature now than when I was 24 when we got married.
Hubby: Yeah…me too. Lots have changed since we got married.
Lily: In a good way or…..bad way?
Hubby: Hi….in a good wa…in what sense?
Lily: ………..
Hubby: I feel like a more complete human being. STOP TYPING. Honey, I don't know what you're doing. Years ago, I wasn't investing, except for Amazon stock that I didn't even think of as money. Things are different now.
Are there any questions you have for ESI Money readers regarding any parts of your finances?
Hubby: Does being an accredited investor open any investment opportunities that have been found to be worthwhile in comparison to what's available otherwise?
Lily: I always feel like we can do better. There are so many flaws as I spat this interview out. Has anyone bought their parents a retirement house? They're very responsible and frugal. They're both mid-60s and in good health for now. My father's family are all in SC and it would be nice to have a community of close relatives who speak their language. They just don't have any credit history. I'm the only child so the plan was they pay us rent and I inherit the house after they pass.