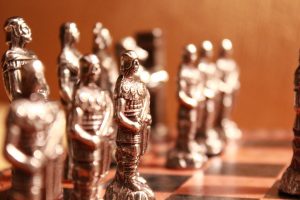 As you know, this site is about three easy steps toward financial independence (FI): earning, saving, and investing.
In case you want more specifics see What Does ESI Money Mean? and The Essentials of Building Wealth.
Separately I've been thinking about the various ways to reach financial independence. In How to Become Financially Independent I mentioned a whole host of factors that work together to get someone to FI. There are almost as many ways to hit FI as there are moves in a chess match!
As I thought more about the ways to become FI and the three steps needed to get there, I came up with some random thoughts I want to share with you today.
The ESI Scale
Let's assume there's a rating scale for each of the steps that describes how good a person is at that particular step. I'm going to suggest this one: disaster – bad – neutral – good – excellent.
You could use different words but I think the meanings are clear. There's a range from totally terrible to totally awesome.
That scale can be used to rate someone (or yourself!) on each of the three steps of earning, saving, and investing.
By doing this and playing around with some combinations, some interesting conclusions come to light.
It's kind of like dissecting paper – rock – scissors! 🙂
Working the ESI Scale
Here are some thoughts I have about the combinations based on my experience:
You can't be a disaster in any of the steps if you want to reach FI at a reasonable age. Being utterly useless in one of the three areas is enough to kill any great progress in the other two. For instance, even if you are great at earning and saving, if you lose a ton (or at least can't propel your earnings) through investing, you're dead in the water. If you can't earn more than minimum wage, it's going to be hard to make much headway with the other steps. And of course we're all probably familiar with the disaster of someone making a ton of money and spending even more!
Even if you're "bad" in one of the steps you'll likely be hindered significantly. There's a reason Warren Buffett says "never lose money." And if you're bad at any of the three steps you're going to lose money. Maybe you can overcome it with stellar results with the other two, but I doubt it.
Those two points lead me to the conclusion that to reach FI at any reasonable age you need to be at least neutral on all of them. At least at that point you aren't harming your finances. So I'm setting "neutral" as the baseline for all three steps for those who want to reach FI.
As we move to the positive side of things, obviously the better you are at all of them, the faster you'll get to FI.
I'd add to this that if you want to reach FI when you are younger (let's say 50 or below), you have to be excellent with at least one of them.
The most common paths for reaching FI in relation to E-S-I seem to be "excellent – good – good" and "good – excellent – good". The ones who retire really young are "excellent – excellent – good."
I don't think anyone is excellent at investing. I think "good" is about all most of us can strive for realistically. That leaves earning and saving as the focus areas for us all.
How I Match Up on the ESI Scale
If I was rating my performance on the scale, here's what I'd give myself:
In the end being excellent at generating income, good at saving it, and good at investing was enough to generate a multi-million dollar net worth.
That's my scorecard — what yours? I'm interested in how you'd rate yourself on these three. Let me know in the comments below.
photo credit: chawkfan91 Next Move? via photopin (license)