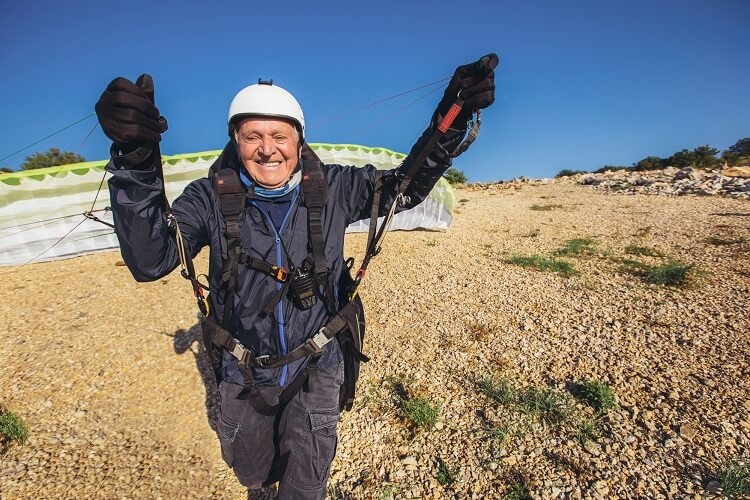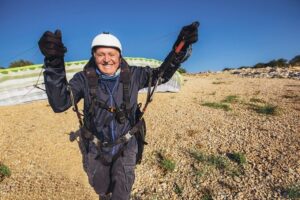 Today we have a unique retirement book to review.
I'm torn on it — there are some things I like about the book and others I'm not so fond of.
Refire! Don't Retire: Make the Rest of Your Life the Best of Your Life
is basically about moving to a higher gear in retirement, a different theme from the "how to have a happy retirement" focus of most books.
It's this difference that I both like and find a bit annoying.
On the plus side, the book has an unusual take on retirement. Their challenge is that people should up their game in retirement — it's no time to sit back and be comfy. If nothing else, the book challenges readers to think differently about this time in life. Since I like reading different perspectives on topics, I appreciated the book for this.
On the minus side, and I'm not sure this is their intent, I felt as if the book was of the opinion that if you weren't out aggressively learning and doing new things constantly then you weren't having a good retirement. They seemed to embrace a mentality that goes beyond the standard having things you enjoy doing and forces you to regularly push yourself into new experiences.
This made the book too rah-rah for me. I was exhausted just thinking about everything I needed to do to have a great retirement. It was also implied that if I wasn't regularly pushing myself, I was going to have a sub-par experience.
Here are their exact words:
To refire is to approach life with gusto. It's to see each day as an opportunity for adventure and learning! It's to infuse passion and zest into every area of your life—emotional, intellectual, physical, and spiritual. Heart, head, body, and soul.
They broke these four down into different sections of the book labeled as follows:
Refiring Emotionally
Refiring Intellectually
Refiring Physically
Refiring Spiritually
They expanded upon this a bit with the following:
What I call refire is not simply to stop or start working, or take a class, or to finally lose that twenty pounds. It's an ongoing process of approaching things with gusto, taking risks, and bringing enthusiasm and zest to every area of your life.
I prefer the "make of retirement what you want it to be" mentality. Yes, some want gusto, zest, passion, adventure, and more. But others prefer a more laidback relaxing life that allows them to experience their favorite pursuits at their own pace.
So I liked the challenge — and think this book could be worthwhile for anyone in a retirement rut — but for someone who's already pretty active and enjoys retirement, I found it annoying.
Another difference in the book was that it's written as a parable about a couple in retirement (who could have guessed?) and how they kicked their lives up a notch in retirement.
I'm generally not a big parable guy when it comes to non-fiction finance books (though I do love and recommend The Richest Man in Babylon
), so this was something else I had to get over.
In the end, I would say the book is "ok". It touches on many themes we've already addressed, though gives them its own spin to super-charge them.
I'll go through what the book calls its "Four Keys", share my thoughts, and let you decide what you think of it for yourself.
The First Key: Refiring Emotionally
The first key is to connect with people socially, a suggestion we've heard time and time again in various retirement books.
But this book asks us to go a bit beyond creating a few social connections. They want us to ramp it up, which is the way this book rolls with almost everything.
Their thoughts:
Our suggestion for the emotional aspect of your journey to refire is to get to really know each other, as well as the people around you. Be willing to take interpersonal risks and learn from them.
Ok, that doesn't sound so bad does it?
Most people are willing to get to know others. I'm not as sure about the "take interpersonal risks and learn from them" part. What exactly do they mean by this?
I'm glad you asked. Here's one example: develop a Last-Minute Gang.
Their thoughts:
When asked what the Last-Minute Gang was all about, Larry would explain that being a member of the gang meant you felt free to ask anybody to do anything at the last minute. The person who answered the call had the right to say yes or not, but unless they had a compelling reason not to say yes—for example, they were already eating when you invited them for dinner or were already at the movies when you invested them to a play—they said yes.
Larry summed it up this way: "Unless you have a legitimate reason to say no, you say yes!"
The book describes this style of living as more "fun" and "exciting".
Uh, no. This would not be more fun and exciting for me.
I was born a planner and while I can do some things on the spur of the moment, I don't want a never-ending last-minute guillotine hanging over my head in retirement. That's just too much commitment for my "I want my freedom" retirement mentality.
What else is included? To give you a better sense of the ideas they propose in this key, here are some the questions from this section:
What might you do to reach out to someone close to you—a spouse or good friend—to revitalize that relationship?
What new people can you reach out to and make a part of your life?
What can you do to let others know you care about them?
What is your plan for making the world a better place?
Tell a person you care about that you appreciate them.
When was the last time you ventured out of your comfort zone, and what did you do?
If you were going to start your own Last-Minute Gang, who would you invite?
Choose one other person/couple to help you start a Last-Minute Gang and contact them.
It's been said that the only way to avoid making a mistake is to never do anything new. If that is how you're living your life, what can you do to change?
The next time you go to a restaurant, ask the server what is the best thing the restaurant serves—and order it.
Take a car ride, no more than thirty minutes, to somewhere you've never been.
These aren't bad IMO. They give people some things to consider, which can be really helpful for those who are stuck wondering what to do in retirement.
But some of them are a bit over-the-top — at least for me.
I'm fine with having some social connections in retirement and trying some new things, but if I'm always trying new things, when do I have time to do the activities I like (or even repeat the new things I've discovered that I like)?
They end the section with the Refiring Emotionally Code of Conduct as follows:
Be playful…Laugh and kid
Be friendly…Smile and be happy
Be joyful…Embrace the moment
Be loving…Approach and welcome others
Be spontaneous…Get out of your comfort zone
Be enthusiastic…Give it your all
Interested to hear what you all think of these.
As for my comfort zone, it's kind of…well…comfortable. 😉
The Second Key: Refiring Intellectually
Here's what they say about key #2:
If you're not continuing to learn, you might as well lie down and let them throw the dirt on you, because you're already brain dead.
No matter what your occupation or position in life, you can create a plan—a curriculum, as it were—to refire intellectually. Whether it's taking classes, joining a book club, taking courses at a nearby university, or immersing yourself in another culture, you can keep your brain cells stimulated.
I 100% agree that you need to keep your brain engaged/challenged in retirement.
For me that means reading, sudoku and chess puzzles, and, of course, writing. There are probably a few others I've forgotten, but these are my core for keeping my mind sharp.
In the book's list I guess it's the "creating a curriculum" part that gets me. It just seems too over-the-top.
Why not simply select a core activity or two that involves challenging your mind (like the ones I've listed above)? Wouldn't that be good enough?
Does it have to be so formal and involve others?
For instance, instead of joining a book club, how about simply reading? Or listening to audiobooks or podcasts (which I also do)?
How about instead of taking a class at a university, simply take one online?
To me those would be fine but I get the feeling they would fall below the book's gung-ho standards.
Next, here are some of their questions for this section:
What can you do to make your present life more interesting and challenging?
What new technology might you embrace, and who can help you learn it?
Make a list of the things that used to excite you—for example, acting photography, model building, poetry, or writing. How can you bring one of these passions back into your life?
Either in person or online, take one class in an area you know little or nothing about.
IMO, my life is as interesting and challenging as I want it to be. After all, I need to balance interesting and challenging with other criteria like being relaxing, flexible, and enjoyable.
But I think that's not what they want to hear. I get the feeling that if I'm not regularly pushing the limits and trying new things out of my comfort zone then the book feels I'm failing at retirement.
Not that I really care what they think, but simply the fact that they are pushing this on me (and others) is probably the essence of what annoys me about this book.
And here's their Refiring Intellectually Code of Conduct:
Be open to learn…Look for learning in every situation
Be a reader…Constantly search for new information
Be teachable…Let others mentor you
Be courageous…Venture into new areas
Be persistent…Stay with it even when it's difficult
My thoughts:
Look for learning in every situation: I look to learn, but in EVERY situation? Am I looking to learn when going to get gas, make a sandwich, or watch a movie?
Constantly search for new information: I'm ok with "consistently" but "constantly" seems over-the-top.
Let others mentor you: Learn from others? Sure. Have a mentor? No. It's not something I'm interested in doing for a variety of reasons.
Venture into new areas: I'm willing to try some new things, sure. That's how I found pickleball after all. But I want to be sure I have time for my current interests too.
Stay with it even when it's difficult: Or move on. You can do that too. That's the great things about retirement — you have the freedom to do what you want when you want. You may not have had this freedom previously (for instance, you may have been forced to tough out bad situations), so make the most of that freedom now.
Is it just me or are these suggestions turned up to 11? They seem a bit much.
Or maybe I'm just turning into the "get off my lawn, kids!" old man.
You tell me.
The Third Key: Refiring Physically
The physical section of the book is the one that's fairly normal IMO.
It talks about the regular stuff you'd associate with being healthy: eat well, exercise, etc.
Here are the thoughts/questions at the end of the section:
Identify at least one way you can eat more healthfully.
What's a first step you can take to becoming more physically active?
What is the obstacle to doing that?
How can you remove this obstacle?
Set a modest goal, such as losing five pounds or walking a mile a day. Set a date to achieve this goal and start today!
Hold on just one minute! They need to up their game like they do in the rest of the book.
How about these instead:
Identify at least one way you can qualify for the next Olympic games.
What's a first step you can take to running a marathon on Monday?
There is no obstacle to doing that — except you, right?
How can you remove yourself from being the obstacle?
Set a huge goal, such as swimming the English Channel or walking to the moon. Set a date to achieve this goal sometime in the next seven days and start today!
There. That's better. 😉
Here's the Refiring Physically Code of Conduct:
Be healthy…Honor and strengthen your body
Be an exerciser…Move your body
Be a smart eater…Eat less and enjoy more
Be energetic…Play hard; rest well
Stay flexible…Stretch every day
Learn balance…Practice standing on one foot
Mr. Miyagi would love the last one! Ha!
Overall though, pretty reasonable and standard. It's a surprise given the rest of the book pushes the limits.
The Fourth Key: Refiring Spiritually
This one's both new to our list as well as difficult to offer concrete suggestions on.
As for the new part, it hasn't been mentioned (at least much) in other retirement books I've read. In that aspect, I like it. It's something new to consider.
But it's also very challenging to offer any meaningful direction on. This is because being "spiritual" has so many different meanings to people that finding actionable suggestions everyone can consider is probably impossible.
That's why they have to be fairly generic with their Refiring Spiritually Code of Conduct:
Be aware…See the big picture
Be forgiving…Give up being right
Be grateful…Count your blessings
Be accepting…Realize you're not in total control
Be humble…Realize you're not the center of the universe
Not bad, but these are so vanilla that they will be difficult to follow IMO.
Anyway, those are my thoughts on this book.
Based on what I've shared, what do you think of it — is it something you'll check out or not?
Or if you've already read it, what do you think of the book? Do you agree or disagree with my thoughts?