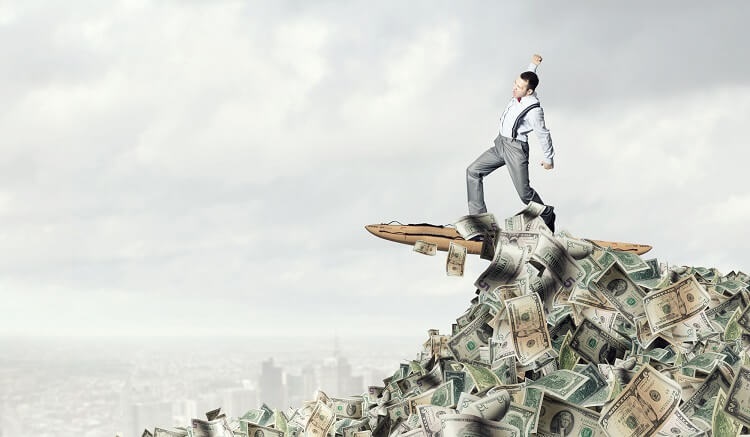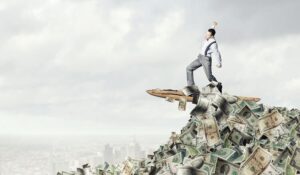 Here's our latest interview with a millionaire as we seek to learn from those who have grown their wealth to high heights.
If you'd like to be considered for an interview, drop me a note and we can chat about specifics.
Note: This interview was done in mid-March, 2020.
My questions are in bold italics and his responses follow in black.
Let's get started…
OVERVIEW
How old are you (and spouse if applicable, plus how long you've been married)?
I'm 41 and my spouse is 40.
We have been married 9 years.
Do you have kids/family (if so, how old are they)?
2 kids; a 7 year old and a 3 year old.
What area of the country do you live in (and urban or rural)?
A mid-Atlantic state, in a rapidly expanding suburb.
What is your current net worth?
Taking into account the volatility of the market somewhere around $1.8 – $1.9 million. Maybe a bit more, maybe a bit less.
Ask me again after the market stabilizes.
What are the main assets that make up your net worth (stocks, real estate, business, home, retirement accounts, etc.) and any debt that offsets part of these?
A majority of our net worth is stock, mutual funds, and real estate (primary home and rental properties). For simplicity, I am rounding:
Traditional IRAs: $186,855
Roth IRAs: $53,925
529 accounts: $143,500
401k's : $748,185
Cash (in the bank and our wallets): $150,870
"Other" investments (such as stock and mutual funds): $372,045
We own one rental property outright and don't plan on selling anytime soon. So long as our current renter is there, we'll keep it. Current value is right around $110,000.
We own one home that we rent, that very conservatively would sell for around $300,000 – $325,000. The remaining mortgage is less than $180,000. Time will dictate when we sell, but probably not anytime in the next 5-10 years.
Our primary home is worth more than $515,000 with a mortgage of around $409,000. The true value of this home is debatable. I (and realtors) don't agree with the Zillow estimate of the house value.
When we got the mortgage an appraisal wasn't necessary (we assume due to the loan-to-value ratio). Based upon the home's prime location and the oversize lot, the home could be worth as much as $535,000.
It doesn't matter. We don't plan on moving anytime soon. Plus, I saved by not having to pay an appraiser for my mortgage.
Of particular note is that a portion of our "other" investments (6%), Roth IRA (23%), and Traditional IRA (11%) is non-correlated to the market. I both like and dislike this. The probability of the non-correlated investments going down in value is negligible. But the return could be as low as 0%, or as high as 20%, historically.
I feel like given the current state of the economy, it's nice to save for a rainy day and be just a little conservative.
EARN
What is your job?
I'm an engineer and my spouse is in the medical field. Both professional jobs.
My job is somewhat specialized, so I didn't need a Master's degree.
My spouse's job requires an advanced degree (Master's degree at a minimum in this case).
What is your annual income?
Combined, in 2019, a little over $268,000, including bonuses and overtime.
I expect 2020 to be around $250,000 due to a potential decreased bonus.
Tell us about your income performance over time. What was the starting salary of your first job, how did it grow from there (and what you did to make it grow), and where are you now?
My first job was mowing lawns, but in terms of a real actual job with a paycheck I was paid $4.25/hour (minimum wage at the time) working in a grocery store. As Chris Rock once said about minimum wage, "if I could pay you less I would but I can't because it's illegal".
In college, I prolonged my graduation due to an internship. Had I not taken the internship (I think the starting salary was $10.80/hr, well above minimum wage at the time) there is a 0% chance I would be in the job I am right now. I am in one of the top salary jobs for a non-managerial position in my company.
I started at the bottom of the salary range, but it was a starting job and a full-time job and when I graduated college, kids were looking for employment. It wasn't a good time and I was happy to have secured full-time employment.
Having the salary I do right now is both a blessing and a curse. What I mean by this is that there is no movement upward unless I get into a managerial position, and those jobs don't appear very often, especially taking into account my skillset. Any job change that is non-managerial initiated by me would almost certainly be a decrease in salary, and I don't know if that's a good decision long-term.
Working hard, sometimes 80-hour weeks prior to being a full-time employee gave management the impression that I wasn't a slacker and would do what needed to get done. Slowly, over MANY years my salary went from the low end of the entry job to the midpoint of my current job.
In the past 20 years I have had 3 promotions. I'm currently paid (base salary) right around $135,000/year. (For reference my spouse is paid in the low $100,000's/year, not including bonus.)
What tips do you have for others who want to grow their career-related income?
Do your job.
Don't complain.
Try to volunteer to do projects that other people don't want to do.
Be positive. Everyone has good days and bad days.
Try your best to do your best every single day.
Working hard costs nothing. Having a good attitude costs nothing.
Find something you're good at and keep at it.
Make ethical choices. There are few, if any, shortcuts in life. If you think taking shortcuts will make you more money, you're mistaken.
Look around at the successful people in your career. What are they doing that you aren't?
Last, it's good to be in the right place at the right time. So I guess you can say luck is part of it.
What's your work-life balance look like?
We both work a lot. Weekends, holidays, anniversaries, birthdays. We work them all. It isn't unusual to bring home work every night.
We both put our education first in our lives for so long and have worked very hard to get to where we are in our careers. We believe we are paid relatively well given our geographical area. (We aren't working in a major city like New York City).
Kids and their activities eat up our free time.
My spouse brings home work every weekday and weekends are spent catching up on what needs to be done the following week.
Being an adult is hard. Just about every day has something planned and we have little-to-no downtime. But being "senior" people in our careers requires lots of responsibility and sacrifices.
Do you have any sources of income besides your career? If so, can you list them, give us a feel for how much you earn with each, and offer some insight into how you developed them?
We get money every month from [stock and mutual fund] dividend income (around $200/month) and rent for our rental properties.
The dividends are reinvested consistently (automatic reinvestment) in our investment accounts.
We don't get much money from the rentals, but enough to pay the taxes, monthly and quarterly dues and have a little bit of income so that long-term we can fix what breaks. Over time, we hope to make money when, and if, we sell.
We bought a condo when we had very little money and were just out of school just to have a place to live.
Renting our homes, for the most part, sucks. It was at the peak of the real estate market and between getting married and purchasing a house to raise our kids, it just wasn't worth it to sell it at a loss (we would have lost about 60% of the original purchase price).
It still isn't appraised at the price which we bought it, but we have since made enough from our renter to pay off the mortgage and have a small amount of money coming our way every month. Total at the end of the year, we clear right around $6,000 net.
If I can give any advice to potential rental owners, use a rental property company. When things are going smoothly, everything is great. But when there is a dispute, their monthly fee is worth it. They have a lawyer on staff if you have to go to court. I wouldn't want to navigate the court system if I had to do it myself.
For the rental house, we are essentially breaking even each month.
We never purchased either property with the intention of renting them, but life happened and we did what we had to do. We haven't rented the house for more than a year so I don't know the exact cash flow, but it is positive.
SAVE
What is your annual spending?
Not including daycare, in 2019 we spent right around $55,700. This is a bit flawed as we purchased a new home in the summer of 2019.
For 2020 I anticipate we will spend around $66,000 due to a larger mortgage and higher utility bills.
This includes pretty much everything from home repairs, to food, to car maintenance, and life insurance premiums.
Last year childcare was about $21,000. Childcare isn't cheap. I don't include it in our annual spending because we really don't have an option due to our jobs.
What are the main categories (expenses) this spending breaks into?
Mortgage (around $28,000/year), and essentials: food, utilities, healthcare, and life insurance premiums.
We don't travel much due to having young children. Visiting family or friends is the extent of our traveling.
Part of the problem is our work schedules. We don't work a traditional Monday-Friday job, so weekends aren't entirely free to do as we please. We may be off on Wednesday and Thursday.
I put everything on my credit card and it's difficult to say exactly what we spend on food. I cook almost every meal but we do get a pizza or takeout every now and again. Best guess is once a month for eating out. Note: hamburgers, cheeseburgers and chicken nuggets for the kids aren't included when I say we eat out once a month, but we do it at least once or twice a week to make our lives easier.
Do you have a budget? If so, how do you implement it?
I suppose we don't technically have a budget.
We aren't big spenders. We don't really go out much. Mainly because going out to dinner with children is difficult.
If we don't need something we don't buy it. If it doesn't make our lives easier, we don't buy it.
We do splurge on a nice bottle of wine every now and again.
What percentage of your gross income do you save and how has that changed over time?
I put in the maximum allowed to my 401k (I'm a highly compensated employee), 15%.
I also put money into my 401k after tax. It isn't much maybe 3% of my monthly salary but I plan on taking the money out and converting it to a Roth IRA sometime before I turn 55.
After that, I put in a good chunk into my children's 529 plans ($1,475/mo).
I also put money consistently into Vanguard and Fidelity. I invest in a SP500 mutual fund, and a total market fund, every month (a total of $500).
My feelings toward investing is that I feel it is best to pay yourself first.
When it comes to saving, I like to save to the point that what is left over after making all these investments is slightly uncomfortable.
I have always maxed out my 401k since the day I got a full time job. I guess you can say that I have been a saver my entire life. Because we are savers it allowed us to purchase another home without worrying about selling our previous home.
What is your favorite thing to spend money on/your secret splurge?
If I can buy tools and fix something cheaper than hiring someone, I do it assuming I have the time to do it. So, I guess you could say tools. (The great news is that you can learn a lifelong skill and save money long term.)
The big thing we splurge on is a house cleaner. Working the hours we do, it's really nice to come home to a clean house with clean bathrooms. While we don't leave all the cleaning to the house cleaner, they do a majority of the heavy lifting. I still vacuum and clean here and there because I can't stand clutter or messes.
Readers might like to know we pay $125 each time they come, and they come every other week.
INVEST
What is your investment philosophy/plan?
Invest for the long term. Save for a rainy day. Live below your means!
I've seen people who had lots of money and large, expensive homes end up dead broke, living with friends, or in some instances being moments away from being homeless.
What has been your best investment?
I bought Microsoft a few years ago and am up around 300%.
I also bought a stock which was acquired by another firm, and another firm. It's probably up around 600%.
You can probably tell that I like to buy quality stocks (and mutual funds) and hold forever.
What has been your worst investment?
I bought a stock only for the dividends that were paid every month. The stock ended up losing a lot of value and I ended up taking a $15,000 loss when I sold it. When I did the math, I ended up (net) down around $5,000 as a result of netting out the monthly dividends, not taking into account my tax bracket and the fact that I was paying taxes on said dividends.
I learned my lesson and no longer lose sleep over my investments anymore.
In 10-20 years, I'm confident that my portfolio will be up even more and the winners will far outweigh my losers.
What's been your overall return?
Over time, I haven't really looked at my performance. I follow Jack Bogle and Warren Buffett's advice: over the long haul, the US is going to be up in the next 15-30 years.
Between now and then, there will be ups and downs. There will be turmoil and good days and horrible days. This is for certain. But, over time, you'll do just fine if you invest consistently in good quality mutual funds, or stock that you "understand".
Conclusion: NO CLUE!!! Well over 10%, though. Maybe 15%?
I've been investing since I had a full-time job and could buy into an IRA and Roth IRA. Prior to that, I saved and invested in CDs.
I honestly only look to see what the current dollar value is of my investments. I don't dwell on how much I am up or down with respect to percentage.
How often do you monitor/review your portfolio?
A few times a week.
When the market drops, I buy the S&P, per Warren Buffett's suggestion. I ask myself the question, "in 10 to 20 years do I expect the market to be higher than it is now?"
I'm writing this Q&A in mid-March and due to volatility I am sitting on the sidelines and doing nothing, except for my monthly automated investments. I'm not even checking the value of my investments because in 5-10 years it probably won't matter if the stock market dropped 1,000 points in a day.
NET WORTH
How did you accumulate your net worth?
I have inherited a bit of stock, but not much — from my father's investment club. He in turn, inherited it from his father. A total value of perhaps $4,000.
I gained my wealth the old fashioned way: saving and not buying something unless I really needed it.
I still drive an older car, I shop at Walmart and Costco and clip coupons. I buy generic whenever possible (and have found that many times the quality of generic oftentimes exceeds name brand).
Consistently investing in the market, living below your means and asking ourselves, "do we really need it?" before we make a purchase has helped us maintain our net worth.
I will reemphasize what I've read here on ESI in the past that marrying someone who isn't a big spender and shares in your financial views helps A LOT!
What would you say is your greatest strength in the ESI wealth-building model (Earn, Save or Invest) and why would you say it's tops?
Save and Invest.
We don't keep up with the latest fads. We live below our means and are as reasonably humble as we can be.
I do realize that our combined income is well above the national average, so I guess you could say that earning helps with the saving and investing to some degree.
What road bumps did you face along the way to becoming a millionaire and how did you handle them?
I graduated from college with about $20 in the bank (this isn't an exaggeration). I had some credit card debt, but nothing excessive (perhaps $1,000 or $2,000). I paid that off right away and started saving as much as I could in both my 401k and my paycheck.
Also, fairly recently, I had some relatively major expenditures helping my aging parents.
My wife is very smart and had academic scholarships. She took out loans for grad school and anything that wasn't covered with scholarships. She lived like a college student for years and one day wrote a check and paid off the college loans.
What I'm trying to get across in this question is that we have never increased our spending with our bonuses or raises. We have always tried to not spend.
What are you currently doing to maintain/grow your net worth?
Save, save, save.
Use things until they break. Learn to repair things yourself if you're the least bit handy.
A new BMW will get you to work in the same time as a maintained 15 year old car with 150,000 miles. One will be a bit more comfortable, but unless there is a safety concern, there is nothing wrong with driving a clunker.
Life happens. Things break. Accidents happen. I was reading a CNBC story about how most people aren't prepared for a $1,000 emergency. I read another article that said something like, "most people don't have more than $600 in their bank account". This is sad. I look at it this way: no one is going to help me when it comes to savings and retirement. Not the company I work for, not the federal government, not my neighbor. Pensions have gone the way of the dinosaur. It's only me.
I have two financial advisors that I bounce ideas off of. I feel like they are worth their 1% fee. They each control a relatively small amount of my retirement funds, and each has a little bit of an investment account. I like that they can help me diversify some of my capital.
They add value in that they can help me invest in funds that aren't available on the open market, such as the non-correlated funds. They also help with respect to minimizing taxes. Restated, I feel like having them helps keep me on track.
I don't NEED them, but it's nice to have someone confirm that I'm doing what I should be doing.
Do you have a target net worth you are trying to attain?
Nope. Obviously the more the better.
I don't view it as "well, I hit a net worth of $2 million, time to retire". I feel like having a high net worth only tells you you're on track for the future (and especially the unexpected expenses that arise).
What is much more important is how you save and invest and what you spend as opposed to your net worth, alone.
How old were you when you made your first million and have you had any significant behavior shifts since then?
Mid 30's. It was just another day seeing my net worth cross $1,000,000. I didn't pop champagne. I just kept living my life and continuing to save.
What money mistakes have you made along the way that others can learn from?
Save for a rainy day. It doesn't matter what others think of you. You control your destiny.
Don't loan money to friends or family unless you're ok not getting it back. There are very limited exceptions to this.
What advice do you have for ESI Money readers on how to become wealthy?
Start saving yesterday.
For your next purchase that isn't essential, such as grocery shopping, ask yourself two questions:
"Do I really need it?"
"Can I afford this?"
Last, but certainly not least, read The Millionaire Next Door
!
FUTURE
What are your plans for the future regarding lifestyle?
As the kids get older, we'll eventually travel more.
I believe what a high net worth does more than anything is give you some flexibility in life and retirement, especially for the unexpected curveballs that life throws at you. I'm not sweating a $600 surprise medical bill, but sadly many people are.
What are your retirement plans?
Work until I'm about 65.
Healthcare costs have gone up too much for you to retire at 55 or even 60. With my spouse in the healthcare field, I have learned that due to advances in medicine people are living longer, medication is more expensive, and going to the doctor is more expensive.
Also, having spent so much time on our education, we had kids when we were older. I feel like this has pushed back my retirement.
Strangely, I don't know what I'd do in retirement. Travel abroad, perhaps? I do like tinkering around fixing things and reading.
Are there any issues in retirement that concern you? If so, how are you planning to address them?
I don't know if it would be a good idea to be retired with kids in college.
Also, healthcare (see previous question for my comments on healthcare costs). The other retirement concern is healthcare. I like to plan for the worst and hope for the best and have assumed that I'll get $0 for Social Security.
MISCELLANEOUS
How did you learn about finances and at what age did it "click"?
My father introduced me to the stock market when I was about 10. I didn't grow up in an affluent home and saved early and saved often.
It's probably what I can attribute to why I have the net worth that I do today. I've always been interested in investing. ALWAYS.
Who inspired you to excel in life? Who are your heroes?
My parents have sacrificed so much for me. I am doing the same for my children. I am doing what I can for my aging parents and my children, both financially and physically.
Seeing some people start with nothing and becoming CEOs shows me you can really do just about anything if you put your mind to it. A great example here is Jeff Bezos, or Bill Gates, or Warren Buffett.
Do you have any favorite money books you like/recommend? If so, can you share with us your top three and why you like them?
The Millionaire Next Door
is a great read. If I were President of the US, I'd make it a mandatory book that every student would be required to read before they graduate high school. I think it would help with society in general, and debt/student debt.
It shows you don't need to go to college to be successful. You don't need to be a genius, either. You need to be a productive member of society and look at your wallet and think about what you want to do in life.
The Millionaire Next Door is THE BEST at explaining how to help yourself long term.
I also suggest reading and/or watching Warren Buffett's letters and/or interviews. He gives great investing advice.
Do you give to charity? Why or why not? If you do, what percent of time/money do you give?
There has been a family issue for the past few years that I'm working on. I have given significantly both money and time to our family. Without my giving and help, they would be absolutely destitute and homeless.
Do you plan to leave an inheritance for your heirs (how do you plan to distribute your wealth at your death)? What are your reasons behind this plan?
My goal is to raise kids that aren't total morons. I really hope to be able to finance their undergraduate career fully. If there is anything left over, I'd like it to be just enough to help them get started in life. But not enough to make them greedy and make them feel like they came from wealth. I don't want them to be spoiled.
If I can become a millionaire after graduating from college with $20, anyone can. It's being consistent, true to yourself, and thinking long term.
My questions:
Do you think that keeping my financial advisors is worth it?
One helps with my 529 plan and part of my traditional and Roth IRA, the other helps with non-correlated investments, a traditional and a Roth IRA. The non-correlated financial advisor has a fee of $100/account to close the account.
Maybe liquidate some of the account and transfer say 50% of the assets to help reduce the 1% fee he gets? Or does it really matter as it's such a small percentage of my net worth it?
I would say that both advisors give me good ideas and they've help put me in funds and stocks that I would never have invested in. For the diversification I feel like it's very beneficial. What I do want is a second set of eyes and I feel like they are like an insurance policy.