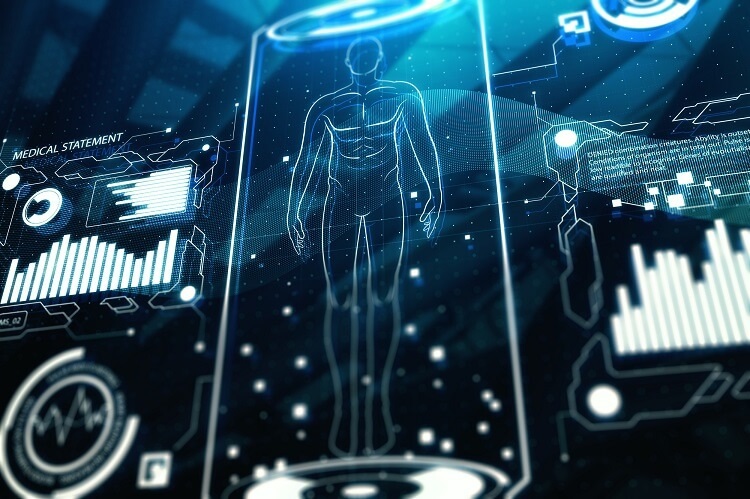 Here's our latest interview with a millionaire as we seek to learn from those who have grown their wealth to high heights.
If you'd like to be considered for an interview, drop me a note and we can chat about specifics.
This interview took place in December.
My questions are in bold italics and his responses follow in black.
Let's get started…
OVERVIEW
How old are you (and spouse if applicable, plus how long you've been married)?
I'm 36 and my wife is 39.
We have been married 11 years.
Do you have kids/family (if so, how old are they)?
Yes, two. They are 5 and 7.
What area of the country do you live in (and urban or rural)?
Ohio Valley – rural but near decent sized city.
What is your current net worth?
$1.9M investments or $2.5M including home/vehicles.
What are the main assets that make up your net worth (stocks, real estate, business, home, retirement accounts, etc.) and any debt that offsets part of these?
401k: $25k
IRA (me): $905,782
Roth (me): $132,342
IRA (wife): $683,193
Roth (wife): $100,697
Cash: $92,777
I really only count my net worth by the investments/cash but including other things:
House: $1,050,000 (currently owe $476,000): $574,000
Vehicles: $80,000ish
EARN
What is your job?
I'm a healthcare executive.
What is your annual income?
$330,000ish
Tell us about your income performance over time. What was the starting salary of your first job, how did it grow from there (and what you did to make it grow), and where are you now?
I started my career at roughly $56k and have worked up to $315k.
Below is my wife and I's earnings over the years. I couldn't find my wife's salary all the way back when we got married but she was making around $55k. In 2017 her company sold which is why she had higher earnings and there was a decent payout.
She has since quit her job to stay home with the kids and some left over earnings continues to trickle in since the sale of her company.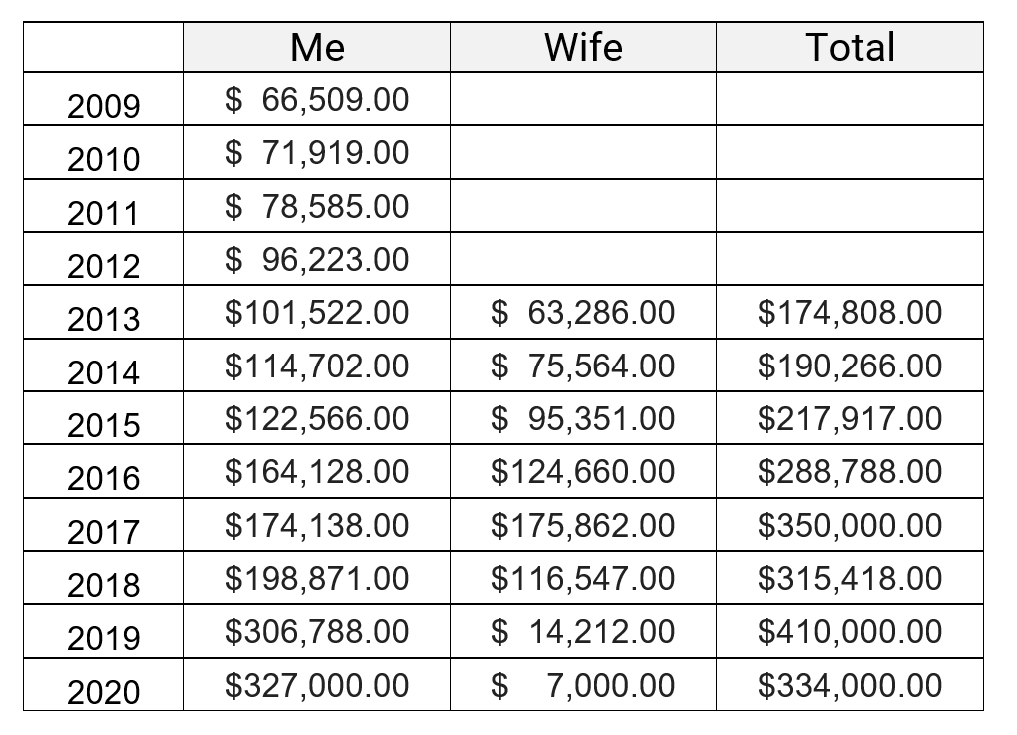 What tips do you have for others who want to grow their career-related income?
Always invest in yourself.
I've read (and listened) to so many business related books I can't keep track anymore. I took each one and learned bits and pieces from each, understood how they applied to my work, job, situation and career and applied them. I can't say I have one favorite book but took a lot of information from a lot of books and tried and applied them.
I am also always researching and learning online also. I also always surround and work with people that have more knowledge than me because I always want to learn.
I've taken many roles/jobs in my career. I first started in manufacturing and transitioned into healthcare. I've had 8 different jobs/roles in my career but only applied for 3 of them which was my first job in manufacturing, first job in healthcare and most recent job in another company.
I've always had the philosophy to always make my boss/leaders/company successful. I've always worked for folks who were smarter than me because I always wanted to learn more. I've been asked to take on new roles/jobs that I had no reason or experience taking on but I did it to challenge me and it made me grow more even though some of those were very painful years!
Also, being in a leadership role most my life I always hired people that were waaaaay smarter than me and invested in those folks. I always built a team of well-rounded folks that could perform. I know where my strengths and weaknesses are and I fill in those gaps. I feel like I learned more from my team than they ever learned from me.
What's your work-life balance look like?
Early in my career I worked A LOT especially before I had kids. There was a period of time I was working 80-100 hours a week for 3-4 years straight and was always receiving calls 24/7 in manufacturing.
This was from the jobs I mentioned above that I had no reason to take but I don't regret it a bit. I had big gaps in my knowledge and experience in some of those jobs I took on but I had to learn quickly (and painfully) to adapt because I didn't want to let anyone down.
I always say in those 3-4 years I gained 10-15 years of experience.
When I transitioned to Healthcare work-life balance changed dramatically and this was the main reason I changed industries. Plus I was expecting my first kid and wanted to have more family time.
My wife stopped working recently to stay home with the kids which is the best thing we've ever done!
Do you have any sources of income besides your career? If so, can you list them, give us a feel for how much you earn with each, and offer some insight into how you developed them?
No, besides my investments which I will take about later.
SAVE
What is your annual spending?
It's a little higher than I want but around $125K a year.
Most of that is from our home. When we moved most recently I wanted more land for the kids to grow up on and experience so we purchased a house/land which was more than what I wanted to spend but I don't regret it at all.
What are the main categories (expenses) this spending breaks into?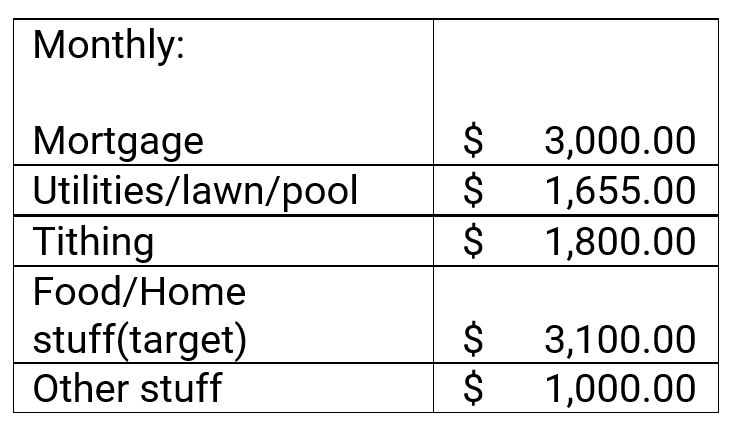 Do you have a budget? If so, how do you implement it?
As you can tell from above we don't follow a budget but we in general know where our money is going.
I check quarterly to see how much we spend but that's the extent of it.
What percentage of your gross income do you save and how has that changed over time?
I would say around 40% (post tax).
We have about $100k left over each year but to be honest most of that now is going to paying off the house.
What's your best tip for saving (accumulating) money?
Invest and live below your means.
What's your best tip for spending less money?
Pay off debt and stay out of debt.
What is your favorite thing to spend money on/your secret splurge?
Vacations.
INVEST
What is your investment philosophy/plan?
I'm a bit unconventional here but would like to hear other thoughts regarding this because I might be crazy but it has worked over the past few years.
Early on my wife and I both maxed out both our 401ks. I just put those in a Vanguard 2040/2050 retirement plan(s). We averaged 7-8% return (I should be happy with that). The manufacturing company I worked at was bought by another company and they paid out our ESOP plan which was roughly $150k. That had to be rolled over to a retirement plan.
In the past 4.5 years I have managed my own investments so all our retirement plans are now 100% self-managed and 100% individual stocks. I do a lot of research on businesses and pick my own stocks. I spend 10-15 hours a week researching companies (I really enjoy doing this).
I follow a mixture of Warren Buffet and Peter Lynch philosophies. I only invest in companies I understand, have strong fundamentals and great leaders in place. Most tend to be growth companies. I buy and hold companies for the long term.
I keep my investments in only 10-12 companies max and have another 10-15 companies I am always researching or watching. I like to understand what and how the market reacts to them or the economy. I also like low profile companies that are not always followed by the news, media or politics (but I still have a few of those).
That all said I know this is high risk but I'm young (maybe dumb) and I am ok with that for now. I also know I will see my investments fluctuate greatly over months or even years and I have to be ok with that and not react because I know I bought the companies for their fundamentals and they will bounce back.
I wouldn't recommend this to someone who cannot mentally tolerate the fluctuations. It takes a lot of self-control to do this (trust me this was hard for me in the beginning). I think this is the biggest risk to self-investing. It is hard to see your net worth drop 10-30% in a couple months (or even 50% when COVID hit) but they always tend to come back if you got the right companies.
I also have some "play" money I invest in some very high risk/high reward companies but I don't put a lot in it where it will hurt me financially so if I lose all of it. This has happened and I will get to that in a little bit on my worst and best investments lol. I tend to stay away from this now.
What has been your best investment?
Novavax – NVAX – This is both my worst and best.
I bought this company 3 years ago because of their pipeline of vaccines. They had 5 very strong vaccine potentials in the pipeline. Note: they have yet to actually commercialize one yet in 30+ years of being in business…
I dropped $50k into it and a year later it dropped 90% after a failed phase 3 RSV vaccine trial. It still had a strong pipeline so I dropped another $30k in it. Low and behold it had a positive Phase 3 trial for a universal flu vaccine but that was the same time COVID hit so it didn't go anywhere.
Fast forward 3 months NVAX was one of the top 5 high potentials for a COVID vaccine and their stock skyrocketed.
I initially lost $50k, reinvested $30k at near rock bottom and ended up making $300,000 but not for the reason I invested in it for…
I sold it all after their positive phase 2 COVID trial. Sometimes you get lucky!
What has been your worst investment?
Initially NVAX but I also invested $15k in NIO right before they crashed because a friend told me to buy it and it was the next best thing.
I did very little research in the company which is against everything I mentioned above.
It dropped 60% overnight (though it's doing great now). I cut my losses and moved on.
What's been your overall return?
Prior to self-investing I was returning 7-8%. Since self-investing I've been returning 30-40% annually (excluding this year). This year has been a bit of a banner year bizarrely with COVID because my portfolio returned 140%.
I'm not expecting this kind of return moving forward but I also had $100k in cash sitting around in my retirement account and reinvested it into the companies I already owned when they dropped 40-50% when COVID hit and have now nearly doubled that investment.
How often do you monitor/review your portfolio?
Way too much…I look at it daily but I look at the market multiple times a day.
NET WORTH
How did you accumulate your net worth?
We have always had a good salary and it has continued to grow annually.
The $150K ESOP that transitioned into my 401k when my 1st company sold was a nice boost to my retirement early on.
What would you say is your greatest strength in the ESI wealth-building model (Earn, Save or Invest) and why would you say it's tops?
I would say Earn and Invest…
My salary has increased annually which eventually was enough to maintain our earnings for my wife to quit her job and stay home with the kids which was the best investment we ever made.
What road bumps did you face along the way to becoming a millionaire and how did you handle them?
I haven't hit many road bumps though when I first started investing I had a taxable investment account. I put $90k in it and made 150% in 2 years and sold it to pay off our first house.
I'm not going to say I regret that because I paid off debt which allowed us to eventually buy/afford the home we are in now but if I would have kept that money it would have tripled it by now (I still watch those stocks today).
What are you currently doing to maintain/grow your net worth?
I want to continue self-investing. At the moment I can still stomach the risk at my age but will most likely adjust to reduce risk over time.
I see so many people get into real estate for passive income which I've been interested in but to be honest it gives me some anxiety because I don't know much about it and don't want to manage another home and expenses.
Another issue I have right now is if I want to retire early I have to pull from my retirement account which I will be penalized 10% for pulling it out early. I need to figure out another strategy for this. I could start another taxable account but right now I want to focus on paying off the house first.
I would love to hear others' thoughts on this.
Right now I really enjoy my work and I am not ready to retire. I struggle with what I'll do in retirement but would definitely do a lot of traveling and spend a lot of time with my family.
Do you have a target net worth you are trying to attain?
I would like to hit $5M but stretch is $7.5M.
How old were you when you made your first million and have you had any significant behavior shifts since then?
35 and not yet.
What advice do you have for ESI Money readers on how to become wealthy?
Saving as much as you can early is key and then growing your salary and continuing living beneath your means. I've seen many say that asking for a raise is key for growing your salary. I can't say I've done that even once in my career. Maybe I am leaving money on the table by not doing so.
I've always led as a servant leader, I'm constantly learning, challenging and growing myself. I've always worked, aligned, partnered and hired folks who were all great leaders and way smarter than me who filled in my weakness and/or complimented my strengths. I think those have been the key to growing my career and salary.
As for Investing, I think I'm still trying to figure that out myself. As I've said, I'm taking a risky approach and maybe not the best one. I think as long as you are doing something and you are comfortable with the approach that's the best thing you can do. Learn from it, adapt from it and adjust if you need to.
FUTURE
What are your plans for the future regarding lifestyle?
I want to focus on paying off the house (next 4 years is my goal).
What are your retirement plans?
Right now I really enjoy my work and don't want to retire yet.
I want to be financially independent in 5 years but I struggle with what I'd do in retirement.
Are there any issues in retirement that concern you? If so, how are you planning to address them?
Insurance is my number concern.
Second is having a good strategy for not pulling money out of my retirement account and taking on the 10% penalty.
MISCELLANEOUS
How did you learn about finances and at what age did it "click"?
Pretty early on.
I grew up with very little money or "things" and my parents worked very hard to support us. This has always stuck with me and I think is what has driven me both in work and savings.
Also once I got into manufacturing I was always looking at how to make things better to save money and balance budgets. I applied this also to my personal life early on.
I hope I can instill this into my children early on also.
Who inspired you to excel in life? Who are your heroes?
My mom and dad are two of my biggest ones. They invested so much of what they've done into their kids and worked very hard to do so.
I'm very grateful for them and what they provided for us even though we have very little money growing up.
Do you have any favorite money books you like/recommend? If so, can you share with us your top three and why you like them?
I can't say I have one or two best books. My recommendation is to read a lot and learn a lot. Read a broad range of topics and continually grow.
I learned a few key points from each book and I also look for trends and common themes for each one and build upon my own personal strategies and learnings.
Do you give to charity? Why or why not? If you do, what percent of time/money do you give?
Yes. I currently give $22k a year to various organizations I know or trust.
Part of that goes to my church and the other part goes to various organizations that I'm inspired by their mission and vision.
I wouldn't mind giving more if I can find the right organizations I know and trust.
Do you plan to leave an inheritance for your heirs (how do you plan to distribute your wealth at your death)? What are your reasons behind this plan?
I would like to but I don't want them to know about it. 🙂
I want them to work hard and learn to ESI themselves!