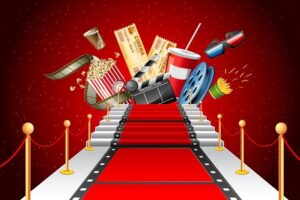 Here's our latest interview with a millionaire as we seek to learn from those who have grown their wealth to high heights.
If you'd like to be considered for an interview, drop me a note and we can chat about specifics.
This interview took place in May.
My questions are in bold italics and their responses follow in black.
Let's get started…
OVERVIEW
How old are you (and spouse if applicable, plus how long you've been married)?
I am 43 and my partner is 53.
We are not married, but have been together for over 18 years so you'll see I call him my husband throughout this interview.
I've read all of the millionaire interviews and noticed that in the Findings from 300 Millionaire Interviews post that only about 15% were done by women. I hope my post encourages more women to participate as it's great to read other inspiring stories from women!
Do you have kids/family (if so, how old are they)?
One stepchild who is 25 years old and many nieces and nephews who we help out which I'll go into a bit more detail later.
What area of the country do you live in (and urban or rural)?
West Coast – urban area.
What is your current net worth?
As of today, not including our home, we are at approximately $5.3M.
What are the main assets that make up your net worth (stocks, real estate, business, home, retirement accounts, etc.) and any debt that offsets part of these?
Even though this is broken out by "Me" and "Husband," we view all as 100% shared.
For example, my salary helps offset the tax burden for the RSUs he is granted.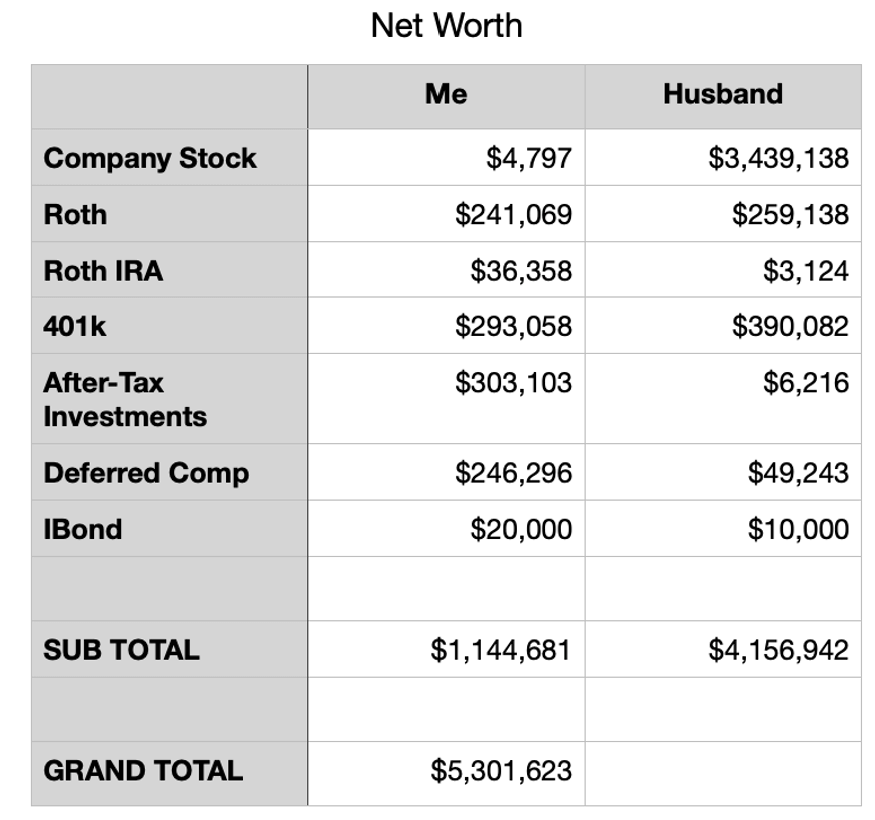 The Zestimate on our home is $1.5M (over double what we paid) which is a bit crazy to me since we've only been in our house for about 12 years. Not sure how much I trust the Zestimates, but some houses in our neighborhood that haven't been updated at all have sold for over $1.2M.
We currently owe $420,000 on our mortgage and have spent about $250,000 on some remodeling and have about another $150,000 in projects we would like to do.
EARN
What is your job?
I am a marketing executive in the entertainment industry.
My husband is also in marketing in the same industry, but now works for a tech company as the company he worked for was acquired a few years back. This has catapulted our net worth due to his company stock plan.
Hard work, ESI, and luck got us to where we are today!
What is your annual income?
Me: $260,000 salary + target bonus of $50,000 (this past year I received over double that amount and deferred almost all of it until retirement).
Husband: $215,000 salary and his cash bonus has varied but tends to be in the $30,000-$70,000 range. His company stock vesting piles onto this – this year it'll be almost $400,000 value (before taxes) at the current stock price.
Tell us about your income performance over time. What was the starting salary of your first job, how did it grow from there (and what you did to make it grow), and where are you now?
At the end of high school and during college, I worked various jobs – retail, office work, on campus job, etc. earning between $3,000-$8,000 a year.
My first professional job was as an assistant in my current industry and I earned approximately $37,000/year.
Over the next 7 years my salary increased and ended up at approximately $150,000/year.
Then I got laid off and dropped down to $80,000 a year between severance and starting my own business (marketing consulting).
I took about a year off from full time employment to get healthy, travel for a few weeks and try to sort out what I wanted to do next. At about the end of the year I had gotten to the place mentally to start venturing out of the industry (the only industry I had known throughout my professional career) when I got a phone call from a former executive I worked with who asked me to work on some projects he was managing with him. I did that for about 2 years (my husband joined me as well as he got laid off a year after me) before I got a decent job offer in a different area of the same industry. At that point, my salary went up to almost $140,000.
I stayed in that role for almost two years and got a bit burned out when a new job offer came my way to go back to the original side of the industry I started my career in but with another company. My salary + bonus went up to just over $160,000, then to $190,000 for about 2 years.
I've had some significant increases over the last 3 years; I've gone from $213,000 to $260,000 to $316,000 (including bonuses). The latest big jumps were due to a promotion and new job I started in another division of the company in late 2020 along with the large bonus mentioned above. I don't expect to go much higher than this as last year was a bit of an anomaly with bonuses. That said, my salary will increase $15,000 this fall which will put me at $275,000 before any bonus.
I NEVER EVER would have thought I'd make that much money. My husband and I both come from low middle class families in the Midwest and East Coast areas. One reason for our higher salaries is because we are in a very high cost of living area and we have worked our butts off (and had a bit of luck)!
What tips do you have for others who want to grow their career-related income?
Work hard, follow through on every single task no matter how small or big – I've found that there is always someone watching and many times it's when you don't realize it.
Know that you are your reputation so always, always do your best work and be respectful to every single person you work with. As you get older you will find that many people who start out at entry level positions will meet and surpass you on the corporate ladder…so be a good person, not just for your career, but because it's the right thing to do. There is one former assistant who now manages one of the biggest stars in the world and there are tons of other examples I've seen throughout my career.
Follow your heart and gut and don't give up. When I graduated college, it was one of the worst economic periods and I struggled to find a job. My dad tried to convince me to 'go work at the bank' because I was a bank teller in college and he knew I needed a job. I couldn't bring myself to do that and I was fortunate enough to make a connection with an executive in my industry through an internship I had in college. Meeting with that executive and getting his advice set me on the path for my whole career. I will note that it can be very challenging to get into the industry I work in but, when you have the drive, you find a way.
What's your work-life balance look like?
Pretty terrible.
When I accepted my current position (a little over 1 1/2 years ago), it had a reputation as not being as "hard core" as my previous division of the company. However, the team I joined did not exist and so there are TONS of reorganization challenges to address while I also manage a small global team. And while I am a morning person, usually up by 5:30 am at the latest, the global nature of the position is extremely taxing as it means early and late calls.
My boss is a workaholic and sometimes clocks 18 hour days. While that actually impacts me less than you would think, it's tough when that's how the company is being run.
Obviously the pandemic has been absolutely terrible for so many people, but a bit of the silver lining for me and my husband is we have been able to work from home for almost 2 years (we just recently returned to the office a few days a week). Not having 2+ hours of commuting per day was nice, but it meant more working…not more free time really.
In addition to the long work hours sitting in front of the computer or in meetings, pre-pandemic there were also many evening and weekend events we would have to attend. As I get a bit older, I am actually quite happy to have had a pause on that during this time. That is starting to ramp back up now so we'll see how we ease back into that situation.
Do you have any sources of income besides your career? If so, can you list them, give us a feel for how much you earn with each, and offer some insight into how you developed them?
We do not.
Our jobs are so time consuming that we have not had energy to create other sources of income aside from our investments.
Even if I had the energy, I would likely spend that time relaxing, not finding ways to make more money at this point.
Any new ventures will be explored in my semi-retirement.
SAVE
What is your annual spending?
As of this past year approximately $240,000-$250,000. This does not include ESPP or 401k contributions, but does include tax estimates that we owe in addition to our withholding (this is the biggest line item).
What are the main categories (expenses) this spending breaks into?
Some of these are estimates: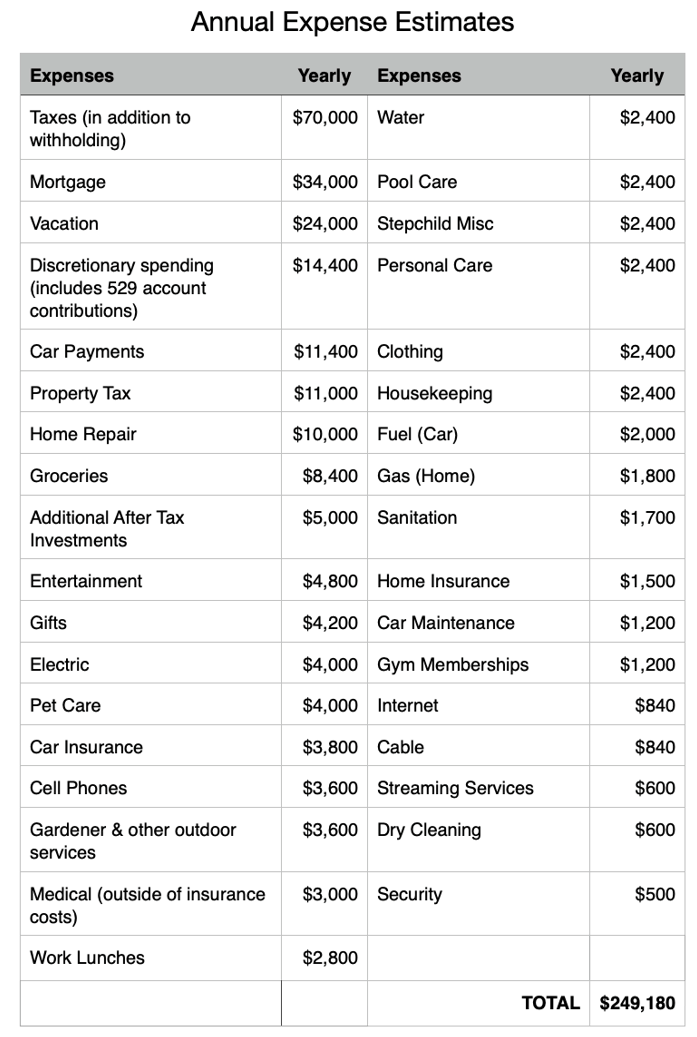 Do you have a budget? If so, how do you implement it?
We have the budget breakdown shared above to give us an overall view, but we don't really review/monitor it often.
We basically have set amounts for 401k contributions (to max out), my husband's employee stock purchases, small monthly amount for other investments, short term savings goals, 529 contributions, etc. and then the rest gets funneled into our main bank account to pay the bills.
I do have multiple other accounts set up to put in monthly contributions towards the short term savings goals as I like to have an idea of how much we have saved for specific goals (e.g. car down payments, vacation, home improvements, etc.)
While I am the more financially savvy of the two, my husband created the budget and we update it together – maybe once a year at most. Luckily, at this stage, we have a process in place that we don't need to review it often.
What percentage of your gross income do you save and how has that changed over time?
If we include the RSUs in our gross income it comes out to almost 70% but that is only the last year. Our salaries cannot keep up with the pace of the stock vesting schedule and current stock price so the percentage/proportion has greatly increased.
Net numbers are much lower since our taxes are extremely high. Not complaining!
We also max out our 401ks and have done so for many years. In the early days of our careers we didn't do this because our salaries were so low in a high cost of living area.
What's your best tip for saving (accumulating) money?
Prioritize what is truly important to you and your financial goals.
Automate paying yourself first to save and invest.
Buy less house than you are approved for to allow for more saving/investing. Refinance when you can. We recently got down to a 15 year mortgage for under 3% which shaved off 5 years of mortgage right off the bat.
Quality over quantity…buy fewer better things.
What's your best tip for spending less money?
Above info applies here as well.
Also, I had a mindset shift a few years ago where I realized that buying more "stuff" just meant more time I'd have to work in a stressful job. So with that realization I really halted a lot, not all but a lot, of spending on things I didn't really need or want. Now, I still spend a LOT of money on family, vacations and family vacations which I'll get into more later, but I wish I had had that revelation about "stuff" even earlier.
Even though we are millionaires I still do small things to save money – I take 5 minutes to use my local grocery store app that typically saves about 35% on our grocery bill, we sometimes use credit card points for gift cards for nieces' and nephews' birthday gifts, etc. I know that time is valuable and my advice here is to do the things that don't take too much time (or frustrate you) that save you money even when you are a millionaire. If something takes me 5 minutes, I don't mind doing it and it saves me hundreds or thousands or dollars a year- then it's worth it to me.
What is your favorite thing to spend money on/your secret splurge?
Family and vacations.
I am not a minimalist by any means, but over the years have realized that "stuff" is pretty pointless and that quality time and experiences are what life is really all about. I am the planner in my family and have taken my siblings, nephews, nieces and my mom on a few pretty incredible vacations – one recently at a beachfront house. Since my husband and my incomes have gone up over the last couple of years – we've splurged on spending probably between $20,000-$30,000 on vacations (we cover most costs for family members).
We also contribute to our nieces and nephews 529 college accounts and I'm currently planning the 3rd graduation party in my family. I probably go a bit overboard but since my extended family is out state, and these graduations happen only once every few years, I view them as a bit of a family reunion as well. My goal with all of this is to create great memories for my family and me and I feel very fortunate to have the means to do so.
INVEST
What is your investment philosophy/plan?
Our investments are set very aggressively in the stock market at the moment. We tend to 'set it and forget it' versus actively buy and sell and all dividends are reinvested automatically.
We are definitely still amateur investors who fell into good fortune with my husband's company stock, but we are WAY out of proportion on that single stock (about 65%) of our portfolio. That has been the only cause of financial disagreement between us.
I'd feel more comfortable if our other investments totaled at least $3M (even though they are mostly in the stock market too but more diversified) and if we were more diversified in general.
What has been your best investment?
Each other.
Our home.
Our dog (he brings so much joy to our lives).
My husband's company stock as well as a robo advisor account I set up a few years back that has low fees.
What has been your worst investment?
Knock on wood, we haven't really had any.
We had a bad experience with our home remodel, but that's the only thing that comes to mind.
What's been your overall return?
I don't know since we have so many different accounts.
How often do you monitor/review your portfolio?
My husband likes to log in and check the company stock status probably once a week or so for motivation to keep going more than anything else.
We try to review in detail about once a year to see where we stand overall.
NET WORTH
How did you accumulate your net worth?
My husband's company stock has been the biggest accelerator of our net worth over the last 7 years or so.
That said, considering where we started, I am very proud to have worked hard, saved and invested consistently to get to nearly $2M in investment accounts (not including his company stock or our home value).
And we did not allow much lifestyle creep (aside from the increased family vacation budget and we just recently had to get cars since we are back to commuting to the office. We were a 1 car household for most of the pandemic).
What would you say is your greatest strength in the ESI wealth-building model (Earn, Save or Invest) and why would you say it's tops?
All three really, but I'd probably say in the following order:
Invest: As I write this we have not yet sold ANY of his company stock. I know many disagree with this strategy but luckily this has been a massive success for us thus far and also meant we did not sell it and spend it on things we didn't need. I guess you could also say this was a form of earning and saving too.
Earn: I recognize how blessed we are to have had our hard work pay off and achieve the salaries we have. While we are in one of the most expensive cities in the country, our salaries in the last few years are really what put us in the position we are now in on the earning side.
Save: This one is key as we do not take on debt except for our mortgage and recent car payments. Even big ticket items like our home remodel we saved for and did not take out loans to fund. All of our vacations and other short term goals are covered from having very clear monthly/yearly savings goals.
What road bumps did you face along the way to becoming a millionaire and how did you handle them?
Our layoffs were definitely a scary time as we had just purchased our home and both lost our jobs 1-2 years after.
One of the other road bumps was not having any role models in our families who had reached this level of financial success; there weren't people to learn or get advice from.
In addition to that, coming from low middle class families also meant we didn't even realize or think we were capable of achieving this level of success. It's still something we are in a bit of disbelief of…it doesn't seem real. It's also one of the reasons I try to help educate my family, especially my nieces and nephews. No one teaches you this stuff in school.
What are you currently doing to maintain/grow your net worth?
We continue to keep all RSUs and ESPP (aside from what is taken out to cover some of the taxes), we continue to max out our 401ks, not take on debt, avoid lifestyle creep, defer majority of bonuses for retirement, spend a few hundred dollars (sometimes thousands) a month on after tax investments.
Do you have a target net worth you are trying to attain?
I keep moving the ball on this.
Years ago, based on the 4% rule, I thought we needed $3M. I learned that was not going to be enough and decided on a bit more conservative approach and landed at $5.5M (not including home value) which we should achieve by next year assuming we both keep our jobs.
That said, I am concerned, as most people are, about health insurance and the money lasting, so fear I may fall into the 'one more year' scenario. With my husband being 10 years older than me, I am trying to determine what's the best thing to do to enjoy life while we are still young and have our money last.
Our plan was always for me to work in semi-retirement at a less stressful job that provided healthcare and a bit of money. With our house not being paid off for another 14 years, and how high our monthly bills are, it's hard for me to comprehend going into the de-accumulation phase at my age. I am currently trying to sort out what we can do to earn more passive income and protect our current assets. Appreciate any advice from your readers on this!
And a bit counterintuitive to the above concern, we have also been considering buying a vacation home, but these are very expensive in our area (in the current market we'd be looking at over $800,000 for something nearby that we would love and would work well for us and our extended family). Would love any thoughts from your readers on if they think we could afford it and not derail our early retirement plans. We would rent it out as well to help offset some of the cost.
How old were you when you made your first million and have you had any significant behavior shifts since then?
We actually don't remember. Our best guess is 36 years and 46 years old? No behavior shifts considering we don't even remember when this happened. 🙂
We sometimes joke that, when we were young, we thought being a millionaire meant champagne and yachts and we are far from that. We must have watched too many episodes of Lifestyles of the Rich and Famous. We truly are the stereotypical 'millionaires next door' – no fancy cars, clothes, jewelry or anything like that. And that's the way we like it!
What money mistakes have you made along the way that others can learn from?
As previously mentioned, I had a mindset shift a few years ago where I really realized that buying more stuff just meant more time I'd have to work in a stressful job. I wish I had that realization sooner.
I also wish I had discovered FIRE and Mr Money Mustache sooner, and especially his shockingly simple math behind early retirement and the chart with it. This was illuminating for me because, for much of my life, I thought I was doing the "right" thing by getting the company match for my 401k. Little did I know that was never going to get me to financial security and definitely not financial freedom.
What advice do you have for ESI Money readers on how to become wealthy?
Educate yourself on everything you can regarding your money. I'm grateful to find joy in this and my guess is most people reading this site do as well.
If there are people you trust, and you know are doing the right thing when it comes to finances, ask them for advice.
Work hard, make sure to keep your reputation solid, know that slow and steady will win the race. Set goals and once you reach one it'll keep you motivated to keep going.
Evaluate what is really important to you and focus your time, energy and money on that.
And make sure your partner shares these views on priorities and finances!
FUTURE
What are your plans for the future regarding lifestyle?
I am hoping we have the option to semi-retire in 2023 if that's what's we want to do.
That said, if my company wants me to sign on for another 2-3 years at my current salary (or more), it will be hard to walk away from that.
I also need to do some soul searching for what I want to do in the future. While I know there are elements of my industry I will miss, as I've gotten older I've realized that time spent on myself and my family are truly most important. My goal is to feel confident and at peace with a decision to downsize my job to something less stressful, with fewer hours, that brings me joy and contributes to society (I haven't decided what this is for me yet).
What are your retirement plans?
One of the key elements we haven't solved for yet is the income we will live off of during retirement and having enough cash on hand to weather a market downturn. This is one of the reasons I am a bit nervous to walk away from high paying salaries at this time. I'd love any advice on both of these from your readers.
There are lots of activities I'd like to pursue in retirement that I don't have/make the time or have the energy for – to name just a few, I'd like to learn a language, take music lessons (I've never played an instrument), exercise (I miss being healthy and taking classes consistently), sleep (I feel like I haven't had good sleep in years), volunteer, travel with my husband and continue to take family vacations, put together scrapbooks from our many family vacations, work with a professional who can help do some interior design on our home, have a semi-retirement job that provides joy and contributes to society, explore our city more – there is so much to do and see locally.
Also, my husband is a baseball fan and we've talked about doing a very long road trip to go to games at different stadiums across the country, seeing the cities and eating lots of incredible food.
Are there any issues in retirement that concern you? If so, how are you planning to address them?
Healthcare is the main one. This is where my semi-retirement job comes into play for part of the time.
I'm also concerned that we won't have enough money. I recognize that, relatively speaking, I am still very young and would be leaving my job during my peak earning years – something I haven't come to terms with yet even though I am burned out. To address this and feel more comfortable, I need to formulate the plan on the income we will live off of and how to come up with at least 2 years of savings to weather a market downturn.
With the 10 year age gap, I am concerned about picking the right time to retire. My gut is leaning towards the sooner the better so we can enjoy life while my husband is still young.
MISCELLANEOUS
How did you learn about finances and at what age did it "click"?
I mostly learned about finances through sites like this. I have spent hours educating myself on as much as possible when it comes to finances and early retirement.
It probably really clicked about 8-10 years ago (best guess) when I discovered that chart on Mr Money Mustache's website. That was definitely a wake-up call for me in terms of needing to make some adjustments if I ever wanted to escape the rat race.
Who inspired you to excel in life? Who are your heroes?
My mom is definitely an inspiration and hero. She was a single mom who packed us up and moved across the country to pursue her dreams.
I don't feel like I really have any other heroes, but I am inspired by people who achieve great success while also being a good people (or as far as I know they are good people).
Do you have any favorite money books you like/recommend? If so, can you share with us your top three and why you like them?
Finance websites/blogs are more my thing:
Mr Money Mustache was the eye-opener for me as mentioned above. That said, I am bummed that he rarely posts anymore.
Financial Samurai is another favorite. I enjoy the topics he covers as they are timely and many are relatable.
ESI money as I enjoy reading the millionaire interviews and other articles.
My husband, family and friends think I'm a nerd for my love of finance blogs.
Do you give to charity? Why or why not? If you do, what percent of time/money do you give?
We give to a variety of causes that are important to us and fundraisers of family and friends, but that totals in the low thousands which, from a percentage of take home pay, is very small.
With so many family members needing assistance – we've prioritized contributing to 8 college funds and needs during college (computers, phones, etc.), funding graduation celebrations, car down payments, food deliveries, vacations (to create memories with the family and also show the young people in our family that hard work also means fun vacations) and more.
When my work schedule wasn't so crazy I also volunteered at the local pet shelter where we adopted our dog from. That's something I'd like to do again in semi-retirement.
Do you plan to leave an inheritance for your heirs (how do you plan to distribute your wealth at your death)? What are your reasons behind this plan?
Doing our will/estate plan is an important item on our to do list!
Unless we pass away early/unexpectedly, the plan will be to only leave the primary residence and divide the value across multiple family members.
Outside of that, our goal is to use our money to enjoy our retirement, spend time with our family and continue to help family members when they need it (without enabling them!)