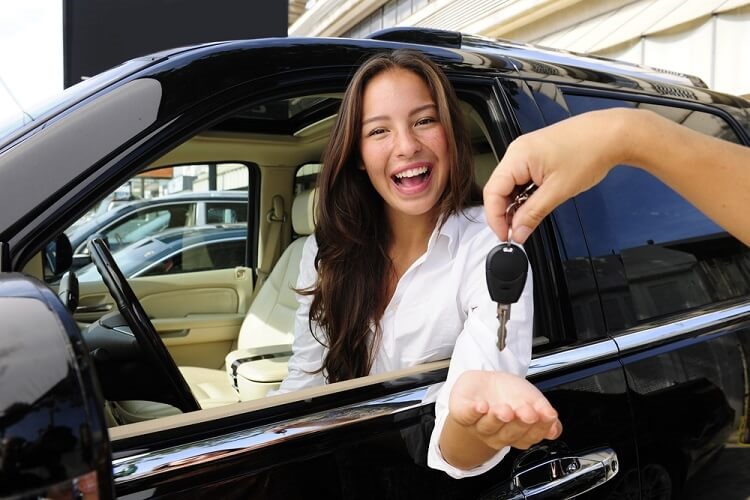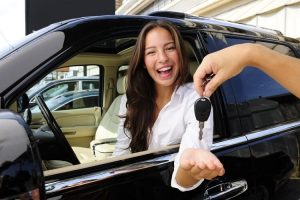 Now that I've given you the details of our most recent car crash, I wanted to share with you the results of our new car purchase.
I've posted my tried and true formula for saving a fortune when buying a new car, but I understand some of you may be skeptical of my results.
So by sharing actual details of this latest purchase, I hope to erase all skepticism.
Picking the Car
Since this would be my wife's car, she needed to decide what she wanted.
We lived in Michigan for 14 years, then a couple years in Oklahoma before moving to Colorado.
In Michigan, she drove a Toyota Corolla and got around fine even in the winter because Michigan knows how to handle snow.
Snow was not an issue in Oklahoma.
In Colorado, the snow theory is mostly "it will melt in a few days." Which makes driving from the time of the snowfall until it melts kinda tricky.
So my wife wanted something that did well in the snow.
We had owned a Subaru Forester when we lived in Michigan and loved it. It got around great in the snow, even when the roads had not yet been cleared off. I'd probably still have that car if our kids hadn't outgrown the back seat.
So my wife looked at the new Forester (2016), liked it, and decided that's the car she wanted.
Now my work began.
Getting Data
I wanted to get as much info as I could on the 2016 Forester. I started at TrueCar to see what others had paid for the car we wanted with the packages and accessories my wife had selected.
Here's what they gave us (note — these are costs of the car and dealer handling, not taxes, licenses, etc.):
MSRP – $29,036
Average Paid – $27,519
TrueCar (if you bought it through them) – $27,095
They also provided four ranges of prices for the car as follows:
Above market price – $28,059 or more
Good price – Less than $28,059
Great price – Less than $27,391
Exceptional price – Less than $26,455
So obviously I wanted to get below $26,455. 🙂
TrueCar also broke out the details on the average paid as follows:
Base – $24,900
Options – $1,769
Regional Fees – $0
Destination Fees – $850
Incentives – $0
Total – $27,519
Contacting Dealers
I began my quest on May 14 (the date we officially accepted the insurance settlement offer).
I searched for Subaru dealers in my area (within an hour and a half drive) and found nine.
I went to each of their websites (one did not have a way to contact them by email, so I eliminated that one right away) and sent the following email:
I would like to get a quote on the following vehicle:
1. Trim: Subaru Forester 2.5i Premium Automatic
2. Packages: All-Weather Package & Eyesight & Navigation System
3. Colors: Crystal White Pearl w/ Gray interior
4. Accessories: Splash Guard Kit, All Weather Floor Mats, Luggage Compartment Cover, Rear Bumper Cover, Cargo Tray
I am aware of MSRP and invoice prices and would appreciate a competitive bid.
Please include all fees so I can have an out-the-door price. Can you also send me the VIN of the car you're quoting on?
Please respond via email to this request.
Thank you.
This message was sent out on a Saturday night so I didn't start hearing back until Monday morning.
Let the Bidding Begin!
Negotiations went slow as I could only get back to them at night when I was home from work.
I'll spare you the blow-by-blow details, but here are the highlights:
I got initial quotes and it became clear quickly that they weren't all bidding on the same car. Some included exactly what we wanted, some included most but not all of what we wanted, and a couple even included more than we wanted. I had to go through the offers line by line, make note of what they did or didn't have, and then clarify where their car was insufficient (and thus under-priced) or had extras that I didn't want (and wasn't going to pay for). BTW, this is different than my past car buying experience. Generally I have all dealers bidding on the exact same car that they are going to pull from a faraway dealership. That was not the case here and the VINs (vehicle identification numbers) made it crystal clear that these were different cars.
On the initial offer, two dealerships were ahead of the pack. Our home town dealership offered a car at $26,574. This was almost below the exceptional price from the get-go. PLUS, this car had a few extras that added a few hundred dollars in value to it. Another dealership, offered $25,785 (an awesome price!). Upon further inspection they had left out a few things we wanted.
After the initial round, I sent them all a thank you note. I asked clarifying questions where need be, told them where they had missed the mark if they had not included options, and asked them all for their best price.
On round #2, our home dealer went down to $26,085. I was now below the exceptional price! All others came down as well. One or two took their time getting back to me and basically eliminated themselves because they couldn't put together a timely response.
I then started working each one that was higher to get them to either go lower or throw in something else I wanted. They then either dropped their prices or said "this is the lowest I can go" at which time I thanked them and moved on.
After a few days the four that were in contention were all around the $26,000 mark.
Checking Out My Options
In the midst of this a friend at work who used to own a car repair and sales company offered to look at wholesale prices for me (he still has access to a dealer wholesale site). He didn't think he'd be able to see the new car info (which he later confirmed he couldn't) but I wanted him to look at slightly used cars with low miles just to see if I could get a deal. Also, since many personal finance sites talk about how buying used is so much cheaper, I wanted to see what the used prices actually were.
I sent him the specs and the VINs of the cars I was looking for. His reply:
"Ok just ran the Vins and nothing comes up on the new cars. Through the Manheim Auction houses nationwide, with roughly 1300-12k miles on them the average wholesale price on the Premium 2.5i is around 23,600 wholesale so depending on what you're getting from the dealer anything in the 25,900 to 27,500 is a good deal."
That's right where I was — in the "good deal" range.
It's also interesting that IF (which I can't) but IF I could buy a used car wholesale I would only save a couple thousand dollars and give up a year or more in mileage.
The Final Stretch
As I went back to the dealers one last time and made sure everyone had what I wanted on the car they were quoting, here's where the bids came in (note that all of these are below the exceptional value price listed by TrueCar):
Fifth place was $26,228. This dealer also offered a "free" Colorado Care Package which was basically a protective coating over the paint job due to the intense sun here. The package had a retail value of $995 so I asked him to give me the cost of that package off the car, which he wouldn't do. He did say he didn't want to lose a sale over $100, so he would go down that much if it meant he got the sale.
Fourth place was $26,219. This was $1,000 less than his original bid.
Third place was $26,137. This dealer threw in an extended powertrain warranty as well. She would not give me credit for it though. Plus she was such a pain to deal with (we had 10 or so back-and-forths) that I didn't want to buy from her.
Second place was $26,085 from our home town dealer. This guy had been working with my wife on the test drive, showing her the car, and so forth. In addition, they were the closest to our house by 45 minutes, so I was hoping they would be competitive. In addition, this car had a few extras on it that we hadn't asked for that added $300 or so to its value.
First place was $25,736. It had all we wanted (no more), but this dealer was the farthest away from us (90 minutes).
So, which one did I take?
The issue with the first place bid was that it was too late. I hadn't heard anything from the dealer for a couple days so I had assumed they had dropped out at a higher price. As we were anxious to get my wife a car (we were now on day three of being a one car family and it was driving me crazy), I accepted the local dealer's offer at $26,085. Six hours after I accepted that offer, I got the even lower first place offer.
I had told all the dealers I was going to make a decision at any point and they needed to be timely. In this case, this dealer wasn't timely and lost the sale.
In addition, the few extras on the car here made the overall value about equal. And since one dealer was here and had helped us and the other was 90 minutes away, we went with the dealer here.
BTW, when I bought my Highlander in 2011 in Michigan the local dealer drew a line in the sand and refused to go lower than a certain point. I bought my car from a dealer an hour away for $700 cheaper than what the local dealer offered.
Finalizing the Deal
I called the local dealer, accepted his offer based on my understanding of the deal, and sent him this email to confirm:
Steve —
I want to confirm your offer. Here's what I understand it to be:
* 2016 Premium Automatic Subaru Forester
* White with Gray interior
* Option package 15
* All Weather Package
* Heated Front Seats
* Windshield Wiper De-Icer
* Heated Side Mirrors
* Eyesight Driver Assist System
* Pre Collision Braking System
* Pre Collision Throttle Management System
* Lane Departure Warning & Lane Sway Warning
* Adaptive Cruise Control
* Steering Responsive Fog Lights
* Subaru Starlink Multimedia
* Navigation System with Subaru Map Updates 3 Year Free Updates
* Rear Bumper Cover
* Splash Guards
* Cargo Tray
* All Weather Mats
* Luggage Compartment Cover
* Homelink
* Auto Dimming Mirror and a Compass
* Wheel Lock Kit
The pricing on this vehicle is as follows:
Dealer Sale Price is: $26,085.00
Dealer Handling is: $0.00
Colorado Title fee: $17.20
State City and County Taxes: $2,152.01
Total Out the Door: $28,237.01
Is all of this correct?
FYI, dealer handling ranged from $399 to $599 from the various dealerships. I got the winning dealer to get rid of it on their second bid.
He confirmed it was correct and I put down a $1,000 deposit on my Fidelity American Express.
Financing Snag
He asked how I was going to pay for the car and I said I had a check. He said the dealership had had trouble with checks in the past so they would have to run a credit check on me even though I was paying with a check.
I didn't want to have a credit check run so I told him I'd get a cashier's check. He said they've had trouble with those too and they would still need to do a credit check.
I told him I'd bring cash. He said he'd have to check on that. He got back to me and said I'd still need to fill out the credit forms (it was dealership policy) but that they wouldn't do a credit check.
So my wife had to go to two different Chase locations to get the cash as no one bank near us had it all on hand!
Getting the Car
The next day (Saturday) we went to the dealership, saw the car, confirmed it had everything it was supposed to have, sat through (and declined) the various add-ons they tried to sell us, and paid them the money (I had counted out the cash the night before and placed it into $5k bundles to make things easier).
After paying, I left and my wife spent another hour at the dealership as the salesman walked her through every bell and whistle the car had (which is a fairly long list).
So that's it. It took about a week and got us a pretty good deal.
Any questions or comments?