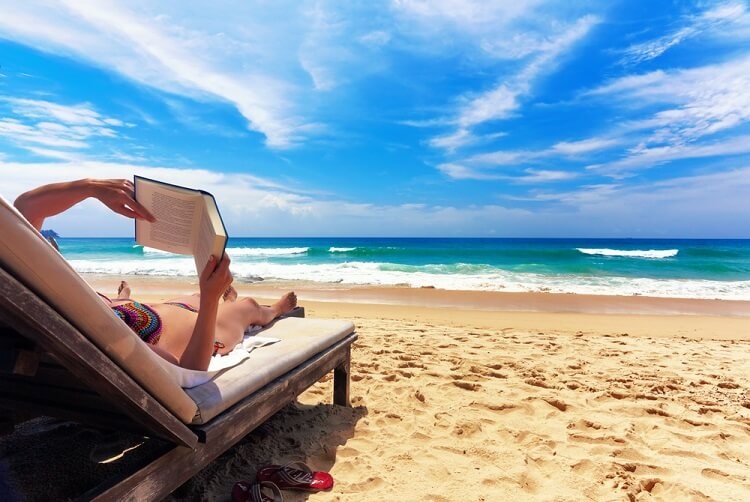 Now that summer is almost over, I'm getting around to posting this. 🙂
Money magazine had an article in their July issue that lists "seven rewarding reads for the beach".
The idea is that these are good personal finance books to read while you're lounging at the beach.
I'm thinking that if they are good for the beach, they're good for home too. 🙂
Anyway, I thought I'd share their list, give a summary from Amazon, offer my comments on it, and ask you if you've read any of these.
Here are the seven they list:
Grit: The Power of Passion and Perseverance
— Drawing on her own powerful story as the daughter of a scientist who frequently noted her lack of "genius," Duckworth, now a celebrated researcher and professor, describes her early eye-opening stints in teaching, business consulting, and neuroscience, which led to the hypothesis that what really drives success is not "genius" but a unique combination of passion and long-term perseverance.
I saw the author speak at a conference and she was very compelling. But I don't think you need to read an entire book to consider the idea that "what really drives success is not 'genius' but a unique combination of passion and long-term perseverance." Perhaps Google and find an interview with her or watch a YouTube video. That should do it IMO.
Warren Buffett's Ground Rules: Words of Wisdom from the Partnership Letters of the World's Greatest Investor
— Compiled for the first time and with Buffett's permission, the letters spotlight his contrarian diversification strategy, his almost religious celebration of compounding interest, his preference for conservative rather than conventional decision making, and his goal and tactics for bettering market results by at least 10% annually. Demonstrating Buffett's intellectual rigor, they provide a framework to the craft of investing that had not existed before: Buffett built upon the quantitative contributions made by his famous teacher, Benjamin Graham, demonstrating how they could be applied and improved.
A couple of thoughts on this one: 1) I love Buffett and am interested in reading anything about his thoughts on investing and 2) I've already read a few books about his investing style and my guess is that this offers very little new information.
The Nest
— The four Plumb siblings are waiting for their inheritance (affectionately called the nest) to be dispersed once the youngest sister turns 40. The nest has been growing exponentially since their father's untimely death when they were all adolescents, and each one of the Plumbs has been making poor financial decisions in the hopes of being bailed out by the nest. Instead, the oldest brother is allowed to withdraw the majority of the money early to be used as a payoff for an unfortunate accident he causes. The story develops as the remaining siblings begin to navigate life and the consequences of their decisions without a safety net, but the plot is much more complex than a look at four dysfunctional and often selfish siblings.
Uh, no.
My recent fiction pick is Foreign Agent: A Thriller (Scot Harvath)
.
The Confidence Game: Why We Fall for It . . . Every Time
— A compelling investigation into the minds, motives, and methods of con artists—and the people who fall for their cons over and over again.
This book does not sound interesting to me in the least.
No More Champagne: Churchill and His Money
— The fascinating story of Winston Churchill's lifetime of tangled personal finances. Meticulously researched by a senior private banker now turned historian, No More Champagne reveals for the first time the full extent of the iconic British war leader's private struggle to maintain a way of life instilled by his upbringing and expected of his public position.
Do we need to read a book to know that people highly skilled in one area of life are not successful at managing money? I think we see articles about this almost every day.
The Assistants
— The debut novel that J. Courtney Sullivan calls "addictive, hilarious, and smart. It's "9 to 5 for the student loan generation" and Publishers Weekly describes as "if the characters from HBO's Girls were capable of larceny and blackmail."
See my comment above on fiction.
There Is Life After College: What Parents and Students Should Know About Navigating School to Prepare for the Jobs of Tomorrow
— There Is Life After College offers students, parents, and even recent graduates the practical advice and insight they need to jumpstart their careers. Education expert Jeffrey Selingo answers key questions—Why is the transition to post-college life so difficult for many recent graduates? How can graduates market themselves to employers that are reluctant to provide on-the-job training? What can institutions and individuals do to end the current educational and economic stalemate?—and offers a practical step-by-step plan every young professional can follow. From the end of high school through college graduation, he lays out exactly what students need to do to acquire the skills companies want.
Finally! I was beginning to lose hope! Here is a book I might be interested in reading!
Then again, I could simply read What Financial Advice Would You Give New Graduates?
Overall, I wasn't too impressed with this list, but I'd LOVE to hear if you read any of these and what you thought of them.
Also, if you want a list of the books I'd recommend, see my book category.