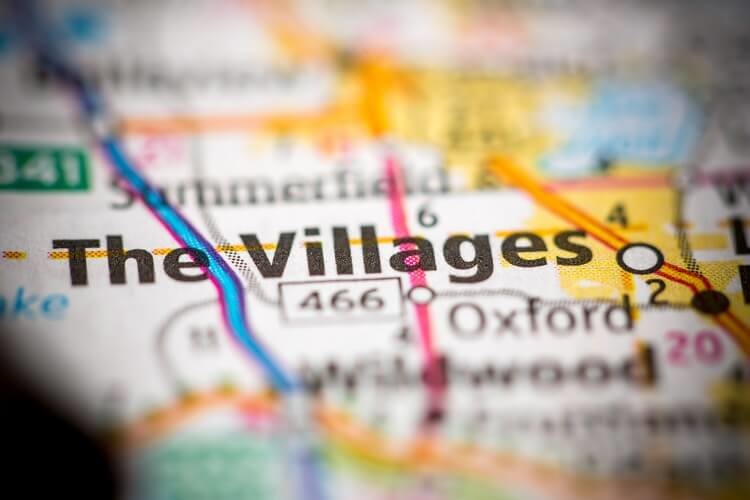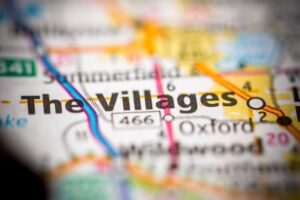 Most of you reading this know that my wife, my dad, and I spent 2.5 months this past winter living in The Villages.
For details on that time as well as my review of The Villages, see Thoughts on The Villages, Florida, and Snowbirding, Part 1, Thoughts on The Villages, Florida, and Snowbirding, Part 2, Thoughts on The Villages, Florida, and Snowbirding, Part 3, and Review of The Villages, Florida.
Those posts will tell you a lot about what it's like to live there, but shortly after I got back home I discovered another source that I highly recommend anyone who is considering moving to The Villages.
It started when Ryan Erisman, the founder of Florida for Boomers, did an Ask Me Anything session in the Millionaire Money Mentors forums. He addressed our questions quite nicely and as we chatted by email afterwards, we talked about his ebook titled Inside the Bubble. It's the "Ultimate Guide to the World's Largest Retirement Community (The Villages)."
He sent me a copy and after reading it, I asked if we could post a couple sections on ESI Money. He generously agreed and allowed me to share two chapters from the book — the first giving an overview to introduce people to The Villages and the second detailing his thoughts on costs to live there (something I had to work through when my dad bought a place there — we had to do a budget for him and navigate many of the things Ryan shares here.)
Book Overview
Before we get to those two chapters, here's the table of contents from the ebook:
1. An Introduction to The Villages
2. History of The Villages
3. The Villages Today
4. Why Has The Villages Been So Successful?
5. Criticism: Books, Articles, and Documentaries
6. Getting to Really Know The Villages
7. Come for a Visit
8. Finding a Rental
9. Getting Around The Villages
10. It's a Golf Cart Life
11. Golf & Tennis
12. Recreation
13. Dining, Shopping, and Entertainment
14. Healthcare
15. Crime and Public Safety
16. Politics
17. Cost of Living
18. Community Development Districts Explained
19. Finding Your Home
20. Paying for Your New Home
21. Property, Flood, & Sinkhole Insurance
22. Home Inspections and Warranties for Resales
23. Walkthrough and Warranty for New Homes
24. New Home and Resale Closing Process
25. Things To Do Right After Moving Here
26. Additional Resources
As you can see, the book covers EVERYTHING someone wanting to learn about The Villages needs to know. I wish I had discovered it before I went down there — it would have given me a huge head start.
So if you are investigating The Villages and want something to jumpstart your education process, this book is a complete bargain! And I'm not saying that because I have some sort of revenue share with Ryan (I don't). I simply believe the book's content is well worth the cost.
That said, there are a couple of caveats…
First, things are changing (growing) at The Villages so quickly that any book written about it is outdated in about a week. There will be some slight differences between the book and current reality (for instance, the Amenities Fee quoted below is listed as $164 a month yet the latest is $179 a month.) That said, the information is just slightly off in a few places and even then it's is directionally correct and very valuable.
Second, use what is said as a guide only. Personal finances are…personal, after all…and as such, expenses can vary dramatically. For instance, the cost below to live in The Villages is listed as $4,000 a month. My dad's costs are $2,100. The main difference is that he doesn't have a mortgage, but there are other ways to save money when living there if you want to.
For those wondering if they can afford living in The Villages based on their finances, here's a rough guide using Ryan's cost numbers:
$4k per month gets you to $48,000 a year
This means you need $1.2 million in funds if you retire there and withdraw 4% per year
The summary: run your own numbers as they will differ from anyone else's. But the content below does identify what you need to consider including a few items that are unique to The Villages that most people would miss.
With that said, here is Chapter 1 and Chapter 17 of the book for your review, enjoyment, and education…
————————————
Chapter 1: An Introduction to The Villages
Welcome to another edition of Inside The Bubble! If you are a long-time reader, welcome back! I hope you find this book gets a little better with each update.
If you're new here and just starting to learn about The Villages, congratulations on taking the first step towards learning about the ins and outs of Florida's most popular retirement community. Thank you for allowing me to be your guide.
The Villages is a 55+ community located in Central Florida, about an hour northwest of Orlando.
The Villages is home to more than 130,000 people, has more than 700 holes of golf, 200 pickleball courts, 100 recreation centers, 100 swimming pools, more than 3,000 clubs and organizations residents can participate in, an "enrichment academy" to support lifelong learning, more than 100 restaurants, a wide range of shops, grocery stores, and medical offices, free live entertainment on a nightly basis, and to top it off, nearly everything is golf cart accessible.
With all of that in mind, it's no wonder The Villages typically sells more than 2,000 new homes each year.
Yes, The Villages is an incredible place, but I must warn you that it is not for everyone. Thousands of people buy and move here every year, but thousands more take a close look and decide it's not for them. I hope this book plays a role in helping you decide if it's right for you.
Lay of the Land
The Villages is a huge place and it definitely takes newcomers some time to get the lay of the land.
Top to bottom, The Villages currently measures about 14 miles long and its about 5 miles across at its widest point.
One of the best ways for newcomers to get it into their minds how The Villages is laid out is to think of it as a long vertical rectangle with a lot of jagged edges. It's also important to note that The Villages has pretty much been (and continues to be) developed from north to south, so for the most part, the further south you go, the newer the homes and amenities tend to be.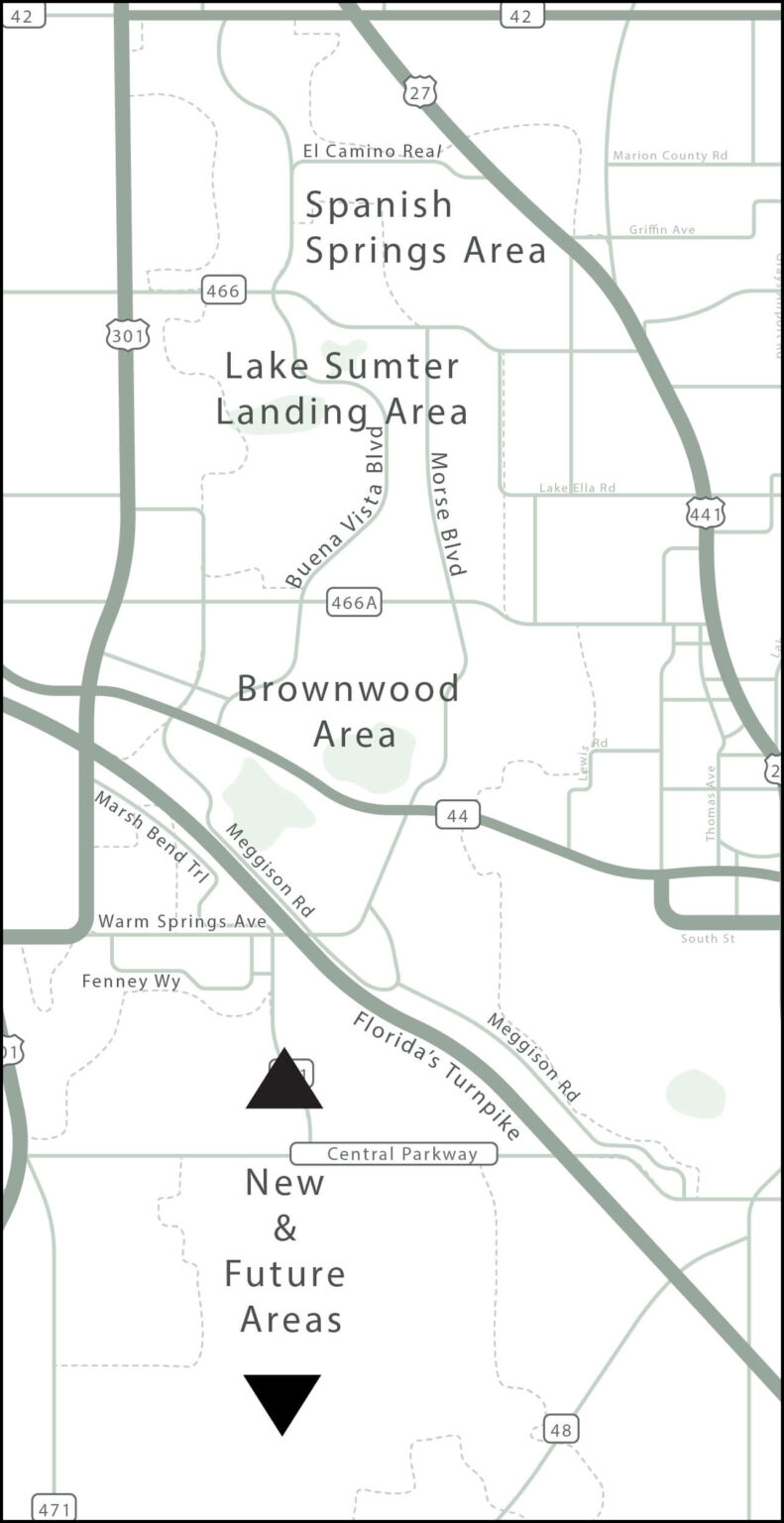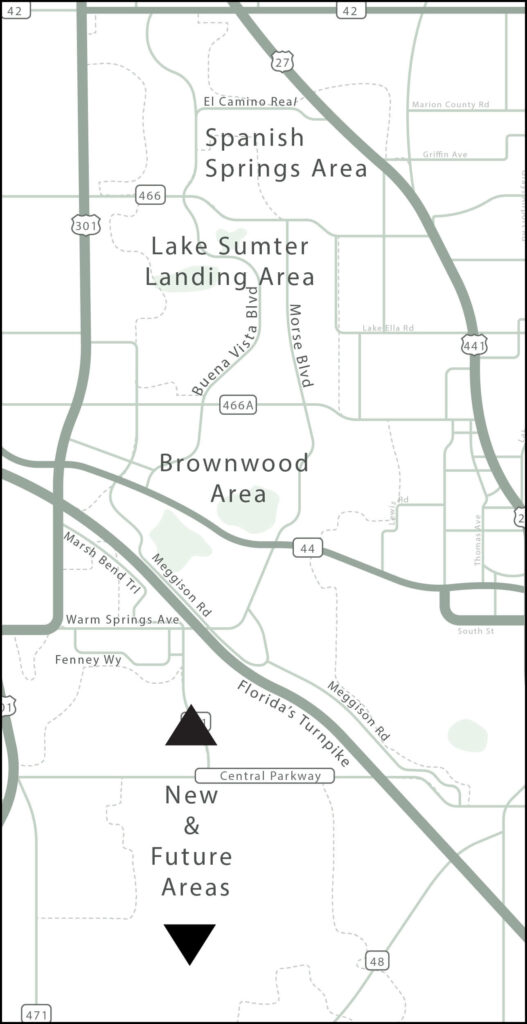 Map is for illustrative purposes only.
In addition to thinking of The Villages as a long vertical rectangle, there are four distinct areas … three with town squares… and some major roadways running East to West that help us mentally or visually break it down further into sections.
Please keep in mind that the sections I'm about to describe are not "officially" recognized sections, but I came up with this way of describing the various parts of The Villages years ago and people seem to find it helpful.
I find that it helps newcomers when they think of The Villages as having four distinct areas:
Spanish Springs Area: Everything North of County Road 466
This area is the oldest part of The Villages. Spanish Springs, which was the first town square built in The Villages, is located in this section. Other major shopping centers nearby include La Plaza Grande Shopping Center, Rolling Acres Plaza, Spanish Plaines, Mulberry Grove Plaza, Buffalo Ridge and Southern Trace Shopping Centers.
The Savannah, Paradise, and La Hacienda Regional Recreation Complexes as well as several smaller recreation centers are also located in this area, along with The Villages Polo Club, Veterans Memorial Park, the Saddlebrook softball complex, and The Villages Regional Hospital.
Lake Sumter Landing Area: Everything Between County Road 466 and 466-A
This area includes the second town square built in The Villages, Lake Sumter Landing. Other points of interest include The Villages Charter School, The Villages High School, the Buffalo Glen Softball Complex, Laurel Manor, Colony Cottage, Lake Miona, and SeaBreeze Regional Recreation Complexes, and Colony Plaza Shopping Center.
Brownwood Area: Everything Between 466-A and State Road 44
This area includes the third town square, Brownwood Paddock Square, as well as the Brownwood Hotel and Spa, the Center for Advanced Healthcare at Brownwood, and The Villages' first apartment complex called the Lofts at Brownwood. Other highlights include The Eisenhower and Rohan Regional Recreation Complexes, The Villages Public Library, the Sharon Rose Weichens Preserve, the Soaring Eagle Softball Complex, and more.
New and Future Areas: Everything South of State Road 44
For years it was believed that The Villages would stop at State Road 44, but one thing you will learn about The Villages is that there's no use trying to predict what will happen here, even if that's based on official statements from the developer.
Over the last few years, The Villages has acquired enough land in this area south of State Road 44 to essentially double the size of the community. I don't believe we've quite settled the debate as to what this area will be referred to in the long run. Right now some call it "Southern Oaks" after the name of the large plat of land that takes up much of this area, some call it "Down South", and others are simply calling it "the new area". Maybe it will be called the "Eastport Area" if that lifestyle center turns out to be everything we think it will be.
But, for our purposes in this edition of the book, I'm just going to call it the "New and Future Areas" for now.
In 2020-21, three new bridges were added to the multi-modal path network to help golf carts, cyclists and pedestrians over the Florida Turnpike and SR 44 into this new area. Other similar bridges are planned to further connect the new and future areas of The Villages with the more established areas.
We'll talk more about all of the exciting new things on the horizon soon enough, but first, let's take a look at how we got here.
Chapter 17: Cost of Living
Far and away the most frequently asked question I get is some variation of:
"What does it cost to live in The Villages?"
The answer is not as straightforward as many would like, because everybody's situation is different, and figuring out one's cost of living is not at all like, say, inquiring about the price of a hotel room. But some folks seem to think it should be so easy and sometimes I wish it were.
In order to find out what YOUR cost of living in The Villages will be, it's going to take some serious effort and thinking on your part.
I know…the nerve of this guy, right? But I'm hoping that the information and resources in this chapter can at least help you arrive at a fairly accurate estimate of your potential cost of living.
A few disclaimers: prices are averages based on what I've heard, seen, experienced. Assume we're dealing with a $300,000 home when discussing housing related items. Prices change all the time.
I'd say well over half of the people posing this cost of living question have received an information package from The Villages and most of them question the accuracy of the monthly cost of living figures presented there.
If you've not received the package containing this sheet, it totals up the estimated cost of the amenities fee, sewer, water, power, trash, phone and cable, insurance, average taxes, and the CDD assessment and shows you a range of $783 to $1,261 per month to live in The Villages. (As of 2021)
While I do believe that most of their figures are accurate, they also leave out a lot of other expenses that make up ones cost to live in The Villages.
So let's take a closer look at figuring out your monthly cost of living and decide for ourselves whether or not living here is doable for you. What I'm going to do is present you with a list of costs that you might incur. Some of these might be ongoing monthly or yearly expenses (eg: lawn care) and others might be one time purchases (eg: buying a golf cart).
Again, it's important to keep in mind that many of these costs are not going to apply to everyone, I'm just trying to get it all down on paper and you can pick what's applicable and what's not. Also, assume the figures below are for a $300,000 home. Buying a million dollar home in The Villages? Your costs will undoubtedly be higher.
Cost of Living Worksheet Download
I've also put together an Excel spreadsheet with a list of some of the expenses featured in this article. You'll want to plug in your own numbers but I at least wanted to get things started for you.
You can download the spreadsheet here.
*Important note: That is an automatic download link. Once you click it (if you're reading the ebook) or visit it after typing it into your internet browser the file will automatically download to your computer to wherever your downloads go. This will be different for everyone. Some people have a downloads folder. For others their downloads just go to their desktop. I often get emails saying "The link doesn't work." It works. You just need to find where the file was downloaded to on your computer or device.
Mortgage Payment
I know many people pay cash for their homes, but many choose to carry a mortgage, even if it's just for tax deduction reasons. If you visit Bankrate.com you can calculate this one using your own figures but I used a $300,000 house, with 20% down, and a 30-year fixed rate mortgage at 3.1% and came up with $1,288 per month.
This cost alone doubles the seemingly attractive monthly cost of living estimate provided by The Villages, but again, a lot of people buying here do pay for their homes in cash and never get a mortgage, so a mortgage payment may or may not apply to you.
Homeowners Insurance
I think The Villages estimate of $70-$100/month here is pretty accurate. Of course you can adjust this up or down based on how much home you intend to buy accordingly. But, even though it likely won't be required that you carry it, I always tell people to get flood insurance too just in case. So let's call that an additional $400/year or about $33/month to be safe. You might also want to consider sinkhole insurance, but we'll explore that topic more in a later chapter.
Amenities Fee
This one is pretty straightforward. At $164 a month at the time of this writing this covers much of what makes The Villages such a draw. Things like golf on the executive courses, swimming, tennis, organized activities, 24 hour neighborhood watch and more. The amenities fee has been going up by a dollar or so the last few years, so depending on when you are reading this it might be a little bit higher. For historical reference, when I published the first version of this book back in 2008 they were $130 per month.
Property Taxes
The Villages estimates this at between $238 and $525 per month, depending on the price you pay for your home. In addition to the value of the home, the actual amount you pay in taxes will depend on whether you qualify for homestead exemption, and which county the home is located in. But for a $300,000 home count on paying between $3,000 and $4,000 per year, which works out to between $250 and $333 per month.
Sumter County, where most of the homes in The Villages are located, has a Property Tax Calculator on their website that you can use to estimate what your taxes might be.
Bond/CDD Assessments
An additional "non-ad valorem" tax you will likely see on your property tax bill, not included in the figure I just gave you, will be for the CDD bond and maintenance.
I'll explain more in the next chapter, but you'll likely have a CDD infrastructure assessment and a maintenance assessment. The infrastructure assessment can be paid off, and many homeowners choose to do that. You'll see some resales advertised with the statement "Bond paid". But regardless you'll always have the CDD maintenance assessment to contend with.
The Villages estimates this at between $129 and $220 per month, which is probably pretty accurate for a $300,000 home. But I've seen CDD assessments below $1,200 to more than $5,000 a year, so again, this is going to depend on what type of home you ultimately end up with, where it's located, if the bond is paid, and so on.
Utilities
In my opinion utilities are tough enough to estimate, let alone when you estimate them individually. You've got people that never set the thermostat below 80 thus they have a consistent power bill, but maybe they love their 30 minute showers leaving them with a higher water bill than others. So for simplicity's sake let's lump them into two groups: water/sewer/power/trash and cable/phone/internet.
For water, sewer, power, and trash collection The Villages estimates these costing between $182 and $262. I'd go a little more conservative here and estimate $300-$350 AND add another $100-$200 if you have a pool to cover the costs of running a pool pump. Add even more if you have an electric or gas pool heater.
The Villages cost of living estimates say nothing about cable, phone, or internet, other than that they are not included in their estimates. But I don't know too many people that get by without some combination of these services.
Of course some people may forgo a landline in lieu of using cell phones exclusively, and more and more are canceling cable and going strictly streaming. But no matter which combination of services you ultimately choose, I'd budget between $150 and $250 for cable, phone, and internet.
Landscaping
You might think cutting your own grass and trimming your trees and shrubs sounds like a good idea at first, but most people eventually agree it's either too dang hot or they are just too dang busy to keep up with it all. So most opt for a lawn service to come take care of this for them.
I'd estimate $50-$75/month for an average size house. Of course it's going to depend on the size of your lot and other factors, but we're shooting for averages here. Note that while you will get cut more in the summer and less during the winter, most services will charge you the same each month. It just helps them keep a steady cash flow and I think it helps the homeowner too so it's pretty easy to remember what to pay.
Trimming of trees/shrubs is usually additional. I think if you budget $40-$50/month here you'd be pretty safe.
Pest Control
Most people, especially those coming from up north, never think of this one. You're going to want to have your yard sprayed for pests, as well as the inside of your home too. Some companies recommend monthly service, others say you can get by with quarterly. In either case, expect this to set you back $80-100/month.
Termite Bond
No matter what type of home you buy, do not go without a termite bond. Count on paying at least $100-$200/yr. for this.
Exterior Maintenance
You might want to budget for having the outside of your home pressure washed once or twice a year, and painted every 5-7 years. Pressure washing will probably run $100-$200 per visit, and painting for a 1,800 sq. ft. home should be between $2,000 and $3,500.
Groceries
I'd say grocery prices in The Villages are pretty average for Florida. There's quite a bit of choice with Publix, Winn-Dixie, Walmart, etc., so the competition helps keep prices in check.
Drinks and Eating Out
Same for restaurant and drink prices. There are lots of choices, and the competition keeps the prices in line. You don't have to look too hard to find coupons and deals enticing enough for just about any budget.
But, because of the amount of choices, most of which are just a short golf cart ride away, residents find themselves eating out and/or socializing with new friends more than they ever have in the past.
So to be safe, add 20-30% on to whatever your budget is now for drinking and eating out, not because prices are higher, but because you will likely be doing it more often.
Golf
"Free golf for life" might just be the very thing that got your attention and attracted you to The Villages in the first place. But, it's not quite that simple.
There is a small fee for golf cart rental. You can also use your own cart and pay a trail fee either daily, semi-annually, or annually. You've got several options as it relates to Priority Championship Course Memberships, but on the high end they are currently $925 per couple (rates are less for singles) and this includes use of the Country Club pools and spas.
You also have to pay greens fees on top of this, though you do get a slight discount with this priority membership.
Golf Cart
This will likely be one of the first purchases you make after buying your home, and many even complete this purchase BEFORE buying their home! Prices, styles and options for golf carts are almost as varied as for homes. You can find used carts in the classifieds or in some stores for less than $2000 or you can spend more than $20,000 for a tricked-out custom cart. The choice is yours but don't forget to budget for this expense.
You'll also need golf cart insurance. Like anything else it's good to shop around. Ask your cart dealer or salesman for a recommendation. I've seen rates range between $60/year to more than $200/year.
Roadside Service
Like cars, golf carts get flat tires, dead batteries, etc. A couple companies offer roadside assistance for yearly fees ranging from about $35/yr. to $60/yr. depending on the level of service you'd like. Check out Kartaide and 24 Hour Cart Club for more details.
Entertainment and Movies
You'll never be short on entertainment options in The Villages. You've got nightly entertainment in the town squares which is free. There are also ticketed shows, musical acts, Polo matches, etc. with ticket prices ranging from just a few bucks to more than $100+ depending on the act and the venue.
The Villages movie theater and ticket prices are currently $8.50 for residents showing a resident ID.
Newspapers
The Villages Daily Sun is currently $84/year. While you should probably subscribe just to keep up with daily events/happenings you're not going to see any hardcore news reporting. Because of this, many also get the Orlando Sentinel which is about $200/yr for a digital subscription or $360/yr for the print edition.
TheVillages.net
You can get golf tee times by phone, but most want the convenience of doing it online. If that's you, you'll pay $8/month for TheVillages.net. This also includes 2 @thevillages.net email addresses.
VHA/POA Memberships
I'm a strong proponent of joining these two organizations. After a while you'll notice they have different aims and viewpoints in many cases but both are worth being a member of. The Villages Homeowners Advocates (VHA) is just $25/household for 2 years, and the Property Owners Association is $10/household for 1 year.
Housewatch Service
If you're going to be a seasonal resident you'll probably want to look into a housewatch service and these range from $35-$50/month depending on the level of service you want.
Various "One-Time" Costs
A lot of people fail to consider the many "one-time" costs they might incur when first moving to The Villages. Prices vary greatly for things like adding gutters, screening in your lanai, buying new patio furniture, adding decorative curbing, interior painting, and much much more.
Resident Parker Sykes, author of the epic post on my website "50 Things to Think About Before Buying a Home in The Villages" insidethebubble.net/50-things/ says that you can plan on at least $5,000 worth of this type stuff needing to be done at a minimum, and I'd agree. Just remember to take these into account when doing your budgeting/financial planning.
What did you come up with?
When I plug in some of the numbers above into a spreadsheet, I come up with a monthly cost of living (for me) of more than $4,000.
But don't let my number scare you. Maybe I factored in a little too much for golf, or maybe I plan to spend a little more on things like groceries and eating out than you. Adjust your figures accordingly!