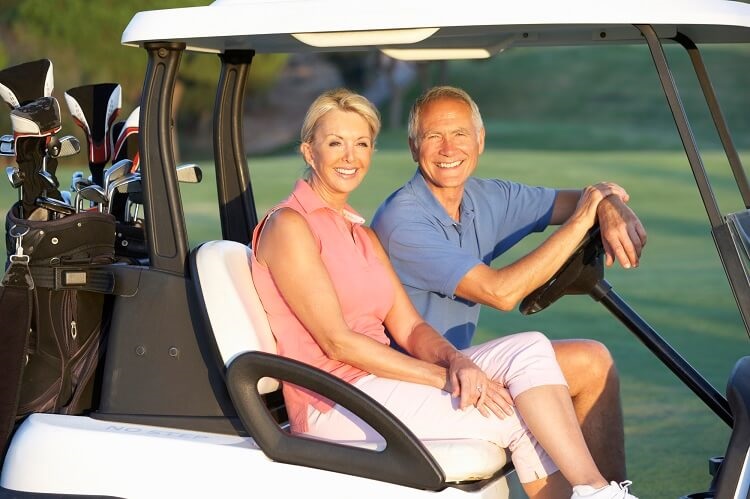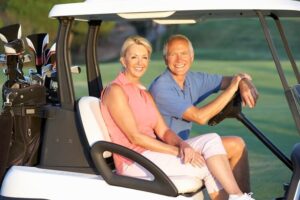 As I write this I have been home about a month after spending 2.5 months (mid-January through March) in The Villages, Florida.
If you missed the fact that we snowbirded there this winter, you can catch up with our escapades by reading the following: Thoughts on The Villages, Florida, and Snowbirding, Part 1, Thoughts on The Villages, Florida, and Snowbirding, Part 2, and Thoughts on The Villages, Florida, and Snowbirding, Part 3.
I know…it was quite a saga. Hahaha.
Now that I've had some time to digest my thoughts and feelings on the trip, get settled at home, and work through my dad's purchase of a home in The Villages (by the time this posts, he will have closed on it and be back down there), I thought it was time to do a review of The Villages for ESI Money.
It's the number one question I get asked — online and in person: "How was it?"
So I'm going to answer that question and hopefully provide you with some food for thought if you're so inclined to check out The Villages for yourself.
Doing a review on The Villages is a huge undertaking and one that I want to get right. That's why I'm really going to do three reviews — or, if you prefer, one review with three separate parts as follows:
That said, there are a few thoughts I want to get out before I begin:
Media Opinions on The Villages
Before I get to my thoughts, I want to address the seemingly endless "reviews" of The Villages online. Yes, the heavyweights in the mainstream media have discovered The Villages and they must weigh in with their opinions.
I get asked a lot about the articles people see on The Villages (most of which are negative, which tends to sell more papers, get more viewers, etc. than positive news). Here are my thoughts on those articles which I would generally classify as "hit pieces" (this is a response I left to one such post in the MMM forums but serves as a guideline for them all):
To start, journalists are experts of (or at least try to) creating an illusion of competence, which is what this author is doing. She knows little about the subject she's speaking on but knows what she wants to say, so she just writes to make the pieces fit from there.
For more on this, see Mainstream Financial Experts Are Experts at Creating the Illusion of Competence.
IMO, all these pieces are written by journalists trying to grab headlines and generally don't reflect what The Villages is about.
I've seen posts about the "party scene" at The Villages. Yes, if you go to a bar there on a Friday night, you would think it's a party place. But I never saw anyone partying what I would consider "hard", never saw anyone drunk, or even slightly tipsy.
I've seen pieces about how it's a sexual fantasyland for older people. If it is, I missed it completely. And so did my dad (and he was looking for it! LOL.) Most of the people were married and had been so for decades, much to my dad's chagrin. He said many times, "All the good women are taken!"
If you want to write a hit piece on anything (drugs, sex, child porn, whatever) I'm certain you could find it in The Villages. It's a VERY LARGE community of 120k-150k people (I've heard different estimates). Go to ANY community that size and you can find all those things as well. If anything, I would guess that The Villages has less bad stuff (it does if you look at the crime stats) than most communities that size (but it's just a guess based on the limited info I have.)
I didn't see anything but a bunch of active people enjoying themselves and respecting others. But then again, that doesn't make for a snazzy, clickbait headline and story either.
For those who love or hate The Villages and haven't been there, I would say visit it. And try to stay for at least a couple weeks to get a real feel for it. If you then hate or love it, your opinion is based on something other than a feeling, what you read, or a very short stay.
Ok, now that we have all that out of the way, let's get to it.
We begin with my list of pros and cons of The Villages.
I do list them by number based on what I view as the biggest wins and losses, but your list may vary.
Pros of The Villages
We start with my list of pros…
1. Tons of Activities
This is the bread and butter and what The Villages is known for IMO. If you want an active, senior lifestyle with a wide range of options on almost any subject, The Villages simply can't be beat.
Let's look at all the activities it offers:
There's a lot more (if you can imagine it) but just these alone make The Villages an unbeatable place for fun and active living for older folks.
2. Affordable Homes with Good Surrounding Environment
This is a broad category but basically covers the homes (costs and quality) as well as the common areas and the general "vibe" of the place.
I have no reason to believe the homes are better or worse built than any others (though some of the Google articles I found count the developer/builder as a positive), but I do know they are affordable…certainly more affordable than comparable homes in Colorado Springs. And this is for a brand NEW home in The Villages.
Most of the homes also come with a screened-in lanai which is amazing. Ours opened up from sliding glass doors in the living room — and they opened very wide. Then the lanai itself was probably 20 feet by 10 feet, had plenty of furniture in it, and was a great place to enjoy a lunch, dinner, or just a chat. The cat loved it too as he felt like he was outside (he did catch a few tiny lizards out there during our stay)!
The common area landscaping is immaculate. As I drove home from Lake Sumter one day I marveled at how beautiful the place is overall. It's very nicely designed and clean. Imagine a Disney World sort of clean/attractive feel applied to a residential area. And the squares have the same sort of Disney-esque feel — very nice indeed.
Within the living areas (the actual "villages" themselves) it's pretty quiet — at least where we were. We lived in the Village of Bradford, a newer community in the south, so it could be things just weren't that developed there yet. But overall I would say it's generally very peaceful. That said, it is a bit more hectic up north, especially with the traffic, where things are more developed.
There are about a million roundabouts in The Villages, many of them on Morse Boulevard (one of the main drags). The pros are they keep things moving as Florida traffic lights change about every five minutes (miss one and you're doomed — lol). The cons are they slow things down and even though there are signs detailing what lane to be in, many drivers either don't read the signs or don't want to abide by them, making for some near misses on occasion. I'm rating them as an overall positive as I'd rather be moving (even if it's slowly) than sitting at light after light.
3. Centrally Located, Good Location
When we told people we were staying in The Villages, one of the most common objections we heard was that it was in central Florida away from the beaches. I'll get to my reasons in a moment why this wasn't a negative for us.
Going down there, I thought the location would be "ok", but after living there almost three months, I think it was pretty ideal. The Villages is about an hour north of Orlando and is a medium-sized town. This makes it large enough that there's lots going on to live an active, fun lifestyle, but not so much that you're in the muck of the big city. After sitting in traffic jams in Tampa, Orlando, and Sarasota, let me just say that it's way better for us to be close to but not in that stuff. It's nasty.
In addition, you can get to a ton of places in a couple hours. While there we took trips to St. Augustine, Vero Beach, Clearwater Beach, Siesta Key, Sarasota, and Orlando — most of them day trips driving there and back in one day. It's easy access to a ton of different cities and their activities.
As far as "not being on the beach", let's just say living on the beach in Florida for an extended period is very over-rated IMO (for a 10-day trip it's great. Not so much for 2.5 months). First of all, the beaches are "fine", but nothing really special. Yes, they may be better than the ones in Texas, but they are not comparable to Hawaii or the Caribbean beaches in any way. Second, the traffic around the beaches is horrendous — both car traffic and people traffic. Too packed to live there full-time. Third, what do you do on a beach for 2.5 months? After three days I would have done everything I wanted to do. You can always drive to the beach and even stay there 2-3 days, but it's impossible to replace the activities in The Villages.
For all these reasons, I think The Villages is in a great location.
Oh, and just for the record and in case you were wondering: 1) the most deadly part of a hurricane is the storm surge and 2) hurricanes tend to dissipate over land. Both of these are additional advantages for The Villages for those concerned about storms.
4. Florida
Like any state, Florida comes with it's charm and its baggage. But overall I would say being in Florida is much more of a pro than a con.
For the record, I lived in Florida in 7th and 8th grade, so I have lived there year around. That said, I was a kid then so feel I can better evaluate things now.
Obviously, the weather was great in January-March. It wasn't perfect as there were some cold days, especially in January. And Colorado isn't a total train wreck weather-wise during this time, so it wasn't like we traded 75 terrible days for 75 great days.
But in general and on average, Florida weather is much better in the winter. In fact, I would say Florida weather is better than Colorado weather from October through April. After that there are a couple months you could debate and the others favor Colorado.
My wife would say Florida is better October (maybe even September) through May, but she does like it warmer.
Let's just say we're watching Florida weather closely this year to see how hot it gets and for how long. And I plan to go to Orlando in early September, so I'll see for myself how it is then.
Of course there's Florida in the summer which many people dislike (including me). But if your tradeoff is a brutal summer or a brutal winter, you just have to pick your poison. Personally, I don't mind a nip in the air, but my wife is a definite warm weather lover. It probably makes a difference that I weigh 100 pounds more than she does. LOL.
Another plus of the weather: my skin LOVED Florida. In Colorado, once we get into winter my hands always crack and bleed despite applying tons of lotion, Bag Balm, and whatever else I can find. In Florida there was no problem at all and my skin looked 10 years younger!!!
5. Easy to Make Lots of Friends
Imagine this: people come from all over the U.S. (and world) to live in an active community. They join clubs and pursue activities where they then meet other people who love the same sorts of things.
So what happens? This set-up is a natural way to make new friends who like what you like.
From pickleball alone, I probably knew 50 people by name (first name — last names were harder to remember or even ask about) down there. And if we had been there longer or lived in The Villages I would have joined a few clubs (maybe chess, cycling, or even taken up golf) and met a ton more people.
In other words, it's an environment that's designed to make it easy to make friends.
Some people talk about disliking The Villages because it's too homogenous. I find that those who say that have almost never been there, even for a short visit. I'll admit that there isn't a lot of racial or age (of course) diversity, but there is certainly diversity by location and background. People come from all sorts of backgrounds and just about every state. If you think they all think/act/behave the same way, I have a bridge to sell you.
There's much more to like about The Villages (which we'll see in part 2 of this post) but those are the major advantages IMO.
However, it's not all rainbows and butterflies in central Florida. There are negatives as well, so let's get to them…
Cons of The Villages
The cons of The Villages aren't as big of a deal as the pros and are certainly outweighed by them, but there are some things that at least could be better IMO. These are:
Those are my pros and cons. IMO, the pros greatly outweigh the cons, but you'll need to make your own personal judgment based on what's important to you.
But don't decide yet, we have much more to cover.
To see what else there is to say, see part 2 of this review.