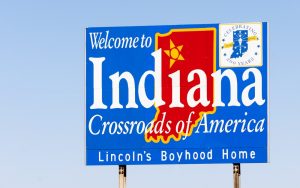 Today we continue the ESI Scale Interview series where people answer questions about their success at working the ESI Scale.
In short, the series focuses on what the interviewee is doing in the areas of earning, saving, and investing. They also get an opportunity to ask ESI Money readers for suggestions if they choose to do so.
If you'd like to be considered for an interview, drop me a note and we can chat about specifics.
With that said, let's get started.
My questions are in bold italics and his responses follow in black.
OVERVIEW
Please tell us a bit about yourself.
I'm 33 years old and my wife is the same age.
We knew each other in high school, but weren't sweethearts in case you're wondering. We ended up in the same college town, one thing led to another and we'll be celebrating our 10 year anniversary next year.
We have two kids and a cat and live in the Midwest (Indiana).
You can read a bit more about me on my blog.
What is your current net worth?
We comfortably have a two-comma net worth, but not quite able to put the multi- prefix in front. I'm still working on that. 🙂
Our net worth roughly breaks down as follows:
45% retirement funds (401ks and IRAs)
15% taxable funds (brokerage and real estate crowdfunding)
30% home equity (no mortgage, but we have a HELOC currently drawn to a ridiculously low 7% LTV)
10% other net assets (checking/savings, 529 college savings, a car, credit cards, etc.)
How did you accumulate your net worth?
There are three primary drivers of our net worth accumulation:
1. Above Average Earnings. My wife and I both have professional careers and have been able to earn north of $100k total every year since we've been out of college. Some years were much better than that, but we've never been part of the 1%. Those earnings came will a lot of baggage attached, however, mainly late hours and stress. I consistently worked 80+ hours a week for almost a decade in finance, which takes a toll.
2. Post-Great Recession Bull Market. We got married right before the bottom fell out of the markets and didn't have a lot of money in the market then (I had only been out of school for two years and my wife had just finished a graduate degree). We basically started really plowing money into the market since 2009 and have rode the wave ever since.
3. Luck (with a dash of discipline). We've been incredibly lucky, there's no denying it. I have a very supportive spouse, survived a couple rounds of layoffs, changed jobs multiple times and made some good real estate investments. The dash of discipline primarily refers to the fact we've been diligent savers throughout or working years. We did struggle to keep a budget month to month, but always managed to save in our 401ks and bank any bonuses received. It didn't seem like much at the time, but when I look back it's crazy to see that we've managed to save hundreds of thousands of dollars so far.
EARN
Tell us a bit about your career.
I've worked in finance my whole career.
I started out in investment banking M&A and lasted there 8 years (impressive considering most burn out after 2 years).
I worked on dozens of deals worth billions (with a B) of dollars, so I guess that's…something.
I still work in finance, but in not nearly as fast paced an environment. That was the decision I made to spend more time with my family.
Do you have a side hustle?
No side hustle other than the army of little green dollar bills working for me 24/7.
I've dabbled in some crowdfunded real estate and P2P, which I guess could be considered a side hustle.
I also blog about personal finance/FI, but that's just a creative outlet for now. I may try to monetize in the future beyond just covering my costs, but that waits to be seen. I mainly just want to get my thoughts out there on finance topics because I think my experience and perspective are unique.
How happy are you with these results and what future plans do you have for growing your income?
In general, I'm happy with it.
None of it came without significant sacrifice, I'm just glad we've had the good fortune to turn our earnings into savings then into investments (see what I did there?)
I'm not focused on growing my income substantially at the moment, because I'm not willing for my lifestyle to take the hit if I were to go back to a really work-driven focus.
SAVE
What percent of your gross income do you save?
We use the rule of thumb of spend one-third, save one-third, pay taxes with one-third. That works out to a 50% net savings rate. I'm guessing we've been close to that over the long-run, but not quite.
Our income is a lot lower now that I made a career change, so taxes take out a smaller bite, but spending is higher as a percentage of income.
That said, we've been able to keep savings on track and we're at 45% net over the past 12 months including employer matches.
How did you get to this level?
It's one of the silver linings of having a lumpy income.
In my prior career, I could see as much as a third of my total income in a single paycheck as an annual bonus. We had the discipline to live within our means for the other 23 paychecks and then bank the 24th big one.
As an aside, I had co-workers who were cash flow negative every month and needed the bonus to bring them back to even. They spent it before they earned it. I can't imagine how stressful that must have been.
How happy are you with these results and what future plans do you have for saving more?
I'm pretty happy with the results, but also recognize that because of what I've done to date that savings isn't going to be primary driver of my net worth growth from here on out.
It'll help (and I'm not going to stop doing it) but most of my growth is coming from investment gains. Our savings relative to the size of the portfolio just aren't that great any more.
INVEST
What are your main investments?
Almost all our investments are in plain old index funds with a handful of exceptions like real estate crowdfunding.
Here is the breakout by asset class:
50% US Equities
25% International Equities
15% Bonds
10% Alternatives (mainly real estate crowdfunding and P2P)
This mix is consistent with both our target allocation (based on our risk tolerance) and the mix of contributions we make from savings.
I try to broadly track with the S&P, and this allocation has come pretty close this year.
How happy are you with these results and what future plans do you have for investing?
Once again, I'm pretty happy with where things are at.
I'm a little concerned about what will happen when we inevitably will have another correction, but feel good about my downside exposure.
If you remember from above, I have a HELOC that's basically undrawn, so if/when we do have a big decline, I'll jump in feet first.
The one other investing action I'm going to be taking more of is in the real estate crowdfunding space. I like that it's more diversified than just the stock market and provides some cash returns too. My plan is to draw down a portion of the HELOC over time to invest here, which has the added benefit of diversifying my net worth away from my primary residence (lower home equity, more investments).
WRAP-UP
What money mistakes have you made that others can learn from?
My biggest money mistake has probably been second guessing myself and my decisions.
Should I have invested extra money vs. paying down the mortgage? Should I reshuffle my asset allocation again? Should I…fill in the blank.
In all instances I was so focused on fine tuning things that I probably didn't need to worry about. Why worry about saving $100 a year when the market could move 20x that much in a single day?
As long as I got the big stuff right (saving and investing) the rest would pretty much take care of itself.
Are there any questions you have for ESI Money readers regarding any parts of your finances?
I guess I'm just looking for some validation that I'm not doing anything stupid.
I don't think I am, but other than my wife, there isn't anyone else who knows the details of our finances.
While I'm sure some have inklings, I bet our friends and family would be absolutely shocked if they ever peeked behind the curtain and saw the real numbers.