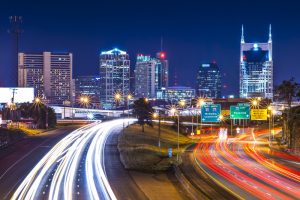 Today we continue the ESI Scale Interview series where people answer questions about their success at working the ESI Scale.
In short, the series focuses on what the interviewee is doing in the areas of earning, saving, and investing. They also get an opportunity to ask ESI Money readers for suggestions if they choose to do so.
If you'd like to be considered for an interview, drop me a note and we can chat about specifics.
With that said, let's get started.
My questions are in bold italics and his responses follow in black.
OVERVIEW
Please tell us a bit about yourself.
34, no wife, no kids, Nashville, TN.
I grew up on 50 acres of land near Nashville, oldest of three children, to an optometrist and a teacher.
We were taught the importance of self-reliance and that debt is a tool; use it responsibly.
I studied Economics and Finance at Tennessee Tech in Cookeville, TN and MBA at Lipscomb University in Nashville, TN.
I like going to the Predators hockey games! I'm dedicating this to debt anchored, educated Millennials; you can do it!
What is your current net worth?
$17,507.57.
I also just paid off $31,455 MBA, three years early!!! Details on the former payment are in the Save section.
I do feel it was the investment I needed to make, just surprised that hiring managers held it against me because of my youth.
I drive a wonderful 2013 Nissan Altima that I picked up used and a year's less miles than average. I knew that was a deal; I pay 4.5% interest, too, because of my 804 credit score. It's not free money, but the payoff guarantees a 4.5% return, way worse than what a bond fund is returning right now. I may make principal payments occasionally, but I can do way better elsewhere.
Dave Ramsey would yell at me, and I'd tell him he was mistaken. I drove a 1999 Toyota Camry from Feb 2002-Dec 2016.
I also hold about $800 in physical silver. It's more wealth insurance than investment. I don't really count it in net worth, but it's noteworthy.
As of 01/21/18 (and yes, I need asset balance, which will be discussed):
Vanguard: $21,028.45
Etrade: $1,506.71
53: $2,036.95
401k (vested): $1,392.50 (I'm new to Company)
Total Assets: $25,964.61
NMAC – 2013 Altima: $(8,457.04)
Net worth: $17,507.57
How did you accumulate your net worth?
In the beginning of 2016, the Dow Jones fell to 15,900. People were freaking out. I was throwing any kind of dollar I had into my IRA! There was a lot of red for a few months on my statement, but as time went on, it went positive. My cost basis is still anchored by those lower purchases I made two years ago, and it's boosted my returns.
When the Dow rises, buy. When the Dow falls, buy more. You've got many years, use them.
EARN
Tell us a bit about your career.
I'm a tax accountant. I make $65,000 (started 11/2017).
I started at $35,000 as an auditor with the state government in 2007, left in 2009 to pursue my MBA.
My wages stayed pretty stagnant during the Great Recession (between $40,000 and $50,000). I've now applied my accounting knowledge into high demand area of the discipline.
Do you have a side hustle?
No. Whenever I've investigated side hustles (ie Uber/Lyft), the costs are too high to be profitable. It's my time that I'm giving up. I am open to suggestions, because I have too much free time.
How happy are you with these results and what future plans do you have for growing your income?
They say the best careers are non-linear. I've had several project jobs where I learned a great deal with limited risk and I've had full-time work with companies already planning layoffs when I was hired.
I'm in a great place now, though! I can't wait to see what I can accomplish in a supportive environment.
SAVE
What percent of your gross income do you save?
I've never put a percentage on it, but my 401k savings rate is 7% (along with 100% match of 6% in 401k), and then I probably do another 5-8% into mutual funds, between Vanguard and eTrade (I make sure groceries and gas and stuff is funded first, though). Total, that's ~18-20%.
In terms of my former Student loan payment: This $150.54 former payment increases my 401k from 6% to 7% (net positive of $54.17) $27.08 will go to my IRA with Vanguard, and $69.28 will go to a worthy mutual fund for a condo/house (depending on my future situation).
Over three years, this is an increase of $5,419.44. What will it grow to?!?! I asked God for wisdom over that money, and this is the answer that I felt was the wisest course. Maybe I give some of it sometime, who knows? Many good options, but I needed to take care of myself with that money to begin with, before I tried to be generous with it. And that's totally ok.
How did you get to this level?
I'm pretty cut throat with my monthly recurring expenses. For example, I've not had internet at my apartment, so that I could focus on my student loans.
Now, I will reduce my data package with Verizon to purchase internet, and it should have (roughly) a net zero effect.
I have $0 credit card debt. While I prefer the security of a credit card, if there are charges, I pay them at the end of the month.
In ten years of holding a credit card, I have paid $4.19 in interest, total. (I took a weekend trip to see my sister in Wash DC, and I didn't calculate what I'd paid off and what was new. Oops.)
I have a separate "Bills" accrual account with the bank, where I use a spreadsheet to track my bills and keep that money separate. I don't raid that fund; it's already spent. Electricity, mobile, rent, car insurance, and car are the only things that run through that account. This is small, but I get household cleaners at Dollar General (Plus, I worked at the HQ north of Nashville on a project, and they treated me very well). The mark up at regular retail outlets for that stuff is just unreal.
Make your own coffee. It costs Starbucks probably between $0.50 and $1.00 to make that latte; think about that the next time you're in line.
This is the Great Depression mindset your grandparents speak of. It's just me, so I can be pretty fascist with little consequence. Wife and kids enter the picture, I'll back off. I'm not looking for this level in a girl; just a mentality that saving is important.
How happy are you with these results and what future plans do you have for saving more?
I've been so worried about my retirement; I'm not living my life to the fullest now, which is the exact opposite problem people have today. I'm working to build up my taxable accounts now, with an emergency fund always staying in place.
How did you keep yourself motivated while paying off the student loan?
I never looked at the whole balance. I broke it into each individual loan amount, and tried to lower that section's monthly payment, until it was gone or I issued the killer blow.
Then one day, I looked at my bank accounts, said a bad word, and paid off the remainder over about ten days, about $3,500, in December of 2017.
As I clicked, "Send", I could feel the proverbial weight people talk about, being lifted from my back. There's no magic bullet.
INVEST
What are your main investments?
Vanguard, since 2015, is up 11%. I had mutual funds, though, up 25% in a certain time frame.
I'm in Small cap, large cap, and international stock funds. $16,357.11 in purchases/sales, and $4,353.10 in gains.
I tried individual stocks in the IRA (Hanes, International Paper, etc), and it was good (just not a lot of money invested). Just not what the index funds were doing.
I'm currently looking at bond funds in order to rebalance. Considering my age, I don't need to exceed 15% in this.
How happy are you with these results and what future plans do you have for investing?
11% in an inexpensive index fund is just great. I've been buying on the way up AND the way down, so my return isn't going to be exactly the market return. In retirement planning, studies show savings rate is most important, with return secondary.
WRAP-UP
What money mistakes have you made that others can learn from? 
The MBA closed many doors, so I had a hard time getting work after graduate school in 2010 (who knew a 26 year old was overqualified to do anything).
I was out of money; there was no more. I closed a 401k with $3000. What do you want me to do? I had made all the right choices, and was getting hammered for it. I was very sad.
I have worried too much about retirement, and then have to use the credit card now. Not a mistake, per se, because I don't carry a balance. That's undisciplined in the OTHER direction, and I'm making a conscience effort to take care of myself first.
Are there any questions you have for ESI Money readers regarding any parts of your finances?
Bonds scare me in the current interest rate environment. Am I overthinking it? It's probably market timing behavior, but the losses could end up being staggering to me personally.