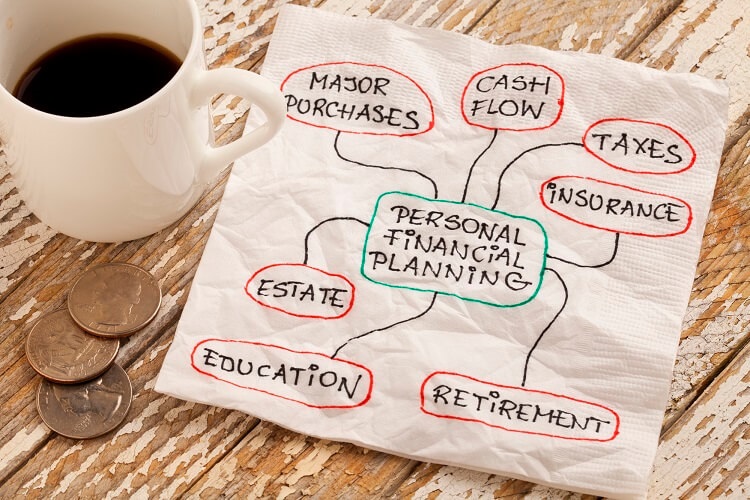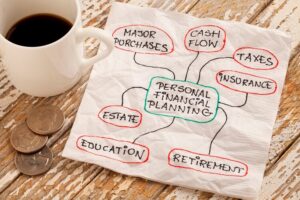 Do you remember when I shared some excerpts from The Infographic Guide to Personal Finance: A Visual Reference for Everything You Need to Know
?
Basically they took financial topics and made them easy to understand by putting them in infographics!
I loved how simple the book was, making it very accessible to people wanting to learn personal finance basics but who might be intimidated by reading a more-traditional book.
Well, it turns out that there's a similar book out now. It's called Napkin Finance: Build Your Wealth in 30 Seconds or Less
and is a combination of infographics and text that explains basic financial concepts.
The book is a bit too "money 101" for most ESI Money readers, but if you know someone who doesn't know much about money (your kids, family, friends, etc.) and would like an introduction to the basics, this might be a PERFECT gift for them.
FYI, the art and design seems like it's probably targeted at women more than men, but if you don't mind your guy friends calling you a sissy, then the book would work for men too. 😉
Anyway, I asked them if I could share some excerpts and they gave me permission to publish their entire retirement section consisting of the following subjects:
Paying for Retirement
IRA vs. 401(k)
Social Security
Estate Planning
Chapter Quiz
I'll run the main infographic for each section, then the text, before moving on to the next section.
Also know that the text in the book is designed to be very visually appealing, which doesn't come out in a simple blog post.
I wanted to share the following with you since these book seems tailor-made for those in your life who may need some basic money lessons.
Here we go…
——————————————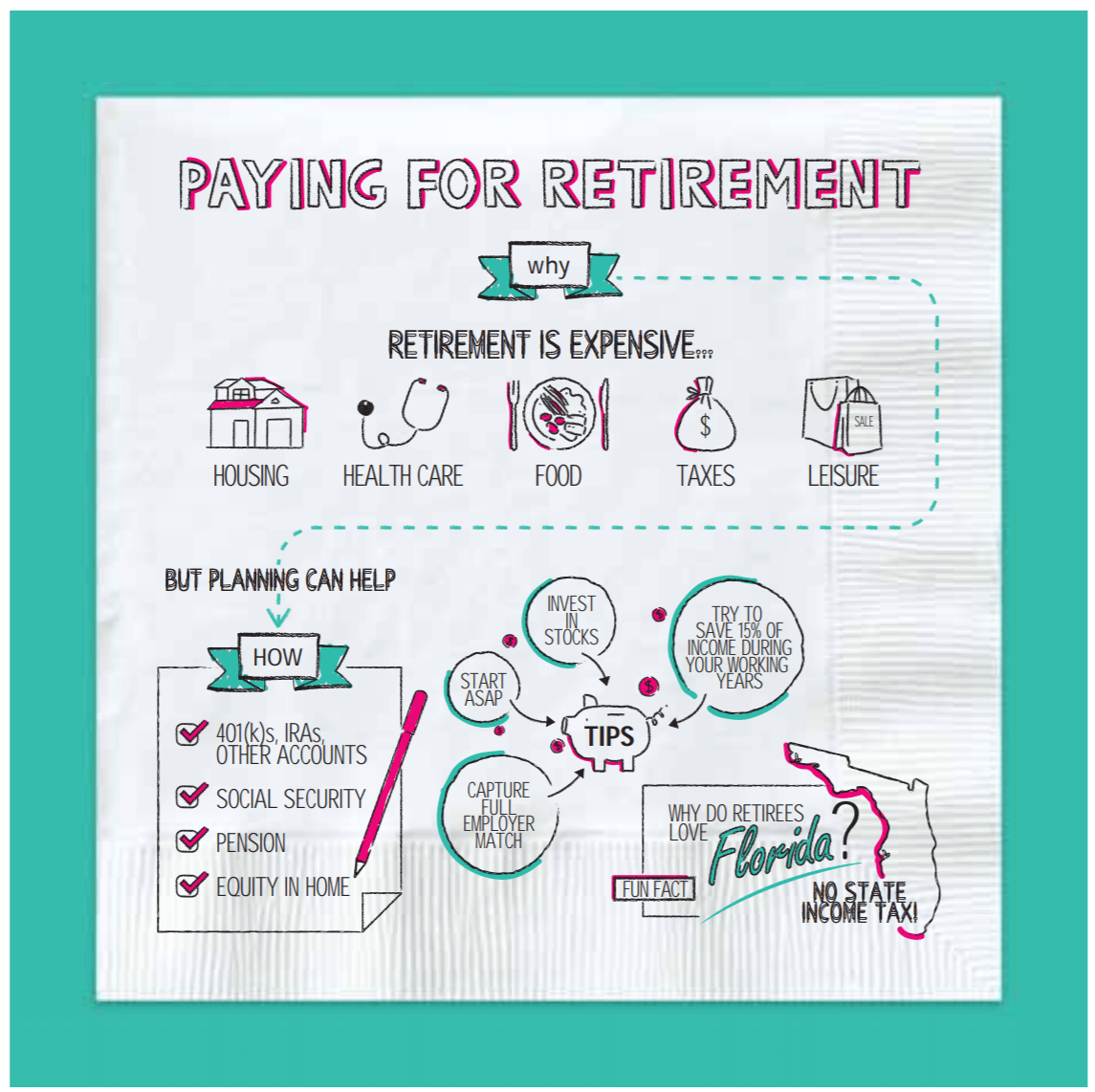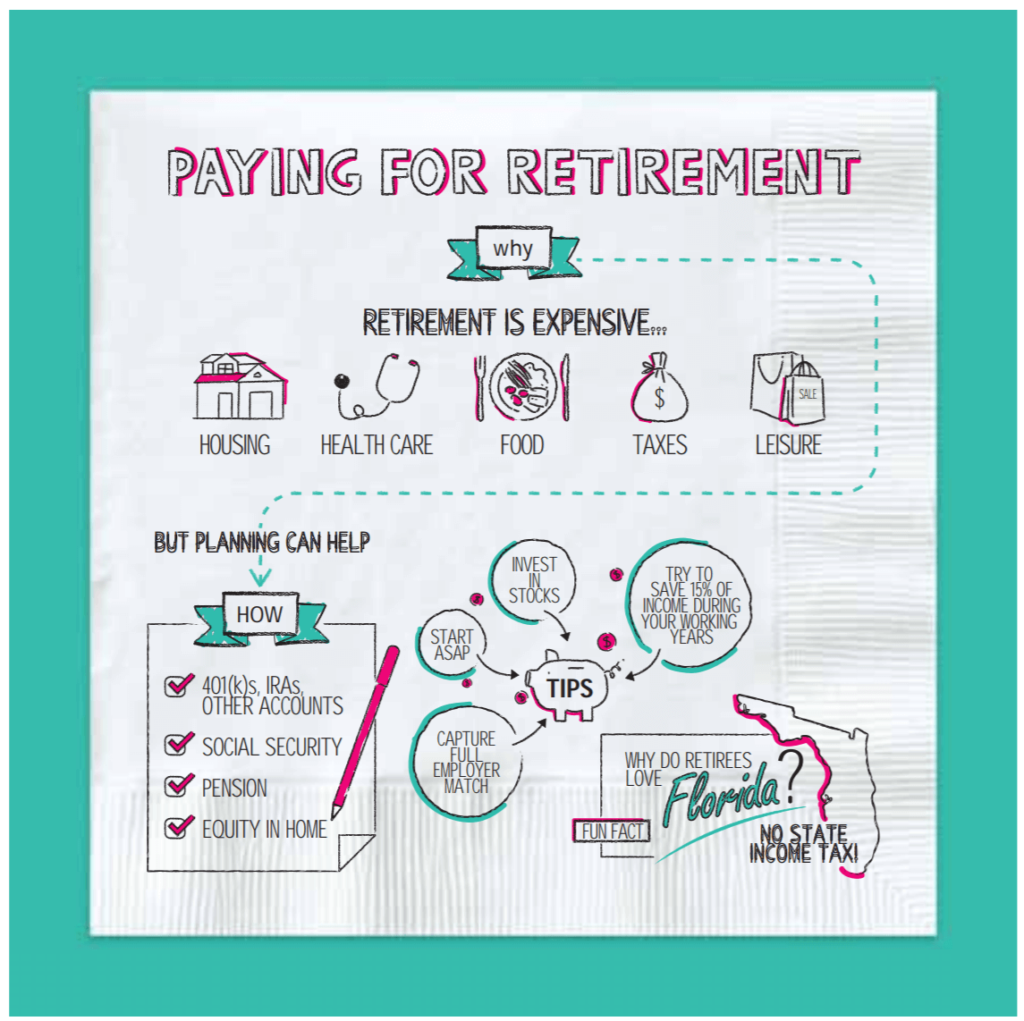 Paying for Retirement
Retirement may seem like an abstract, far-off goal (unless you're already independently wealthy or a 401(k) ninja, in which case—respect). But you'll never drink mai tais on the beach in your seventies unless you start saving money now.
Why
Retirement is expensive. Your costs in retirement will probably include:
Housing.
Health care.
Food.
Taxes.
Leisure.
How
Your income and assets in retirement may include:
Investment and savings accounts—including what you've saved in retirement accounts.
Social Security—which is paid by the government.
Traditional pension—if you worked for an employer that provides one.
Your house—if you own your home.
What You Can Do
Paying into Social Security generally happens automatically when you work. Unfortunately, you probably don't have any control over whether your employer offers a traditional pension.
The main thing you can do to plan for your retirement is to save—particularly in a tax-advantaged retirement account where your money can grow. The main types of accounts include:
401(k)s—tax-deferred accounts offered by many employers. (Employees of nonprofits and public-school systems may have 403(b)s instead.)
Individual Retirement Accounts (IRAs)—tax-deferred accounts you can open on your own, with a financial institution.
Roth 401(k)s and Roth IRAs—accounts similar to their non-Roth counterparts, but which let you contribute after-tax dollars and take withdrawals tax-free in retirement.
Tips
Saving enough for retirement takes some planning and effort. Many experts recommend that you:
Start ASAP, such as with your first job that offers a retirement savings plan. (Or, open an IRA on your own.)
Try to save 15% of your annual income each year while you're working.
Invest heavily in stocks while you're young, since they generally grow your money faster over the long term.
Invest enough in your 401(k) or other workplace plan to capture the full amount of any match your employer offers.
"Retirement is like a long vacation in Las Vegas. The goal is to enjoy it to the fullest, but not so fully that you run out of money." JONATHAN CLEMENTS, AUTHOR
Fun Facts
Why do retirees love Florida so much? It's not just the sunshine and beaches—it's also one of the seven states with no personal income tax.
The country with the youngest retirement age is the United Arab Emirates, where citizens become eligible for pensions and retirement benefits at forty-nine (expats have to wait until they're sixty-five).
Key Takeaways
Retirement is expensive, so you need to start saving for it while you're young.
Tax-advantaged retirement accounts, such as 401(k)s and IRAs, are the best retirement savings options for many people.
Saving 15% of your income and investing heavily in stocks while you're young can help you get there.
Retirement is like making a soufflé: you must plan for it in advance. — Napkin Finance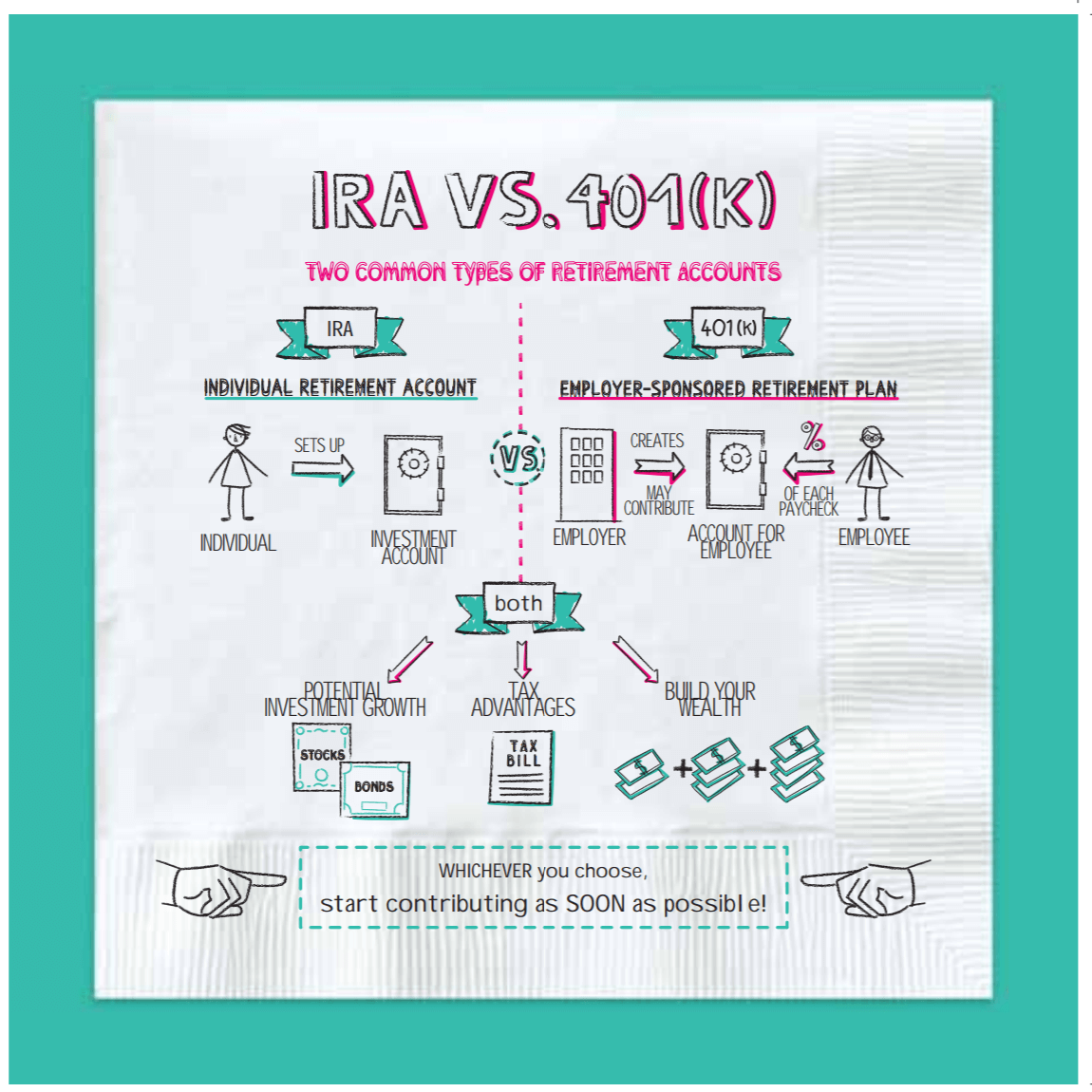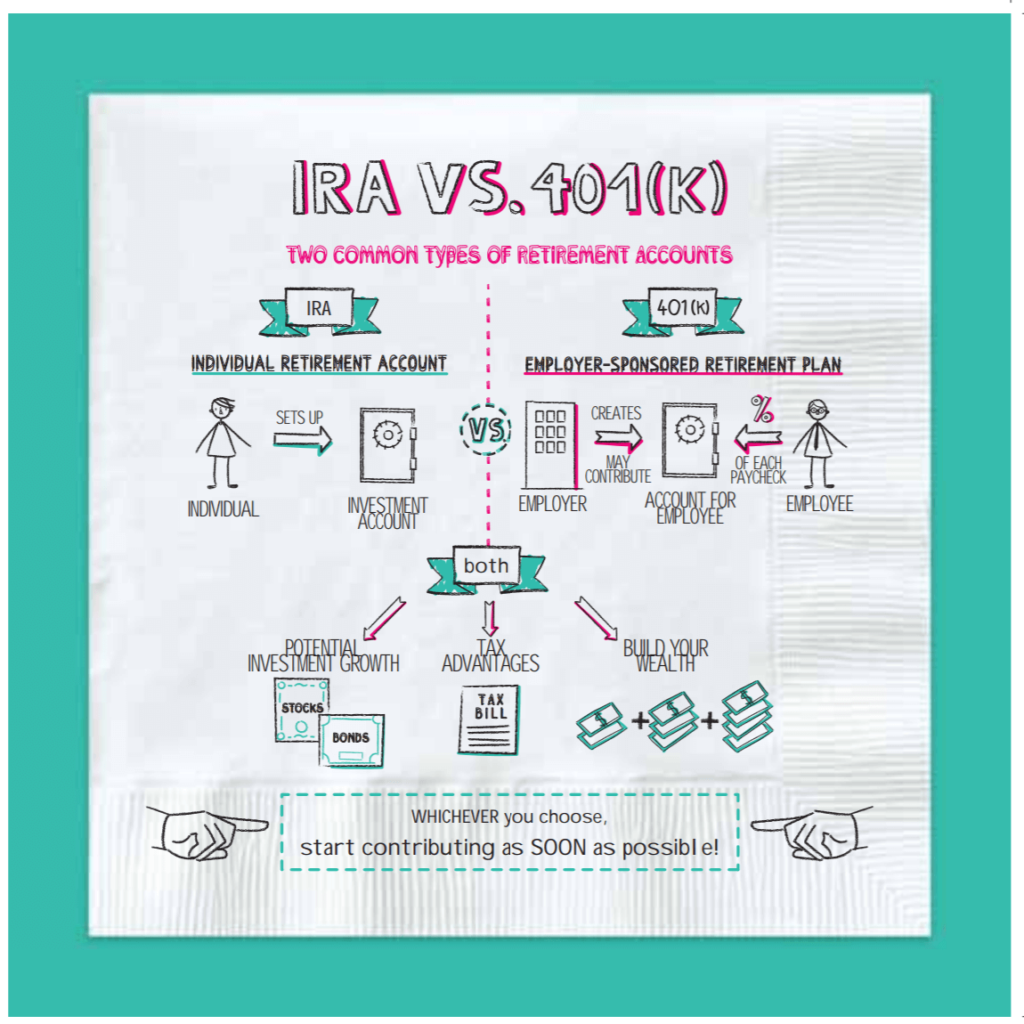 IRA vs. 401(k)
IRAs and 401(k)s are two popular types of retirement savings accounts. Most people who work in the private sector have at least one of these accounts (government employees often have different options), and many people own several different retirement accounts.
Differences
Although they both serve the same purpose, the accounts have some important distinctions: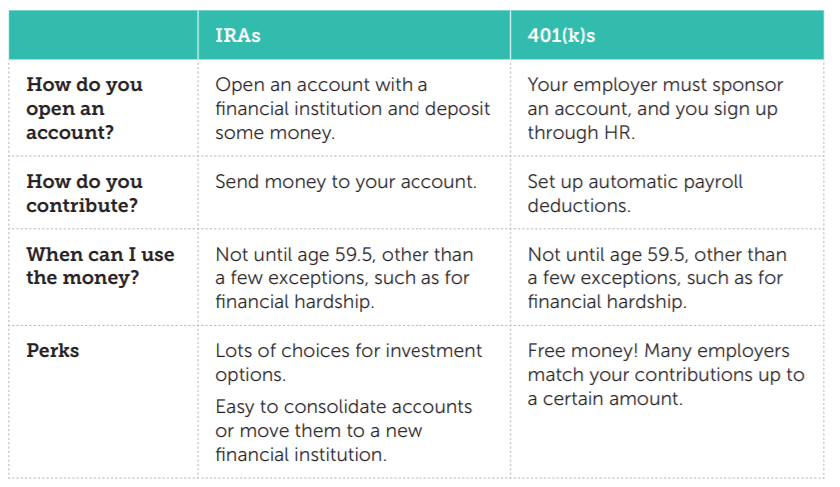 Benefits
Both types of accounts can provide great perks, including:
Potential growth—both IRAs and 401(k)s typically offer a range of investment options you can choose from, so your money grows over time.
Tax advantages—both types of accounts let you avoid paying taxes on your money's growth while it's in the account.
Chance to build your wealth—by contributing regularly and letting your money grow, you can use either account type to meet your retirement goals.
Fun Facts
What's the FIRE community? No, it's not a Burning Man camp—it's "Financial Independence, Retire Early," a movement of millennials obsessed with aggressively saving money, so that they can retire early.
The average balance in a 401(k) is just over $100,000, but it is possible to become a "401(k) millionaire"—i.e., someone with a balance in the seven digits. #goals
Key Takeaways
IRAs and 401(k)s are the two main types of retirement savings accounts.
The main difference is that 401(k)s must be sponsored by an employer, while you can set up an IRA on your own.
Either, or both, can be a great option for retirement savings.
IRAs and 401(k)s can make you rich enough that your grandchildren will want to stay in touch with you. — Napkin Finance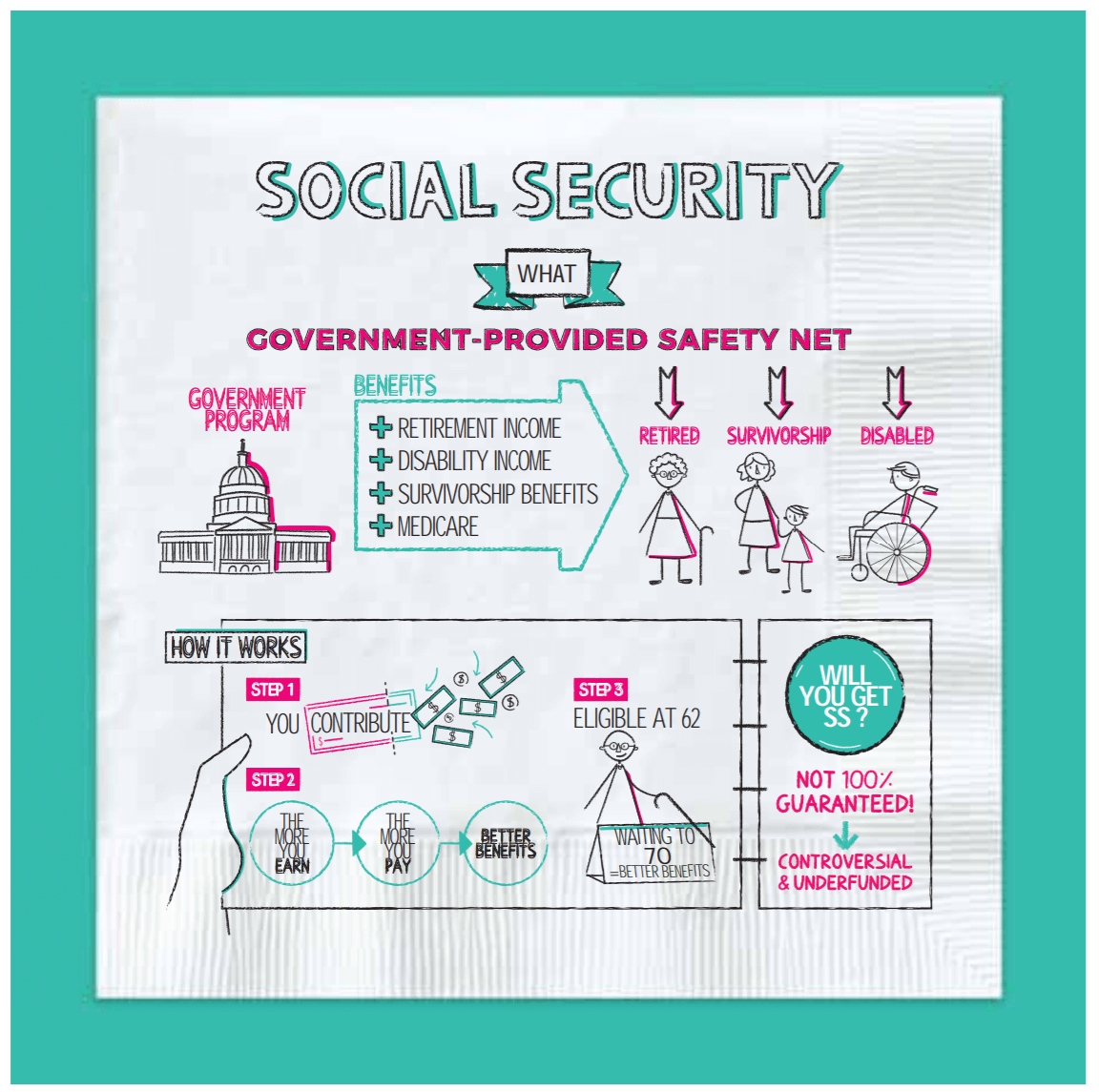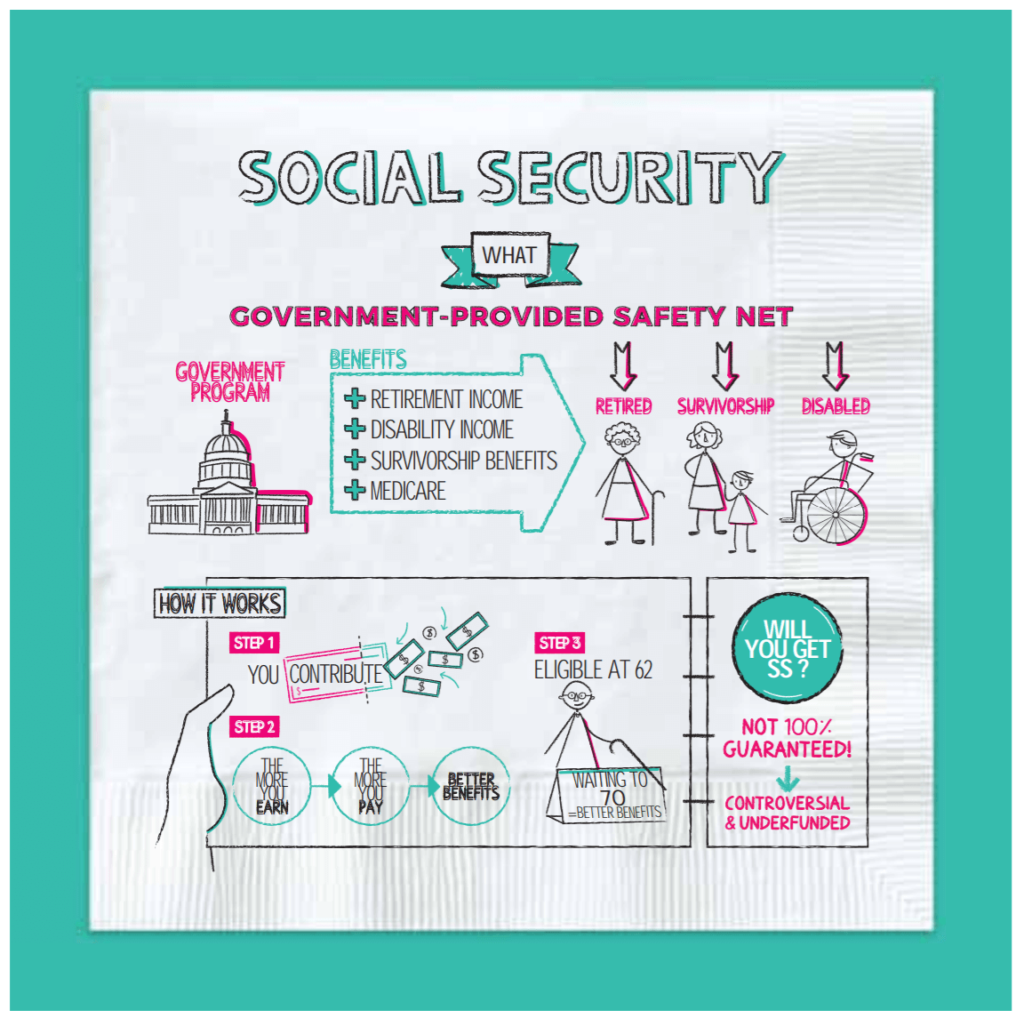 Social Security
Social Security is a government program that pays money out to people if they become disabled, reach retirement age, or meet certain other eligibility requirements. It's essentially a nationwide safety net.
How It Works
Step 1: You contribute while you're in the workforce. If you're an employee, you'll see a big chunk of earnings taken out of your paychecks for FICA (almost 8% for most people, but more for high earners). Those are your contributions to Social Security and Medicare.
Step 2: The more money you earn during your career, the more you pay into the system and the better your future benefits should be.
Step 3: Once you turn sixty-two you're eligible to start taking benefits, though it can make sense to wait until age seventy if you can because you'll receive a larger monthly benefit if you do. Once you start taking benefits, you'll generally receive a check from the government every month for the rest of your life.
What It Covers
Although its best-known benefits are probably those retirement checks, Social Security pays for some other important programs, including:
Disability benefits—You can receive benefits if you become disabled.
Benefits for survivors—If the family breadwinner dies, his or her spouse or children may be eligible for benefits.
Medicare—Your FICA contributions also fund Medicare, the government-provided health insurance plan that covers older people.
What It Is and What It Isn't
Think of Social Security as a little extra cash that will be nice to have, but not as something that's going to bankroll your globe-trotting golden years. The program is politically controversial—with liberals typically preferring a strong Social Security safety net and conservatives advocating for smaller benefits and lower taxes. And the program has perennial funding problems. It's not 100% guaranteed that it will be there when you retire.
Fun Facts
What you pay into Social Security today goes to pay today's benefits to some retiree somewhere (which means your future benefits will have to be funded by the workforce of the next generation). So if we're destined for a Handmaid's Tale–type fertility apocalypse, good luck claiming your benefits.
You can't receive Social Security if you're in prison.
The Netherlands has, arguably, the world's best pension system, where almost all workers are covered and can expect to receive about 70% of their annual salary from their working years in retirement.
Key Takeaways
Social Security is a government safety net that pays benefits to the elderly, the disabled, and survivors.
To receive Social Security benefits in retirement, you need to pay into the system during your working years.
Social Security can add some padding to your retirement income, but don't count on it to be your sole source of income.
Silly rabbit, Social Security is for people at least sixty-two. — Napkin Finance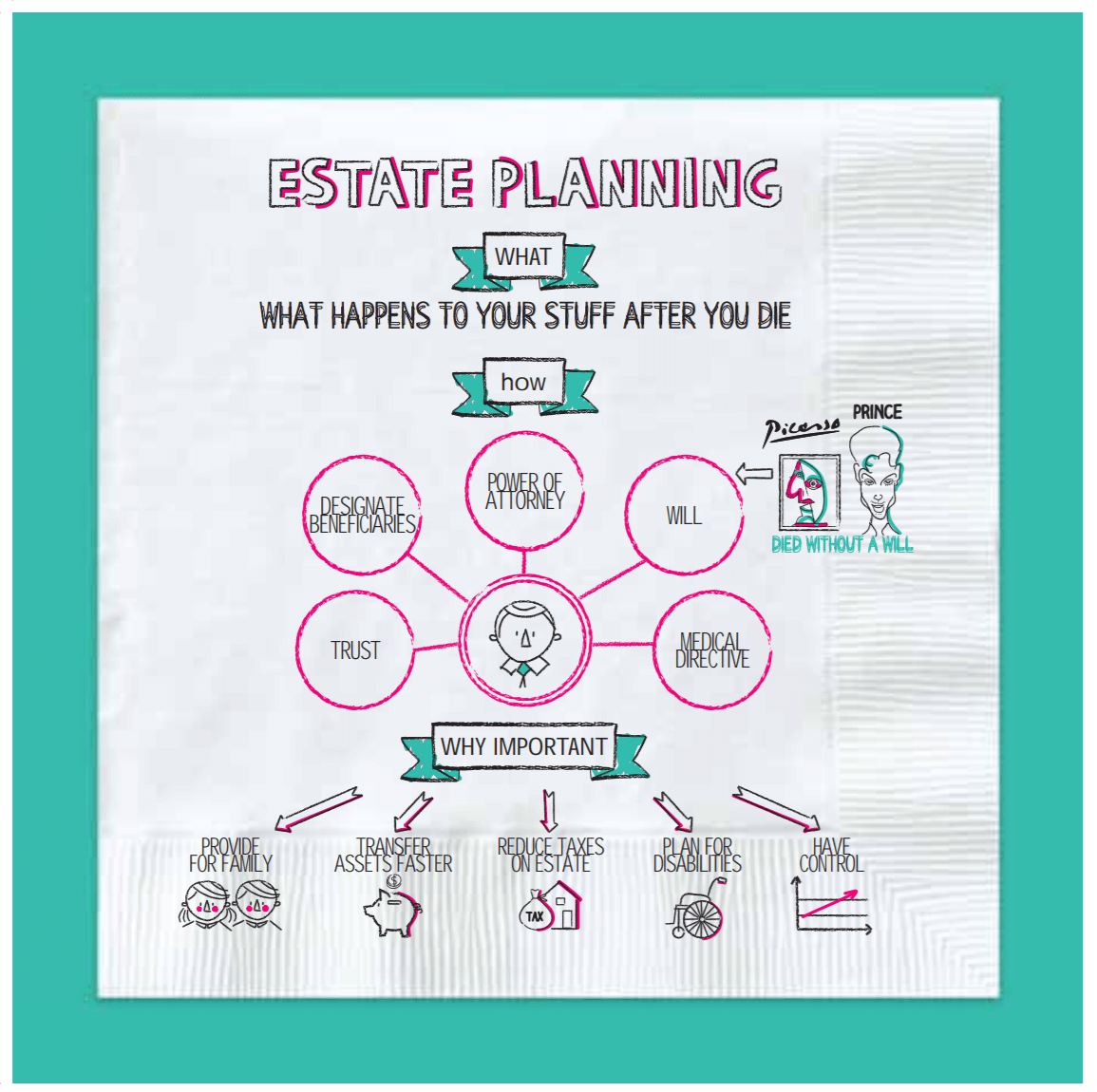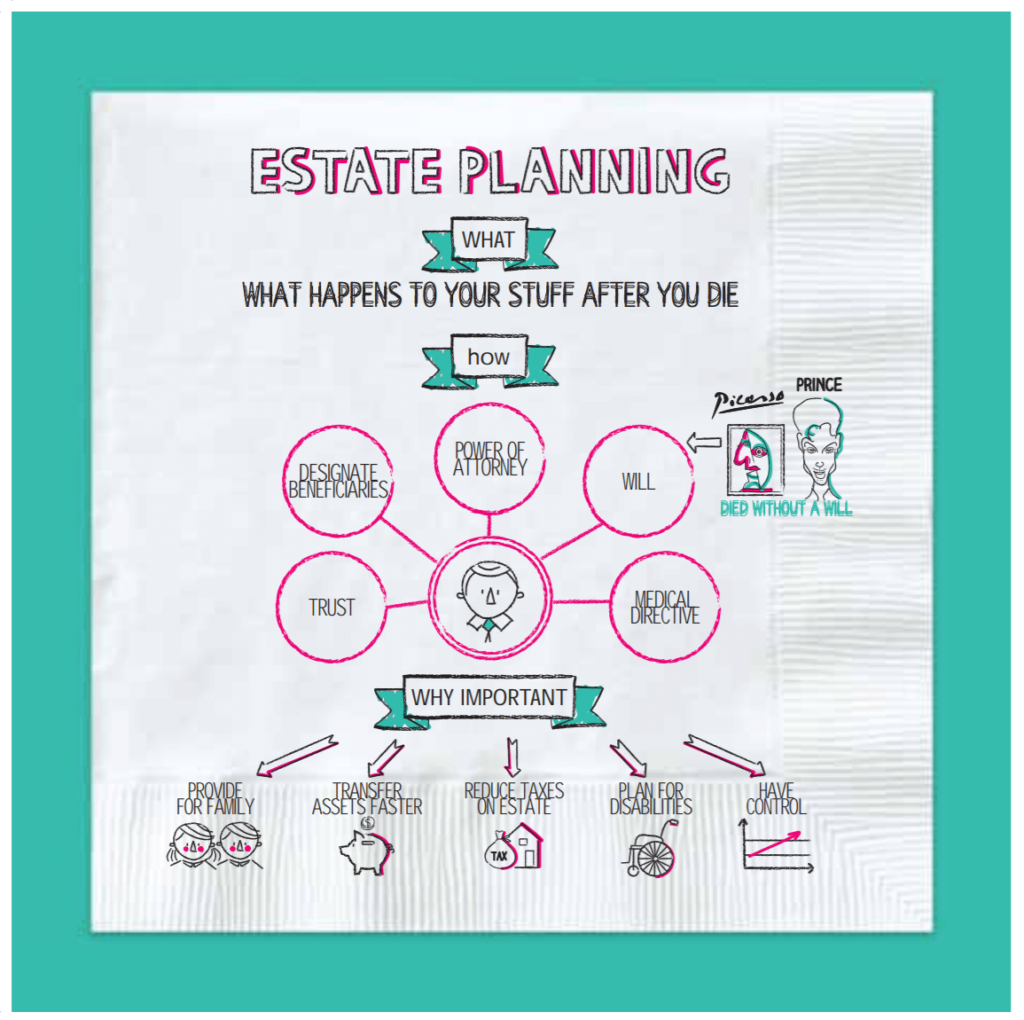 Estate Planning
Estate planning is the process of figuring out what will happen to your stuff after you die. It's coming up with a plan for your assets, then writing your plan down in a way that's legally valid (and that a court would recognize as enforceable).
Why Important
Having an estate plan can be an important way to:
Provide for your family if something should happen to you.
Transfer assets to your survivors faster—by hopefully skipping a trip through the court system.
Reduce taxes. If you're wealthy, there may be legal strategies you can use to lower taxes on your assets after you die.
Plan for disabilities. An estate plan typically also includes documents that specify your wishes if you become unable to make decisions on your own behalf.
Have control. Maybe you want to make sure that your best friend inherits some prized possession, or maybe you want to make sure that your ex-spouse doesn't. Either way, with an estate plan, you get to decide.
"I made my money the old-fashioned way. I was very nice to a wealthy relative right before he died." MALCOLM FORBES, PUBLISHER
What
An estate plan is basically a collection of documents, and might include the following:
Will—your will can specify who gets which of your stuff and who should take care of your kids (or pet turtle).
Health-care directive or power of attorney—these may dictate who is authorized to make decisions for you, if you can't make them for yourself.
Trust—if you're wealthy or have a more complicated financial situation, a trust might make sense for some of your assets.
Beneficiary designations—some financial accounts let you specify in your paperwork who should receive the account if you pass away. (These designations are important because they can trump what you say in your will.)
"Death is not the end. There remains the litigation over the estate." AMBROSE BIERCE, WRITER
Who Needs It
Estate planning isn't just for the rich. If you have kids and you don't have a will, it could be up to the courts to decide who takes care of them if you die. If you're in a relationship but not married, your partner could get left out in the cold if something happened to you.
Fun Facts
Prince and Pablo Picasso both died without wills.
Abraham Lincoln also died without a will, even though he was a lawyer (and president).
Although Jimi Hendrix died in 1970, legal battles within his family over his estate have continued until recent years because he didn't leave a will.
Key Takeaways
Estate planning is the process of deciding on and documenting a plan for what will happen to your things after you die.
Having an estate plan is extremely important if you have dependents, but it can be useful for anyone to make sure their wishes are followed after they pass away.
Probably best if turkeys do their estate planning before Thanksgiving. — Napkin Finance
Chapter Quiz
1. You should start saving for retirement:
a. As soon as you get your driver's license.
b. One year after your last Coachella.
c. By the time you turn fifty.
d. By the time you get your first job that offers a retirement savings plan.
2. Your sources of income in retirement should probably include:
a. Dividends on your Bitcoin holdings.
b. Your earnings as a social media influencer.
c. Social Security and your investment accounts.
d. Your reverse mortgage.
3. The main thing you can do to boost your chance of a comfy retirement is to:
a. Save as much as you can during your working years.
b. Invest your retirement savings mainly in safe options such as bonds and savings accounts.
c. Suck up to rich relatives.
d. Buy a recliner.
4. A solid savings rate to aim for with your retirement savings is:
a. 10% of your after-tax profits.
b. 20% of your investment gains.
c. 15% of your income.
d. 30% of your kombucha and cold-brew expenses.
5. The two main types of retirement accounts are:
a. IRA and GLASS accounts.
b. IRAs and 401(k)s.
c. Guaranteed and non-guaranteed accounts.
d. Subsidized and unsubsidized accounts.
6. Who can contribute to a 401(k)?
a. You and your employer.
b. You and the federal government.
c. Your parents and your stepparents.
d. Anyone who's already finished four 10ks.
7. The benefits of 401(k)s and IRAs include:
a. TSA pre-check when you travel.
b. Back rubs on your birthday.
c. Flexible withdrawals.
d. Tax advantages and compound growth.
8. True or false: You can open a 401(k) on your own.
○ True
○ False
9. Social Security is:
a. A movie starring Liam Neeson.
b. A guarantee of a cushy retirement.
c. A federal safety net that pays benefits to the elderly and disabled.
d. The name of Franklin D. Roosevelt's cat.
10. FICA is:
a. A type of wood.
b. A credit-reporting bureau.
c. This guy who keeps siphoning money from your paycheck.
d. The federal payroll tax that funds Social Security.
11. True or false: The more money you earn, the better your Social Security benefits should be.
○ True
○ False
12. You can claim Social Security:
a. At sixty-two, though you can boost your benefits by waiting until age seventy.
b. As long as you've been paying into the system for at least five years.
c. As soon as you retire, no matter your age.
d. After your third colonoscopy.
13. Estate planning is for:
a. Old rich people.
b. Basically anyone.
c. No one, because scientists are really close to cracking this whole mortality thing.
d. Batman.
14. The benefits of estate planning can include all of the following except:
a. Reducing taxes.
b. Letting you rank your friends and family according to how much you love them, and giving everything to the ones at the top of the list and nothing to the ones at the bottom.
c. Increasing the size of your estate.
d. Making sure that your kids or other dependents will be taken care of if something happens to you.
15. Your estate plan may include:
a. Your remaining Social Security payments.
b. Your detailed list of complaints about each family member.
c. Your Internet search history.
d. Your will and your beneficiary designations.
Answers
1. d
2. c
3. a
4. c
5. b
6. a
7. d
8. f
9. c
10. d
11. t
12. a
13. b
14. c
15. d