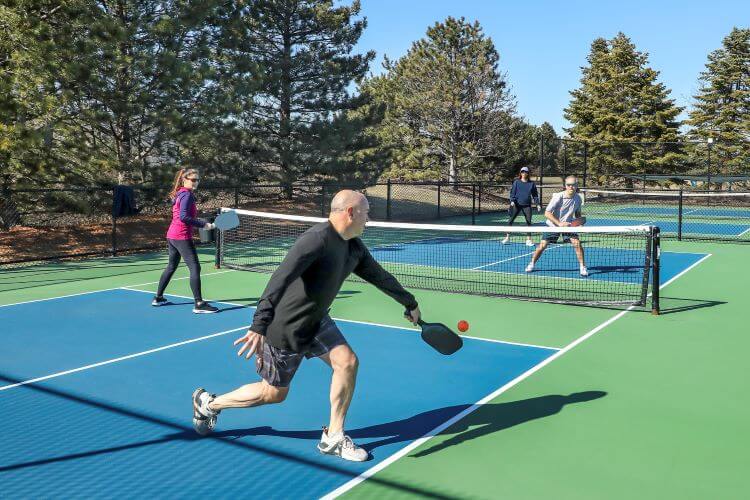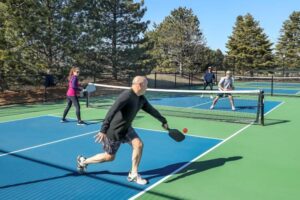 Here we are again…another update on how retirement life is in The Villages.
This will be my last monthly update. I wanted to do several when we first moved here so you could experience how we got moved in and situated. Now that we are (kinda/mostly) settled, I'll be going back to my normal, quarterly retirement updates.
In case you missed my last post on The Villages, you'll want to review Life in The Villages, Florida: March 2023 Update before reading this post as it will contain background information you'll want to know.
This is probably the most active month we've had down here (which is saying a lot), so let's get right into the details starting with the one remaining on-going issue which will likely be with us for some time…
Discretionary House Work
We've been considering several common upgrades that Villagers do to their homes. Here's where we stand on these now:
Lanai blinds – Given all we have going on, we're pushing this one to next year. Plus we want to see how terrible the sun is on the back lanai this summer before we invest in blinds. So far we've had few issues with it – mostly because the sun's angle hits the lanai (so far) in a way that only part of the lanai gets sun. We'll see how it goes this summer and decide after that.
Gutters – We've decided on a company and just need to schedule them now. This should be completed in the next month. Just in time too – the rain has been all over us the past week or so. It's strange to live in a place where it rains again. Colorado hardly ever had rain and when it did it was usually mild. Down here the heavens open up!
Closet and Pantry Storage – We've selected a company for my office closet work. We'll see how they do and decide from there who to use for the other closets and pantry.
Front porch screen – This is a to-do for now…and we haven't even started. But once the gutters are in, this project will be front and center.
There may be one or two other things that pop up (seems like there always is here), but for now we're down to these three! It's much better than the 5-6 we've had on our list at some times.
Having Fun in The Villages
We have moved even more of our time from the "work" category to the "fun" category as we have time to enjoy The Villages lifestyle (if you follow me on Instagram you're up to speed on most of these). Here are some highlights:
Kids' visit – The kids were here for three weeks in late March to mid-April. It was a blast having them as we got to experience a lot of fun and frivolity (pickleball, beach tennis, the pool, some time in Orlando, several movies, eating out a lot, etc.) I'll include some specifics below. Plus there will be a July post on the Orlando timeshare presentation we went to, so watch out for that! Hahaha. But to give you a preview of what we did (in addition to time at a Hilton resort), we went to Medieval Times, shopped at our favorite outlet mall, and visited Old Town Kissimmee (which was a bust – along with the Food Truck World across the street.)
Pickleball – I was out for a couple weeks when the kids were visiting and the Millionaire Money Mentors (MMM) conference was here, but then started back with a vengeance. I played 6 times the first week I was back – for a couple hours each time. I'm going to be moving to 3-4 times a week so I can still get other things done in my life. LOL! Most of the play is lower than my level, but since the commute is so easy (50 steps out my back lanai), I can't beat playing on my home court. Plus I am playing mostly with people from our Village, so I'm making some good friendships with neighbors along the way.
Ping Pong – I played ping pong at a recreation center with a few guys a couple times. It was the first time I'd played in a decade or so (other than with my wife on the Orlando trip) and I was decent but not great. Not sure it will be a regular activity for me, but I do want to try several new things and see which ones I like and which I don't. That's pretty easy in The Villages with so many choices, activities, and clubs.
Movies – I saw several movies the past month, all at the Old Mill Playhouse in Lake Sumter Landing. Here they are along with my rating of them on a scale of 1-10: John Wick 4 (8); Dungeons and Dragons (8); Super Mario Bros. (2), and The Covenant (6). Mondays are discount days at the theater which also means they are the most packed. I prefer to pay the higher rates and go on a non-Monday to not have to deal with the crowds.
Restaurants – We've been to probably 15 restaurants in the past month (that's what the kids will do for us! LOL!) and maybe a couple of them were new. I am trying to find the next, great place, but it's eluding me. So far it's just too hard to beat a Culver's concrete mixer to wash down a burger!
Walks – While I wasn't playing pickleball for a couple weeks, I was walking a ton. Now that I'm back to pickleball, I'm actually getting in fewer steps each day. Hahahaha. But still, I'm way over my daily average goal of 15k for the year.
Special events – We went to several special events this month including the blueberry festival, the weekly farmer's market (a few times), a craft show, and a couple car shows. There's always something going on in The Villages and much of it is in Brownwood Square, very close to our house.
Grilling – Looks like I have the temperature thing sorted out on my new Traeger and I'm grilling at least once a week here. We basically decide what to cook that week based on what Publix has on sale! LOL. Luckily they have great meat so that's been a nice find.
Colorado friends – Last month we had friends from Colorado visit and this month we had another couple. I played a lot of pickleball with the guy when we lived in Colorado, so naturally the couples met on the pickleball courts. Afterwards we walked over to our place, had a very nice visit, and gave them a quick tour.
Anyway, those are the highlights. As I said, lots going on…
Two Big Activities
In addition to the above, we have two large activities that deserve extra space and discussion. These are…
Selling Our Colorado House
Our kids left on a Monday, driving my car back to Colorado. They wanted to stop in New Orleans for a mini-vacation and so did that along the way.
That Thursday my wife took a Workman Transportation shuttle to the Orlando airport ($40 one way in a VERY nice bus – she loved it and this may be our new way to get to/from the airport in Orlando), then flew to Colorado Springs. The kids picked her up, and she's spent the last two weeks cleaning out the house and getting it ready for sale.
We gave a lot away (several trips to the Salvation Army and our next door neighbors/friends took a lot of stuff) and the rest was either shipped back (like my money books – shipped back at book rate prices) or will be headed back with my wife and daughter in the car (they arrive in Florida tomorrow!) If there is anything else left (we're still deciding on that – we did leave some stuff in the house so it shows better), we'll have to decide what to do with it. Hopefully we won't have to go back and manage it and our kids can do that for us.
The house should go on the market today. We priced it fairly (not too high or too low) and if it doesn't sell we could always hold it for a time (everyone wants a Colorado house and a Florida house, right?) Hahahaha. The market there is still fairly strong, but interest rates have cooled things a bit everywhere so we'll see where it goes. Wish us luck!!!
Millionaire Money Mentors Event
For quite some time the Millionaire Money Mentors (MMM) group has been talking about an in-person meeting. Well, after a long time chatting about it, we finally made it happen!
On April 14, 20 members and 10 spouses (30 people total) assembled at the swanky Brownwood Hotel in The Villages for three days (Friday night, all day Saturday, and half a day on Sunday) of seminars, activities, and fellowship.
I'm not at liberty to talk about everything that went on (our members do like their stealth wealth status!) but let me say it was a simply amazing time. I got to meet so many awesome people and I left the weekend with a handful of to-dos that will certainly make my life better and more focused on what I want it to be.
I think we will likely have another conference next year, so if you want to attend, you'll need to be a member. A little bird told me there may be an MMM sale this summer, so keep your eyes out for that if interested. 😉
Facts on The Villages
If you've read Where to Get Information on The Villages, Florida and have been looking at the sources I shared there, you are up-to-speed on news from The Villages.
But like in my last update, I wanted to share additional facts for those who want to know more about The Villages.
Let's begin with this article I found in an email newsletter I subscribe to — Safest Places to Retire in Florida:
According to the Florida Department of Law Enforcement, Florida's total crime rate has gone down by more than 60% since 1998.
Bottom line: It has never been safer to live in Florida than it is right now.
The Villages calls itself "Florida's Friendliest Hometown" and I'm not surprised at all to see that The Villages, FL M.S.A came out on top [safest MSA in Florida].
While The Villages M.S.A. does include some areas that are not within The Villages retirement community, most of it is comprised of 55+ residents peacefully enjoying the good life.
While there have been some high profile crimes in The Villages over the last decade, most of the crimes that take place there involve DUI's, domestic disturbances, and theft.
This is pretty much my experience here as well.
Are there crimes here? Of course. There are crimes everywhere.
Is it probably one of the safest places in America to live? As long as you take out the alligator attacks, then yes, it is. Hahahaha.
Next, I found this in an issue of the daily newspaper here:
96.1 – The Villages price parity index level, which measures price changes over time, for the year ended Dec. 31, 2021, according to the latest federal data. It is 3.9 points below the index base of 100. Communities with an index rating above 100 typically have higher consumer prices.
I will do a re-cap of our costs once we've been here a year, but I can say it's been pretty affordable compared to Colorado…at least it seems that way (I haven't run the numbers on Quicken yet).
We attended a seminar about the Recreation and Parks system here in The Villages and they quoted these stats:
Recreation and Parks
13 Regional Recreation Complexes
32 Villages Recreation Centers
62 Neighborhood Recreation Areas
Pools
12 Sports pools
32 Family pools
62 Adult (neighborhood) pools
Other
Fitness Clubs – 7 fitness clubs (located in select Regional recreation Complexes)
15 softball fields
7 dog parks
And that's just part of it (I didn't have the patience to type out everything!)
Needless to say, if you can't find several things you like to do down here, you are way too picky!
Next are some highlights of the extensive water management system The Villages has (this was in the newspaper as well):
Retention Basins
The Villages has thousands of acres of retention basins, with the capacity to store nearly a billion gallons of stormwater throughout the community. Stormwater collected in many of these retention basins is used to irrigate residential and business lawns, gold courses and other urban uses, such as irrigation along roadways.
Irrigation System
Even when it rains, The Villages irrigation system serves a purpose. It's designed to move excess stormwater when retention basins reach capacity. But its primary purpose is designed for the irrigation of residential and business lawns [and other needs].
Flood Control
In the event of heavy rain, The Villages' model stormwater network of retention basins and pumping facilities distributes excess water when the retention basins fill up. It's distributed through the irrigation system, which accounts for the use of sprinklers during rain, and onto golf courses. The golf course become temporary drainage basins to lessen the chance of flood elsewhere.
And last but not least, here's a population summary for the local paper:
Nowhere in the state [of Florida] is growing faster than Sumter County.
Because of The Villages, Sumter is the fastest-growing county in the state once again. It also remains one of the fastest-growing counties in The United States, according to data from the U.S. Census Bureau.
[Sumter County had a] 7.5% increase year over year to lead the way in the state.
Because of the things listed above (lots to do, relatively inexpensive, and safe area), many people want to live in The Villages.
Anyone planning a trip down here to check it out? I'd love to meet up for coffee!
Odds and Ends
Now for a few miscellaneous thoughts and comments on what's happening…
Net worth – It's been some time since I did a net worth update, but that's because not much has changed. It goes up, it goes down (with the market), but roughly stays around $6.2 million, about $300k down from my all-time high. If there was anything interesting to share, I would cover it, but there's really nothing exciting to report.
Updated will – Moving to a new state calls for making a new will, so that's what we did. We also took the opportunity to make a few minor changes, including who gets to take care of my beloved Zeus if anything happens to us. 😉
Tax prep – I got everything in on time but it was late enough that my CPA couldn't turn it around and meet the filing deadline. The return should be done soon and I'll be free of that burden for this year.
Dad's house inspection – My dad just celebrated his one year anniversary in The Villages. A month before that, he had a home inspection done. Since The Villages warranties everything in a new house for one year, many people skip the inspection when they buy their house and instead have it done at month 11. Anything found needing repair is sent directly to The Villages, they fix everything, and the house is good to go from there on out. We'll have our inspection sometime in October this year.
Summer Heat in Florida – Still nothing to be concerned about. But as we get into May, the challenge will ramp up! LOL! I have changed my pickleball times to 8-10 am and am working out in the afternoons now (to plan for the upcoming heat – but with the side benefit that there are fewer people in the gym at that time), but so far I'm still wearing long sleeves when I play pickleball.
That's it for this time. Let me know if you have any questions.
Otherwise I'll give my next Retirement Update in August. Stay tuned!