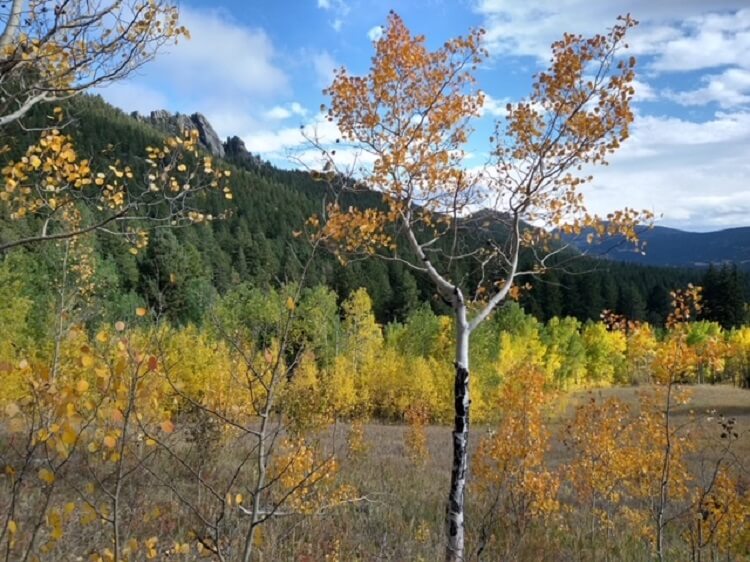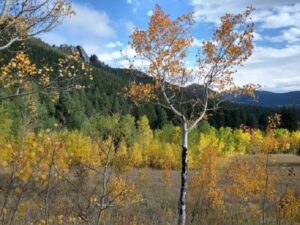 Here's our latest interview with a millionaire as we seek to learn from those who have grown their wealth to high heights.
If you'd like to be considered for an interview, drop me a note and we can chat about specifics.
This interview took place in October. Note: the photo in this post was taken by the interviewee.
My questions are in bold italics and her responses follow in black.
Let's get started…
OVERVIEW
How old are you (and spouse if applicable, plus how long you've been married)?
49 years old, turning 50 in December 2020. Single female.
Do you have kids/family (if so, how old are they)?
No kids.
What area of the country do you live in (and urban or rural)?
Suburban. Just 15 minutes drive from the downtown Denver, Colorado.
What is your current net worth?
$2.75MM Net Worth
What are the main assets that make up your net worth (stocks, real estate, business, home, retirement accounts, etc.) and any debt that offsets part of these?
Financial Investments (Excludes home):
$1,290,501 – 401K
$262,184 – Roth IRA
$525,224 – After-tax investments
$43,560 – Cash
$172,950 – Lump Sum Pension if I retire in Dec 2020
Total: $2,294,419
Property: $459,671 – Primary Home (100% Paid off in May 2019. No mortgage)
I don't count Social Security in my retirement calculations. But if I did, I anticipate $3,891/month starting at age 70.
Upon separation from my employer, I plan to do a direct rollover of lump sum pension payment into my Fidelity Rollover IRA.
I plan on using my after-tax investments and cash on hand when I retire at 50 with approximately $568K-$630K.
In early 2021, my plan is to allocate $150K of this bucket into cash/bonds so it acts as a 3 year savings account. The rest will continue to be invested in low/no cost index funds and dividends/capital gains will be going to the $150K account.
After I deplete my after tax accounts and when I'm 59.5 years old or older, I will use my 401K until it depletes. Then, use my Roth IRA.
I do plan to downsize my large house and yard to a 2 bedroom/2 bath patio home or townhome after I turn 60 years old.
EARN
What is your job?
Senior Healthcare Consultant.
What is your annual income?
$133K includes SUV ($1200 personal use fee yearly).
My salary is now about 77% fixed base income and 23% variable bonus. Historically, it has started early in my career as a 60% base/40% bonus and can shift to 77% base/23% bonus structure. The last 10 years has followed the latter structure.
Tell us about your income performance over time. What was the starting salary of your first job, how did it grow from there (and what you did to make it grow), and where are you now?
I graduated in June 1994 with a BS in Electrical Engineering and earned $36,600 at my first job out of college as a Sales Consulting Engineer. I thought it was a dream come true.
Here are earnings per my social security statement:
1994 – $18,480
1995 – $42,737
1996 – $55,564
1997 – $63,386
1998 – $52,793
1999 – $70,316
2000 – $73,531
2001 – $80,400
2002 – $64,881
2003 – $50,586
2004 – $15,925 *
2005 – $51,626 **
2006 – $80,851
2007 – $72,574
2008 – $80,557
2009 – $89,959
2010 – $83,771
2011 – $104,906
2012 – $100,162
2013 – $113,700
2014 – $116,407
2015 – $112,521
2016 – $113,108
2017 – $115,508
2018 – $124,631 Higher base by switching lateral position and superior 2017 performance
2019 – $131,676
2020 – $145,000 anticipated due to one-time superior 2019 performance
2021+ – $133,000 anticipated yearly
*In Spring of 2004, I quit my job and took a sabbatical for nearly a year to travel to 7 countries. My preview to FIRE.
**In early Spring of 2005, I came back to work in Corporate America but changed to healthcare industry.
What tips do you have for others who want to grow their career-related income?
I don't know if I'm in a position to give career tips. However, I have only been affected once by a layoff in the last 26 years of employment so I think I was saved for a reason. In my case, it was a combination of being dependable, putting in the work, patience, taking calculated risks, and upskilling.
Dependability…just showing up on time on face to face meetings, online WebEx meetings, getting reports done on time, communicating when you anticipate being late are common courtesy but I'm always surprised by those that score low marks.
Putting in the work…sometimes, you just have to dedicate extra time in a new role even if it mean extra 4 hours/day to learn a new role, system, or client's business processes. These hours of investment early on will pay dividends in the long haul.
Taking calculated risks…don't be afraid to transfer your lateral skills in a new industry or take on new roles in same industry. In hindsight, I stayed in same role for over a decade in the same industry and it was a dead end job. I was young enough to make the leap but did not. However, I was much more willing to do that the last 5 years and it has paid off for me.
Upskilling…Take the lateral moves into a new role to acquired new insights which exposes you to new ways of working with other colleagues, clients, and work processes. I never realized how these lateral moves have been beneficial to me until I look backwards. They help me to identify business problems with a new lens and I often can come up with more sophisticated, streamlined solutions due to my exposure.
I also did a lot of networking, reading and research on my own time for work which gave me an edge.
What's your work-life balance look like?
So much better since March 2020 due to COVID and now working from home.
I get to water the garden in the early morning or exercise. No long commutes. No overnights. No constant restaurant food while on the road.
I can hike, bike, and stand up paddle during weekdays when there are no crowds and pick the best weather time slots. Grocery shopping mid-week around lunch time is a pure joy. Meal prepping for the week is so much healthier.
This is intro to FIRE and I love it thus far and wondering if I should just pull off FIRE end of this year permanently.
I actually found out I'm more introverted than I thought so I really haven't missed the social connections since March work from home situation.
Do you have any sources of income besides your career? If so, can you list them, give us a feel for how much you earn with each, and offer some insight into how you developed them?
I was a landlord for 10 years up until May 2019 when I sold the rental townhome at above listing price.
Bought it for $115K in 1997 and lived in it and rented it out in 2009 for $200 monthly positive cash flow on day 1.
Sold it for $330K in May 2019.
In hindsight, I timed the sale perfectly before COVID.
My interests, dividends, and capital gains comes to approximately $6K/year.
SAVE
What is your annual spending?
$27K for core spending.
I had a detailed spending tracker from March 2020 to October 2020. The previous 6 years was via a tracker on Mint.com.
What are the main categories (expenses) this spending breaks into?
CORE SPENDING:
Home (Property tax, Lawn/Garden service, supplies, maintenance, improvements, cleaning service): $9138
Health/Medical: $6K
Utilities (Cell, Internet, Sewer, Heat/Gas, Water, Trash): $3513
Auto (Insurance, registration fees, gas, maintenance): $3500
Food & Dining: $3222
Entertainment (Sports, outdoor activities, hobbies, movies): $3000
Personal: $2000
TOTAL: $30,373
DISCRETIONARY SPENDING:
Travel: $10K
Technology: $1K
Charity/Gifts: $1K
Education: $500
TOTAL: $12.5K
There is a lot of extra padding in all the spending above.
Do you have a budget? If so, how do you implement it?
I never had a budget. I always believe that money should provide options and freedom. Having a strict budget on a spreadsheet is a turn off for me.
What has worked well over the decades for me is the overarching theme of striking the balance to live debt-free (mortgage is paid off), living beneath my means, enjoying the here and now, and paying it forward with a stable future.
I started investing at least 6% of my pay into my 401K plan with my 1st job out of college to maxing both 401K and Roth IRA the last 8 years. I also regularly invest in my non-retirement account which is $2400/month this year.
This year as I turn 50, I'm also contributing the max of $26K to my 401 K using catchup contributions. I can do a backdoor Roth IRA contribution, but am hesitant since I have more than sufficient funds after I turn 59.5 years old.
What I'm more concerned about is having enough non-retirement funds for a comfortable FIRE from 50 to 59.5 years old.
How do you think I'm doing thus far?
For the last 6 years, I've used the Mint App as a budgeting tool which I monitor daily.
What percentage of your gross income do you save and how has that changed over time?
38% savings expected in 2020.
20% in my early 20s and 30% in most recent years.
What's your best tip for saving money?
Read bit by bit some financial content daily to learn more about money.
Unsubscribed to your favorite vendors website (Ann Taylor, Sports Gear website, Amazon Prime, etc).
Turn off the ads on Facebook and other social networking websites.
Throw out those DSW Shoes coupons that come in your mail.
Buy your home as young as possible so you are committed to save and invest early. The fear of the bank taking it away from me for loan default is real. This causes you to build the mindset of earn, save, and invest early on. Also, the benefits of having real estate has been fully covered here on ESI blog.
What is your favorite thing to spend money on/your secret splurge?
Travel is #1 biggest category followed by Entertainment (Sports, hobbies, gear, season ski passes, state park pass, local lakes pass).
INVEST
What is your investment philosophy/plan?
Through trial and error, I found that no cost to low cost index funds are the way to go and I prefer large cap and technology sectors.
I still have some funds that are 0.82% in fees which I plan to turn into no cost Fidelity index funds by next year.
Over the last five years, I've slowly consolidated different accounts and merged it into Fidelity. I also have a Fidelity debit card which costs nothing in ATM fees since they refund me the ATM fee.
I also use a credit union account since it is convenient to withdraw lots of small bills while traveling overseas for tips and such (Vietnam, Laos, etc).
What has been your best investment?
My best investment was my Electrical Engineering degree.
My school loan was $10.5K which I paid off in the 1st year with the 1st job out of college.
Having a solid degree with a tough academic track is attractive to many employers. Also, it is one of those degrees that can launch you in many career tracks and not just engineering paths.
What has been your worst investment?
My worst are individual stocks such as PALM.
Remember Palm Pilot devices that we all thought were HOT? 🙂 I estimate I lost $20K over the years on these individual stocks.
What's been your overall return?
Hard to say because I have consolidated from several institutions down to 2 and I don't track it very closely so I would say 9%.
Most of it is with Fidelity and it says 11%.
How often do you monitor/review your portfolio?
Daily. MINT app primarily.
Fidelity401K.com as most of my assets resides there.
NET WORTH
How did you accumulate your net worth?
My pace is steady and I took calculated risks.
As you can see, my income is mostly my career job and I didn't dramatically increase it over the years. However, regular investments over the decades has paid off.
I also bought my 1st townhome in 1997 at a good time and sold it at a good time in May 2019.
During the recession, I bought my current home back in August 2009 during a buyer's market for a great deal ($265K) and now it is valued at $459K. Everyone told me not to buy but I went ahead anyways. I figured if I lost my job back in August 2009, then I would just find another gig.
What would you say is your greatest strength in the ESI wealth-building model (Earn, Save or Invest) and why would you say it's tops?
Earning is #1.
I'm not really high, but I think I'm above average for my peer group.
If I earned less, then it would be challenging for me to contribute over 30% yearly.
What road bumps did you face along the way to becoming a millionaire and how did you handle them?
I really got sick of Corporate America in 2004 and took almost a year sabbatical. I was living off of my savings, paid $500/month for COBRA medical insurance, and not contributing to my 401K.
I had only $300K net worth at the time and lived pretty decently on $24K/year. It was a temporary setback but I had a taste of FIRE.
I realized that a combination of lean FIRE and a lack of a structured daily life plan was not going to work. I learned then that I wanted true freedom financially and needed to formulate a plan for mental/physical engagement the next time I would FIRE.
What do you ESI readers think? Do you think my finances, hobbies, and self-education plans are sufficient for the long haul? Anything else I may be missing?
What are you currently doing to maintain/grow your net worth?
I'm putting my head down to focus on the job until the COVID layoff severance/medical package is offered and both parties accept.
I'm on auto investment path now.
I hope to no longer work beyond March 2021.
Do you have a target net worth you are trying to attain?
My goal back in 2015 when I came across FIRE concept was to be debt free by 50 and retire at 52 with at least $2.5M. I randomly selected 52 years old because that's when my subsidized company medical insurance would kick in and they offer to bridge me to retirement AND if they have a layoff. Lots of "ifs". Also, 52 years old is young enough to do lots of living but old enough to have accumulated a diverse range of work experience.
I found out they once again moved the minimum age from 52 to 55. Now, I'm thinking I need to just pull the plug since I achieved my goals and will not work for 5 more years. The only reason why I'm hanging in there is that there may be a nice severance package should they announce a layoff end of year that always comes with 1-2 years of subsidized medical insurance, collect annual bonus, offer to buy company car at reduced price, and collect unemployment insurance.
How old were you when you made your first million and have you had any significant behavior shifts since then?
Hard to say when because I didn't track it that closely before using MINT.com which was December 2014.
I definitely had $1.45M net worth on January 2015 at 44 years old. But I would say at age 42 for $1 million?
I definitely crossed the $2M on April 2019 and at age 48.
My guess is that I would cross the $3M at 51 years old which is December 2021.
$1M at 42, $2M at 48, and $3M at 51.
Like everyone said before that it took a long time to get to the 1st million but much quicker for 2nd million and much faster to the next million.
What money mistakes have you made along the way that others can learn from?
I bought an used Jeep as my leisure vehicle while I had access to a company car.
Really dumb when you think of the extra car insurance, gas, maintenance fees, license fees, and etc.
Then, I sold it to a Jeep dealership and lost money. ($15K loss)
I dated some men that didn't share my values, FIRE perspectives, aspirational goals for way too long. During this period, I wasted money, time, and energy. But, at least I didn't marry them.
Various types include highly ambitious/spendy; fear of risks/very frugal; medium risk/not a planner. Thank goodness. I wished I recognized how much I value ambitious and planner types of men with FATFIRE way of life. Your life partner is key to a quality life so choose carefully.
What advice do you have for ESI Money readers on how to become wealthy?
The biggest purchase you will ever make is your home. Buy wisely based on your needs, good location, and stay there a long time.
Pick a career in an industry segment that has lots of immediate and long-term potential growth that will pay you well with benefits, provide stability, and still offer a good work life balance.
Little things do add up over time. Think of investing earlier rather than buy that awesome car right out of college.
Learn how to cook, meal prep, and good nutrition early on for it will be friendly on your waistline and purse strings. You have no idea how much I spent eating out in my 20s and 30s.
This may not be attractive to ESI audience. I'm not very good with my hands and do not enjoy mechanically building things. I wished I outsourced frustrating, mundane, and time consuming tasks earlier on in my career so I can recharge and focus on my career rather than spend 6 hours on weekends doing housecleaning, yard work, or YouTube video on how to's and etc. I now gladly pay for these services and I gain extra 6 hours per week.
I use online shopping with no shipping fees for almost everything but groceries to save me time.
FUTURE
What are your plans for the future regarding lifestyle?
I had a sticker taped to the old fridge with the motto "50 and BE FREE". To me, that's the visual aspiration to retire by 50 years old with no debt. At least $2.5 million in net worth.
I achieved the debt free goal in May 2019 at around 48.5 years old when I paid off the mortgage and I crossed the $2.5M in January 2020 at 49 years old. I'm really close and may pull the trigger now that I've achieved my goal.
With the options that ACA medical insurance plans present to early retirees, I'm finding it very attractive to retire now as I know I have more than enough in safety cushion from a healthcare and financial perspective. Corporate BS is harder to stomach once you know you reached financial independence.
What are your retirement plans?
I plan to use my after-tax investment/cash funds ($528K currently) from 50 years old – 59.5 years old.
I don't know when I will FIRE but it could be end of 2020 or March 2021 depending on the corporate severance/medical package I'm anticipating end of this year.
I estimate that my non-retirement funds bucket will grow from $528K to $630K.
Then, withdraw from 401K in my 60s, 70s, 80s. Take social security at 70 but I'm not counting on it. Then, finally withdraw from my Roth IRA.
I have many hobbies even now and I plan to continue to garden, cook, hike, mountain bike, paddle, ski, snowshoe, yoga, learn and travel. I have traveled to 32 countries already and intend to travel much slower during FIRE. Even if I retire this year, there probably won't be travel plans until 2022 at the earliest.
One of my dreams is to take 6 weeks to walk the famous Camino de Santiago, spend a month in the summer in Whistler or Banff in Canada by car with mountain bike, hiking poles/gear, and stand up paddle in backseat, and take 2 weeks to travel in Europe.
I don't own a road bike but I intend to get one and join local cycling groups for exercise and for social benefits.
Foreign languages is something I'm good at and I am multi-lingual so I can see myself spending a month in Spain being submersed in language school part of the day and touristing the remainder of the day. I have taken Spanish classes for over 7 years and plan to re-enroll.
I probably can see myself renting 1 month at a time in Philippines, Panama, Costa Rica. The idea of spending 2 weeks in July skiing in Chile is very high on the list along with returning to Whistler/Blackcomb or Banff, Canada to ski.
From a mental engagement perspective, I've been in awe during COVID at how many free educational online tools we have access to such as Microsoft Learn, YouTube, Yale University courses through Coursera in audit mode, etc…There are plenty of free book clubs on the internet to further drive intellectual stimulation.
I also plan to do another round of purging and minimalizing. The first thing I will ditch are work clothes and work materials.
Are there any issues in retirement that concern you? If so, how are you planning to address them?
Healthcare is #1. However, I did run the calculators on the health exchanges and it is very affordable for me. But, for how long is the question?
Finding volunteer or activities that comprises of all 3 elements (pleasure, engagement, and meaning). I already signed up as a volunteer puppy raiser that matches service dogs with disabled veterans so they can live independently.
MISCELLANEOUS
How did you learn about finances and at what age did it "click"?
My parents fought all the time when I was young over money. Both were spenders and lack the education and discipline to save and invest.
Their narrative wasn't going to be my narrative. They always said they would travel when they retire but never did due to health reasons as they aged.
I really have the power to change this narrative and optimize the options in front of me.
Who inspired you to excel in life? Who are your heroes?
Both my parents were hard working folks without a college degree. They just put their head down and grind it out in some of the most mundane tasks.
I'm not sure if I remembered them ever complaining. They just did it because there were mouths they needed to feed.
Do you have any favorite money books you like/recommend? If so, can you share with us your top three and why you like them.
The Millionaire Next Door
is a 1996 book by Thomas J. Stanley and William D. Danko. I read it in my 20s and it opened up my eyes to what kind of life I wanted to build.
Aside from that, I like to glance at Forbes and Money magazines as well as browse through various FIRE blogs and investment blogs.
Do you give to charity? Why or why not? If you do, what percent of time/money do you give?
I donate around $500 in non-cash contributions to charity yearly.
Another $100 yearly to certain causes for friends charity races, climbs, runs, and etc.
I will be giving significant amount of my time and ~$1K to my puppy raising volunteer project starting in 2021.
Do you plan to leave an inheritance for your heirs (how do you plan to distribute your wealth at your death)? What are your reasons behind this plan?
No, my plan is to live well and contribute to causes I believe in.
I have no children and my siblings are well off. My parents died a few years ago. So, no family members really need my money.
The charities that I would donate to in the future revolve around the great outdoors, animals, education, and immigrants.
Questions for ESI readers:
Do you think my draw down buckets are reasonable? Any considerations that I hadn't thought of?
Is there anything else that I haven't considered for a successful retirement?