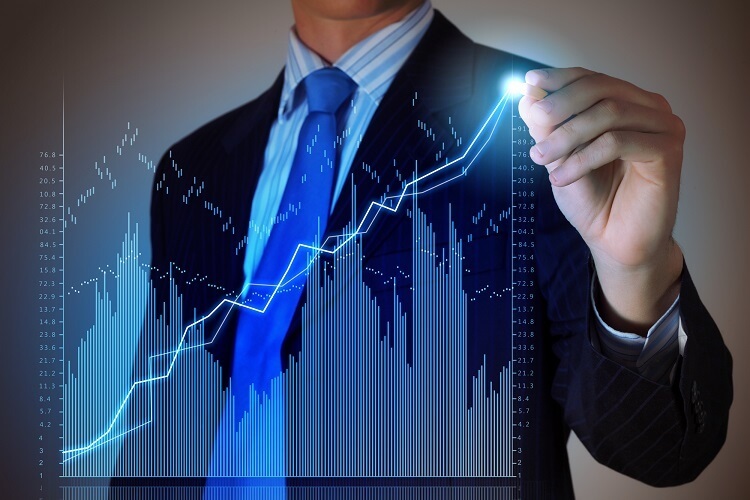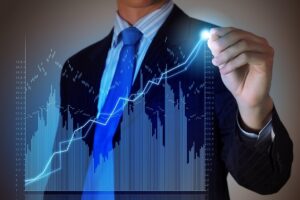 Here's our latest interview with a millionaire as we seek to learn from those who have grown their wealth to high heights.
If you'd like to be considered for an interview, drop me a note and we can chat about specifics.
This interview took place in December.
My questions are in bold italics and his responses follow in black.
Let's get started…
OVERVIEW
How old are you (and spouse if applicable, plus how long you've been married)?
By the time this interview is published, I'll be 55 years old. My wife will be 54 years old.
We're both on our 2nd marriages and have been married to each other for 11 years.
Do you have kids/family (if so, how old are they)?
My wife & I have a blended family of 5.
I have two sons; 27 & 26.
My wife has 2 sons & 1 daughter, 27, 22, & 21 with the daughter being the one in the middle.
My oldest son has provided me with 2 wonderful grandchildren, a grandson that's 5 and a granddaughter that's 2.
What area of the country do you live in (and urban or rural)?
We live in the Dallas, TX market with a home in Frisco, TX & a Lakehouse at a lake ~60 miles Southeast of Downtown Dallas in a town called Gun Barrel City, TX. (You can't find a name of a town that's more TX than that!)
What is your current net worth?
When my wife & I married, it was agreed we keep our assets separate with the rationale that I preserve my legacy to my children, so all numbers provided are my assets with the exception of the lake home which is titled to both my wife & I.
Investment assets (brokerage account balances, cash & municipal bond portfolio): $4,504,300
Net Home Value (See next question for more details): $1,132,500
Net Worth: $5,636,800
Note: Since putting numbers to it are difficult, I don't count home contents, autos, motorcycle, waverunners, boat & golf cart in my net worth, but I'm happy to report all are paid for.
What are the main assets that make up your net worth (stocks, real estate, business, home, retirement accounts, etc.) and any debt that offsets part of these?
Taxed Brokerage Account Summary:
Folio Investing Brokerage Account: $18,000
Vanguard (After Tax) Brokerage Accounts: $500,000
Merrill Lynch (After Tax) Brokerage Account: $1,025,000
Brokerage Account Balance: $1,543,000
Municipal Bond Account Summary:
Municipal Bond Account: $1,035,000
Note: While checking my Muni Account balance for this interview, I noticed a large bond issuance within my Bond account has been called, so before this interview is published, $191,440 of this account will be liquidated. I will take these proceeds over to my Vanguard Brokerage account & allocate accordingly.
Private Equity Investments:
Various Investments into companies yet to go public: $610,500
Note: I invest approximately 15% of my net worth into appealing investments on promising unicorn companies that haven't gone public.
For this interview I only list what I've invested vs. what these investments may be valued at as it's difficult to assess value at this time. However, 2 of these investments have gone public this past year & I have yet to liquidate these assets.
The initial investment for those two companies was $125,000 with a Current Value of $250,000. The initial $125k is included in the $610,500 provided in the summary.
Cash Accounts:
Credit Union (Working Capital Account): $17,000
Bank Of America Deposit Accounts: $3,000
Chase Deposit Accounts: $2,300
Capital One Deposit Accounts: $1,300
PayPal Balance: $2,200
Personal Ally Demand Note Account: $70,000
Old Company Ally Demand Note Account: $50,000
Cash Account Balance: $145,800
Retirement Account Summary:
Vanguard (Rollover & Roth) IRA Brokerage Accounts: $265,000
Merrill Lynch (Rollover) IRA Brokerage Account: $800,000
Fidelity (401k) with Current Employer: $105,000
Retirement Account Balance: $1,170,000
Investment Assets & Cash Balance: $4,504,300
Home Summary:
Frisco Home (Titled to me) – Estimated Value: $650,000
Mortgage Balance: ($8,000)
Net Value (without consideration for points paid to liquidate): $642,000
Lake Home (Titled to my wife & I) – Estimated Value: $800,000
Mortgage Balance: ($309,500)
Net Value (without consideration for points paid to liquidate): $490,500
Net Worth = Net Home Value $1,132,500 + Investment Assets $4,504,300 = $5,636,800
EARN
What is your job?
I currently work as an Information Technology Service Delivery Consultant.
I'm currently on assignment supporting a significant undertaking by one of our banking clients attempting to penetrate the Merchant Market by creating their own Merchant Services solution.
I'm trying to decide if I want to continue within this opportunity or retire. It all depends on the intrigue within the future role I'm expected to support.
What is your annual income?
For 2020:
$250,000 in pay from my consulting gig
$45,000 in tax free Muni Bond coupon payments
$360,000 – $485,000 in portfolio growth (depending on if I decide to liquidate my 2 private equity investments and cash the growth)
Note: Portfolio growth = Capital Gains + Dividends + Market Appreciation
Tell us about your income performance over time. What was the starting salary of your first job, how did it grow from there (and what you did to make it grow), and where are you now?
I grew up in Kansas City in a home my Mom still lives in that my parents purchased in 1962 for $17,000. My childhood was one with plenty of penny pinching and frugality.
I knew at a young age I wanted to attend college & I also knew I would primarily be on the hook to pay for it. Below are some of the things I did to accomplish this.
Without knowing it, by switching colleges a couple of times & staying home my sophomore year while attending a local college, I was applying "Discount Knowledge" Principals to my end goal which was to pay for my Bachelor's Degree all by myself.
Early Years – Youth through College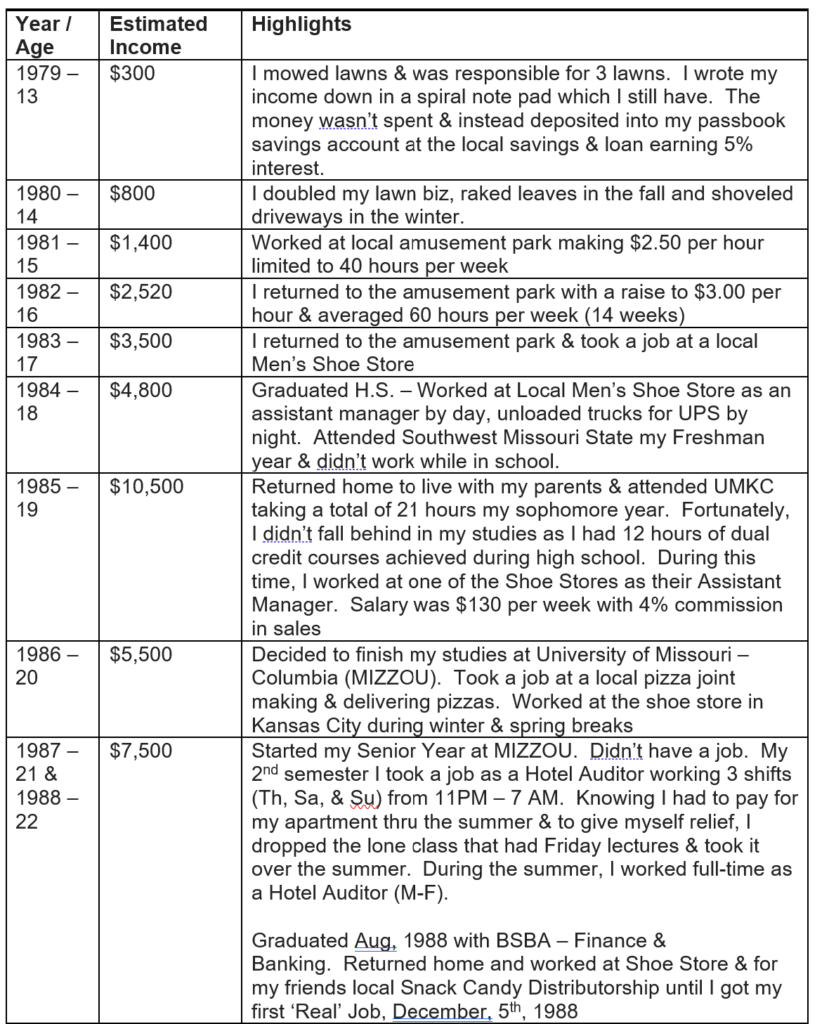 Early Professional Years – Electronic Data Systems (Participating in their Systems Engineer Development Program)
For those who don't know, EDS was founded by Ross Perot. He sold it to GM and became an instant billionaire with the transaction. It was the 1st company to recognize the need to offer software programming services to large clients. I started with the company after GM took ownership & operated it as an independent subsidiary.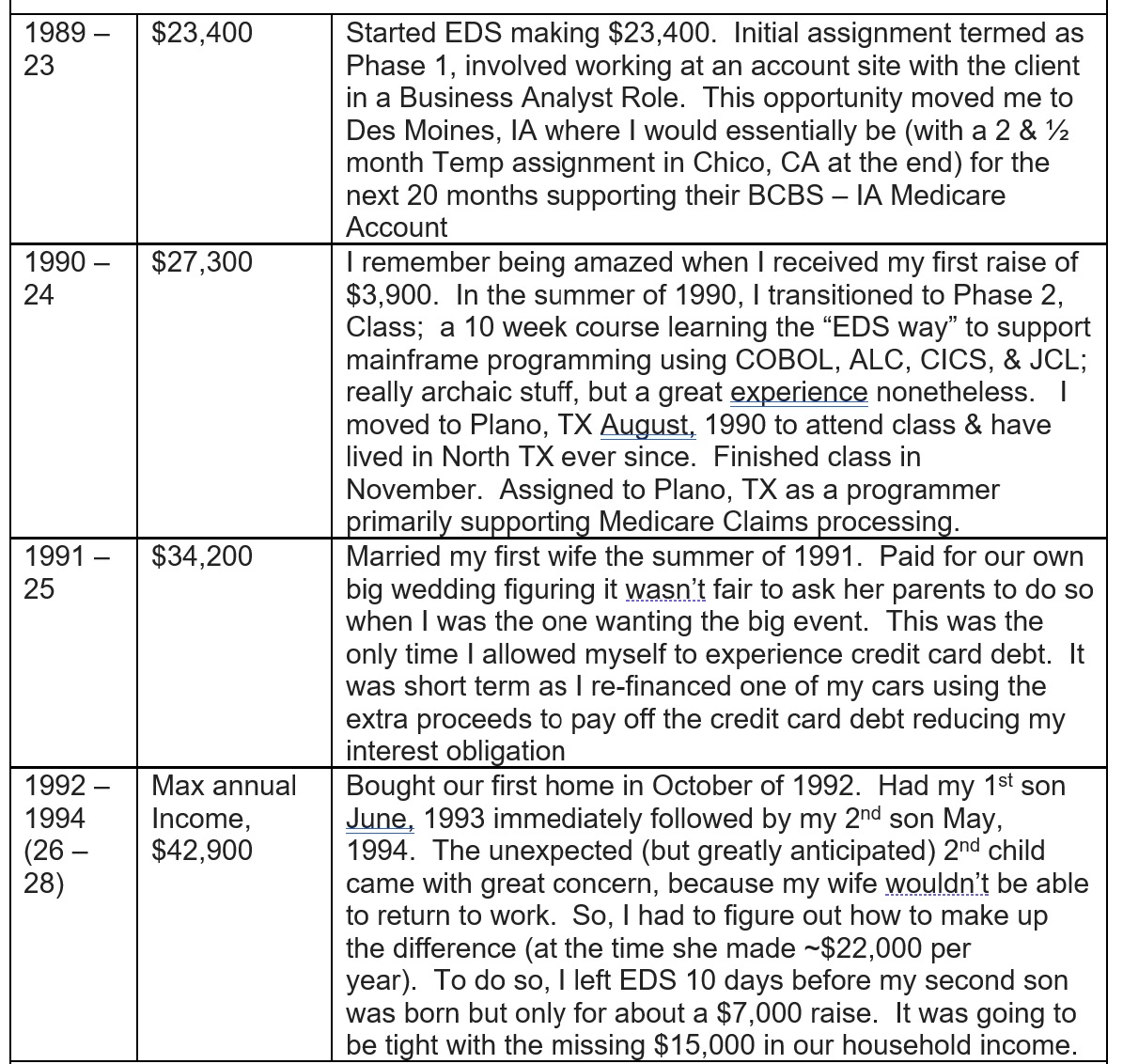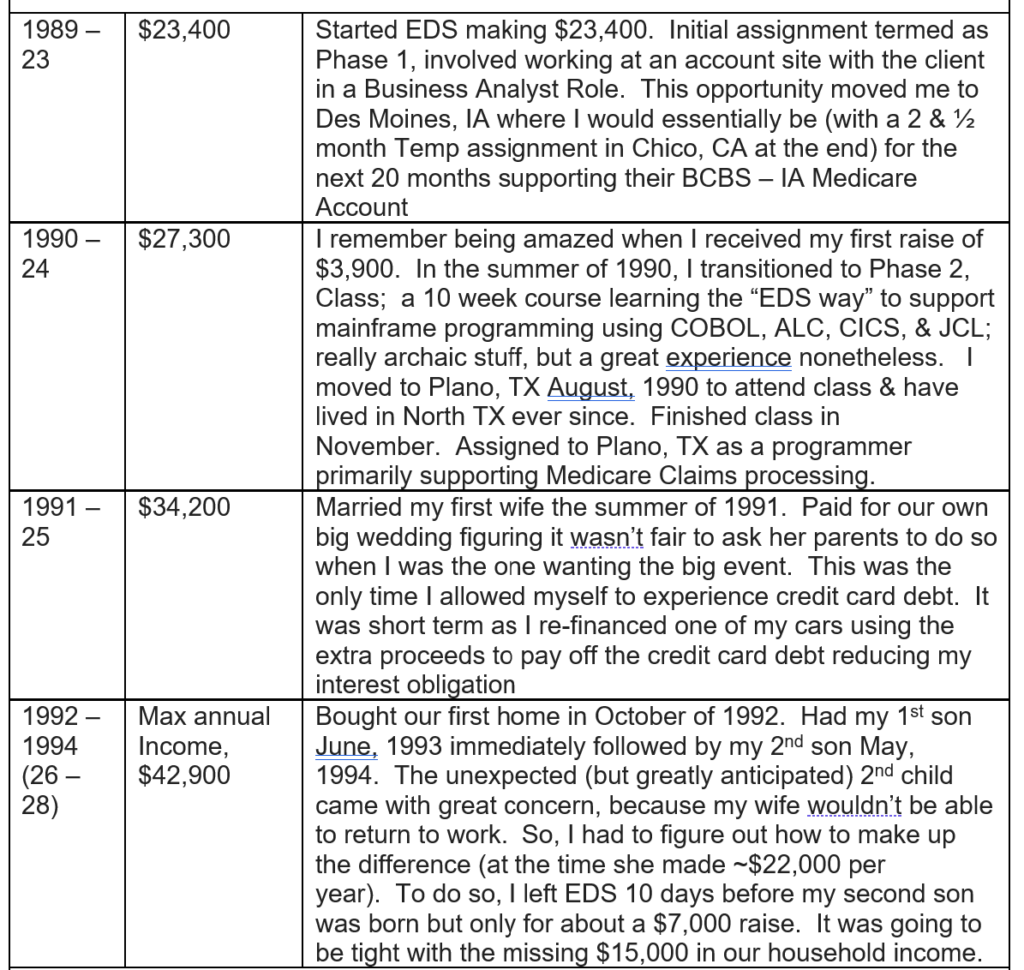 Early Fatherhood with a mortgage we're struggling to afford, now what should we do?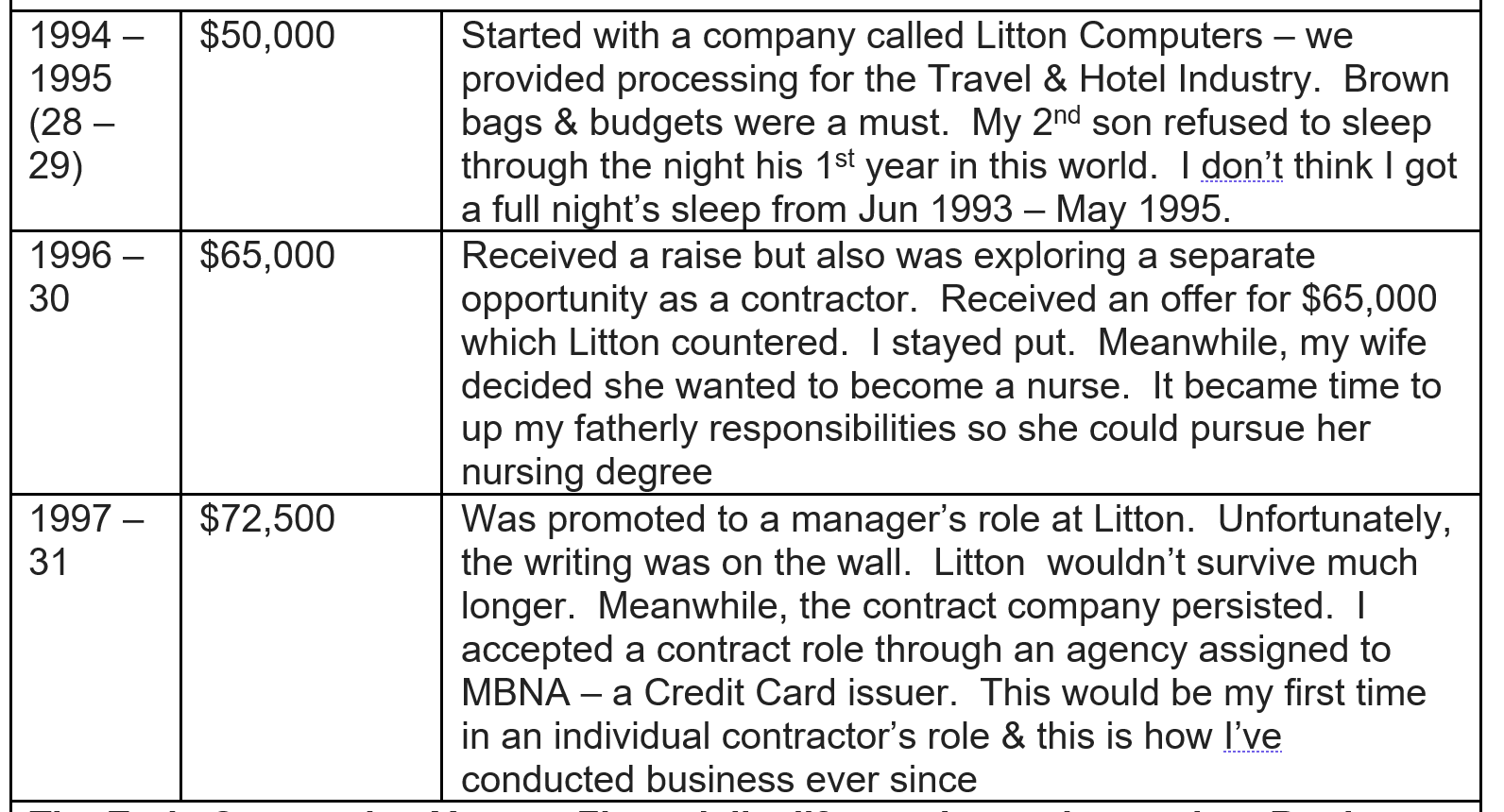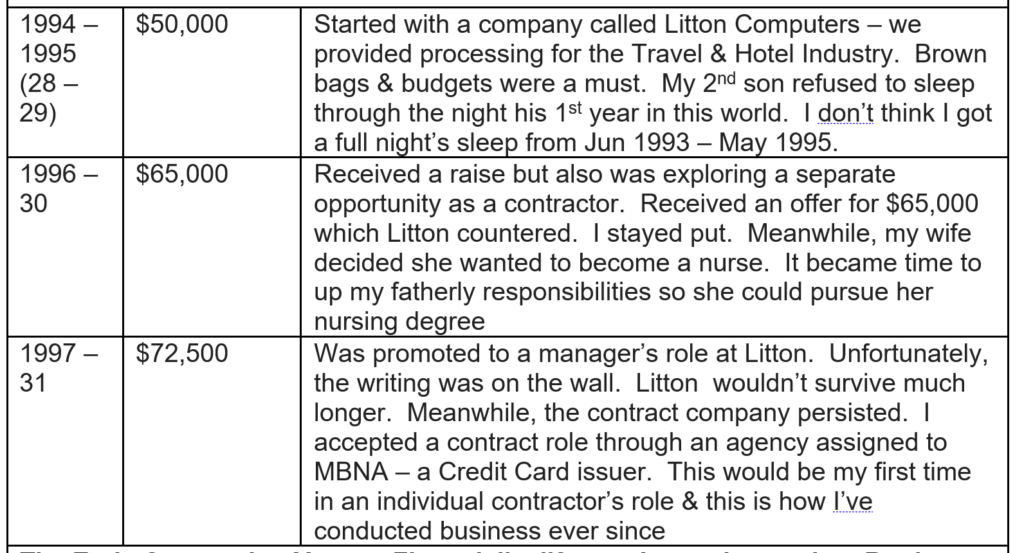 The Early Contracting Years – Financially, life was becoming easier.
Betting on one self was a good bet for me. My performance managed to stand out enough to the point I didn't have to worry about downtime that typically comes with contract labor.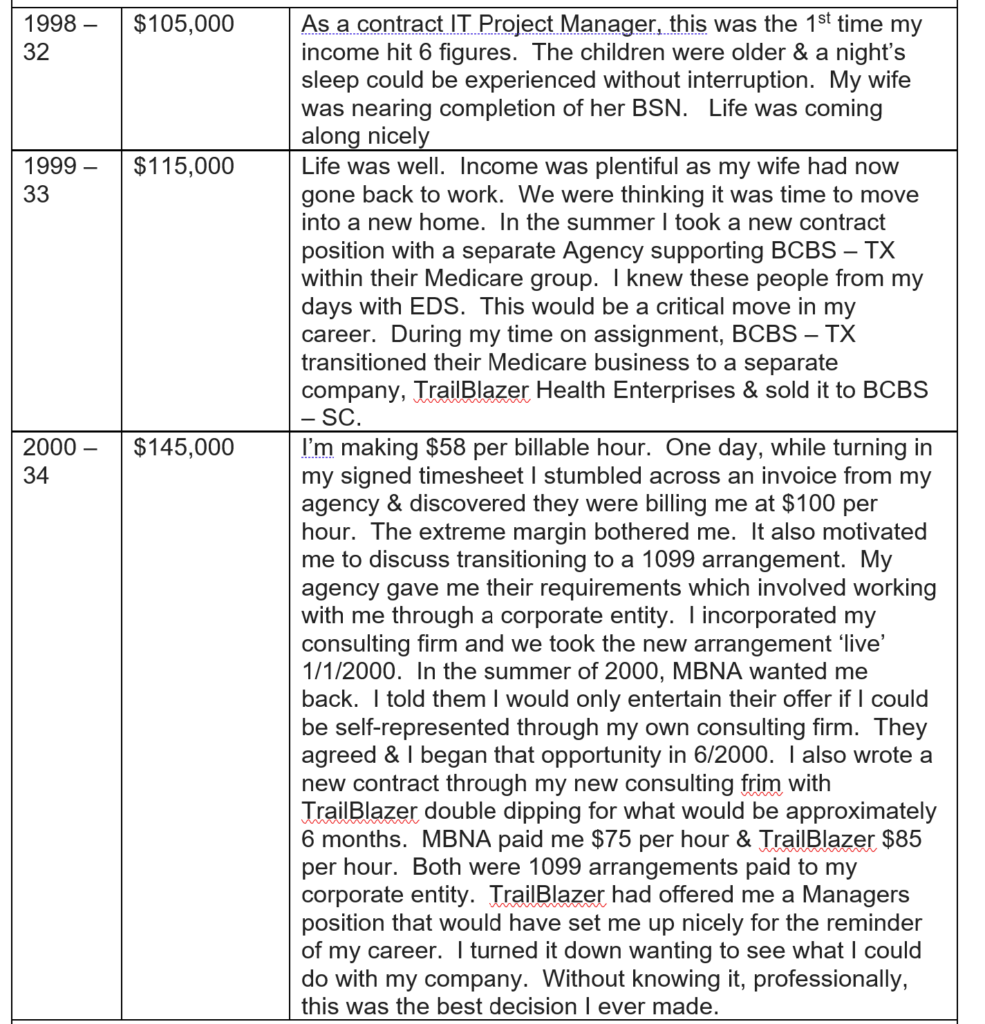 Working in a Dual Capacity – Both as a Contract IT Project Manager & Running My Consulting / Contract Labor Firm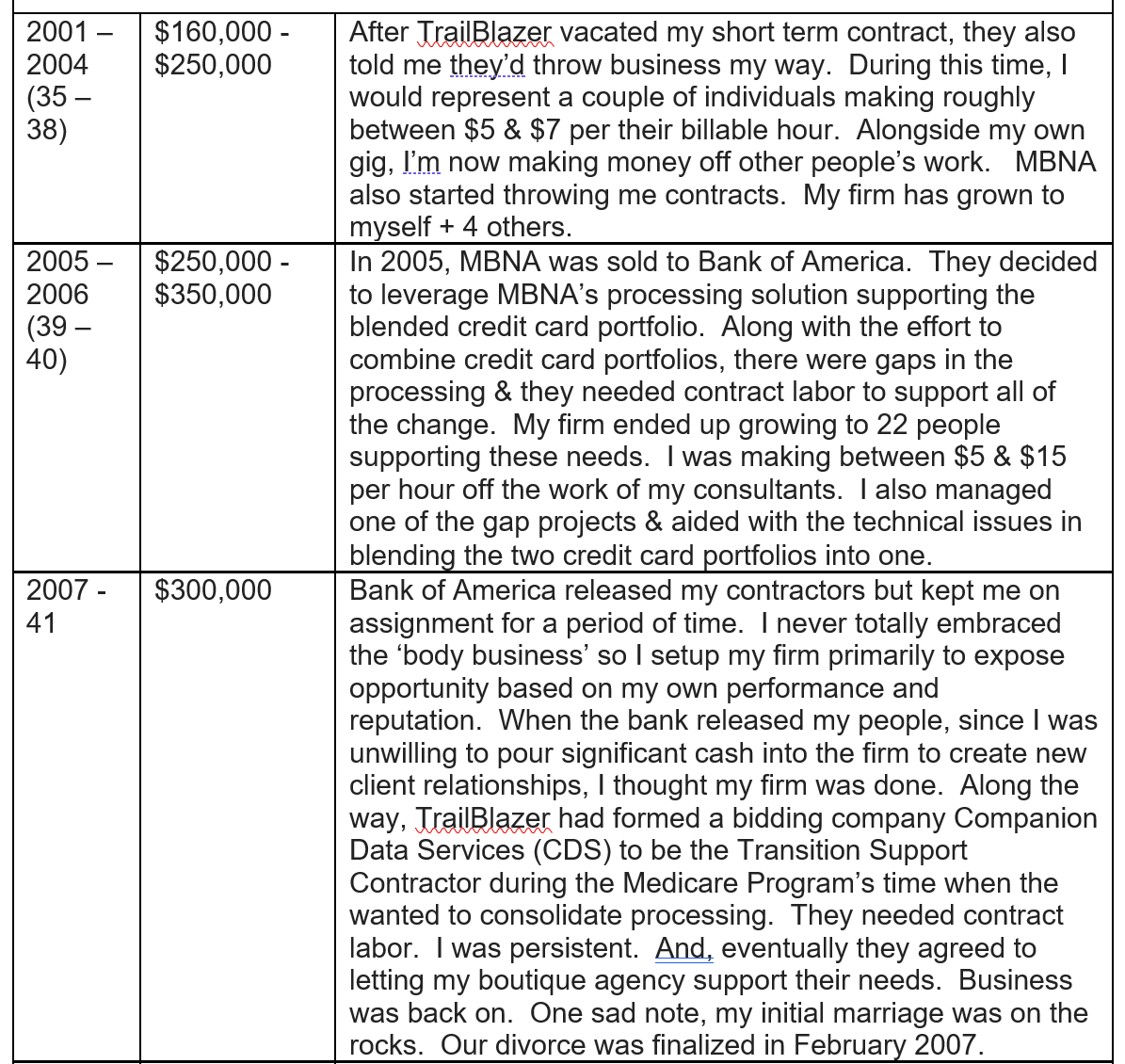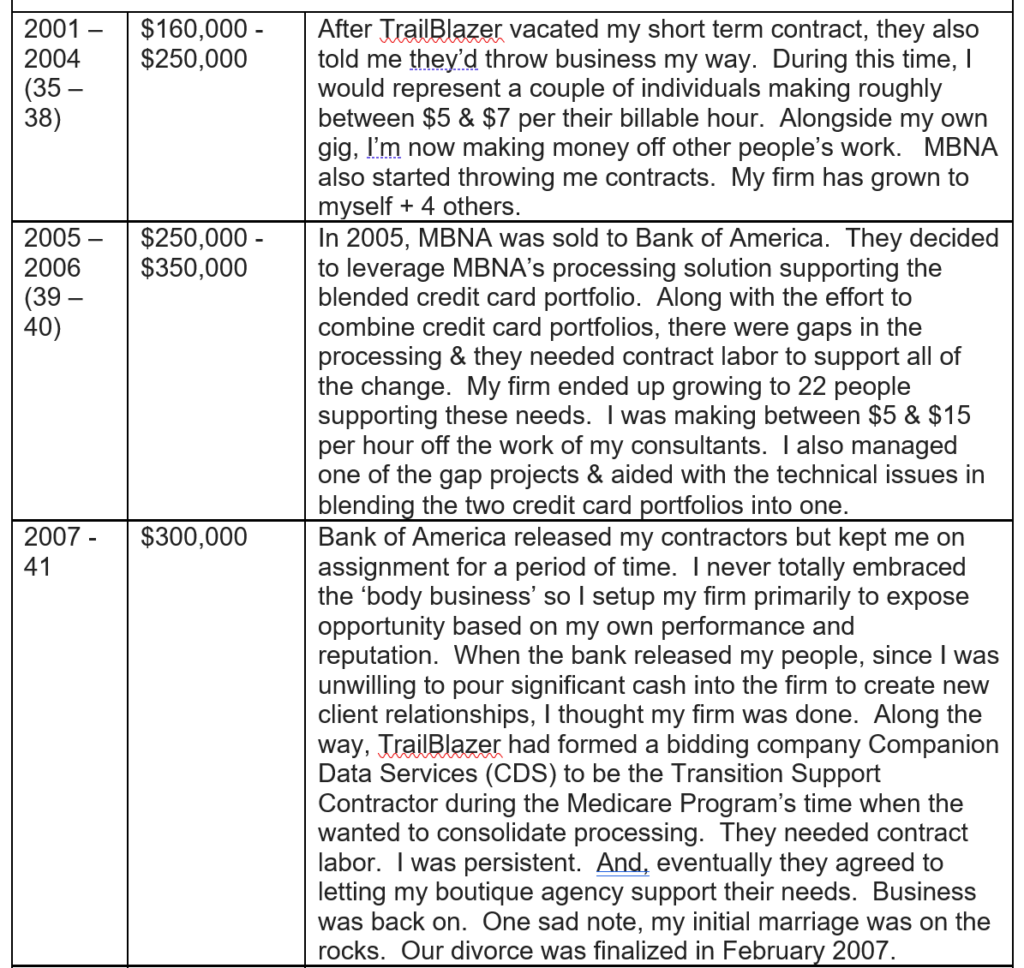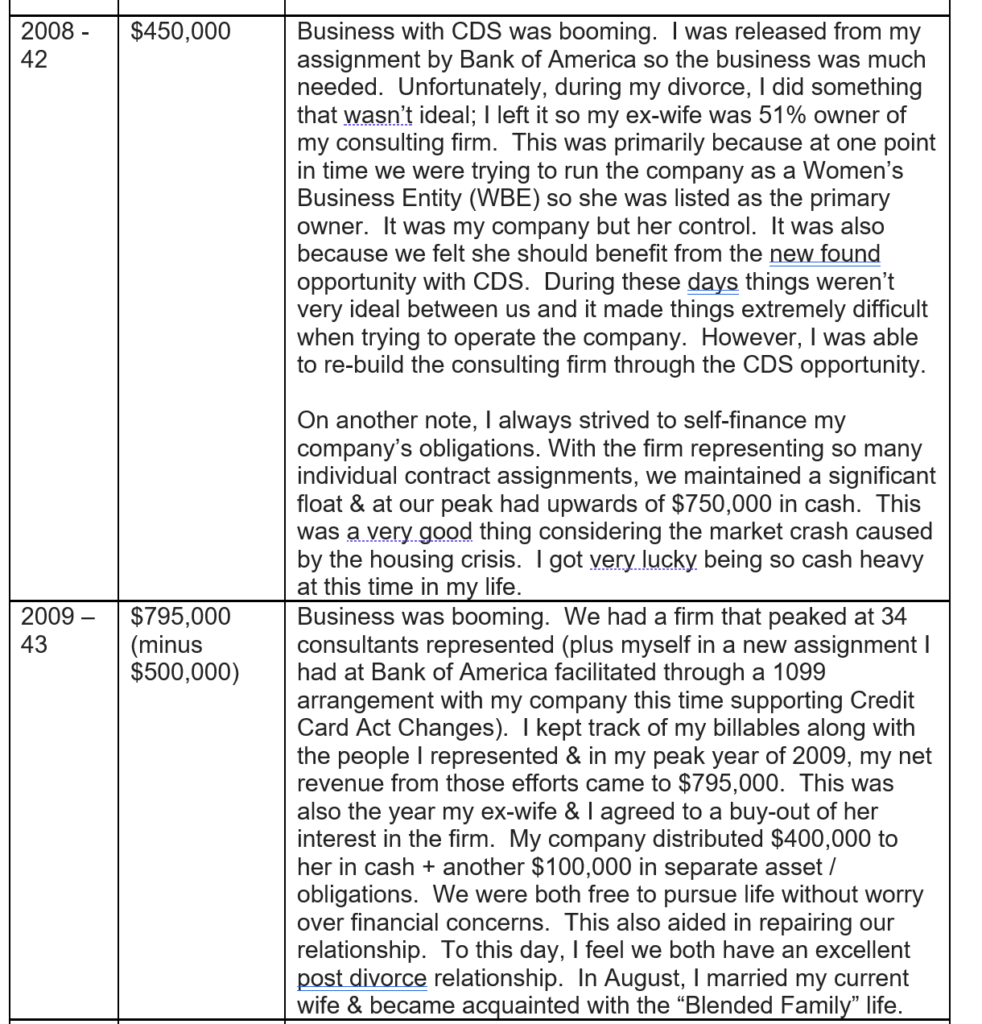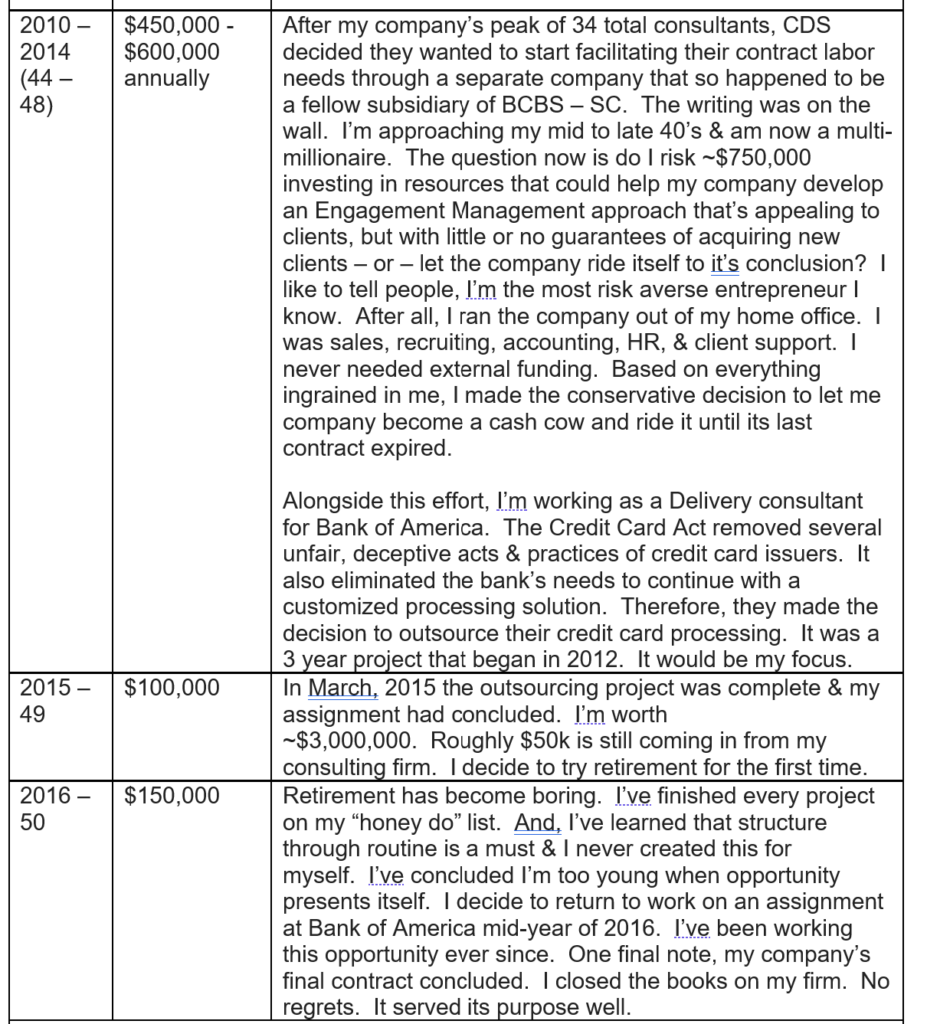 The Maintenance Years – Approaching the time to transition to the next stage in my life.


What tips do you have for others who want to grow their career-related income?
It's perfectly fine to work hard, but it's better to work smart – I've applied this throughout my career. I believe this is why my opportunities have been so recurring. I also believe it's a significant reason why I was able to convince my former client to do business with my consulting firm.
Never burn bridges – I have only vacated a contract opportunity twice in my career. And every time I handled it like a champ being very forthcoming with my reasons for the change. This helped me keep my options open for a potential return.
Set yourself up for opportunity – Had I not started my consulting firm & learned what it takes to facilitate & support individual contract labor, I wouldn't have been positioned when my two opportunities (MBNA Transition & CDS Transition Support) presented themselves.
Be persistent – It took several phone calls persuading CDS hiring managers what I could offer through my firm before they agreed to my firm providing staffing for their needs.
Be creative – When the MBNA transition occurred, I was overwhelmed with my role as PM & supporting their staff augmentation needs. I created a pyramid opportunity by teaching some of my existing consultants how to present their own candidates & when hired, sharing the hourly bill rate difference with them. It was better to do it this way than to lose opportunity or present the impression that the company couldn't deliver.
Establish relationships and cultivate them – When my firm was at its heyday, one would expect recruiting was difficult. Remember, I started the company because I was upset with the portion of the total bill rate I was being paid. So, I decided to never be greedy with those I represented & established the reputation of being a preferred agency to work for as I paid my consultants much more than my competitors. As a result, several of the candidates I placed were brought to me through 'word of mouth'. On a personal, professional note, my own gigs have been brought to me by my own reputation and how I'd performed in prior roles. Maintaining those relationships & keeping in touch with a continual demonstration that one can deliver is key.
Don't be afraid to travel the path less travelled – When I started my company, TrailBlazer was trying to hire me into a manager's role that would have given me ample security for the rest of my career. Instead, I decided to take on the riskier path and launch my own company. Several of my peers thought I was crazy for making the choice I made. It turns out the opportunities presented with this chosen path proved to be significantly more lucrative and a much better choice.
Don't be afraid to bet on yourself – Above, I basically journaled my career. You may have noticed, I've been working individually as a Contractor / Consultant for the past 23 years of my career. This can come with risk when opportunities are vacated or the labor augmentation is no longer needed by the client. My downtime between gigs (other than when I tried retirement for 15 months) cumulatively has been less than 6 months time. I like to tell people that permanent employment is relative. If you work in a way that separates yourself from others & continually be part of the solution, then good things will happen in your career.
Don't Count On Others To Take Care of You – This may go against the advice from others interviewed by this blog, but I never wanted my career to be dictated by the subjectivity of any of my superiors. I felt burned a time or two during the early stages of my career, so I decided that my chances of making it to the top of the totem pole were slim. If I honestly self-evaluated, I'd also conclude that had I made it to an extremely high executive role, I may not have thrived as I would have wanted to, primarily because my point of view was more 'in the weeds'. Regardless, I still wanted immense success. The side hustle I created through my staffing firm created that success for me.
What's your work-life balance look like?
While supporting massive IT program initiatives, there are extreme peaks & valleys.
This past summer when approaching our initial installation & then stabilizing our processing solution, I was working 65 – 75 hours per week.
However, since we've stabilized & now that we're trying to figure out the capabilities we want to bolt on next, we're in a bit of a lull period.
One thing that's stood out that I have yet to mention, approximately 2006, I began working from home. And, other than travel, I've primarily worked from home ever since.
Without the freedom to work from whichever venue I choose to is key to me continuing in my role. Without it, my retirement is immediate. I find it key in helping me maintain a desirable work life balance even when we're on heightened alert trying to deliver our solution to production.
Do you have any sources of income besides your career? If so, can you list them, give us a feel for how much you earn with each, and offer some insight into how you developed them?
Above, I went into detail about the consulting firm I started & ran successfully for 17 years.
While active, it was an immense source of my income.
Nowadays, my source of income will be through my portfolio growth.
SAVE
What is your annual spending?
If I were to guess, roughly $140k per year.
What are the main categories (expenses) this spending breaks into?
$54K – Mortgage Payments (This will cut in half in March when the Frisco Mortgage is paid for)
$20K – Property Taxes
$6.5K – Homeowners & Auto Insurance
$5.5K – Utilities
$4K – Programming, Internet, Streaming Subscriptions
$15K – Entertainment (This is a guess)
$20K – Travel
$15K – Maintenance (This year we actually spent $22k on improvements to both homes, but $15k seems like a more reasonable annual expectation.)
Note: My wife & I agreed early in our marriage the needs of the children would be handled by the biological parents. Therefore, I'm not privy to what's paid for my younger step son & step daughter's educational needs.
Do you have a budget? If so, how do you implement it?
No budget, but within my Merrill Lynch account, I have the ability to aggregate all my investments & liabilities so I can determine my net worth.
What percentage of your gross income do you save and how has that changed over time?
I have always been a big saver but sometimes life throws curves at one and it inhibits their ability to meet their plans.
In my early adult life the surprise of my 2nd son & the loss of my wife's income is an example of one of those curveballs. Even though we were faced with a 23% loss in income (15k / 65k), we figured out a way to persevere.
What percentage of your gross income do you save and how has that changed over time?
On average, I would guess I've saved 20 – 25% of my income over the years.
What's your best tip for saving (accumulating) money?
Start Early – Investing is a long game. The longer your timeframe for investing, the more you're likely to accumulate. Early investing also allows for more risk increasing one's risk tolerance during those early years of investing.
Don't Worry About How Much You Invest – If you start today with a small amount & have faith in time's ability to appreciate your investment, you'll be thankful years later that you did.
Max Your 401(k) / Retirement Accounts – This is only if it's possible. If it's not, then be sure to contribute up to your employer's matching. It's free money that if counted as a gain insures an incredible ROR.
Be Consistent – After determining an appropriate 401(k) contribution, I'd suggest creating monthly recurring transactions taken from one's checking/savings account into a brokerage account where purchase instructions are in play to invest on a monthly basis. Over time, other than notating the transaction, one never misses this money & instead witnesses a sizeable growth in their brokerage account balance.
Have a Cash Reserve – It's wise to grow a reserve for those rainy days when life throws a curveball.
What's your best tip for spending less money?
During the Housing Crisis, I was glued to the news, & I remember a talking head on MSNBC saying, "Somewhere we lost the lesson that it's noble to live within our means". That message has always resonated with me.
Above, I was asked if I have a budget and not if I've had a budget. Believe me, after my 2nd son was born & things were tight, you better believe I had a budget. And, if I deal with setbacks down the road, then a budget will come in play for me again. So, if you're at your infancy in accumulating personal wealth, I would recommend a budget.
To this day, I always try to do the little things in saving such as…
Shop your "necessary evil" expenses:
When the gimmick rates expire, call your TV programming provider or switch to another. They will typically work with a persistent customer with hopes of preserving the relationship.
Shop your Insurance. Provided the carrier performs when a claim is necessary, it's all about the premium cost. Why pay more if someone will provide the same coverage for less?
When appropriate, shop your Mortgage Rate – This summer I re-financed the lake house on 15 year fixed 2.5% terms. Before this loan, I was always big on making principal payments, but with these rates, I've re-thought that. I now take the principal payment I was making & have turned that into a recurring investment into my Vanguard brokerage account. However, if mortgage rates aren't as ideal, then I recommend principle payments wherever possible. What's best is to build the principle payment into your house payment. That way, you begin to treat it as part of your payment & you never find yourself missing the money.
Have Credit Cards work for you – I have it setup to where I get 5.25% cash back on groceries, 3.5% on gas, travel, & entertainment & 2.625% on everything else. I strive to put as many of my expenses on my cards and pay the balance every month. It's amazing how much one can accumulate with this sort of approach.
If You Want Something & You Can't Afford It, Don't Buy It – Instead, this "Want" should now be a savings goal. Ignoring this & instead choosing to purchase something via credit card & rolling that balance from month-to-month is simply put a BAD decision.
What is your favorite thing to spend money on/your secret splurge?
I would probably say Travel.
I've really upped my travel these past few years striving for 1 trip per quarter. I recently booked travel to Hawaii & actually splurged and bought 1st class flights. I'd have never done this before. It's time for me to enjoy life a bit more.
One bucket list item is to rent a place in Italy for a few months & experience the life of the locals. Along the way, I'd invite friends & family to stay with me during my stay. It seems like a great way to get to know another part of the world.
INVEST
What is your investment philosophy/plan?
While growing up, I used to read a column written by Scott Burns. He would advocate for the "Couch Potato" investor approach.
I've described the approach elsewhere in this interview, but basically one should setup recurring transactions that transfer from checking to brokerage where the funds are then used to invest in something of choice. Typically, this works best with Mutual funds vs. ETFs or Individual Stocks, since recurring transactions can be setup for Mutual Fund Investments. It takes the price out of the decision process & creates a blended price that over time becomes advantageous.
I know, I'm describing dollar cost investing, but I can confirm growth through this approach can be significant.
As a side note, I used this approach to fund the college education for one of my son's & the trade school + 20% down & initial contents in a home for my other son. After my son graduated from college, I decided to research just how much I 'spent' to accumulate those funds. I provided both of my son's with an e-mail that included all the information of how much I invested into their individual accounts as an illustration of the power of time & consistency and what it can do when trying to grow assets.
From that e-mail I wrote the following:
Hard facts, $17,400 total invested over 19 & ¼ years turned into ~$90k in 22 & ¾ years time – or – if you want to lump both of your UGMA accounts together, $34,800 invested over 19 & ¼ years turned into ~$180k in 22 & ¾ years time.
Of course that money invested was done via a dollar cost investing method in a way that I never missed the money. And yes, I was invested into a sector specific mutual fund that performed quite well, but the message still resonates.
All of that good for my boys came from one small decision enacted early & executed over time in a way that I never missed the money.
What has been your best investment?
I would say investing in myself when I chose a more risky career path, paid immense dividends.
No doubt, making a different choice during a few critical decision points in my life, & I'm not providing this interview.
What has been your worst investment?
I've allowed myself to get suckered a time or two to the point it's embarrassing to admit my mistakes.
But I once let myself get suckered into a penny stock investment. I even liquidated $20k in Apple stock when it was performing flat & diverted those funds to that investment and lost all of it. Had I stuck with Apple & continued with my long game principles, that $20k would be worth north of $140k.
What lesson did I learn? Invest in well established companies. If investing in a start-up, do your research & seek the help of professionals you trust before making the move.
What's been your overall return?
It's hard to say what my overall return is, but for what I can see:
Vanguard – 10 Year Annualized ROR = 11.6%
Merrill Lynch – 3.75 Year Annualized ROR = 14.8%
Muni Bonds were primarily purchased when everything was low. The bonds in my portfolio have an overall unrealized ROR of 4.85% with tax free coupon payments in the neighborhood of $45k per year.
Private Equity Investments – This is hard to say. Some of these have been held for 5 years awaiting a liquidity event. Maybe I can report back on this in a follow-up.
How often do you monitor/review your portfolio?
I monitor the market on a daily basis unless we're experiencing a horrible day.
During the COVID panic, I simply couldn't look at my investments as I experienced a paper loss near $1,000,000.
During rough market periods, staying the course and maintaining faith is key.
NET WORTH
How did you accumulate your net worth?
While running my consulting firm, I was making a lot of money.
However, through persistent dollar cost investing practices, I'd say over time & with consistency, I've also invested well.
What would you say is your greatest strength in the ESI wealth-building model (Earn, Save or Invest) and why would you say it's tops?
Early in my career, it was saving. (To this day, I have friends that knew me in those days & continue to give me a hard time about being overly frugal. This is said while hosting them at my lake home. Go figure!)
Middle of my career, my strength was Earning. When my consulting firm was rocking, cash was flowing in.
Near the end of my career, I'd hope it's going to become Investing. Ultimately, I think I'd enjoy "playing" in spaces I haven't tried before. Perhaps in real estate or maybe in options trading. As long as the bulk of my assets stay the course they have, perhaps I could learn a new skill and monetize it in an admirable way. We'll see….
What road bumps did you face along the way to becoming a millionaire and how did you handle them?
Going through a divorce was probably my biggest road bump along the way.
Striving for a productive relationship with my ex-wife has been the most critical thing I can think of to rectify that challenge.
If we're to delve into some of my financial mistakes, I described a doozy above. There are plenty of folks out there who promise to use your money in a way that promises you incredible gains. Don't have a lazy day like I did & allow yourself to get suckered in.
What are you currently doing to maintain/grow your net worth?
Right now I'm staying the course.
The majority of my equity assets are in mutual funds, ETFs, and individual stocks that are focused in solid companies or positions I believe in.
As for the private equity investments, those are in unicorn companies that are yet to experience a liquidity event.
As for the municipals, I'll be re-evaluating those & weeding out the less productive issuances I'm invested in. And when I do so, I'll most likely take those funds to one of my brokerage accounts & invest the proceeds into some equities.
Do you have a target net worth you are trying to attain?
All along, I wanted an investment portfolio net worth of $4 million after all debt was covered.
I've reached that goal. Now, I'm thinking it possible that I could reach 8 figures. $10-12 million sounds nice.
How old were you when you made your first million and have you had any significant behavior shifts since then?
I believe I was 38 when that happened. It had to happen again after I bought my first wife out of my company.
Alongside the housing crisis my consulting firm was starting to experience a downtrend. I didn't need to be so cash heavy and started investing heavily in the market.
I've continued with that approach since & have now witnessed my investment income to be substantial enough that it's replaced my "day job" income.
What money mistakes have you made along the way that others can learn from?
Don't let yourself get suckered with promises of an immense return.
Strive to research your investments when investing in private companies.
What advice do you have for ESI Money readers on how to become wealthy?
Career:
Acquire an education in something that has worthy job prospects. It's going to be difficult creating personal wealth without surplus income.
When you do your job, strive to do it well. If one works hard & smart, they don't necessarily have to be the sharpest knife in the drawer to stand out.
Confidence is a weird thing. If you have it & exude it, it will work well for you. It also allows you to bet on yourself. Just be careful to never let it come across as cockiness.
Learn from what you do professionally, maybe there's a side hustle opportunity that can be exposed.
Budget:
In your early days, create a budget that allows you to live well within your means such that there is ample money to be saved.
Remember, sometimes it's okay to do without. If all you can afford to eat is a pb&j, then that's not the time to treat yourself to a steak dinner.
Invest:
Start investing early without worry over how big or little your investment is.
Invest in a way that you don't miss the money.
Have faith in time. Investing is a long game that the tortoise always wins.
Maintain an emergency fund for that unfortunate rainy day.
Strive to diversify where possible.
FUTURE
What are your plans for the future regarding lifestyle?
I would say at this juncture, I'm at a crossroads.
I tried retirement for 15 months in 2015 – 2016 and was ready to return to work. Now, I'm contemplating retirement again.
It has nothing to do with whether or not I can afford to retire. Instead, it has everything to do with what I'll do with my time. This is why I'm reading blogs like ESI Money, to learn from like-minded people in a similar position faced with similar decisions.
I know one thing will be key for me; I'll need to establish a routine, otherwise I'll flounder.
What are your retirement plans?
Of course, I'll be looking to travel more. There is so much of this world I have yet to see. So, I expect to bump my travel budget up significantly.
However, as I contemplate retirement, I think I need to figure out what I'd like to do from day to day. A few thoughts on this….
I think I'd like to spend some of my time mentoring others on some of the simple lessons in life that have perhaps been lost with some in the generations that followed mine.
If you've read this interview to this point, then you may have noticed there is nothing special about the advice I'm giving. I consider most of it common sense but for some, it's not that simple. So, helping the young and ambitious with things such as the importance of budget, the importance of living well within your means so that significant savings can occur allowing for investing and potentially looking for the side hustle opportunity. Sharing concepts and ideas such as these can really empower others to succeed in life & experience the satisfaction and dignity that comes with it.
Several of those in this blog seem to be sold on investing in single family homes and reaping the double benefit of the annuity and appreciation that can come from it. Perhaps I'll dig into that sort of opportunity & see if it interests me. As I contemplate real estate, I think I'd like to own some destination properties (i.e. something on the coast or in the mountains) that I can leverage when I want or VRBO/AirBnB when I don't.
One thing I know, whatever I do, I do not want it to limit where I choose to be. That's been a hard requirement for me for some time.
Are there any issues in retirement that concern you? If so, how are you planning to address them?
I don't want to lose my sharpness & I want to improve my overall health.
It's not that I'm unhealthy, but there were prior versions of myself that I know I can get back to. That will be a primary goal of mine.
I want to find things in retirement that will continue to intrigue & stimulate me & allow me to maintain relevance with others.
MISCELLANEOUS
How did you learn about finances and at what age did it "click"?
It's hard to say. I think it was always ingrained in me.
Remember, at 13 I was tracking my lawn mowing earnings in a spiral notepad & depositing all of it into my passbook savings account.
Who inspired you to excel in life? Who are your heroes?
Without a doubt, my parents. I grew up in an extremely frugal home where budgets were tight.
My mom gave me patience & the importance of saving.
My father gave me persistence & the importance of doing a job well and to full completion regardless of whether or not I liked what I was doing.
I've always wondered how much of me was ingrained within & how much was learned from experiences. I'm not sure, perhaps it's a little bit of both. But when I contemplate the experiences I was given in my youth, I wouldn't trade my frugal, tight existence I grew up within with anything anyone else has experienced. I certainly stepped out of that home extremely ambitious with plans for more.
Do you have any favorite money books you like/recommend? If so, can you share with us your top three and why you like them?
I haven't read all that many books as it pertains to investing.
Most of what I read is historical in nature or thriller novels that simply entertain me.
This is another reason I'm now reading blogs such as ESI Money; so that I can identify some reading recommendations as it pertains to investing.
However, if I were to offer any particular must read, Warren Buffett's Berkshire Hathaway annual reports are always the best.
Do you give to charity? Why or why not? If you do, what percent of time/money do you give?
I randomly give to charities and my prior universities. I'm not sure what percentage I give.
However, I find it a must that I look to give back as I trend towards retirement. This is something I'll need to delve into further.
Although not charity, over the years I've helped several family members covering expenses for living & educational needs. These are loans that turned into gifts.
Do you plan to leave an inheritance for your heirs (how do you plan to distribute your wealth at your death)? What are your reasons behind this plan?
Last year my wife & I prepared a will and agreed to make all of my investment portfolio assets payable on death. Therefore, I've setup separate accounts accordingly.
For example, I have set up accounts for my grandchildren designed to support their college needs. Those will be willed directly to them.
As for the rest, I have it set up that all remaining accounts within my investment portfolio be split equally between my two sons & my wife. In the event something happens to my wife, then her third will be split equally between her 3 children.
In the event my wife & I continue to be dual home owners, my wife will choose one of the two homes & sell the other. The proceeds from that sell will be split between her & my two sons.
Bottom line, I didn't want my choices in life to adversely affect the legacy I've had in mind for my boys but I also didn't want my wife to live a lesser life than what she currently has. These thoughts were the driving forces behind my will's setup.