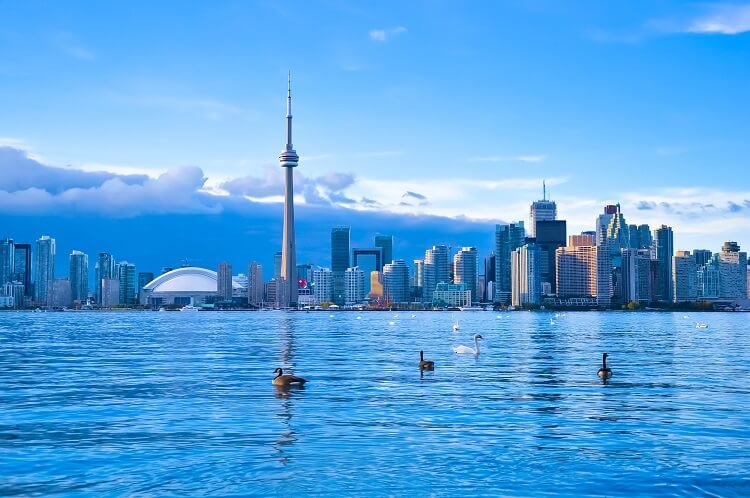 Here's our latest interview with a millionaire as we seek to learn from those who have grown their wealth to high heights.
If you'd like to be considered for an interview, drop me a note and we can chat about specifics.
This interview took place in July.
My questions are in bold italics and their responses follow in black.
Let's get started…
OVERVIEW
How old are you (and spouse if applicable, plus how long you've been married)?
My wife and I are both 54 years old have been married for 26 years.
We met in university 33 years ago.
Do you have kids/family (if so, how old are they)?
We have two children, a son 19 and a daughter 16.
What area of the country do you live in (and urban or rural)?
We live in the fast-growing suburbs around Toronto.
Canada is the second largest country in the world with a population smaller than California's. However, post-Covid, over 400,000 immigrants a year will make Canada their new home and they mostly want to live in two places: Toronto and Vancouver.
Toronto is a fantastic city to live in but it does get cold in the winter.
My wife and I plan to join the wave of snowbirds who head to Florida or Arizona for the winter months when we retire in 2022 and the children are both off to university.
What is your current net worth?
Our current net worth is $4.9 million USD.
What are the main assets that make up your net worth (stocks, real estate, business, home, retirement accounts, etc.) and any debt that offsets part of these?
All amounts have been converted to USD using at $1 USD = $0.82 CDN exchange rate.
Our house is worth $1.4 million. Our neighbourhood is a favourite destination for new immigrants from China and, as a result, real estate has seen significant price increases in the last 20 years.
Our publicly traded stocks and ETFs are worth $1.48 million. These are held almost exclusively in taxable accounts as our teacher's pensions mean we have very little room to use retirement accounts.
Our teacher pensions are worth $1.8 million.
Our side business owning and operating 3 apartment buildings with partners is worth $210,000. We owe $31,000 on this investment.
Our children's education fund is worth $110,000 (will be $0 by 2026)
EARN
What is your job?
My wife and I are both teachers in the publicly funded education system in Toronto.
I am a department head at a high school and my wife is a grade 1 teacher.
We have both been teaching for 29 years and will retire in June 2022.
What is your annual income?
Our combined yearly income from teaching is $173,000.
After taxes and pension contributions, our take home pay is $117,000.
Tell us about your income performance over time. What was the starting salary of your first job, how did it grow from there (and what you did to make it grow), and where are you now?
Our starting salaries in 1992 were in the $30,000 range.
Our salaries are determined by a salary grid negotiated between my employer and our local teacher federation.
I receive a bonus for my duties as a department head and my wife and I took a variety of additional qualification courses over the years to move to a higher pay rate.
What tips do you have for others who want to grow their career-related income?
If becoming an entrepreneur is not for you, then building wealth through a good paying job is completely doable.
My wife always wanted to be a teacher while I came to that conclusion after graduating from university. We knew we were looking for careers where we could help in our communities but would still be paid a salary that would allow us to build wealth. Thankfully, in Toronto teachers are valued and are paid accordingly.
There are plenty of jobs where you can earn good wages and contribute to the betterment of society. For example, we have friends and family who are psychologists, physiotherapists, non-profit lawyers, unban planners, environmental engineers, nurses and dental hygienists.
Be flexible and open to relocating.
In the case of my wife and I, when we were looking for our first teaching jobs in 1992, jobs were scarce, so we had to move to a completely new area to find work. After five years, we will able to move back to Toronto. I've met young people who refuse to do this and would rather work a lower paying job instead of moving. I think this is a mistake.
What's your work-life balance look like?
There is probably no better job for work-life balance than teaching.
Teaching allows you to take an unpaid leave when you require it and still have a position when you return.
When our children were born, my wife took full time leave for 2 years and then returned part time until our daughter entered grade 1. Of course, we had to manage on 1 salary, but I have heard of other women who worry their career will suffer by taking time off. This is not the case in teaching.
Another benefit of teaching is the ability to retire at age 55 assuming you have worked 30 years.
Do you have any sources of income besides your career? If so, can you list them, give us a feel for how much you earn with each, and offer some insight into how you developed them?
Over time our dividend stocks have grown and now provide $20,000 annually after tax and this amount grows every year.
I never felt comfortable buying individual US based stocks so I've been making annual purchases of low cost US Total Market ETF since we paid off the mortgage in 2005. Even with the 2009 market correction, this fund has done very well in the past 16 years.
Most of our dividend paying stocks are blue chip Canadian based banks, insurance companies, telecoms, grocery store chains, and other consumer staples. I have made a conscious effort to avoid investing in Canadian resource companies as their boom/bust cycles are difficult to endure.
In the past two years, I have started a corporation with some friends that owns and operates 3 small apartment buildings. At this point, we are using all profits to build the business and have a plan to acquire more buildings within the next five years. At that time, I expect some dividends will be paid out.
SAVE
What is your annual spending?
Pre-Covid, our annual spending was $85,000 a year.
What are the main categories (expenses) this spending breaks into?
Property taxes, utilities, insurance, home repairs: $16,000
Groceries, drinks: $21,000
Daughter's dance fees: $8000
Vehicles: $5000
Holidays: $10,000
Dining out: $4000
General merchandise, gifts, memberships, other: $21,000
Do you have a budget? If so, how do you implement it?
We do not keep a budget anymore as we've become accustomed to our spending habits and have not seen big changes in these habits over time.
What percentage of your gross income do you save and how has that changed over time?
My wife and I put 11% of our gross pay into our pension plan and this contribution is matched by our employer.
We also reinvest all $20,000 we earn in dividends.
There is usually another $30,000 leftover that we invest in our taxable accounts.
We are saving roughly 66% of our after-tax income.
What's your best tip for saving (accumulating) money?
Two good incomes are very helpful. One income can pay the bulk of the expenses while the other can be used to accumulate wealth. In our case, wealth accumulation was a 30-year process and, now that the mechanics are in place, will continue for another 30 years.
Being lucky is helpful too. When my wife and I started working, house prices were in the middle of a recession, so it made more sense to buy instead or rent. This is not the case in Toronto today. We've also enjoyed a near 40-year bull market is stocks and bonds which has not only helped our investments but bullet-proofed our teacher pensions.
What's your best tip for spending less money?
The easiest way to spend money is to have friends and family around you who are big spenders and little by little, you'll copy their habits. So be careful who you associate with.
I also keep reminding myself how something I bought and was really excited about means very little to me a few months later.
What is your favorite thing to spend money on/your secret splurge?
We will always spend money on good food as you get to enjoy it 3 times a day. We enjoy family dinners at restaurants and mini vacations throughout the year and take a longer holiday every summer.
My wife and daughter have mild addictions to Starbucks.
Once we retire, we are looking forward to skipping winter and making some American friends in Florida or Arizona.
INVEST
What is your investment philosophy/plan?
Our investing plan was to avoid stocks that were too volatile and to use low cost ETFs to minimize the temptation to trade.
ETFs are so boring that I'm not even tempted to see how they are performing. After a while, I forget what price I paid for these ETFs.
What has been your best investment?
In 2005 when we paid off the mortgage, we decided to keep putting the $30,000 a year into a US total stock market cost index funds and we continue to do that to this day. Even with the crash of 2009, this turned out to be a great investment.
It's ironic that the investment that involved the least amount of work has turned out to the be the best.
What has been your worst investment?
During the dot-com boom in 1999, I lost close to $20,000 on a high-flying tech stock. That was a lot of money for me 20 years ago and we had just bought our family home and had a significant mortgage.
The only positive from that experience was the memory of losing that money never left me and I've avoided all unnecessary speculation since then.
What's been your overall return?
My estimate would be in the 10-12% since we started seriously investing.
Even with the market crash of 2008-2009, investing the $30,000 year after year and reinvesting all dividends has worked out well.
I'm not expecting these types of returns going forward.
How often do you monitor/review your portfolio?
I will look at the total value of the portfolio once or twice a day but not the individual components as they are boring ETFs and blue chip stocks.
They don't fluctuate in price much and I've forgotten how much I paid for many of them.
NET WORTH
How did you accumulate your net worth?
My wife and I started working right after graduating from university.
We graduated without debt which is probably easier to do in Canada as tuition seems to be reasonably priced.
We lived with our parents for 2 years after graduation and were able to save enough money for a down payment on our first home.
We had tenants in our basement to help us pay off the mortgage quickly.
We saved a big chunk of our salaries and paid off our mortgage in 2005.
We kept on saving after that by investing in low cost ETFs, repeating this for 16 years without too much lifestyle creep.
What would you say is your greatest strength in the ESI wealth-building model (Earn, Save or Invest) and why would you say it's tops?
Considering the strong stock market returns of the past 12 years, I think investing has been our greatest strength.
Earning 12% annually over 16 years has turbocharged our savings.
What road bumps did you face along the way to becoming a millionaire and how did you handle them?
Having children and deciding that my wife would take two years off and then return part time for another 5 years did challenge our savings.
However, when the children were so young, we really didn't want to spend lots of money on restaurants or trips. We knew we would be able to do those things when the children were a little older.
What are you currently doing to maintain/grow your net worth?
We'll both be retiring in one year, so the accumulation phase is over.
Our youngest will be heading off to university in 2022 so we plan on spending more on trips.
We've pre-funded the children's education and this should cover 3 years of their costs and we expect them to have some skin in the game, and work summers to pay for the remaining cost.
We are expecting to pay for the extra travelling with the savings from my daughter's dance fees and reduced grocery bills.
The plan is to let our net worth continue to grow but a much slower pace, but this may change. We may decide to ramp up our spending if we are enjoying travelling while we are young.
Do you have a target net worth you are trying to attain?
We don't have a target net worth but rather are focused on a target yearly sustainable income which I believe is in the $100,000 range.
We are still debating on whether we should set some money aside to help our children buy a home in Toronto as home prices are very high and they will need a down payment in the $100,000 range to purchase a starter condo.
There are pros and cons of doing this and I will have to investigate this further.
We do expect inheritances from our parents which could be directed to the children.
How old were you when you made your first million and have you had any significant behavior shifts since then?
We were in our late 30's when we became millionaires and remarkably have grown that net worth to almost $5 million by age 54 without having to sacrifice our lifestyle.
That shows the power of saving early and letting your investments compound.
The fantastic stock market and home price returns have turbo charged our net worth these past 16 years.
What money mistakes have you made along the way that others can learn from?
I should have borrowed against our fully paid off home in 2009 and the stock market had corrected so dramatically.
The equity in our home has been dead wood since 2005.
What advice do you have for ESI Money readers on how to become wealthy?
The common advice I hear is you can't get rich by working for someone else and that isn't necessarily true. Having two good paying jobs in the family and then saving when you are young will allow you to become financially independent in time.
You must stay consistent with your saving and investing and avoid unnecessary risk.
I also think it's important to do work that is meaningful for you and benefits society. There are plenty of jobs that pay well and, also contribute to your community. That knowledge makes it easier to get out of bed every morning when you are faced with life's struggles.
FUTURE
What are your plans for the future regarding lifestyle?
We are planning to retire from teaching in June 2022 at 55 years old. It doesn't make financial sense to keep working as the pension we will be receiving is generous and the benefit to work beyond the 85 Factor (age plus years of experience) is low.
My plan to is to work part time from April to November for a non-profit company that is building affordable housing in Toronto while my wife would like to work at an assisted living home in our neighbourhood helping to offer fun activities for seniors. I don't think either of us will work full time again.
What are your retirement plans?
Between working part time, golf, tennis, travel and general socializing, I think I should be busy enough for the first few years.
I may take a course designed for older adults at one of the universities in Toronto if I find something interesting.
We also both have aging parents who I'm sure will need more support in the next few years.
Are there any issues in retirement that concern you? If so, how are you planning to address them?
I want to make sure I stay active and busy as I age.
I have worked since I was in grade 7, and I'm not sure how I will react to the lack of structure that comes with retirement and the ready-made social interactions that come with work.
MISCELLANEOUS
How did you learn about finances and at what age did it "click"?
I learned a lot from my father, not all of it good.
He was quite the stock trader and generally he did well, but the ups and downs took a toll on my mother.
I don't think the extra risk he took resulted in vastly superior long-term results.
Who inspired you to excel in life? Who are your heroes?
My parents and relatives were all new immigrants to Canada from Italy and they all worked hard and took care of their families.
We stayed close to our extended family throughout my childhood and I saw how working hard, being helpful, and caring about others benefited everyone.
I also had teachers throughout my schooling that encouraged me and guided me through the education system in Canada.
Do you have any favorite money books you like/recommend? If so, can you share with us your top three and why you like them?
My top books introduced me to the benefit of index investing and keeping my investing simple.
My top three books would be:
Do you give to charity? Why or why not? If you do, what percent of time/money do you give?
We donate to a variety of charities both local and global.
I believe that governments in rich countries should introduce a 5% sales tax and use that money to help the citizens of less developed countries.
In retirement, we plan to dedicate ourselves to working in non-profit ventures that are important to us.
Do you plan to leave an inheritance for your heirs (how do you plan to distribute your wealth at your death)? What are your reasons behind this plan?
Inheritance is a topic that I will begin to explore more now that my wife and I are in our mid 50's. I'm not sure how to handle this issue but will speak to many others for advice.
Housing prices are so expensive that we decide to help them earlier instead of leaving a large sum of money when we die.
I don't have a good answer for this question at this time.