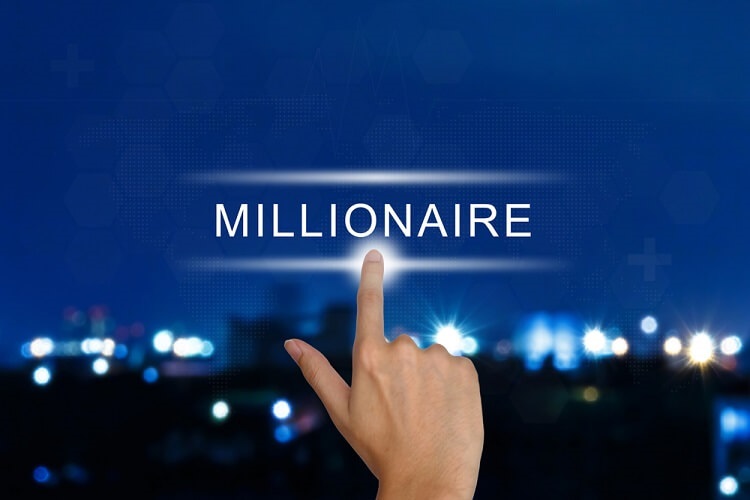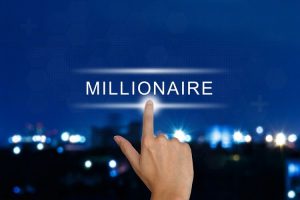 Here's our latest interview with a millionaire as we seek to learn from those who have grown their wealth to high heights.
If you'd like to be considered for an interview, drop me a note and we can chat about specifics.
My questions are in bold italics and her responses follow in black.
Let's get started…
OVERVIEW
How old are you (and spouse if applicable, plus how long you've been married)?
Both 46, been together 26 years, married 23.
We are both first generation immigrants, but from different countries and truly are the "multi-millionaire next door."
Do you have kids/family (if so, how old are they)?
One child in college, one starting high school.
What area of the country do you live in (and urban or rural)?
Midwest, suburban
What is your current net worth?
$3.9M
What are the main assets that make up your net worth (stocks, real estate, business, home, retirement accounts, etc.) and any debt that offsets part of these?
$1.37M – Retirement accounts (Roth IRA/Roth 401k + Taxable IRA/401k), $400k of this is liquid & needs to be reinvested – will cover this in the mistakes section.
$185K – Brokerage, Comprised of individual stocks and index funds.
$700k – Company Stock, Obtained through RSU's, stock options, ESPP. Has seen phenomenal growth in the past 5 years. This is the source for our charitable giving.
$38k – College account, You can see we haven't done much here & after setting it up for the first child, didn't contribute regularly. Haven't done much for the second child. Completely realize this was a missed opportunity for our older child to have funds grow tax free for college. Child #1 goes to a state school & received an academic scholarship that covers half of the tuition. We haven't tapped into this account to pay for college right now and will let this grow for child #2 to use.
$453K – Lump sum pension, From two pensions, if we wanted to withdraw a lump sum vs. taking a monthly payout at retirement. The plan is to take a monthly payment for life.
$260K – Home equity, We only count the actual equity we have in our house vs. market value.
$122K – Home equity overseas (renting it out), We paid cash for this property for sentimental family reasons. After spending a good amount for renovations we are renting it out.
$781K – Cash, Yowza you say – are they crazy? Yep! We really don't have a good answer to why we have so much in cash. Somehow it has built up over the years, even though we keep plowing in plenty each month into the market….this is in laddered CD's and obviously has made paltry returns in the past decade. We're working on a plan to get this back into the market, with rededicated efforts to focus on our finances.
Only debt is $200k for our primary mortgage.
EARN
What is your job?
Me – individual marketing contributor in a tech company. Highest education level MBA.
Spouse – Researcher. Highest education level Ph.D.
What is your annual income?
$438k in 2017.
Tell us about your income performance over time. What was the starting salary of your first job and how did it grow from there?
First job out of school when the job market was depressed (early 90s) was $32k.
I stopped working after my first child was born. Went back to work several years later, made a career change and started at $15/hr (hard not to let ego get in the way in this situation); that hourly rate job with the same company turned into $188k last year.
Work ethic to stay employed & relevant with the same company for 15+ years and luck that the company is doing extremely well financially.
Spouse's first job after doctorate paid $86k (in 2000). A job change 10 years ago boosted income by 50%, now at $250k, with another boost coming this year should take it to $300k.
I worked full-time while my spouse completed his doctorate, so we were one income (and not that high) in our 20s. As mentioned above, I stopped working for several years after our first child, so we were one income still. We've been dual income for 15 years.
What tips do you have for others who want to grow their income?
Look for opportunities in your company where you see a gap.
If needed, volunteer initially to take on the responsibility.
Showing your boss & others you have drive and looking for ways to make some type of improvement leaves a lasting memory come review time (bonus/promotion, etc).
What's your work-life balance look like?
For me, it has always been good since going back to work after child #1, that is one reason I love the company I work for.
One of us has always been able to be home when the children come home from school (attend their school events and even volunteer at school) and we have a homemade family meal together each night.
As a couple, now that we are well established in both of our careers, actually really good, and that is why we both still work even though technically we wouldn't need to.
My spouse is nearly as flexible. He has many opportunities to generate consulting income, but has chosen NOT to pursue this, another $50-100k a year isn't worth the time, stress and being away from family.
Even with all of the flexibility, we certainly go through times of stress. I took a 3 month sabbatical from work last year after a particularly long/stressful project. It was a way for me to assess whether I was ready to make a change and leave the corporate life.
The 3 months were great to reset and re-energize. The time off made me realize that I wasn't ready to stop the corp life quite yet. I missed the interaction with colleagues and felt I wasn't as productive personally, because I didn't have a routine.
Kids were in school, spouse at work, friends were working or had their own daily routines, so it felt lonely at times. I am in the process of still reassessing whether I will take a less rigorous corp job for less money, we will see…..
Do you have any sources of income besides your career? If so, can you list them, give us a feel for how much you earn with each, and offer some insight into how you developed them?
Close to $10k in interest income & $6k in rental income annually.
SAVE
What is your annual spending?
We have been pretty consistent the past 5 years of annual expenses of approx $130k (not including charitable giving).
What are the main categories (expenses) this spending breaks into?
I do not track expenses to the dollar spent (sacrilege for many, I know!), I am considering setting up Mint to really have a lens into individual categories. This does NOT include our charitable giving.
Broad categories:
Mortgage (15 year at 2.875%) = $2.3k/mo.
College expenses for child #1 = $1.5k/mo
Credit card payment (this is my catch all for all of our spending: food, entertainment, any bills that can be paid by cc, travel, etc) = ~$5-6k/mo. The cc is paid in full each month.
Additional income tax of ~$10k/year (we always hit AMT, will be curious what will happen in 2018 on this front)
Property tax of $12k/year
Do you have a budget? If so, how do you implement it?
Interestingly we have never had a budget. Neither of us are big daily spenders. We are very similar in our money philosophy and we came into the relationship that way.
What percentage of your gross income do you save and how has that changed over time?
Since becoming dual income ranging from 30-40%.
What is your favorite thing to spend money on/your secret splurge?
Travel and high end restaurants.
As you can see from our annual spend, we don't restrict ourselves. It's an interesting dichotomy, we are not daily spenders (no daily Starbucks, no bi-weekly manicure/pedicure, no eating out multiple times a week) BUT we do take several international trips each year as a family and fly business class.
I follow travel blogs and am always on the lookout for deals and we actively use points/miles to fund these trips. We are fortunate that we have opportunities to piggyback on work travel (one airplane and hotel are covered) when we can.
We have been to some amazing places and will continue to have many opportunities to do so in the future.
We also enjoy gourmet dining experiences; I don't blink at spending $250/person for a meal every couple of months, but consider paying $60 for 4 of us to get hamburgers a total waste.
INVEST
What is your investment philosophy/plan?
It has been pretty passive: buy index funds and let them do their thing.
In the late 90s we were buying/selling individual stocks like crazy. As the bubble burst and we had kids, we gave that up.
What has been your best investment?
My company stock through the ESPP at work. 15% discount and a 6 month look back. Capped by IRS at $25k/year. Have only used it to fund charitable donations (more in the charity question).
Any financial advisor would say this is a singular mistake to have so much tied up in a single stock. I would have a very hard time divesting this stock because of its performance (first shares have appreciated 1200%) over the past 15 years.
What has been your worst investment?
My spouse's colleague had a sure bet on a new cancer drug and he personally knew the people running the company behind it. He himself invested $200-300k in stock. He sold a lot of co-workers on it. He sold me on it, but NOT my spouse.
I thought what the heck and invested a small sum of $2k, this was 7 years ago. It is worth $300 now. Obviously no financial impact for us, but the fact I was willing to blindly listen to someone was a good lesson never to repeat again! The colleague has lost ~70% of their investment.
What's been your overall return?
Yikes, I'm not sure, but estimating 8%.
How often do you monitor/review your portfolio?
I track our net worth monthly and we discuss any significant changes.
We haven't been great at rebalancing. When the children were younger we went years without rebalancing. The past 5 years we've been rebalancing annually.
NET WORTH
How did you accumulate your net worth?
Investing in higher education which lead to solid incomes.
Fields that have provided continuous employment with big growth at various times.
Continuing to invest in the market regardless of volatility.
No inheritance & we hope both our parents use their money to enjoy their lives to the fullest.
What road bumps did you face along the way to becoming a millionaire and how did you handle them?
We have been very fortunate that we have always been employed (when we wanted to be) and haven't had any major financial or health challenges in our life or in our extended family.
What are you currently doing to maintain/grow your net worth?
Max out 401k's, start investing our bundle of cash back into the market via index funds. Let the rest keep doing its thing.
Do you have a target net worth you are trying to attain?
No, none of this seems real to the both of us. It feels like it keeps "magically" growing.
We'll keep working until we don't want to anymore and then we'll enjoy and share whatever we have with others.
How old were you when you made your first million and have you had any significant behavior shifts since then?
$1M – age 39
$2M – age 42
$3M – age 45
$4m – in the month or two
Behavior change:
Allow myself (and I say me, because my spouse has never had this problem) to spend without agonizing over it.
I am getting better at it, but it isn't in my nature. I can get hung up more on spending $3 on a pint of ice cream than spending $2k on a plane ticket. Weird, I know and I can't really explain it.
The realization of how right it feels (for both of us) to donate to charity at the rate we do and not think twice about it (more below on that topic).
What money mistakes have you made along the way that others can learn from?
Not actively pay attention to our portfolio at least 2x a year and making adjustments accordingly. I think we have given up at least $500k+ by not doing this.
Another mistake I made in December 2016 was an emotional reaction to the presidential election results (it's funny that the "big recession" didn't cause any panic for me, but the election sure did). I was convinced that the market would tank, so I moved $500k from my 401k into a stable fund. I was going to reinvest when everything went south.
We all know what the market did in 2017, I easily gave up $100k+ in appreciation. I take full responsibility for this decision, though my spouse knew I was doing it. I should've stayed the course and have been pumping big chunks back into the market on big downward turns.
If you had to give advice to ESI Money readers about how to become wealthy, what would it be?
Education & personal drive are key! We stress this with our children, education simply provides you options and opens doors for opportunities, it is one's personal drive that can make something happen.
Both in the couple need to be engaged and on the same page.
Max out everything you can (401k, IRA's, ESPP).
Live below your means.
Don't buy the most expensive house in the neighborhood.
Don't try to keep up with the Jones'.
Learn about investing.
Don't pay advisor fees.
Teach your children!
Take an interest in your personal finances, if you don't, who will?
FUTURE
What are your plans for the future regarding lifestyle?
We have achieved financial independence, but since we both enjoy our work, we have no plans to retire early at the moment.
Once child #2 completes high school, I will consider pursuing another path (personal finance coach maybe?) and my spouse may consider a position with less responsibility with the same employer until age 62.
What are your retirement plans?
My spouse will have 2 pensions to claim when he retires (if he works until 62 & starts drawing at that time) this will equate to nearly $13k/mo.
If Social Security is still around, we'll get about $5k/mo. So, potential of a pretty sizable monthly amount coming in of $18k before we even have to touch any of our savings.
I don't foresee our activities in retirement changing drastically from what we're doing now. The only big difference is that hopefully we gain the luxury of time in retirement for extended travel, we can rent a place and stay for longer chunks of time. I'm all up for following MI 22's lead with all of the travel adventures!
Are there any issues in retirement that concern you? If so, how are you planning to address them?
The issues on our mind aren't necessarily for retirement but anytime coming up: taking care of our parents as they age. Thankfully both of our parents are in decent health and are financially stable. If they need help in the future, we want to make sure we can meet that need in whatever form (financial, time, parents moving in with us).
MISCELLANEOUS
How did you learn about finances and at what age did it 'click'? Was it from family, books, forced to learn as wealth grew, etc.?
For me, it was through my father and my personal interest. I came to the US when I was young. My dad came with $10 in his pocket to go to graduate school and both of my parents worked their butts off to give me and my siblings the middle class life we had.
Coming to a new country and not knowing all of the "rules" to play by is a huge barrier, but my parents did it. They had challenges, my dad was laid off in the 80s, just as they built their first home.
I was always aware that we spent money differently than "American" families. We didn't go out to eat (going out for pizza was a treat). We didn't spend money on designer things. We drove our cars until they died. My parents discussed how much things cost and how much they earned, so I was very aware of numbers from a young age.
Looking back, we weren't denied anything (as a child we traveled internationally even on my dad's moderate income). My dad invested in the stock market as soon as he had some extra income to do so, he's a proud KO shareholder for 40 years!
My spouse is also a first generation immigrant to the US, coming for graduate school. We are of different ethnicities/countries/cultures. For my spouse, finances weren't really discussed in his family nor in his culture growing up. His parents were middle class and spent frugally. He has a background in finance and is savvy in general.
We are doing our best to teach our children by example. They know some aspects of our lifestyle is "bougie." Though they also know this is an active decision to spend our money differently than peers.
We live in an upscale neighborhood, but have one of the cheaper houses. We have old cars and won't replace them until they die. We talk about money decisions with our children and always emphasize want vs. need.
Track record so far with child #1 is good, started working at age 16. Saves 60% of income. Has invested in index funds. Gives monthly to a charity. Continues to work in college (when majority of friends didn't this past year). We are contributing to a Roth 401k for earnings until college is finished. We're very proud of child #1. We hope that this is the beginning of good life-long habits.
Who inspired you to excel in life? Who are your heroes?
Experiencing my parent's initial challenges in this country and seeing what they have achieved now is the biggest motivator I've had in my life.
If you have a can-do attitude and gumption, you'll find a way to do it.
My spouse would say his parents as well, they were hard workers and provided an opportunity for him to continue his education when that wasn't the norm in their extended family.
Do you give to charity? Why or why not? If you do, what percent of time/money do you give?
YES!
Currently, we donate 15% of our gross income and we're looking into upping that.
This active commitment started 15 years ago (the first time we had a dual income). It gives us a sense of purpose to be able to support educational and hunger relief efforts. We give anonymously in our community and have set up an endowment.
The endowment is funded by donating appreciated stock (one of the best financial tactics we use, no taxes paid on appreciated stock, get a tax deduction on the charitable donation).
The charitable giving is actually a huge part of why I continue to work. My employer has an extremely generous donation match, which I take advantage of. Knowing that I don't have to work, but choose to and that choice allows us to help others in need.
Do you plan to leave an inheritance for your heirs (how do you plan to distribute your wealth at your death)? What are your reasons behind this plan?
We don't have an answer to this question yet and struggle with it.
We were both raised middle class. Our parents paid for our undergraduate degrees and we are extremely grateful for that. We will do the same for our children.
All of our net worth, we've achieved on our own and that accomplishment is a good feeling. We want our children to have the same work ethic and money values we grew up with. We hope that our greatest gift to them is providing the framework for them to stand on their own feet and achieve whatever happiness is for them (which we know isn't necessarily financial).
We firmly believe and tell our children, choose whatever you want to do in life, but also accept the lifestyle that it brings with it (for a lot of people more money means more stress, for others less money means feeling like you are always behind).
We don't feel a strong pull to leave vast amounts of wealth to our children, we want them to experience the same pride of doing it on their own as we did.
Since our net worth will likely continue to grow significantly, we will revisit this decision sometime in the future on how much to leave the children and other extended family members.
On a separate note, one item that is of concern is how our children will approach their relationship with finances as they grow up. We are laying a good ground work so far, but who knows if it will last? What type of career will they choose? If they have a partner who doesn't share their same views how will it affect their finances?
Questions for ESI Money readers:
I have only gone through half of the Millionaire Interviews so far, and have only found two written by women (MI 26 addresses this same concern). For all the men out there reading this, how are you engaging your wives in the investing/planning process? If ever there is a situation where you are unable to manage your net worth, will your wife be able to take over? Even if the husband takes the lead or enjoys it more, I think it is SO important for wives to be aware and engaged in the entire process. I have so many female friends that are extremely educated and not participating at all. This makes me sad and frustrated.
I am curious how other financially independent people with older/grown children spend/give? Do you pay for family trips? Are you funding grandkids college funds? Are you buying homes for your kids?
Has anyone freely shared how much their net worth is with their grown children? If yes, at what age? Our children obviously know we have funds, but I think if child #1 knew our net worth or our annual salaries, it would come as a big surprise.
Strategies to handle stock that has grown significantly? There will be long term capital gains on 75% of the value of my company stock. As MI 27 discussed his experience with GE stock, I want to be conscious that our company is doing well with the leadership of a charismatic CEO with excellent business and people intuition. When he decides to move on to whatever is next, the stock will take a hit (next in line is trying to emulate the CEO, but there is no comparison). We already use this bucket to fund our charitable donations with stock transfers, but I'm not ready to move shares to a donor advised fund.
As you see from the interview above, we have a big chunk of cash on our hands, would like to hear thoughts on the best strategy to invest it in the market and over what period of time.
For those that have already retired, how does it feel to start drawing down from your nest egg?