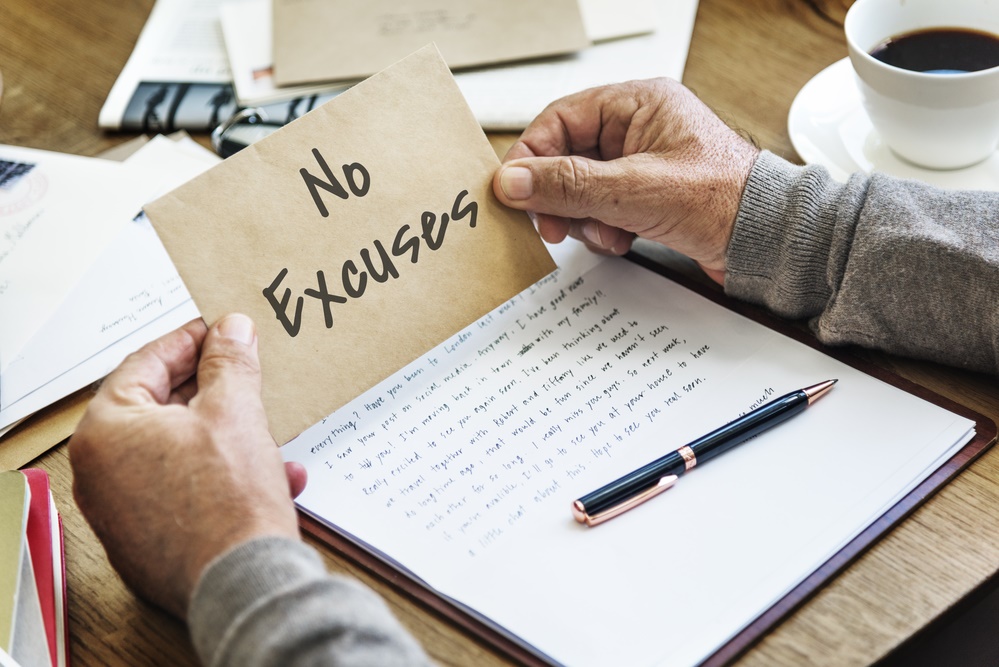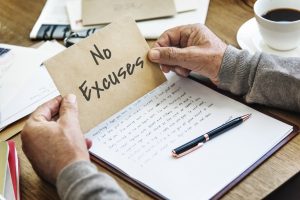 Well, it's been awhile since I've had a good rant here, so let's fire one up today. 😉
I've been blogging on one site or another for over 12 years now.
It doesn't take nearly that long — in fact it takes about two minutes — to realize that people like to make excuses about why they aren't wealthy.
No matter how simple the topic or suggestion might be, there's someone with an excuse about why it won't work or why they can't do it.
Sample of Common Money Excuses
Here are some I hear most often:
"I can't grow my income. All your tips are only applicable to a select few and I'm not one of them."
"Sure, I would be wealthy too if I made a large income. But I don't so I can't get ahead."
"It's impossible for me to save any money."
"I'm not an investor like Warren Buffett so I'm doomed to work all my life."
And on and on.
Most Won't Help Themselves
I'm not going to address these individually other than to say they all have very simple solutions for someone willing to take a bit of advice.
But here's the bottom line: most people don't want help. Most don't want to do even the simplest of tasks to help themselves become better off. What they do want is to do exactly what they are doing now (which requires zero effort or sacrifice) and still become wealthy. In the meantime, they make excuses to make themselves feel better about why they aren't wealthy (because it's out of their control.)
It's not only blog readers. I used to see this all the time in real life.
If It Takes Effort, Few Will Do It
My wife and I were financial coaches for years. We would meet with people to help them with basic financial issues (mostly budgeting and getting out of debt) at no cost to them. They were referred to us when they contacted the organization we were volunteering for and asked for help. We lived in Pittsburgh at the time and got all the referrals for the North Hills in Pittsburgh where we lived.
The organization's procedures worked like this:
The person needing help would contact the organization.
The organization would send them a note with our contact information.
The organization would send us a note with the person's contact information so we'd know they might be contacting us.
We were NOT supposed to initiate contact with them. They had to contact us or else the referral simply dropped.
Here's a rough estimate of how the numbers broke out:
Of the people we were sent referrals for, maybe half contacted us. It was probably closer to a third.
Of the people who contacted us, maybe half would commit to completing a budget we would send them. It was probably closer to a third.
Of the people completing the budget, maybe half would agree to an in-person get together to review the budget form. It was probably closer to a third.
Of the people who met with us, maybe half would take our suggestions, work on applying them, and agree to a second, check-up meeting.
So if you're doing the math, somewhere between 2% and 6% would actually go through the process, do the work, and then take steps needed to get their lives on the right financial path.
Most of them wanted a 15-second answer to a 20-year problem. Seriously. They wanted to know how we could get them out of debt quickly after they had taken five, ten, or twenty years to build up that debt. Oh, and they didn't want to have to change any of their habits to do so.
Not only that, but of the people who did make it through to the budget review, most wanted no part of making any changes. We had people tell us that things like weekly manicures for $60 each and nightly trips to a restaurant were "necessities" and there's no way they could cut them out. We'd explain they then either needed to make more money or cut something else, two things they couldn't or wouldn't do. Ugh.
Now I must pause a minute here and say there are people who legitimately have issues. They don't make enough to do much of anything and might be unable to work. But those people are few and far between. The vast majority of people who claim they can't take any financial steps are simply too lazy and would rather make excuses than take action.
Career Excuses Abound
These days I get the most excuses about income (specifically around growing your career) — why someone can't earn more to help themselves financially. My general thoughts on this are:
No one is able to do nothing and get good raises. People who do nothing get do-nothing raises (which aren't high).
No matter what your profession, there are people who make more and people who make less at it, so don't say "that doesn't work for my job". It does work for your job. Find someone who has done it, take them to coffee, and pick their brain.
Growing your income doesn't take a 20-hour commitment each week. You can make simple, small steps during the normal course of your day that will add up to great things over time.
You don't have to have 8% raises each year to do well financially. If you get 2% raises for no action but then do something and get 4% raises, you will be MUCH better off! That 2% difference is HUGE!
There are tried and true steps you can take to grow your career. How do I know? I did them over a 28-year career! I saw others do them and get ahead. I taught them to people and saw them get ahead. Do not tell me they can't be done or do not work because I know otherwise.
And it's not just careers. I could make the same arguments about almost any financial topic — saving, investing, retirement, side hustles, and on and on.
Don't Excuse Yourself
See what I did there? 😉
So STOP MAKING EXCUSES! Personally, I don't care if you are poor your entire life if you refuse to help yourself. That's your choice. But don't try to justify it with one excuse after another. I'm tired of hearing it.
If you want help and will do something, others will help you. I will help you. That's what this blog is about — helping people achieve financial independence. But if you want to make excuses, you're not doing anyone any good — especially yourself.
#NoMoneyExcuses
Whew! I feel better now! 😉